Worldwide App Annie Index for Apps January 2016

Each month, the App Annie Index highlights the top-performing games and apps for the iOS App Store and Google Play. Our analysis covers trends among the leading apps across countries and categories, and is the industry standard for professionals looking to compare leading apps and publishers.
This Month's Top Apps
TurboTax Reappears as US Tax Season Closes in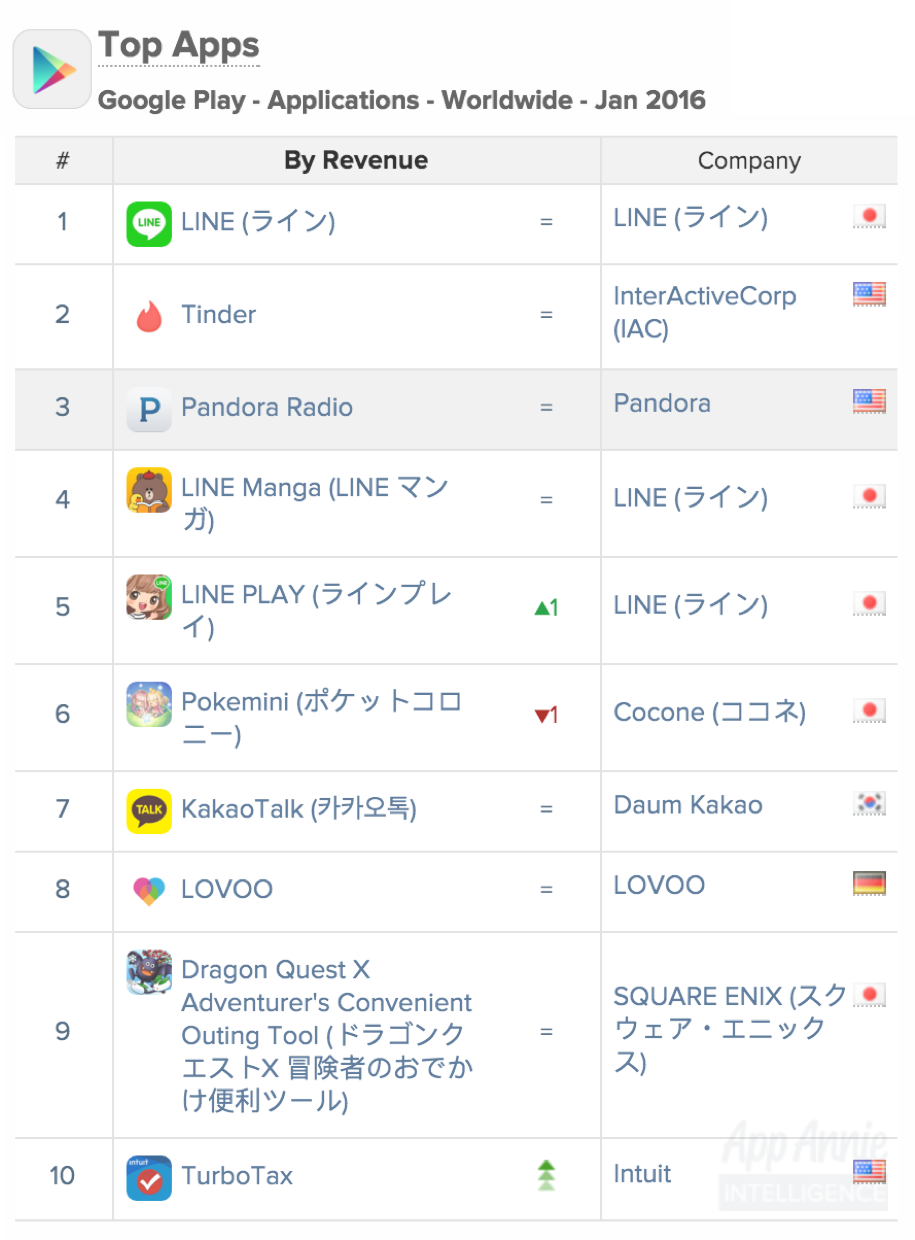 Tax season is upon us and Intuit's TurboTax has re-entered both the Google Play and iOS Revenue charts.
Given its seasonal value, TurboTax is an annual entrant to the App Annie Index. The app allows users to prepare and file their tax returns for free, with paid upgrades giving access to additional and more complex features. On the back of the app's performance, Intuit has also entered the global top 10 for company app revenue on Google Play and iOS combined.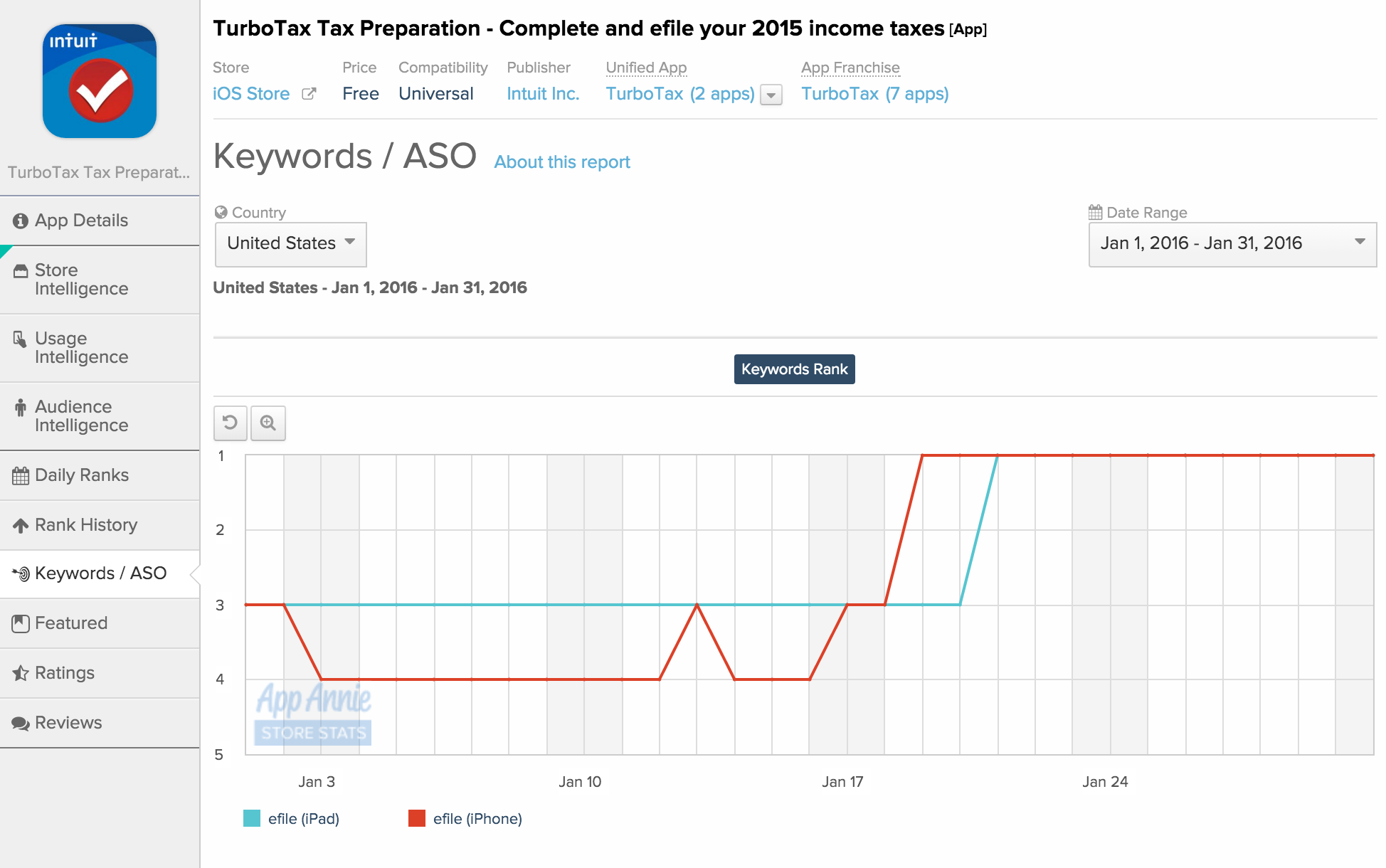 By the end of January, TurboTax was the number one result for iphone users searching for 'tax' or 'efile'
This year TurboTax was supported by a series of commercials featuring famously intelligent spokespeople explaining how easy the software is to use, culminating in a Super Bowl ad starring Anthony Hopkins. TurboTax followed in the footsteps of mobile games like Game of War: Fire Age, Clash of Clans and Mobile Strike, using celebrity endorsements in a high-profile Super Bowl ad.
The app's strong performance looks set to continue for a at least the near term. February to April has traditionally been TurboTax's strongest time period, and its January 2016 ranks for revenue and downloads are significantly higher than in January 2015. This provides Intuit with a strong base for monetization as the mid-April tax deadline approaches. TurboTax was one of the top generating apps in February last year, and we'll be keeping an eye on how it performs in 2016.
Netflix Continues to Climb the Revenue Ranks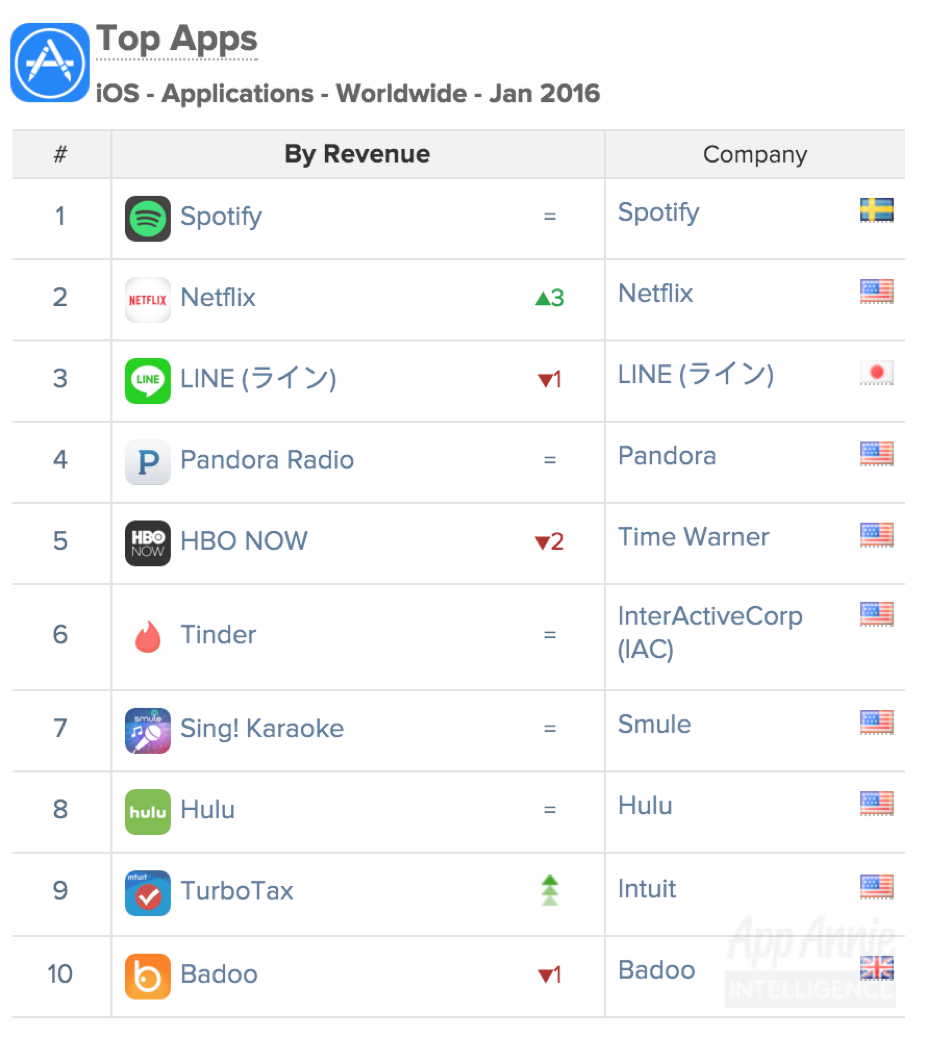 As reported in our 2015 Retrospective, consumer demand for streaming apps is on the rise and cord cutting is more prevalent than ever. However, competition in this exciting space continues to heat up. We noted in our December Index that Netflix had moved into striking distance of current revenue leader HBO Now. As of January, it had taken first place on iOS for video streaming apps.
It's important to note that Netflix's in-app purchases are currently only available on iOS devices, but even when we factor in Google Play, Netflix maintains the number 1 spot among video on demand providers for worldwide in-app revenue.
Earlier this month, Netflix released its Q4 2015 earnings report, significantly beating analyst expectations. Netflix identified the opportunity presented by emerging markets and has committed to continue improving its mobile experience and bandwidth efficiency to take full advantage. In early January, Netflix also launched in more than 130 new countries including India and Russia. It's already broken into the top 20 ranks for free downloads in the Google Play Entertainment category in India, Indonesia and Nigeria.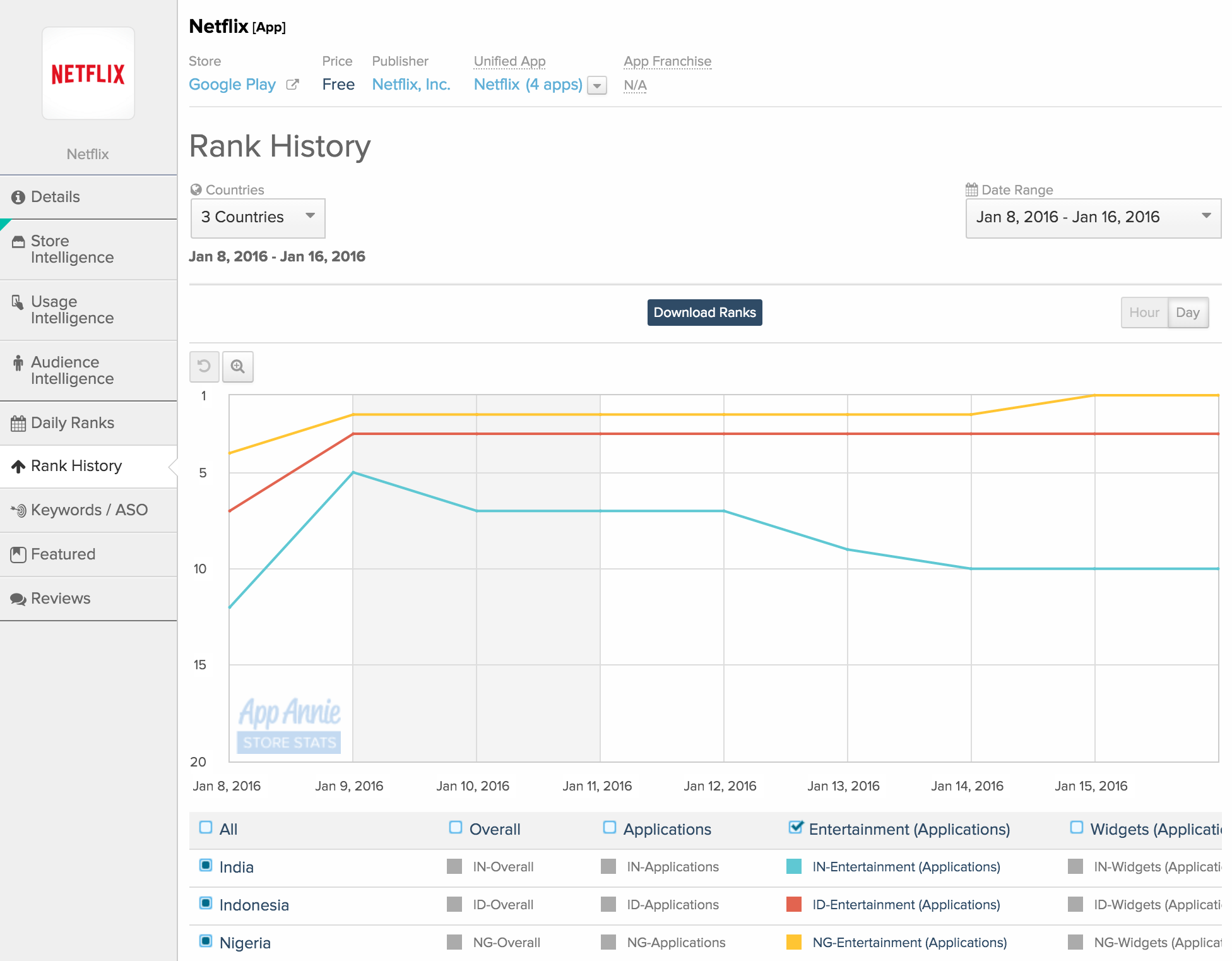 Netflix entered the top 20 for downloads in the Google Play Entertainment category in emerging markets India, Indonesia and Nigeria
Mobile Growth Drives Success for Facebook and Alibaba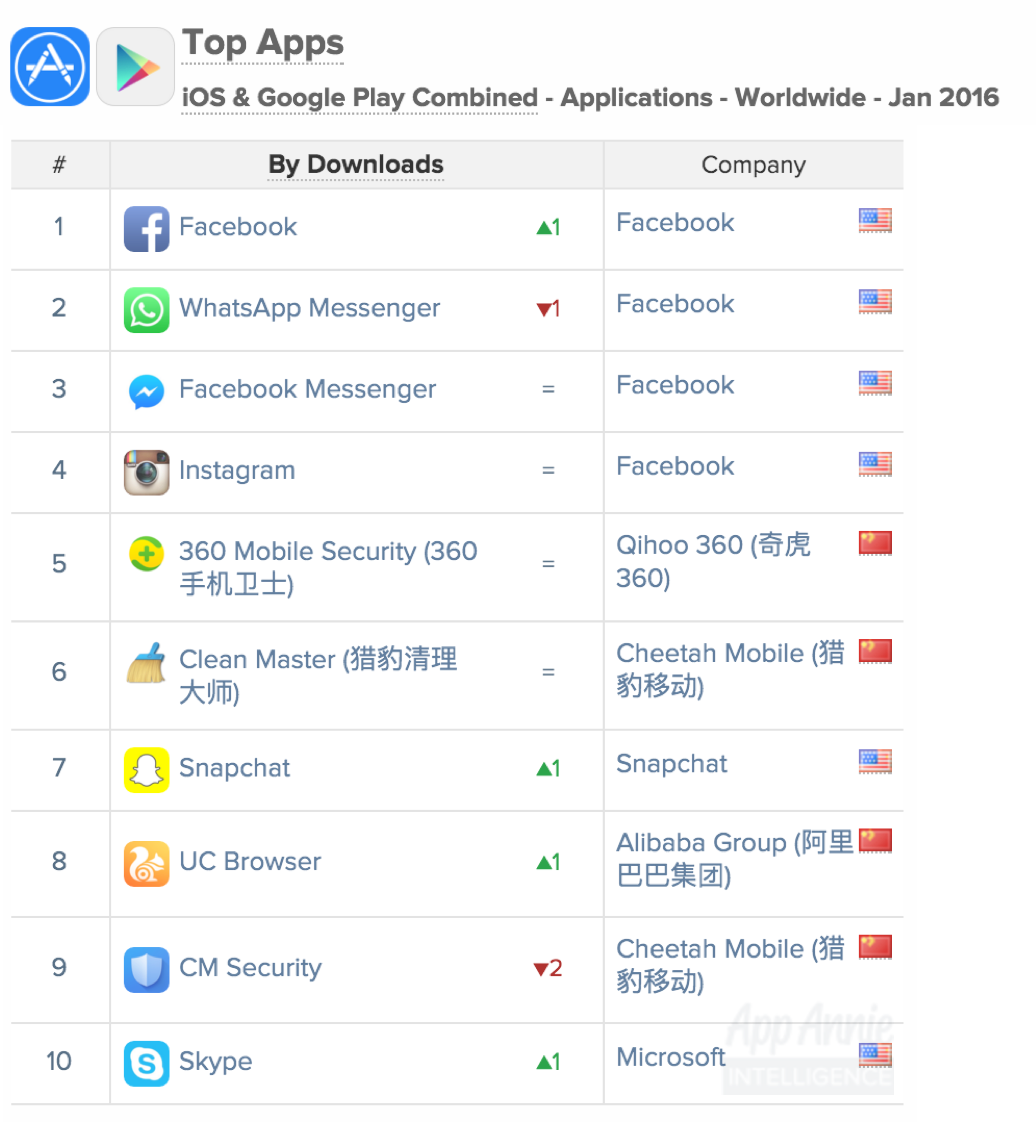 Apps are continuing to eat the web and as Facebook's apps continue to battle for position at the top of the charts, the company's recent earning report has demonstrated the growing importance of mobile within its portfolio.
This month Facebook posted quarterly revenue that surpassed $5bn for the first time ever, 97% of which came from advertising. The company stated that mobile revenue represented approximately 80% of all advertising revenue for Q4 2015, up from 69% in Q4 2014. The importance of video ads was also acknowledged as Facebook now boasts 500 million daily video viewers.
However, Facebook is not unique among internet giants in drawing success from mobile growth this month. Chinese e-commerce giant Alibaba, which saw its worldwide download rank increase on Google Play, released favorable company revenue results at the end of January, attributed primarily to the growing prevalence of mobile shopping in China. To illustrate the scale of mobile growth — 68% of Alibaba's Gross Merchandise Volume came from mobile in 2015 compared with only 42% the previous year.
The Technology Behind the Index
The information contained in this report is compiled from App Annie Intelligence, the leading market data solution for the app store economy. To see how our app store download, revenue, demographic and usage estimates can help guide your critical business decisions, request a demo today.
---

---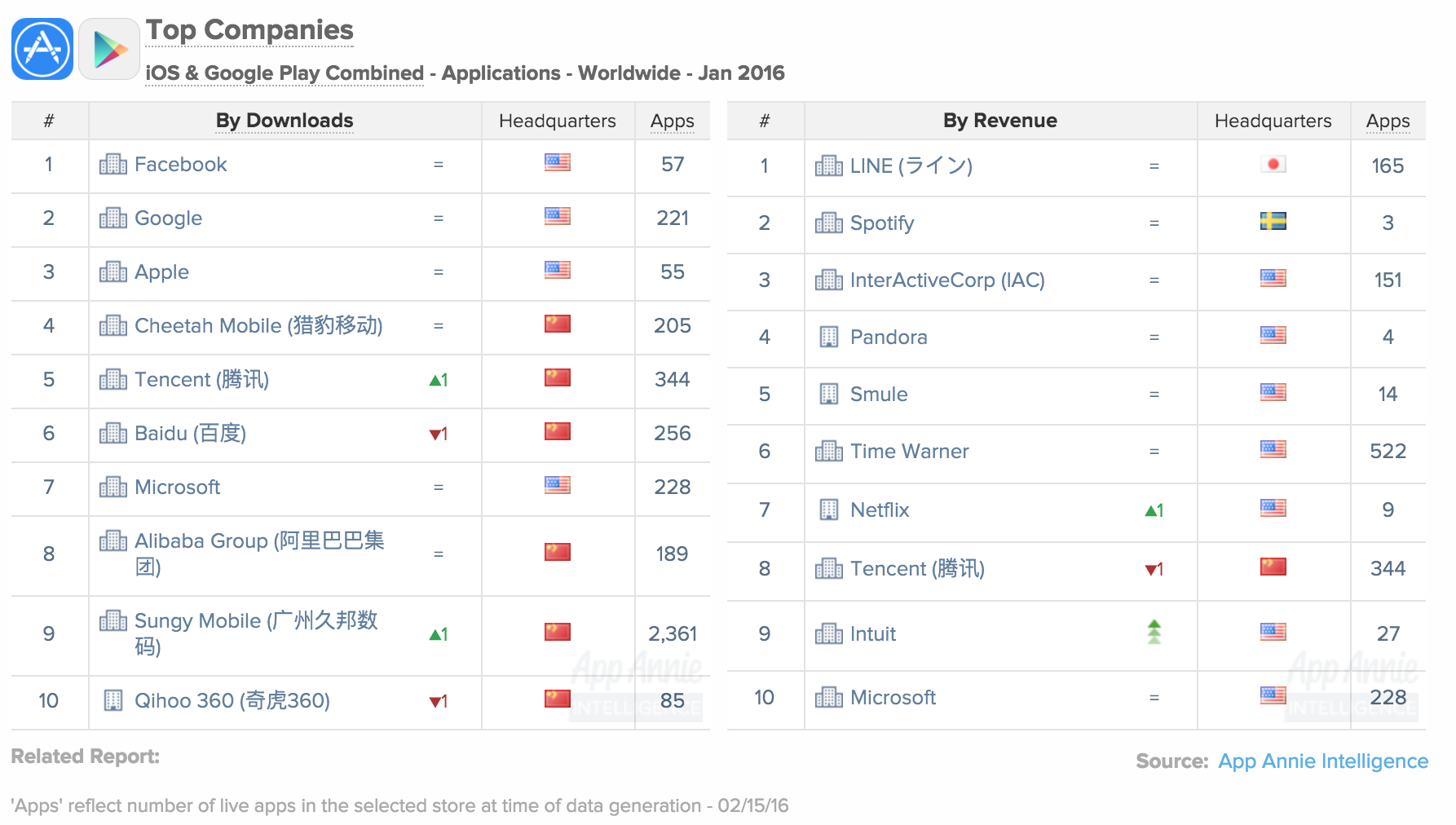 For the complete list of January's top apps and app publishers around the world, click the chart above.
Notes:
The publisher and app rankings reported in the App Annie Index are based on the download and revenue estimates available through App Annie Intelligence. The daily rank history charts and the homepage feature app data are available to all users through App Annie's app tracker solution, Store Stats.
App Annie Intelligence is currently available for the iOS App Store and Google Play. It does not currently provide estimates for other app stores, such as the Amazon Appstore. While iOS and Google Play represent a significant portion of the app market in many countries, that is not the case for some countries. For example, China has a number of sizable third-party Android app stores.

While the Index for Games covers games, the Index for Apps provides app tracking on everything but games. Note that the Top Company rankings in the Index for Games are based solely on the publishers' games downloads and revenue, while the Top Company rankings in the Index for Apps are based on the company's downloads and revenue from apps excluding games.

Company and unified app rankings in the App Annie Index for Games and Index for Apps are based on individual apps that ranked in the Top 1,000.

Download rankings are based on individually downloaded apps and exclude downloads of app bundles. Revenue rankings are based on download revenue from individually downloaded paid apps as well as in-app purchase revenue from both individually downloaded apps and app bundles.

In the first month in which an app becomes unified, its rank change in the Index will compare the unified app that month vs. its highest-ranking individual app in the month prior. As a result, rank changes for newly unified apps may overstate ranking increases from June 2015 to July 2015.

In the iOS App Store, an app can be categorized under a Primary Category as well as an optional Secondary Category. If an app has a Primary Category of Games and a Secondary Category of Entertainment, it is a candidate to be included in this Index for Games. If the app's Primary Category is Entertainment and its Secondary Category is Games, then it will not be included in this Index for Games; it is a candidate for the Index for Apps.

Note that the ranking approach used in the App Annie Index differs from that used in the iOS App Store. In the latter, app rankings for a given category will include all apps whose Primary Category or Secondary Category matches that given category. So an app can appear in the rankings for more than one category within the iOS App Store or in App Annie Store Stats rankings.

In Google Play, an app can be categorized under only one category, so there is no double-categorization.

Occasionally, a publisher may decide to shift an existing app from one category to another category. In these cases, the App Annie Index will rank that app based on its categorization in the subsequent month. Given that the App Annie Index has a Games report and an Apps report, the only scenario where an app's recategorization could shift it from one Index to another is if its category changes from Games to a category other than Games or vice versa.
In the App Annie Index, all apps and publishers are reported under their parent companies, where available; for example, the Plants vs. Zombies™ 2 app is reported under its parent company Electronic Arts, rather than its direct publisher PopCap. Note that if you view the Electronic Arts parent company page on Store Stats, you will see the publishers that roll under the parent company Electronic Arts, including PopCap. The Plants vs. Zombies™ 2 app will be listed under the PopCap publisher page.
Company and app rankings are based on the App Annie DNA relationships at the time of publications. App Annie DNA relationships are subject to change over time.

App Annie Usage Intelligence data for smartphones and tablets were derived from mobile usage data collected from a large sample of real-world users, combined with additional proprietary data sets.

App Annie tracks usage at the device level using a privacy-protective hashed device ID. Data is only reported to third parties in aggregated format.

App Annie Index revenue rankings are based on revenue that the iOS App Store and Google Play earned from paid downloads and in-app purchases. They do not include revenue earned from in-app advertising.

Certain trademarks and/or images used in this report may belong to third parties and are the property of their respective owners. App Annie claims no rights to such trademarks or images.