Big Deals for Messaging Apps
January was a good month for messaging apps as WhatsApp Messenger, Viber, and Tencent's QQ all moved up the charts, while others occupied top five positions by both downloads and revenue. However, the big news came in February with a pair of high-profile acquisitions. The first to be announced was Japanese e-commerce giant Rakuten's $900 million acquisition of Viber Media. The deal adds interest to the expanding battle involving messaging and e-commerce, as LINE and WeChat extend their messaging platforms further into e-commerce sales, mobile payments, and other areas.
Making even more headlines was Facebook's recently announced $19 billion deal for WhatsApp, which gives Facebook access to WhatsApp's 320 million daily active users. See our special feature on WhatsApp's acquisition, as well as App Annie's video interviews with Bloomberg and Al Jazeera, for more analysis and insight.
Music App Revenue Grows in the iOS App Store
Although Pandora has been at the top of the iOS App Store app revenue rankings in the Apps Index since April 2013, other music streaming apps haven't been as prominent. This is partly because some subscription music services (such as Spotify) monetize outside the app stores. These apps are generally an important vehicle for delivering and discovering music content, but generate revenue directly from the apps stores less frequently. However, in January, Deezer joined Pandora in the Top 10 apps by monthly iOS App Store revenue. Deezer is more prominent in Europe and markets outside the United States, while Pandora's revenue is largely United States-based. It will be interesting to see if other music apps also begin to bring in more revenue through the app stores in the future.
Tencent saw a significant jump in January, primarily due to gains for its QQ messaging app. While WeChat provides most of the headlines, QQ remains Tencent's largest messaging service. However, WeChat also made significant progress in January. As well as adding a taxi booking service to the platform, a Chinese New Year promotion significantly advanced its mobile payment and e-commerce ambitions. The promotion allowed users to send virtual red envelopes as gifts to their friends. A total of 20 million red envelopes were sent by WeChat users, and meant that around 5 million bank cards were tied to WeChat accounts. Tencent's e-commerce ambitions are relatively clear, with recent acquisitions strengthening their portfolio in this arena. The move comes as competition intensifies in the messaging, e-commerce, and mobile payment arenas in China. Alibaba Group,  with a strong record of e-commerce and mobile payment apps, is now stepping up its efforts in the messaging space. Although still a minor component of its downloads, recent developments to Alibaba Group's Laiwang messaging app include the addition of a gaming center, in an effort to match one of the key features of Tencent's WeChat.
Disney also made gains to rejoin the Top 10 by iOS App Store downloads outside of games, primarily driven by gains made in the United Kingdom. Disney's downloads in the United Kingdom were boosted by the release of Disney Puzzle Packs, a children's app featuring digital jigsaw, word, and picture puzzles, as well as gains for Disney Princess Palace Pets, a virtual pet app.
Stability was the overriding theme for the top publisher ranks on Google Play in January, but that doesn't mean the biggest publishers had a quiet month. Facebook led the way with the announcement of Paper, a new app that combines information from users' Facebook news feeds with external content of interest in a newly designed reader interface. Paper was released at the start of February in the United States.
OutFit 7, holding a place in the top five Google Play publishers by monthly downloads in January, revealed the strength of its Talking Tom app franchise. Its 230 million monthly active users put it ahead of Twitter, and the franchise is now expanding into products outside of apps, such as videos and merchandise.
After relinquishing the #1 spot in December, Pandora returned to the top of the iOS publisher ranks by monthly revenue outside of games in January. Badoo also made a return, climbing back into the Top 10. The publisher's social networking and dating apps continued to prove popular, particularly in France.
January saw significant gains for Voltage in Google Play revenue. The romance-focused publisher grew revenue from Japan with a variety of their anime-style apps, but saw particularly strong growth from 吉祥寺 恋色デイズ (Kichijyoji Koiiro Days). The interactive romance story focuses on childhood sweethearts reunited in their home town.
Tencent's QQ experienced a large increase in downloads in January, taking it in to the Top 10 for monthly iOS App Store downloads outside of games. The extensive reach of QQ was illustrated on Chinese New Year (January 31), when 13.6 billion messages were sent via the messaging service in one day, peaking at 32.7 million messages in one minute. A significant proportion of the growth in QQ app downloads in January came with the release of the international (English and nine other languages) version of QQ. The international version performed extremely well in China, ranking higher than the local version for much of January.
Flipagram, an app that makes videos out of user-selected photos and music, also made gains to appear in the Apps Index for the first time. The app returned to the top ranks in the United States in late December, coinciding with publicity from a number of high-profile celebrity users. In early January, Flipagram also gained traction in markets outside the United States,  particularly France and the United Kingdom. This will be welcome news for publisher Cheerful, as they are rumored to be seeking investment valuing the company at $300 million.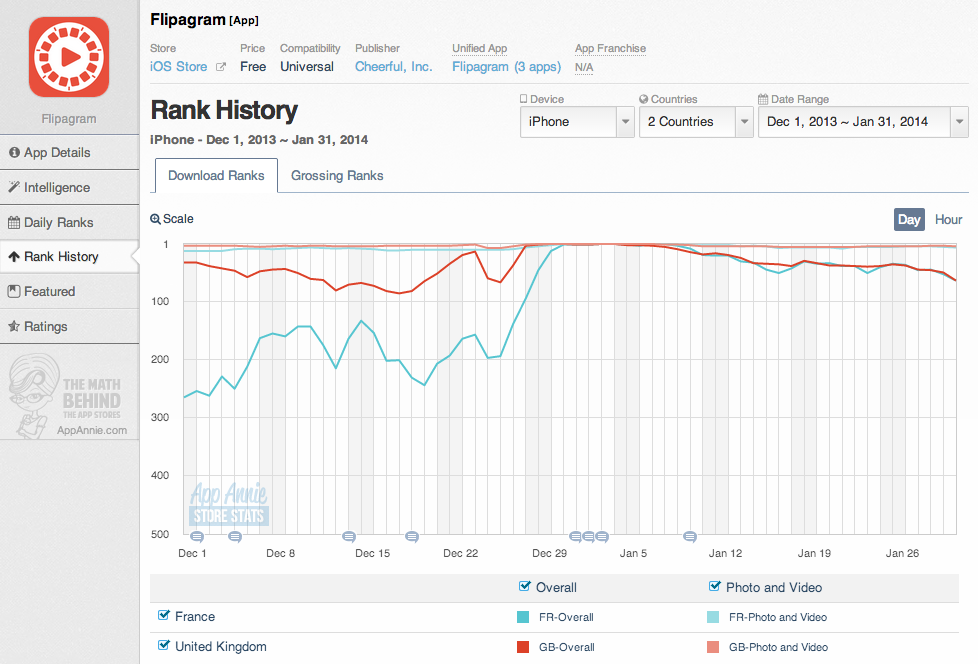 Flipagram made rapid gains in the United Kingdom and France at the end of December following several high-profile celebrity users.
In Google Play, Mobogenie Market climbed significantly to join the Top 10 apps outside of games by monthly downloads. The app discovery and download tool was particularly popular in Google Play's emerging markets, including India, Russia, and Brazil.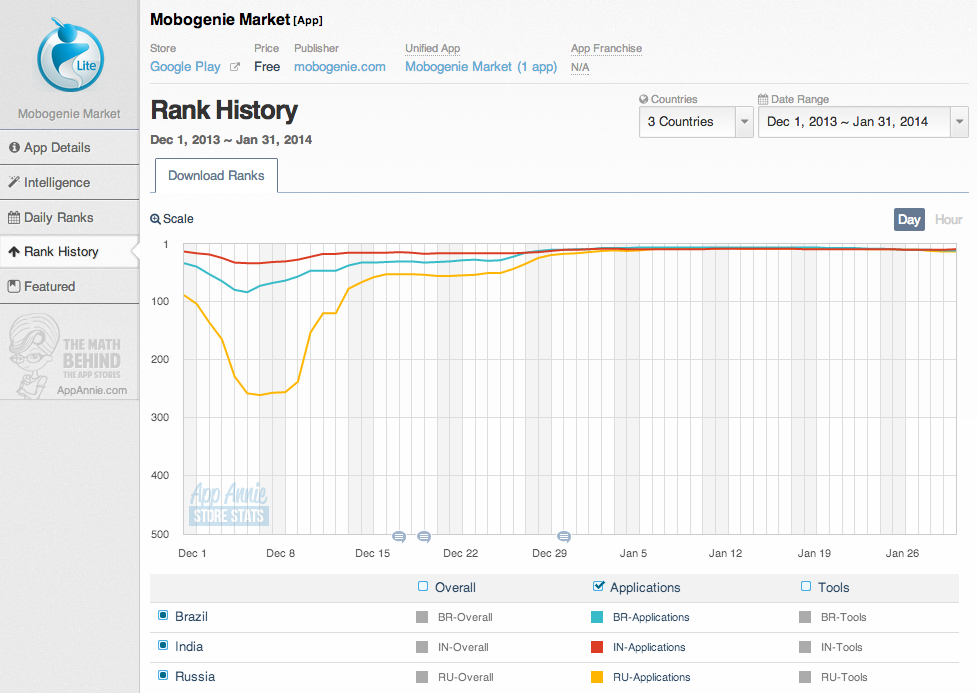 Mobogenie Market gained in major emerging countries in December, before hitting the top ranks in January.
Messaging platform app Viber also made gains in January, with prominent growth in Google Play in the United Kingdom. Viber has made substantial moves recently to mirror many of the features available in messaging app platforms such as LINE, WeChat, and KakaoTalk, by introducing a sticker store in November, and adding Viber Out - the ability to call landlines and mobile phones without Viber - in December. The features are likely to be key for the future as Viber Media announced its acquisition by Japanese e-commerce company Rakuten for $900 million. Rakuten also seems set to introduce one major feature commonly associated with messaging platforms that Viber has yet to implement - a gaming platform.
It was a good month for music apps in the iOS App Store, with Pandora remaining on top of the rankings for monthly revenue outside of games, and Deezer joining the Top 10. While Pandora continued to dominate in the United States, Deezer performed strongly in France, the publisher's home market. At this stage, Pandora is unavailable in European markets, and Deezer is yet to offer full services in the United States, but expanding services in the future could lead to interesting competition for the mobile music market.
Deezer's on-demand music streaming service entered the Top 10, primarily driven by revenue from Europe and South America.
WhatsApp Messenger kept up the battle in the messaging app space, entering the top five apps by monthly revenue outside of games in January. The app performed particularly well in Spain, despite the strength of competing messaging app LINE in Spanish-speaking markets. The boost in rankings for WhatsApp Messenger in Google Play revenue will be good news for Facebook, who announced an enormous $19 billion deal to acquire WhatsApp in mid-February. Along with their own Facebook Messenger app, the acquisition will give Facebook a considerable presence in the messaging market worldwide.
Meanwhile, LINE retained the top spot for monthly Google Play revenue worldwide, and appears to be making further moves into mobile e-commerce. After running successful flash sales for brands such as Maybelline in Thailand through the LINE app, the publisher began a limited rollout of its LINE Mall marketplace for businesses in Japan in December. The move into mobile e-commerce allows vendors to list products and sell to users, with LINE taking a 10% cut of the sale price.
For those of you who also are looking for an update on top apps in gaming, please check out our January 2014 Games Index.
Notes:
The publisher and app rankings reported in the App Annie Index are based on the download and revenue estimates available through App Annie

Intelligence

.  The daily rank history charts and the home page feature app data are available to all users through App Annie's app tracker solution,

Store Stats

.

While the Games Index covers games, the Apps Index provides app tracking on everything but games.  Note that the Top Publishers rankings in the Games Index are based solely on the publishers' games downloads and revenue, while the Top Publishers rankings in the Apps Index are based on the publishers' downloads and revenue from apps excluding games.

Through August 2013, publisher rankings in the App Annie Games Index and Apps Index were based on apps that ranked in the Top 1,000.  Effective with September data, publisher rankings are based on publishers' full set of apps.

Through September 2013, similar versions of the same app with different names (e.g., NYTimes and NYTimes for iPad) were ranked separately. Effective with October data, similar versions of the same app with different names will be unified (e.g., NYTimes and NYTimes for iPad are now aggregated and ranked as a single NYTimes unified app).

Unified apps are ranked based on estimates from all versions of the app that appear in the Top 1000 in the Overall category.

In the first month in which an app becomes unified, its rank change in the Index will compare the unified app that month vs. its highest-ranking individual app in the month prior.  As a result, rank changes for newly unified apps may overstate ranking increases from December 2013 to January 2014.

In the iOS App Store, an app can be categorized under a Primary Category as well as an optional Secondary Category.  If an app has a Primary Category of Entertainment and a Secondary Category of Games, it is a candidate to be included in this Apps Index.  If the app's Primary Category is Games and its Secondary Category is Entertainment, then it will not be included in this Apps Index; it is a candidate for the Games Index.

Note that the ranking approach used in the App Annie Index differs from that used in the iOS App Store.  In the latter, app rankings for a given category will include all apps whose Primary Category or Secondary Category matches that given category.  So an app can appear in the rankings for more than one category within the iOS App Store or in App Annie Store Stats rankings.

In Google Play, an app can be categorized under only one category, so there is no double-categorization.

Occasionally, a publisher may decide to shift an existing app from one category to another category.  In these cases, the App Annie Index will rank that app based on how it is categorized in the subsequent month.  Given that the App Annie Index now has a Games report and an Apps report, the scenario where an app's recategorization could shift it from one Index to another is if its category changes from the Games category to a category other than Games or vice versa.
In the App Annie Index, all apps and publishers are reported under their parent publishers, where available; for example, the Instagram app is reported under its parent publisher Facebook, rather than its direct publisher Instagram. Note that if you view the Facebook parent publisher page on Store Stats, you will see the publishers under the parent publisher Facebook, including Instagram. The Instagram app will be listed under the Instagram

publisher page.

App Annie Index revenue rankings are based on revenue that the iOS App Store and Google Play earned from paid downloads and in-app purchases.  They do not include revenue earned from in-app advertising.

Any non-App Annie trademarks or images used in this report are the property of their respective owners.  App Annie claims no rights in those trademarks.