Worldwide App Annie Index for Apps February 2016

Each month, the App Annie Index highlights the top-performing games and apps for the iOS App Store and Google Play. Our analysis covers trends among the leading apps across countries and categories, and is the industry standard for professionals looking to compare leading apps and publishers.

You might also be interested in:
This Month's Top Apps
WiFi Master Key Provides a Boost to Wi-Fi Sharing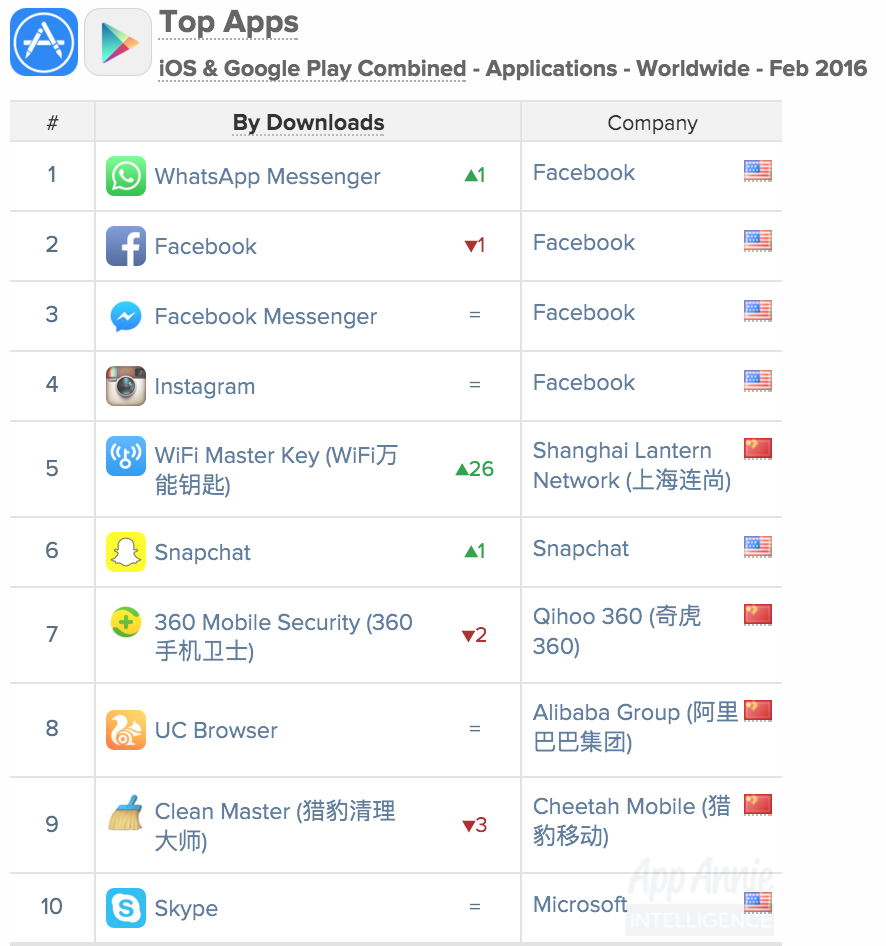 Mobile data prices are continually declining, yet everybody still loves free Wi-Fi. Consumers will often choose restaurants or cafes based on whether they can get online, despite the increase in information gathering activities by venue operators through cumbersome Wi-Fi management portals.
An increasingly popular app called WiFi Master Key aims to alter this behavior. The app allows users to crowdsource login credentials for Wi-Fi hotspots. In February, it surged to #5 in the global top 10 by downloads on iOS and Google Play combined.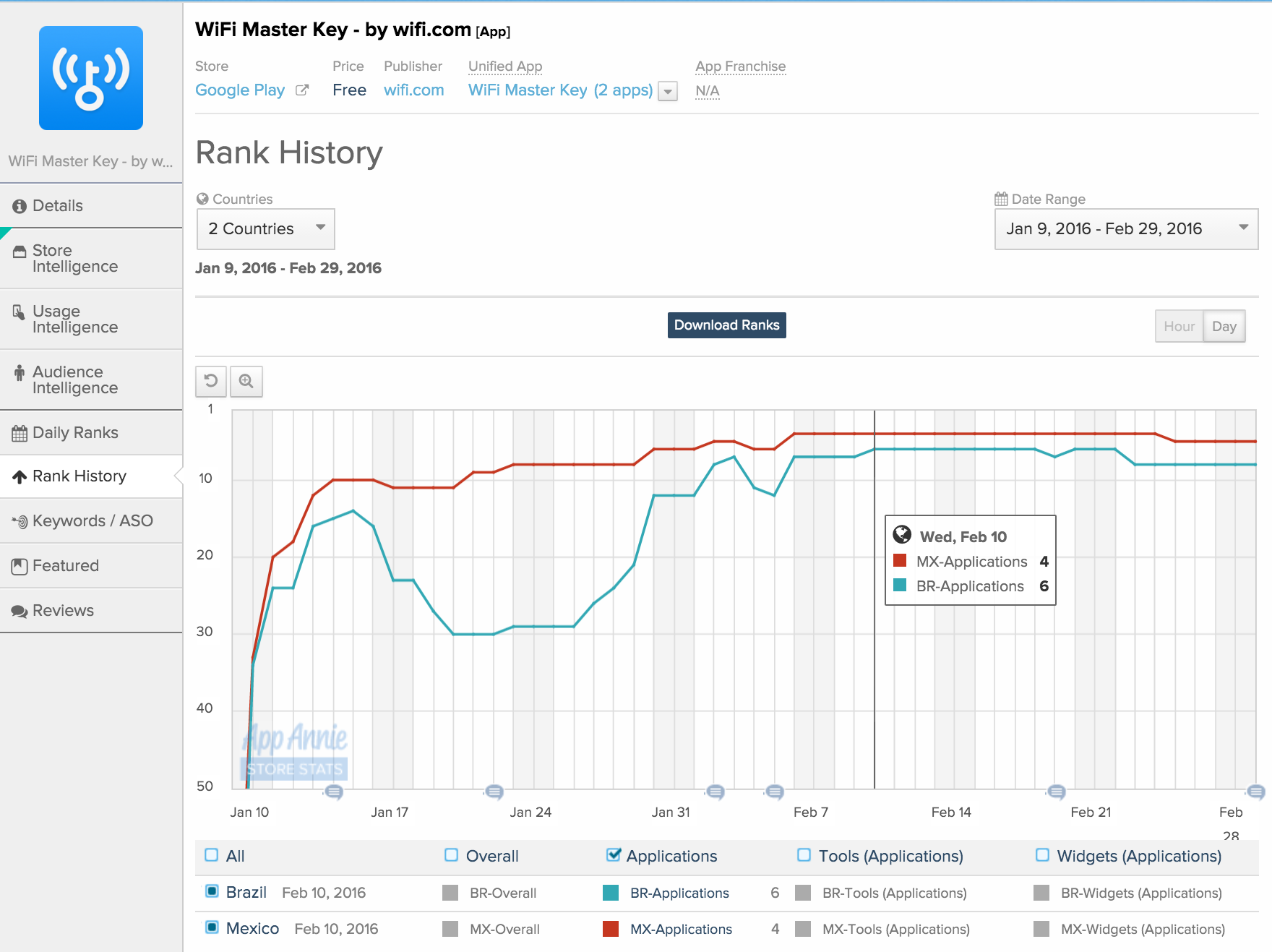 WiFi Master Key performed especially well in emerging markets Brazil and Mexico during February 2015.
The concept of Wi-Fi sharing is not new. In 2009, Free, a French telecommunications company set up a large Wi-Fi community within their customer network. WiFi Master Key, however has leveraged the ubiquity of mobile to operate on a much grander scale.
We reached out to Li Lei, Co-Founder and President of WiFi Master Key, who spoke to us about their app. "WiFi Master Key founder, Chen Danian, once mentioned that globalization is a natural trait of Sharing Economy, and the more internationalized a Sharing Economy is, the more vital it becomes. With this belief, WiFi Master Key actively expands its global footprint after achieving a substantial user base in China. In just six months since the official overseas launch, WiFi Master Key has seen rapid growth across 223 countries. Moving forward, WiFi Master Key will continue to focus on providing better free Internet services for users worldwide."
The app has been a scorching success in numerous mature and developing countries, performing particularly well in Brazil and Mexico where it remained in the top 10 by downloads on Google Play from February 6 to February 29.
Having set up a regional headquarters in Singapore last year, WiFi Master Key is primed for further success in emerging markets where mobile connectivity remains unstable, and sharing apps are wholeheartedly embraced.
iQIYI Stays Ahead in the Subscriber Acquisition Race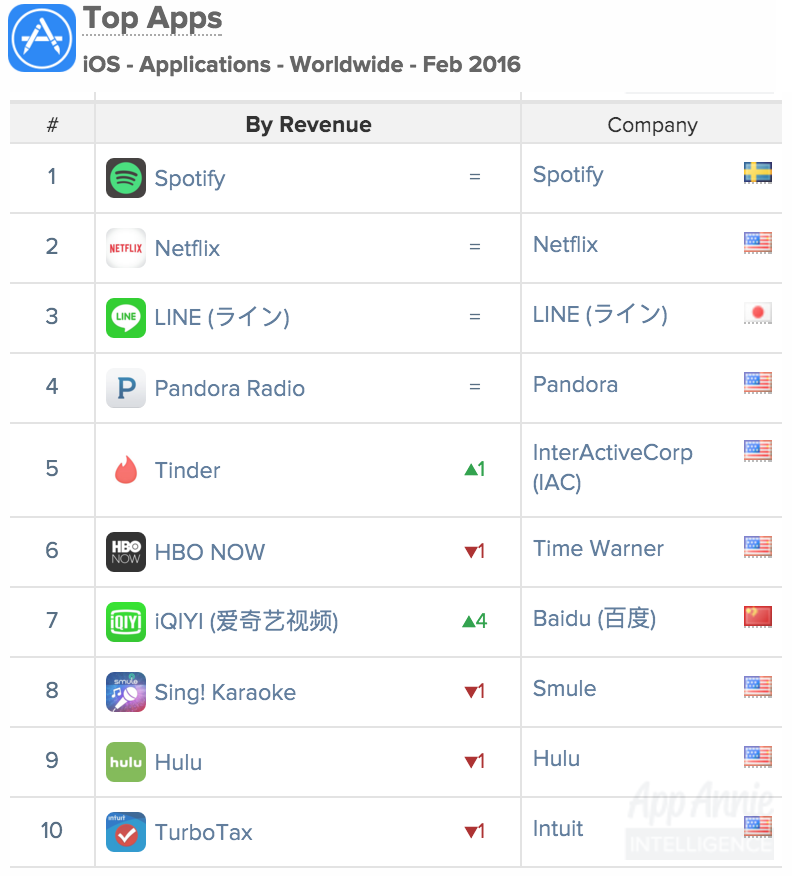 In our October Apps Index, we wrote about iQIYI's deals with Paramount Pictures, Lionsgate and NBCUniversal. In February 2016 they inked a new agreement with 20th Century Fox, further cementing the importance of the Chinese video streaming market to major Hollywood studios. The deal expands on the existing agreement between the two companies and increases content options for iQIYI's Chinese subscribers.
In a hotly contested market that includes Tencent Video, Sohu TV and LeEco, the ability to deliver highly popular content is critical to maintaining a strong paid subscriber base. Besides expanding its provision of big-name TV shows from the United States, iQIYI is also focused on increasing its regional content offerings. Its exclusive hit Korean show, Descendants of the Sun, has been a massive success in China since it began airing this year.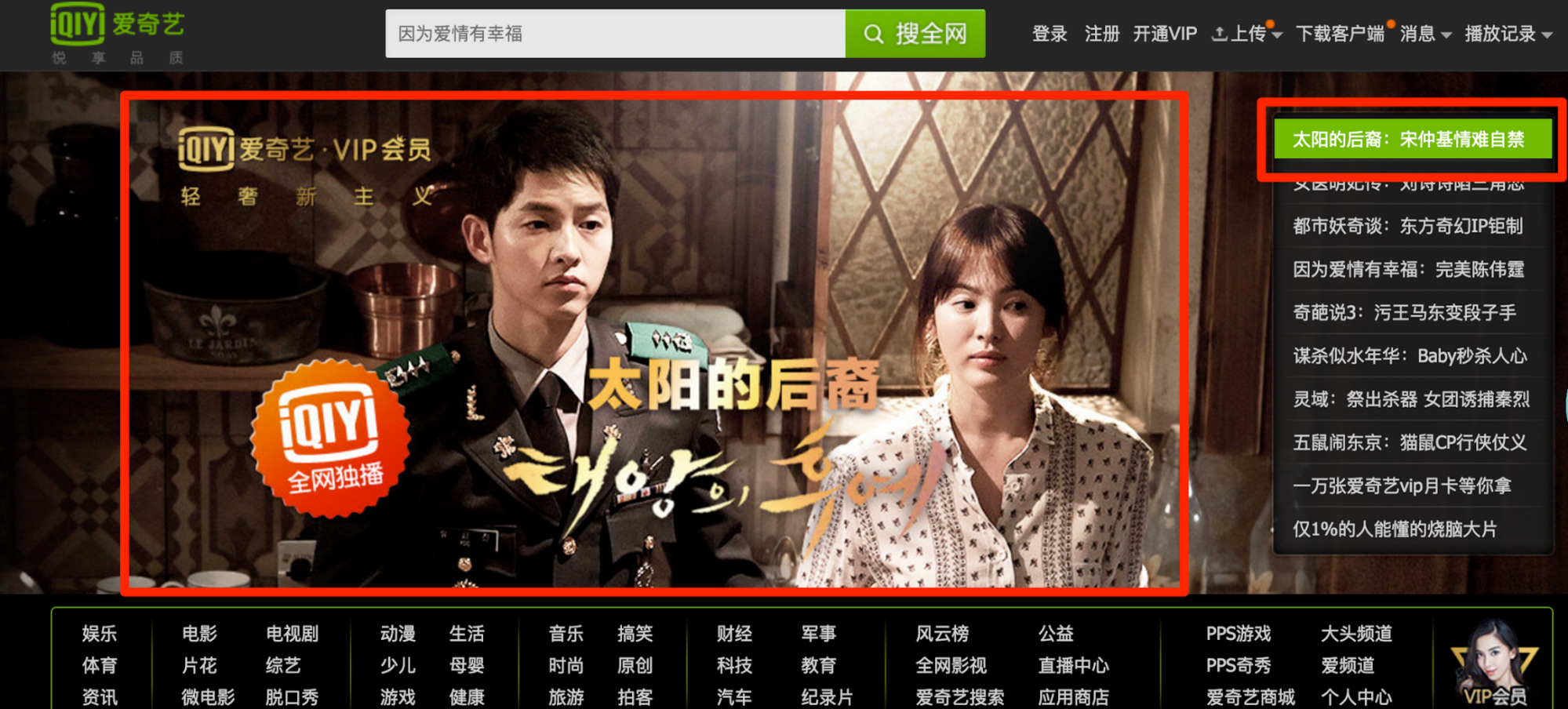 Descendants of the Sun has been a major success for iQIYI in China.
There may be a link between exclusive access to hit shows and subscriber acquisition for Chinese video streaming apps, as another show, "The Legend of Mi Yue", drove high viewership for Tencent Video and LeEco during its run. Therefore, we can expect Chinese players to continue striving for top content across the globe.
Video Playing Key Role in Snapchat's Success Story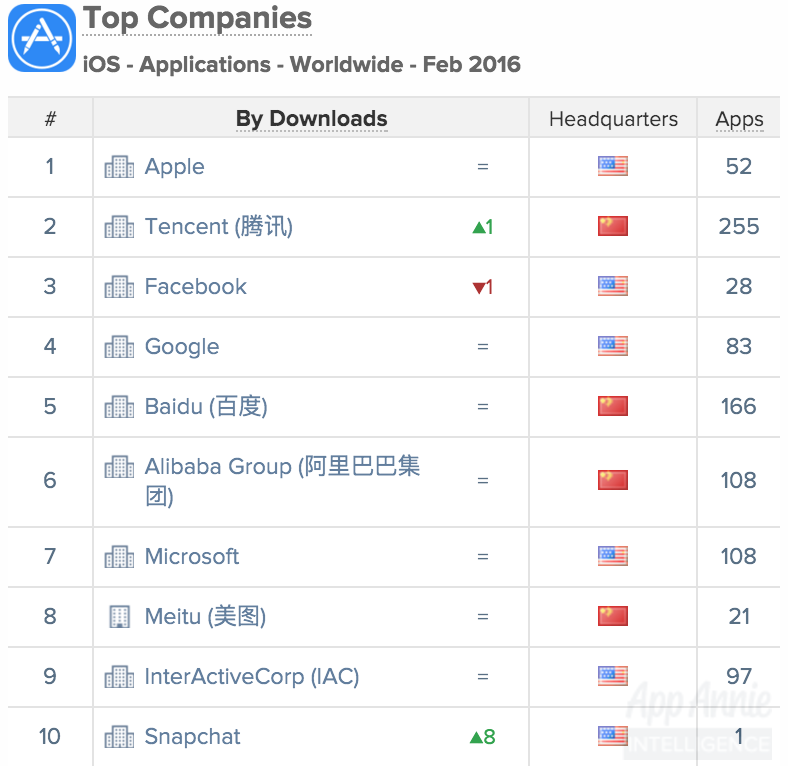 In today's crowded mobile messaging market, innovation makes all the difference between success and failure. Snapchat initially stood out by providing ephemeral photo and video-based messages but has continued to improve its offering via strategic acquisitions and feature set expansion. Snapchat's momentum helped it to break into the top 10 companies by worldwide iOS downloads in February 2016.
The secret to Snapchat's success? Building a stronghold in the mobile video space has certainly helped. Daily video views on Snapchat grew from two billion in May 2015 to seven billion by the end of the year. As that number continues to rise, Snapchat can challenge Facebook, which had over eight billion video views during Q3 2015, despite having 15 times more active users. Facebook has also recognised the need to own the video space and recently bought video filter app MSQRD to expand its own video editing features.
Snapchat's highly engaged young audience is another success factor, as young people clearly spend the most time on messaging apps. This ensures it will remain a highly desirable advertising platform, and with fresh funding of $175 million raised, Snapchat is on track to excel throughout this year.
The Technology Behind the Index
The information contained in this report is compiled from App Annie Intelligence, the leading market data solution for the app store economy. To see how our app store download, revenue, demographic and usage estimates can help guide your critical business decisions, request a demo today.
---

---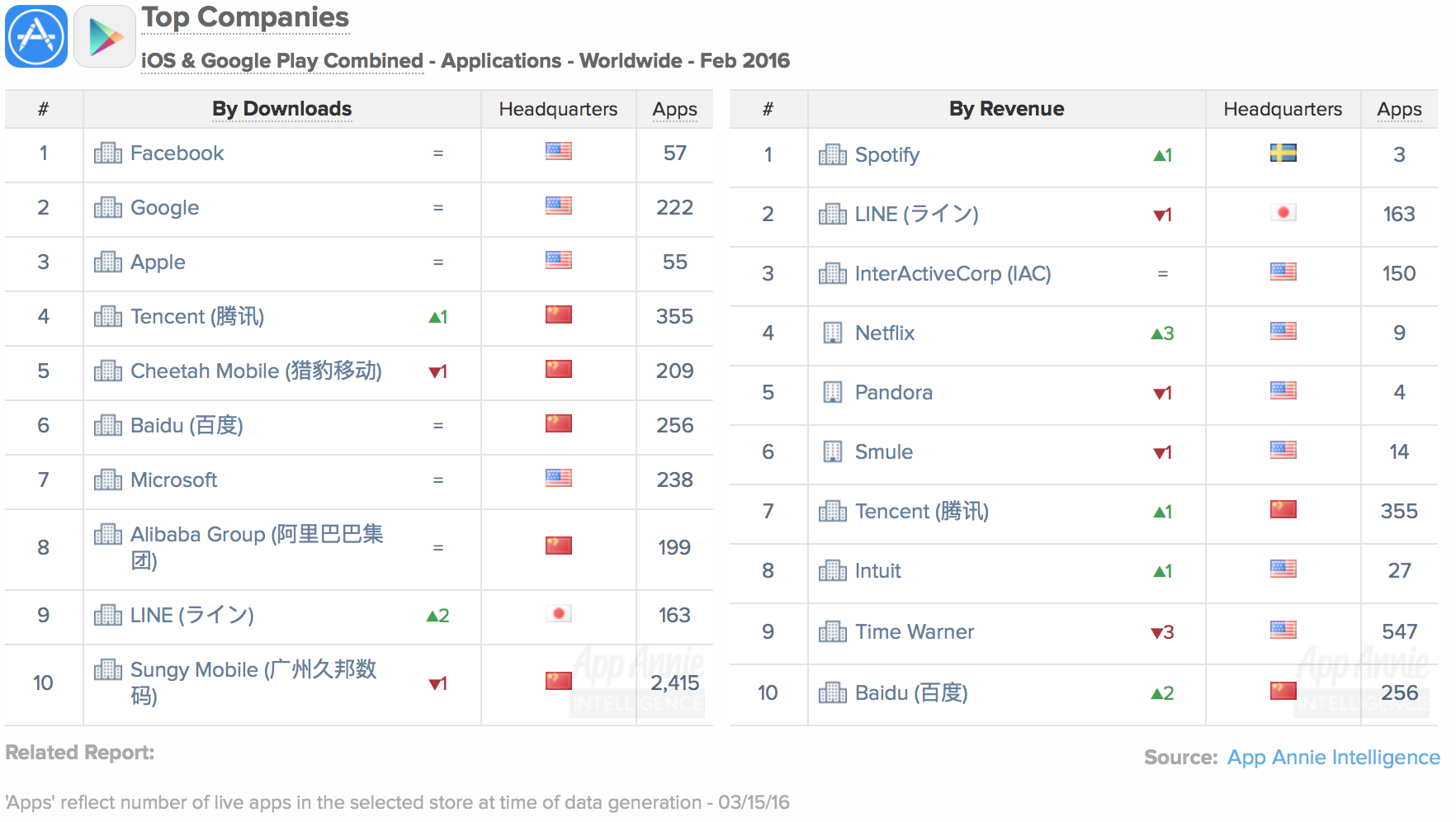 For the complete list of February's top apps and app publishers around the world, click the chart above.
Notes:
The publisher and app rankings reported in the App Annie Index are based on the download and revenue estimates available through App Annie Intelligence. The daily rank history charts and the homepage feature app data are available to all users through App Annie's app tracker solution, Store Stats.
App Annie Intelligence is currently available for the iOS App Store and Google Play. It does not currently provide estimates for other app stores, such as the Amazon Appstore. While iOS and Google Play represent a significant portion of the app market in many countries, that is not the case for some countries. For example, China has a number of sizable third-party Android app stores.

While the Index for Games covers games, the Index for Apps provides app tracking on everything but games. Note that the Top Company rankings in the Index for Games are based solely on the publishers' games downloads and revenue, while the Top Company rankings in the Index for Apps are based on the company's downloads and revenue from apps excluding games.

Company and unified app rankings in the App Annie Index for Games and Index for Apps are based on individual apps that ranked in the Top 1,000.

Download rankings are based on individually downloaded apps and exclude downloads of app bundles. Revenue rankings are based on download revenue from individually downloaded paid apps as well as in-app purchase revenue from both individually downloaded apps and app bundles.

In the first month in which an app becomes unified, its rank change in the Index will compare the unified app that month vs. its highest-ranking individual app in the month prior. As a result, rank changes for newly unified apps may overstate ranking increases from June 2015 to July 2015.

In the iOS App Store, an app can be categorized under a Primary Category as well as an optional Secondary Category. If an app has a Primary Category of Games and a Secondary Category of Entertainment, it is a candidate to be included in this Index for Games. If the app's Primary Category is Entertainment and its Secondary Category is Games, then it will not be included in this Index for Games; it is a candidate for the Index for Apps.

Note that the ranking approach used in the App Annie Index differs from that used in the iOS App Store. In the latter, app rankings for a given category will include all apps whose Primary Category or Secondary Category matches that given category. So an app can appear in the rankings for more than one category within the iOS App Store or in App Annie Store Stats rankings.

In Google Play, an app can be categorized under only one category, so there is no double-categorization.

Occasionally, a publisher may decide to shift an existing app from one category to another category. In these cases, the App Annie Index will rank that app based on its categorization in the subsequent month. Given that the App Annie Index has a Games report and an Apps report, the only scenario where an app's recategorization could shift it from one Index to another is if its category changes from Games to a category other than Games or vice versa.
In the App Annie Index, all apps and publishers are reported under their parent companies, where available; for example, the Plants vs. Zombies™ 2 app is reported under its parent company Electronic Arts, rather than its direct publisher PopCap. Note that if you view the Electronic Arts parent company page on Store Stats, you will see the publishers that roll under the parent company Electronic Arts, including PopCap. The Plants vs. Zombies™ 2 app will be listed under the PopCap publisher page.
Company and app rankings are based on the App Annie DNA relationships at the time of publications. App Annie DNA relationships are subject to change over time.

App Annie Usage Intelligence data for smartphones and tablets were derived from mobile usage data collected from a large sample of real-world users, combined with additional proprietary data sets.

App Annie tracks usage at the device level using a privacy-protective hashed device ID. Data is only reported to third parties in aggregated format.

App Annie Index revenue rankings are based on revenue that the iOS App Store and Google Play earned from paid downloads and in-app purchases. They do not include revenue earned from in-app advertising.

Certain trademarks and/or images used in this report may belong to third parties and are the property of their respective owners. App Annie claims no rights to such trademarks or images.