The App Annie Apps Index brings you the top-performing publishers and apps outside of games across both the iOS App Store and Google Play based on market data from App Annie Intelligence.  To find out what's happening in game apps, please check out our February 2014 Games Index.
LINE expands outside Japan
LINE took top rank for publishers by monthly revenue outside of games in both iOS and Google Play in February. There was also good news for LINE's future, as its flagship messaging app made gains in the download ranks on both stores. Of particular note, most of these gains were made outside Japan in the primary markets for major rivals. On iOS, LINE made considerable gains in China, becoming the top ranked Social Networking app by daily downloads at the end of the month. On Google Play, LINE gained in the rankings in South Korea. The importance of an expanding user base can be seen in the February Games Index, where LINE made considerable gains in Thailand through its associated game offerings.
TurboTax 2013 makes the most of US tax season
While considerable attention fell on messaging apps after Facebook's acquisition of WhatsApp, one of the major movers in February came from a very different vertical. Intuit shot into the Top 10 iOS publishers by monthly revenue outside of games thanks to effective monetization of its iPad-only TurboTax 2013 app. The app assists users to complete their tax returns, and monetizes on electronic submission of the return. Understandably, it performed extremely well in the United States as tax season got into full swing, mirroring the performance of TurboTax 2012 a year ago.
The biggest movers by iOS App Store downloads in February made substantial gains thanks to major mergers and acquisitions during the month. Comcast entered the top 10 with a significant boost from its merger with Time Warner Cable, while Facebook also made gains following its high-profile acquisition of WhatsApp. However, it wasn't only this deal that helped Facebook climb to #2 in February. Paper - stories from Facebook also launched in the United States in early February, hitting the top ranks shortly after its launch.
Alibaba Group also gained after acquiring Chinese navigation and location service AutoNavi. This will be welcome news for the publisher following the recent confirmation of an upcoming IPO in the United States, which may value the company at around $140 billion.
Rakuten joined the top 10 publishers on Google Play by monthly downloads in February, growing significantly as a result of its $900 million acquisition of Viber in mid-February. The Japanese publisher now adds Viber to its stable of apps that includes shopping apps such as buy.com and e-reader app Kobo.
Two publishers from China also made major gains in the Google Play publisher rankings this month. Kingsoft Internet Software climbed into the top three, and Baidu joined the Top 10 publishers by Google Play downloads. Kingsoft Internet Software has been making steady gains recently, largely thanks to its storage management app Clean Master. However, in February, Clean Master Security, an antivirus app, made a significant contribution to the move into the top three publishers. The app was released in early January, and showed growth in markets such as the United States, Mexico, and India, particularly in late February.
LINE reclaimed the #1 position for iOS publishers by monthly revenue outside of games in February, giving it top spot on both iOS and Google Play. In February, LINE added a Theme Shop to its messaging app, creating a store in which users can purchase new personalized skins for LINE from within the app. LINE also announced an upcoming extension to its sticker offering with LINE Creators Market. The market will allow any LINE user to create and sell their own stickers, with the user keeping 50% of revenue and 50% going to LINE. Given the success of its own sticker store, it will be interesting to see whether the Creators Market will give LINE a similar revenue boost. Outside of its messaging app, LINE also continued to advance its mobile commerce ambitions, releasing LINE Mall for iOS following the earlier Google Play release.
The only new publisher in the top 10 by iOS App Store revenue in February was financial services publisher Intuit. With the United States tax season in full swing, Intuit capitalized on the opportunity, making significant gains in revenue from its tax return assistant app TurboTax 2013. A similar rise was noted in the February 2013 Apps Index, in which TurboTax 2012 also carried Intuit to #3 in the iOS revenue rankings.
Facebook made huge gains to be among the top five publishers by monthly Google Play revenue outside of games after its acquisition of WhatsApp in February. Its newly acquired app, WhatsApp Messenger, made gains in the United States in February, and continued to perform strongly in Germany.
Voltage also continued to perform well in Japan after the considerable gains made in January. Its continued climb in February brought it into the top three for monthly Google Play revenue outside of games, giving publishers from Japan two of the top three positions. A number of the publisher's interactive romance stories contributed to its gains, including the release of 今宵、妖しい口づけを (Tonight, A Mysterious Kiss) in early February.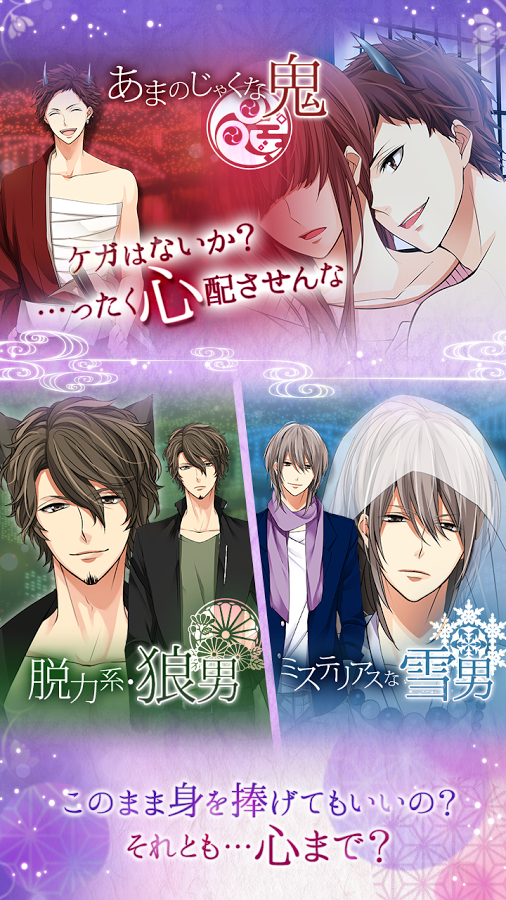 Voltage continued its rise thanks to interactive romance stories such as 今宵、妖しい口づけを (Tonight, A Mysterious Kiss).
It was another big month for messaging apps on iOS in February, with three of them making significant moves in the download rankings. WhatsApp Messenger claimed the top spot, and appears to have benefited from the attention surrounding the $19 billion acquisition of its parent company. The app saw a significant jump in rankings in the United States immediately following the acquisition announcement on February 19, but it also made gains at a similar time in Asian markets, including China, South Korea, and Japan, where other messaging apps have a strong foothold.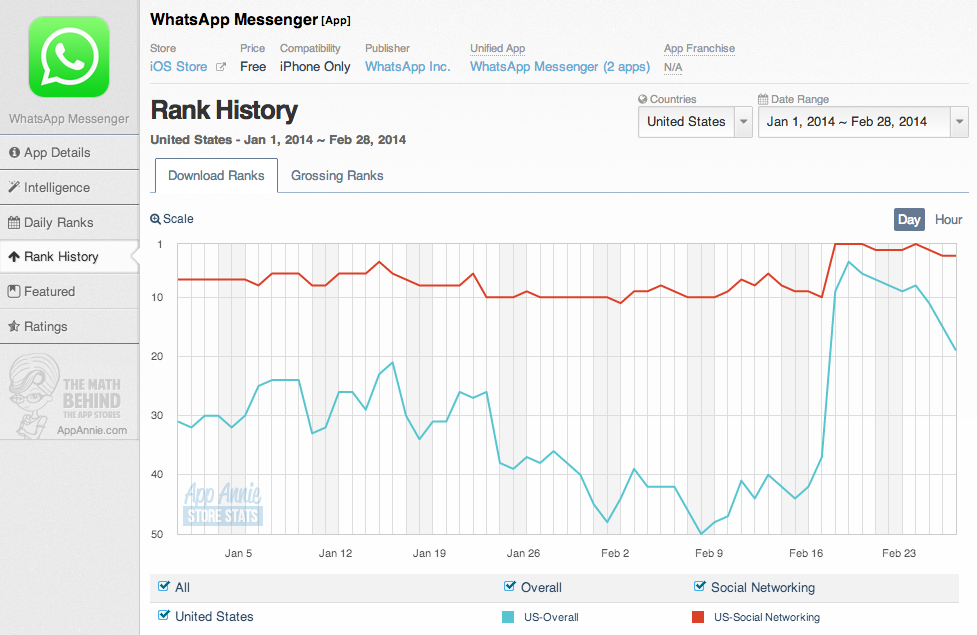 WhatsApp Messenger climbed into the top five iOS apps by downloads in the United States following the acquisition announcement.
There was also more news from WhatsApp Messenger in February with the announcement of free voice calls coming to the app soon. However, competition in the messaging space remains fierce, and LINE also announced the addition of free voice and video calls, which were introduced to the app in March. Prior to the addition of these features, LINE saw significant growth in February that brought in into the Top 10 for iOS downloads. Of particular note, a large proportion of this growth occurred in China, helping LINE make steady gains and eventually become the top Social Networking app on iOS by downloads in China at the end of the month. To make such gains in a market dominated by Tencent's WeChat will be good news for LINE as it seeks to continue expansion outside of Japan.
Another messaging app making substantial waves in iOS downloads was Germany-based Telegram. The app distinguishes itself from others on the market by focusing on security and privacy, offering features such as encrypted and ephemeral  messaging. Furthermore, the publisher has clearly stated that Telegram is a non-commercial project. The app has been performing strongly in Spain for a longer period, but took off in major markets such as Germany, Mexico, and the United States in the days following the WhatsApp acquisition in late February. In this time, Telegram revealed that its app reached up to 4.95 million new users in a single day, hitting the #1 rank in 49 countries.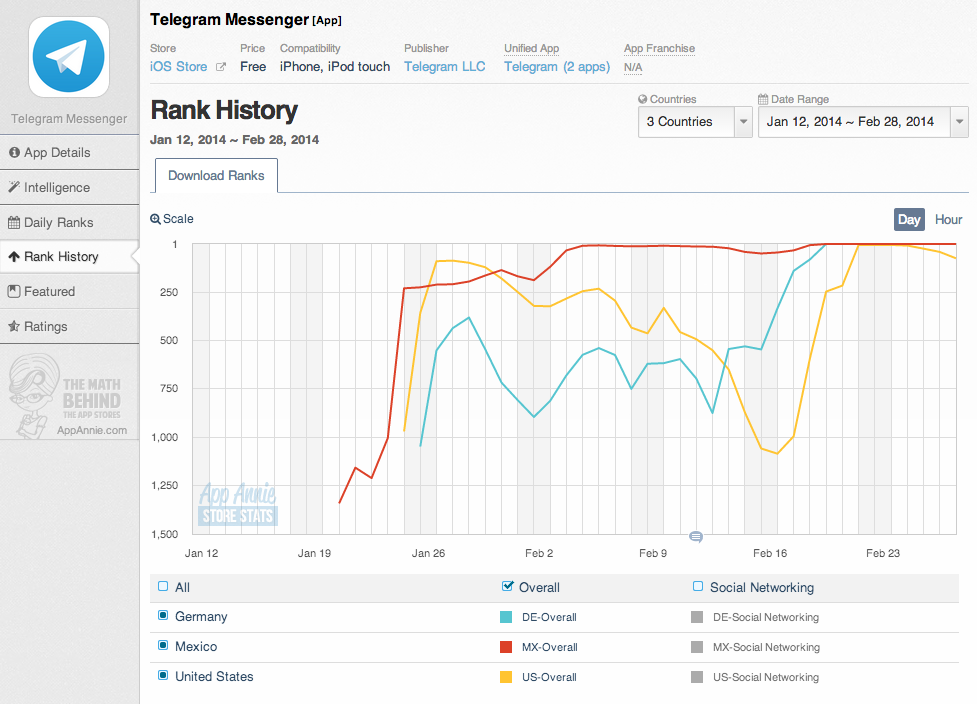 The WhatsApp acquisition appears to have brought attention to other messaging apps like Telegram.
The only non-messaging app to make gains within the Top 10 for iOS monthly downloads in February was Google Maps. Google updated its navigation app for iOS in early February, introducing a feature that notifies users when a faster route for their trip becomes available based on traffic data. This feature appears to stem from Google's acquisition of Waze back in June 2013.
Rankings in Google Play by monthly downloads were more stable, with Facebook now owning all of the top three apps outside of games. AVG's AntiVirus Security returned to the Top 10 as it continued to perform well in the major emerging markets of Brazil, Mexico, and India. LINE also made gains on Google Play, and crucially made these gains outside of Japan, furthering its international expansion. LINE performed strongly in Thailand, as it has done for some time, but also made major gains in South Korea, where rival KakaoTalk has a strong hold on the messaging app market.
There was considerable stability in the top apps by monthly iOS revenue outside of games as well, other than the addition of TurboTax 2013 to the Top 10. The iPad-only app was released in January, following the release of the 2012 version in January 2013, and helps users file tax returns electronically. TurboTax 2013 assists users in completing the form for free, but monetizes with in-app purchases that allow users to submit their completed tax return. TurboTax 2013 gradually built up through January 2014 following its release, and performed strongly in February as tax deadlines approached.
LINE's dominance of the top Google Play apps outside of games by monthly revenue continued in February. LINE Manga made further gains, giving LINE three of the top four apps, in addition to a fourth in the Top 10. Messaging apps WhatsApp Messenger and KakaoTalk rounded out the top five. After the sustained success of KakaoTalk, its parent company Kakao now appears to be close to launching an IPO, which is rumored to value the South Korean company around $2 billion.
For those of you who also are looking for an update on top apps in gaming, please check out our February 2014 Games Index.
Notes:
The publisher and app rankings reported in the App Annie Index are based on the download and revenue estimates available through App Annie

Intelligence

.  The daily rank history charts and the home page feature app data are available to all users through App Annie's app tracker solution,

Store Stats

.

While the Games Index covers games, the Apps Index provides app tracking on everything but games.  Note that the Top Publishers rankings in the Games Index are based solely on the publishers' games downloads and revenue, while the Top Publishers rankings in the Apps Index are based on the publishers' downloads and revenue from apps excluding games.

Through August 2013, publisher rankings in the App Annie Games Index and Apps Index were based on apps that ranked in the Top 1,000.  Effective with September data, publisher rankings are based on publishers' full set of apps.

Through September 2013, similar versions of the same app with different names (e.g., NYTimes and NYTimes for iPad) were ranked separately. Effective with October data, similar versions of the same app with different names will be unified (e.g., NYTimes and NYTimes for iPad are now aggregated and ranked as a single NYTimes unified app).

In the first month in which an app becomes unified, its rank change in the Index will compare the unified app that month vs. its highest-ranking individual app in the month prior.  As a result, rank changes for newly unified apps may overstate ranking increases from January 2014 to February 2014.

In the iOS App Store, an app can be categorized under a Primary Category as well as an optional Secondary Category.  If an app has a Primary Category of Entertainment and a Secondary Category of Games, it is a candidate to be included in this Apps Index.  If the app's Primary Category is Games and its Secondary Category is Entertainment, then it will not be included in this Apps Index; it is a candidate for the Games Index.

Note that the ranking approach used in the App Annie Index differs from that used in the iOS App Store.  In the latter, app rankings for a given category will include all apps whose Primary Category or Secondary Category matches that given category.  So an app can appear in the rankings for more than one category within the iOS App Store or in App Annie Store Stats rankings.

In Google Play, an app can be categorized under only one category, so there is no double-categorization.

Occasionally, a publisher may decide to shift an existing app from one category to another category.  In these cases, the App Annie Index will rank that app based on how it is categorized in the subsequent month.  Given that the App Annie Index now has a Games report and an Apps report, the scenario where an app's recategorization could shift it from one Index to another is if its category changes from the Games category to a category other than Games or vice versa.
In the App Annie Index, all apps and publishers are reported under their parent publishers, where available; for example, the Instagram app is reported under its parent publisher Facebook, rather than its direct publisher Instagram. Note that if you view the Facebook parent publisher page on Store Stats, you will see the publishers under the parent publisher Facebook, including Instagram. The Instagram app will be listed under the Instagram

publisher page.

App Annie Index revenue rankings are based on revenue that the iOS App Store and Google Play earned from paid downloads and in-app purchases.  They do not include revenue earned from in-app advertising.

Any non-App Annie trademarks or images used in this report are the property of their respective owners.  App Annie claims no rights in those trademarks.