Worldwide App Annie Index for Apps December 2015

Each month, the App Annie Index highlights the top-performing games and apps for the iOS App Store and Google Play. Our analysis covers trends among the leading apps across countries and categories, and is the industry standard for professionals looking to compare leading apps and publishers.

You might also be interested in:
This Month's Top Apps
Dating Apps Maintain a Stronghold in the Top iOS Revenue Chart
As we saw in January 2015, the holiday period usually marks an uptick in dating apps so it's not surprising we see worldwide revenue growth for Badoo and Tinder. Despite being displaced by Netflix in the top rankings, the latter also experienced revenue growth in December. Badoo rose 3 ranks to break into the top 10 worldwide iOS revenue chart for the first time since March 2015, driven mostly by growth in the United States, the United Kingdom and France.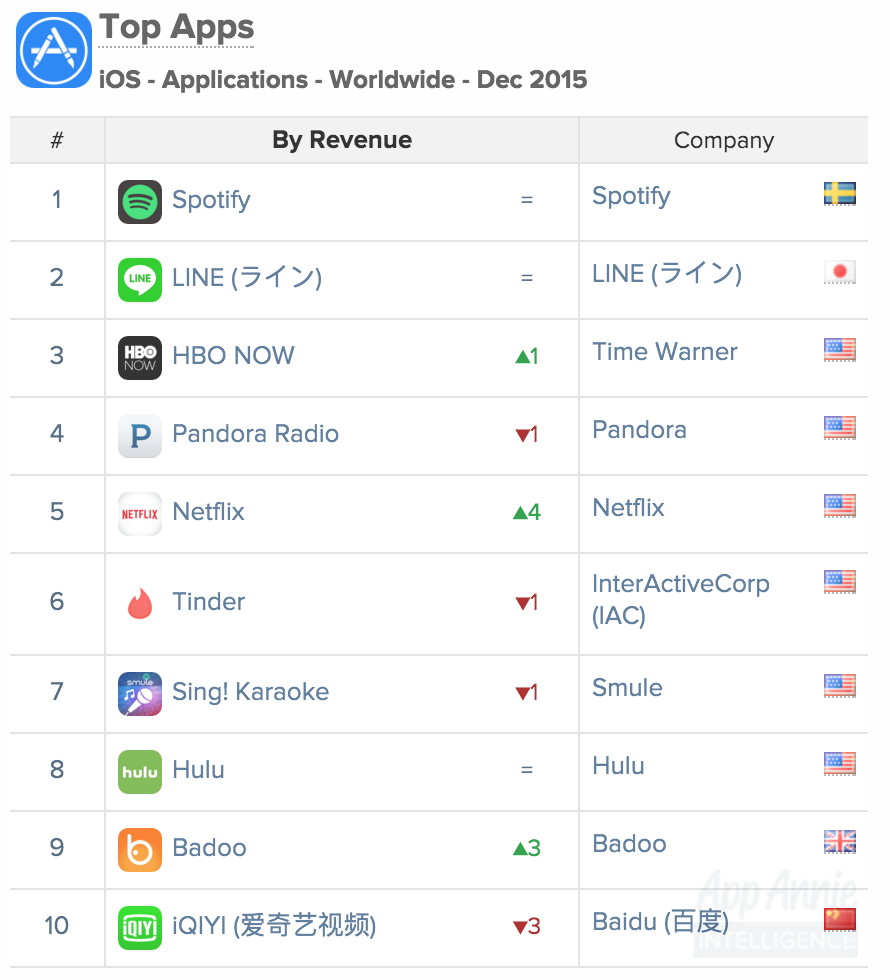 LOVOO and Tinder maintained strong performance in the top Google Play revenue chart for apps outside of games. Across both the iOS App Store and Google Play, Tinder continued to be the highest revenue-generating mobile dating app in December. As we identified in our 2015 Retrospective report, Tinder led the monetization of dating apps for 2015.
Dating apps performed particularly well in the country hosting the "City of Love." AdoptAGuy maintained its number 1 rank on France's Google Play revenue charts for both dating apps and apps outside of games. In addition to revenue, France saw strong growth for dating apps in terms of usage across the board. LOVOO rose two ranks by monthly active users on Android Phones for dating apps in December. Publishers too can feel the love as increases in app usage can pave the way for monetization in the future, both through in-app purchases and through mobile advertising.

In December, dating app usage heated up in France with LOVOO topping Android Phone's dating app monthly active user chart and AdoptAGuy dominating in Google Play revenue.
Dating apps continue to be a strong source of revenue in the app economy, and we are eager to see how the space evolves in 2016 with portfolio acquisitions, diversified monetization plans and market growth. Grindr kicked off the new year with its announcement of selling its majority stake to Beijing Kunlun Tech Company. It was a strategic move by both companies, diversifying Beijing Kunlun Tech Company's portfolio beyond gaming and reaching countries outside of China and providing Grindr with a stronger foothold in China where Blued is a major competitor.
Netflix Closes in on Top Video Streaming Competitors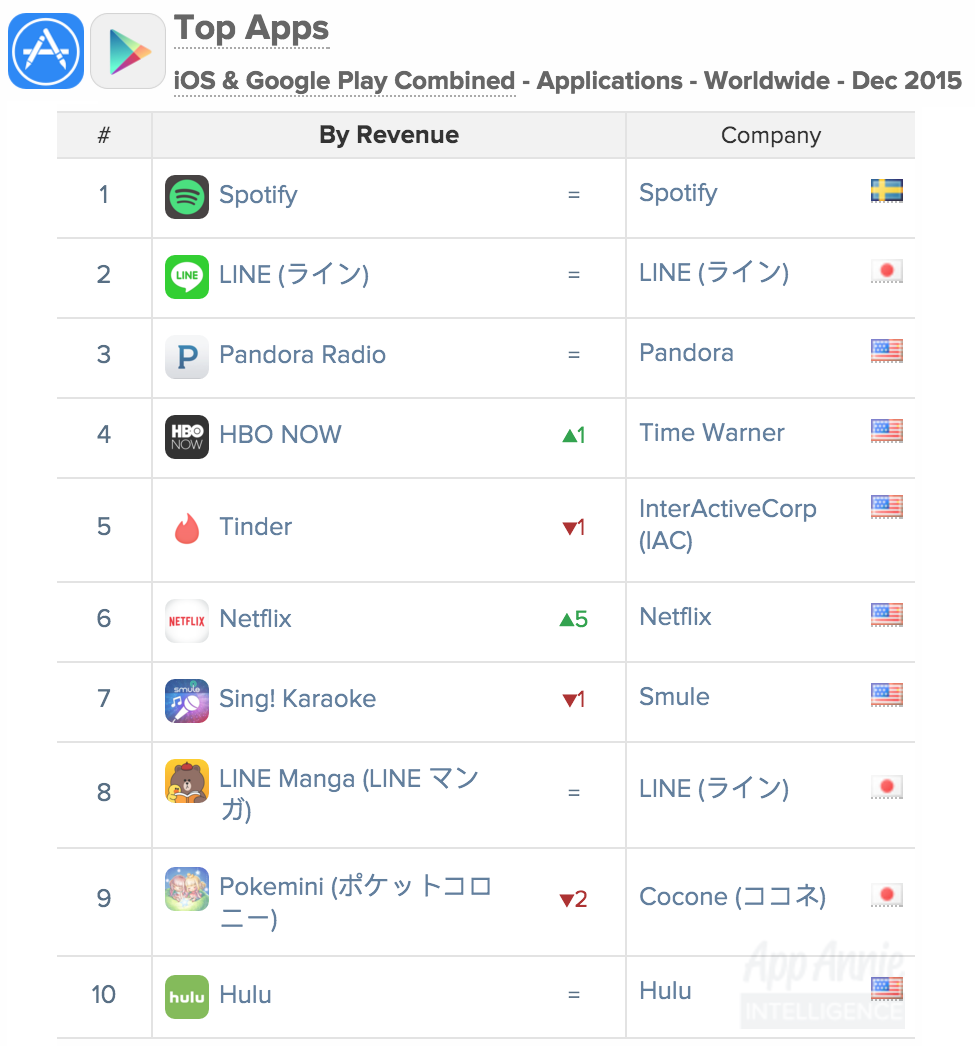 Netflix now boasts over 75 million members globally, according to the company's Q4 earnings report. With this large of a presence, it's no wonder Netflix's ripples are felt throughout the app market. As we identified in last month's Worldwide App Index, Netflix broke into the top revenue charts for iOS apps outside of games. Only one month later, Netflix has moved up the chart to claim the #5 spot by iOS revenue and the #6 spot by iOS and Google Play combined revenue in December. This growth is driven entirely by revenue from the iOS App Store as Netflix in-app purchases are currently only available on iOS devices.
Notably, after only two full months of in-app subscriptions, Netflix has surpassed competitor Hulu with Hulu maintaining the #10 ranking by combined iOS and Google Play revenue. HBO NOW sustained its position as the revenue leader of video-streaming apps. However, the gap is narrowing as Netflix's quick rise up the charts poses it to be within striking distance of the current video-streaming leader. Notably, HBO NOW has been able to maintain its lead despite only being available in the US.
While the US represents the lion's share of Netflix's revenue, gains were seen on a global scale. With the recent expansion into 130 countries, it is likely that revenue from in-app subscriptions will continue to climb.
The introduction of in-app subscriptions to video streaming has dramatically shifted the revenue landscape in the app economy. In December 2014, no video-streaming apps were present in the worldwide top revenue charts. In contrast, one year later there are three in the top revenue charts for iOS apps outside of games. We are interested to see if the coming months offer a reshuffling among the video-streaming giants.
Emerging Markets Propel YouTube Up the Download Charts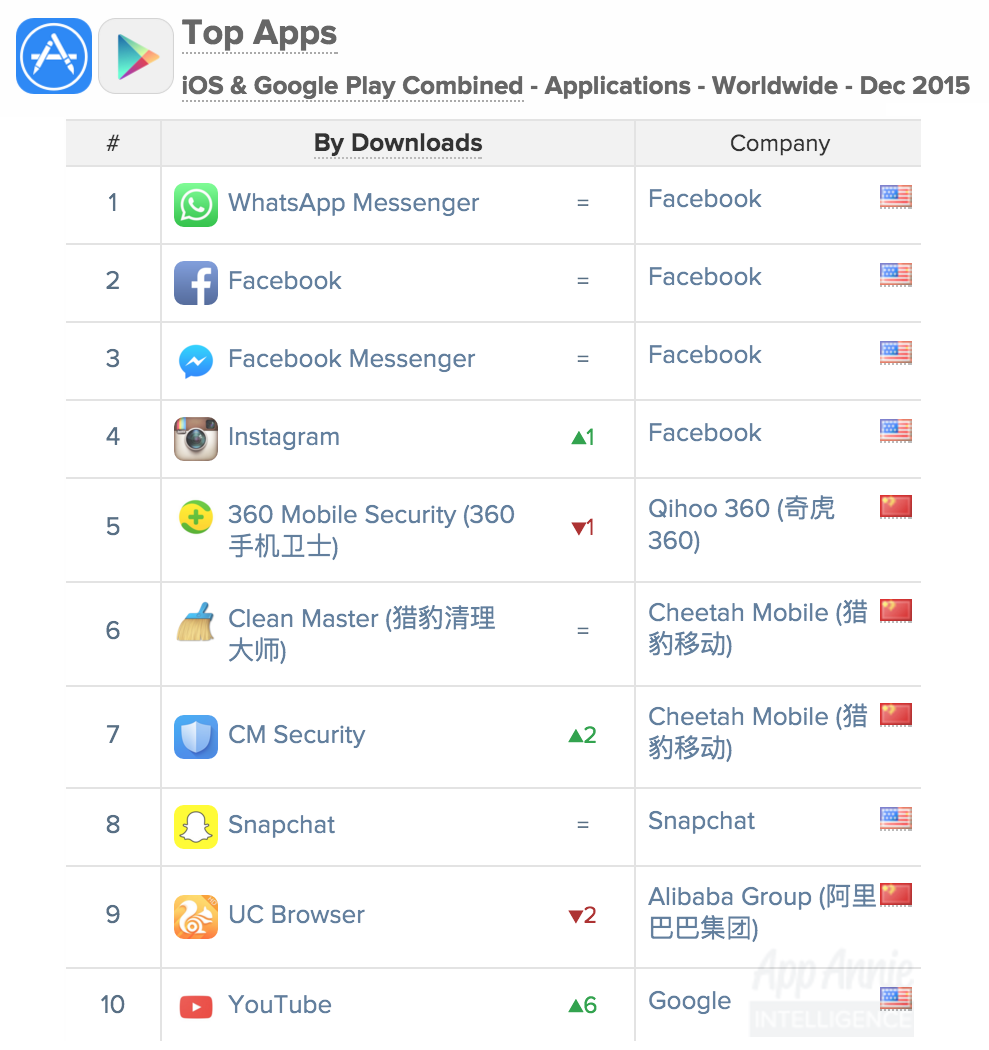 YouTube rose to #10 in the worldwide downloads chart for iOS and Google Play combined. The popular video service experienced significant growth across both iOS and Google Play; however, Google Play was responsible for the largest share of increased downloads.
The huge increase in month-over-month downloads was largely driven by download growth in Mexico, Brazil and the US on Google Play. Downloads peaked in the days following Christmas, which could be a result of the seasonal uptick from Christmas gift purchases.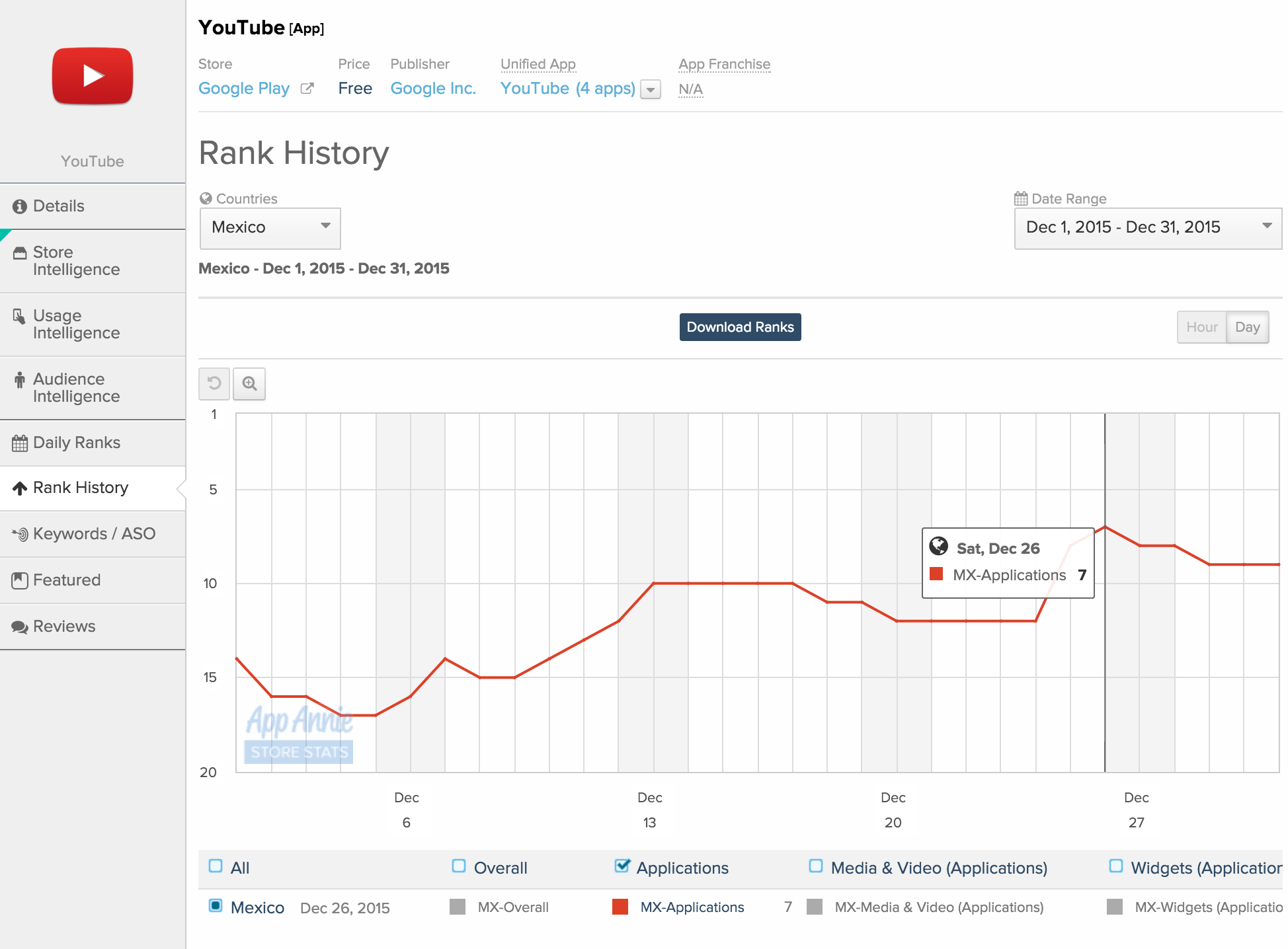 YouTube downloads on Google Play peaked on the day after Christmas in Mexico.
A widely used app ranking at #2 by monthly active users in Mexico, YouTube is surpassed only by WhatsApp Messenger on Android Phones. Following the large increase in downloads, we're interested to see if usage continues to grow in the coming months.
The Technology Behind the Index
The information contained in this report is compiled from App Annie Intelligence, the leading market data solution for the app store economy. To see how our app store download, revenue, demographic and usage estimates can help guide your critical business decisions, request a demo today.
---

---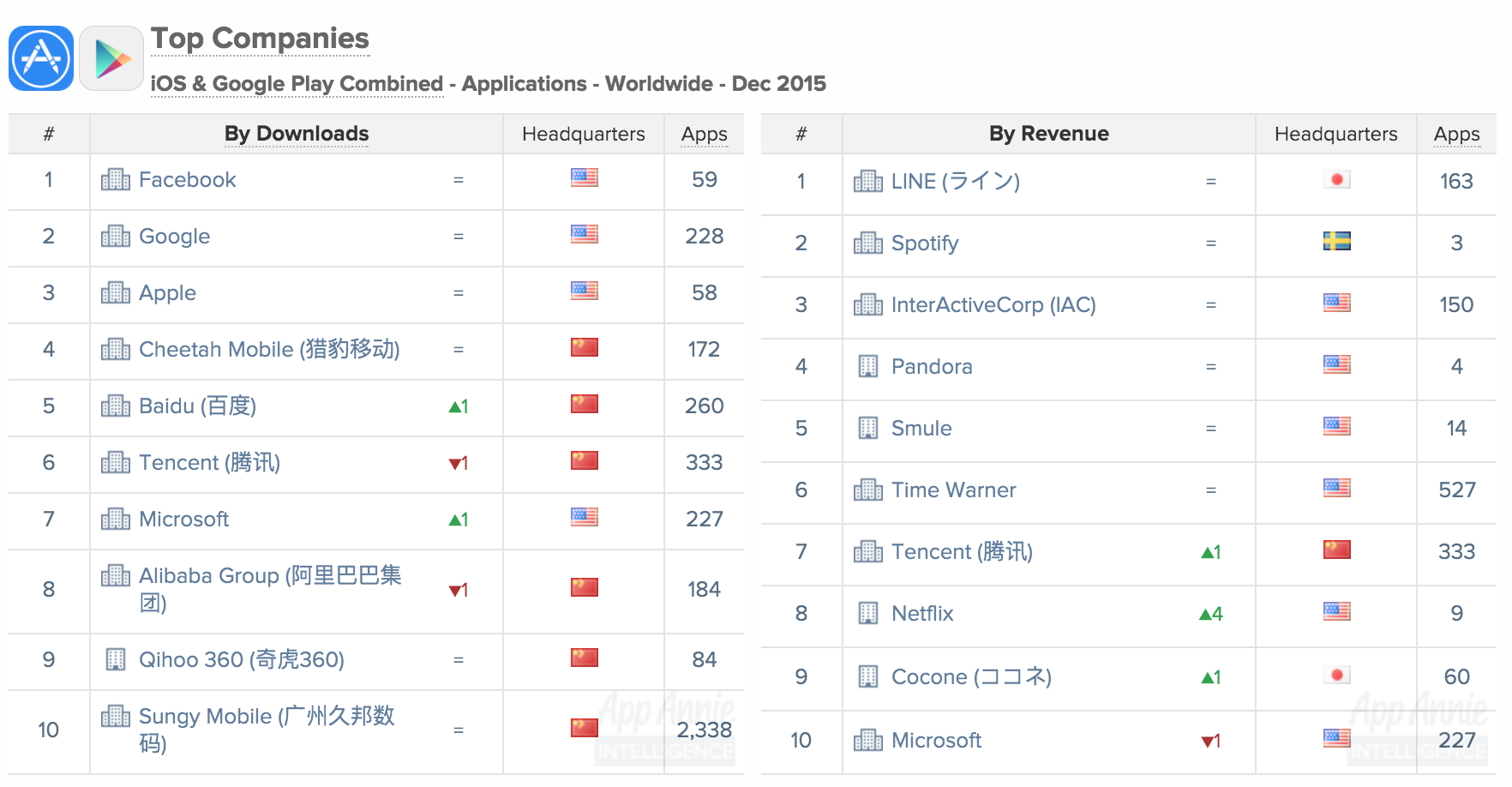 For the complete list of December's top apps and app publishers around the world, click the chart above.
Notes:
The publisher and app rankings reported in the App Annie Index are based on the download and revenue estimates available through App Annie Intelligence. The daily rank history charts and the homepage feature app data are available to all users through App Annie's app tracker solution, Store Stats.
App Annie Intelligence is currently available for the iOS App Store and Google Play. It does not currently provide estimates for other app stores, such as the Amazon Appstore. While iOS and Google Play represent a significant portion of the app market in many countries, that is not the case for some countries. For example, China has a number of sizable third-party Android app stores.

While the Index for Games covers games, the Index for Apps provides app tracking on everything but games. Note that the Top Company rankings in the Index for Games are based solely on the publishers' games downloads and revenue, while the Top Company rankings in the Index for Apps are based on the company's downloads and revenue from apps excluding games.

Company and unified app rankings in the App Annie Index for Games and Index for Apps are based on individual apps that ranked in the Top 1,000.

Download rankings are based on individually downloaded apps and exclude downloads of app bundles. Revenue rankings are based on download revenue from individually downloaded paid apps as well as in-app purchase revenue from both individually downloaded apps and app bundles.

In the first month in which an app becomes unified, its rank change in the Index will compare the unified app that month vs. its highest-ranking individual app in the month prior. As a result, rank changes for newly unified apps may overstate ranking increases from June 2015 to July 2015.

In the iOS App Store, an app can be categorized under a Primary Category as well as an optional Secondary Category. If an app has a Primary Category of Games and a Secondary Category of Entertainment, it is a candidate to be included in this Index for Games. If the app's Primary Category is Entertainment and its Secondary Category is Games, then it will not be included in this Index for Games; it is a candidate for the Index for Apps.

Note that the ranking approach used in the App Annie Index differs from that used in the iOS App Store. In the latter, app rankings for a given category will include all apps whose Primary Category or Secondary Category matches that given category. So an app can appear in the rankings for more than one category within the iOS App Store or in App Annie Store Stats rankings.

In Google Play, an app can be categorized under only one category, so there is no double-categorization.

Occasionally, a publisher may decide to shift an existing app from one category to another category. In these cases, the App Annie Index will rank that app based on its categorization in the subsequent month. Given that the App Annie Index has a Games report and an Apps report, the only scenario where an app's recategorization could shift it from one Index to another is if its category changes from Games to a category other than Games or vice versa.
In the App Annie Index, all apps and publishers are reported under their parent companies, where available; for example, the Plants vs. Zombies™ 2 app is reported under its parent company Electronic Arts, rather than its direct publisher PopCap. Note that if you view the Electronic Arts parent company page on Store Stats, you will see the publishers that roll under the parent company Electronic Arts, including PopCap. The Plants vs. Zombies™ 2 app will be listed under the PopCap publisher page.
Company and app rankings are based on the App Annie DNA relationships at the time of publications. App Annie DNA relationships are subject to change over time.

App Annie Usage Intelligence data for smartphones and tablets were derived from mobile usage data collected from a large sample of real-world users, combined with additional proprietary data sets.

App Annie tracks usage at the device level using a privacy-protective hashed device ID. Data is only reported to third parties in aggregated format.

App Annie Index revenue rankings are based on revenue that the iOS App Store and Google Play earned from paid downloads and in-app purchases. They do not include revenue earned from in-app advertising.

Certain trademarks and/or images used in this report may belong to third parties and are the property of their respective owners. App Annie claims no rights to such trademarks or images.