The App Annie Apps Index brings you the top-performing publishers and apps outside of games across both the iOS App Store and Google Play based on market data from App Annie Intelligence.  To find out what's happening in game apps, please check out our December 2013 Games Index.
LINE Leads in Publisher Revenue
LINE has held top spot in the Google Play publisher revenue rankings in the Apps Index since April 2013. In December, they went one better by taking top spot for publisher revenue in both Google Play and the iOS App Store. This ended a phenomenal run for Pandora, who held the top position in the iOS App Store since April 2013.
'Twas the Season for Holiday Apps
Seasonal apps made a big impact in the iOS App Store in December. Apple's 12 Days of Gifts took the top spot by iOS downloads, and helped Apple to the top of the publisher download rankings. By offering free downloads of apps, books, music, and movies, 12 Days of Gifts also made an impact on the rankings of the content that it promoted. However, Apple weren't the only ones to take advantage of the holiday season, with ElfYourself by OfficeMax capitalizing on a huge gain in downloads to reach the Top 10 apps by iOS App Store revenue excluding games.
In addition to the 12 Days of Gifts app, many of Apple's suggested apps for new iPhones and iPads also received a boost around Christmas, including Find My iPhone, iBooks, and Podcasts. Amazon also benefited from the holiday shopping season, with their Amazon app making considerable gains in the week after Thanksgiving on both iPhone and iPad.
The October Apps Index noted an influx of iOS customization apps that took advantage of new features in iOS 7. In December, Apalon made the most of these features to make considerable gains and enter the Top 10. Apalon's growth came mainly from their Wallpapers for iOS 7 by Pimp Your Screen, an app offering wallpapers for Home and Lock screens on iOS devices. Released in late November, the app found almost immediate success in markets such as Russia, and further growth in Japan and other markets after a December update added holiday-themed wallpapers.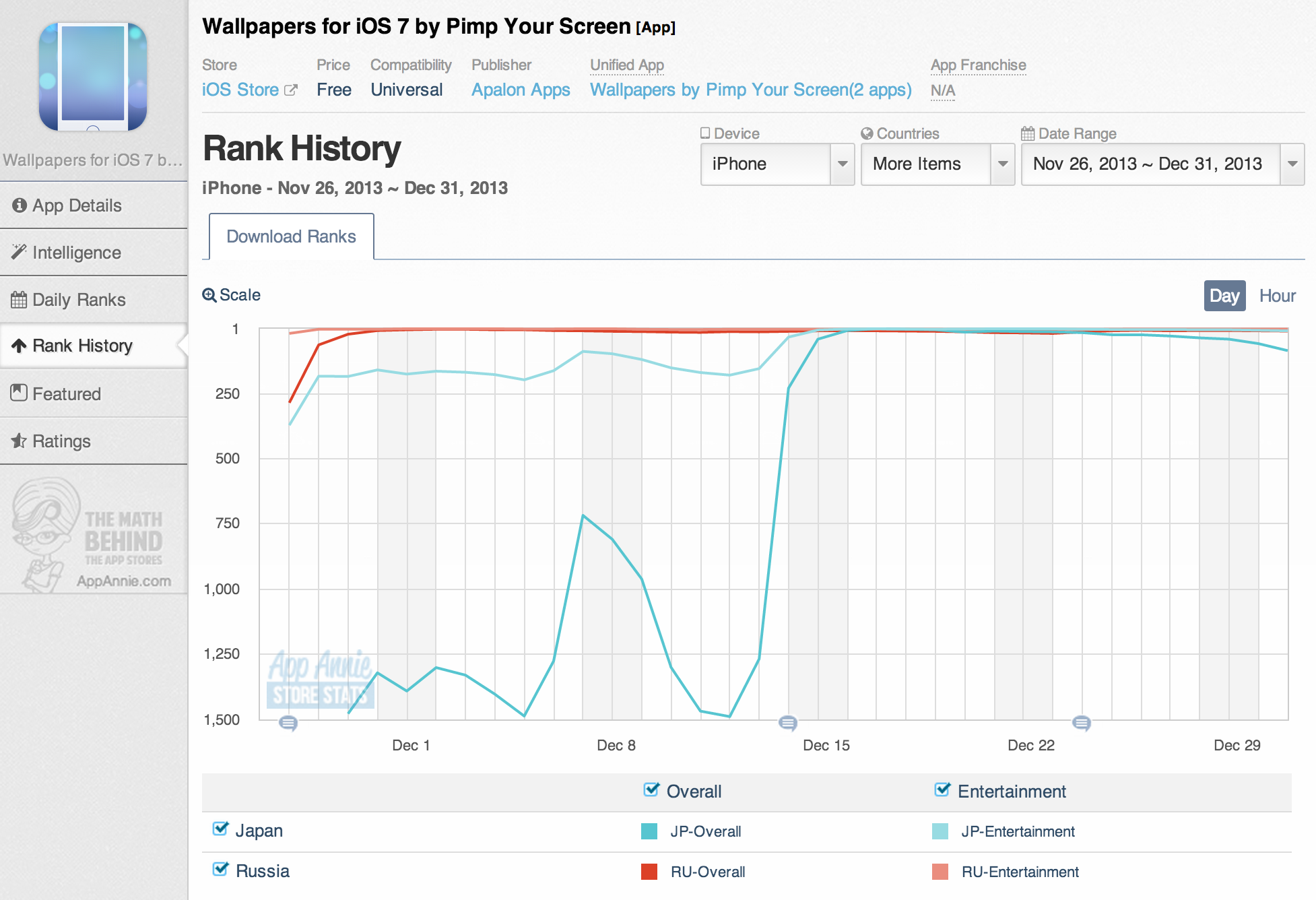 Wallpapers for iOS 7 by Pimp Your Screen went straight to the top ranks in Russia, and soon followed in markets such as Japan in December.
The top publishers by downloads for the month in Google Play remained largely stable, with only Kingsoft Internet Software able to climb the ranks. Their Clean Master app continued to perform well worldwide as it received a major version update in December that provides users with visualizations and statistics detailing their phone storage use.
November's Games Index noted an increased presence of children's game publishers. In December, Toca Boca, a publisher of children's apps, experienced explosive growth to climb into the Top 10 publishers by iOS App Store monthly revenue excluding games. The publisher's growth was largely driven by Toca Hair Salon 2, which featured as one of the top selling paid iPad downloads in Apple's Best of 2013 list, Toca Hair Salon Me, in which users include images of themselves as salon customers, and the release of Toca Labs. Despite not being listed in the Games category, the themes of salons and science-is-fun identified in the July Games Index are still evident in these children's apps. Toca Boca's CEO Björn Jeffery spoke with App Annie about the publisher's successful approach to kids apps and how it paid off in December.
December is the best time of year for kids apps with a lot of families gathering for the holidays. We had a great month with the release of Toca Lab, which did exceptionally well. The app encourages kids to experiment and be curious in the world of science. Clearly a fitting theme when playing with your family! Toca Lab, along with all our other digital toys, made for a great December. Our success shows that investing in quality for kids apps still pays off. There's much more to come in 2014! - Björn Jeffery, CEO of Toca Boca
There was also a notable change at the top of the iOS publisher revenue ranks, with LINE taking the #1 position, which Pandora previously held in the Apps Index since April 2013. LINE's rise to the top came as they updated their flagship messaging app to make the sticker store easier to use, adding search functionality and sticker categories. The boost for LINE gave them the top position for publishers by revenue outside of games in both the iOS App Store and Google Play in December.
Comics publisher comiXology continued their rise up the Top 10 Google Play publishers by monthly revenue excluding games that began in October. The publisher celebrated the holidays with their 12 Days of Free Comics promotion, offering a free comic every day from December 9 to 20.
WhatsApp also saw further gains in December as they passed 400 million monthly active users, taking just four months to gain their last 100 million. Recent figures show that WhatsApp is now installed on 41% of Android smartphones, which may drive further revenue gains from the $0.99 subscriptions plans in the future.
Apple's seasonal 12 Days of Gifts app proved a hit last year, and did it again this year, reaching the #1 spot for iOS App Store downloads excluding games in December. The annual promotion provides a giveaway from Apple's digital stores each day from December 26 to January 6, including songs, apps, books, or films. 12 Days of Gifts featured on the iOS App Store home page in over 150 countries, and the impact of its success can be seen on the downloads ranks of the content that it promoted.
ElfYourself by OfficeMax is another popular seasonal title that repeated its success of last year by returning to the Top 10 apps excluding games by iOS downloads in December. The app allows users to customize dancing elves with images of themselves and their friends.
Another big mover into the Top 10 this month was Facebook Messenger. After the introduction of SMS-like features in November, Facebook gave their app a further upgrade in December, introducing the ability to make free calls to friends with a tap on their profile picture. The messaging app also featured on the iOS App Store home page in over 85 countries at the start of December, as Facebook Messenger grabbed the top rank in markets such as the United States and the United Kingdom.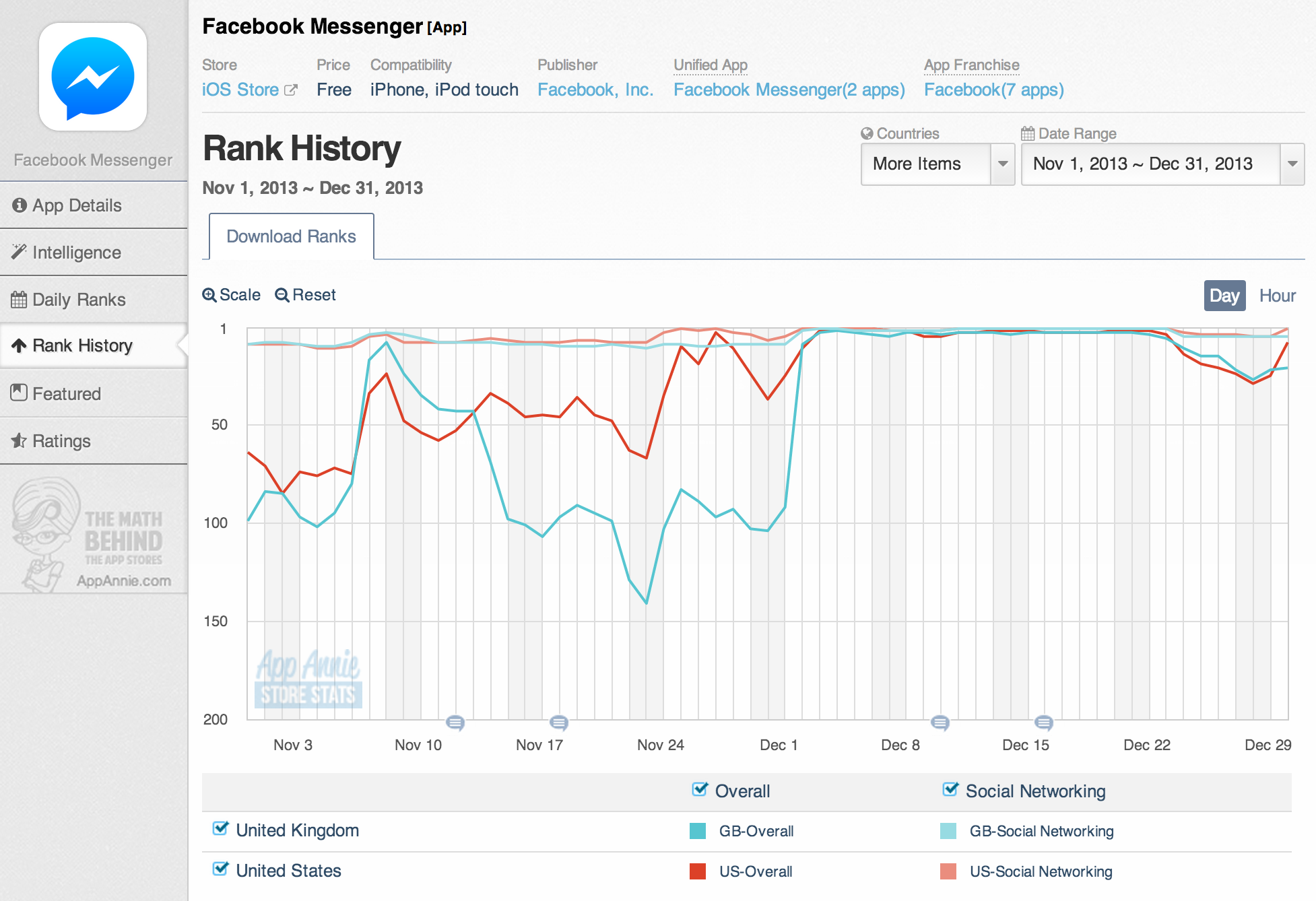 Facebook Messenger hit the top ranks in the United States and United Kingdom in early December.
Facebook's efforts to heat up the messaging app wars didn't stop there though, as they also introduced Instagram Direct. This major update to the Instagram app allows private photo and video messaging between users and puts it in more direct competition with popular image-based messaging apps. The new features appear popular in their first month, with Instagram moving up the Top 10 ranks.
Messaging apps also remained popular on Google Play, with gains for both Facebook Messenger and Skype giving messaging apps three of the top four positions for Google Play downloads in December. Skype featured on the Google Play home page in several countries throughout December, notably within the Starter Kit section in major markets such as the United States.
AVG's AntiVirus Security also moved into the Top 10 for Google Play downloads in December. Its entrance into the Top 10 capped a strong year for AVG and AntiVirus Security, having surpassed 100 million lifetime downloads in November. Although remaining significantly smaller than the general version, AntiVirus Security designed specifically for Android tablets received a noticeable increase in download rank on Christmas day, particularly in the United Kingdom.
While most apps remained stable in the Top 10 by iOS App Store revenue in December, ElfYourself by OfficeMax capitalized on its seasonal popularity and joined the Top 10. The app monetized its significant download gains by offering additional dances for the customized elf characters as in-app purchases.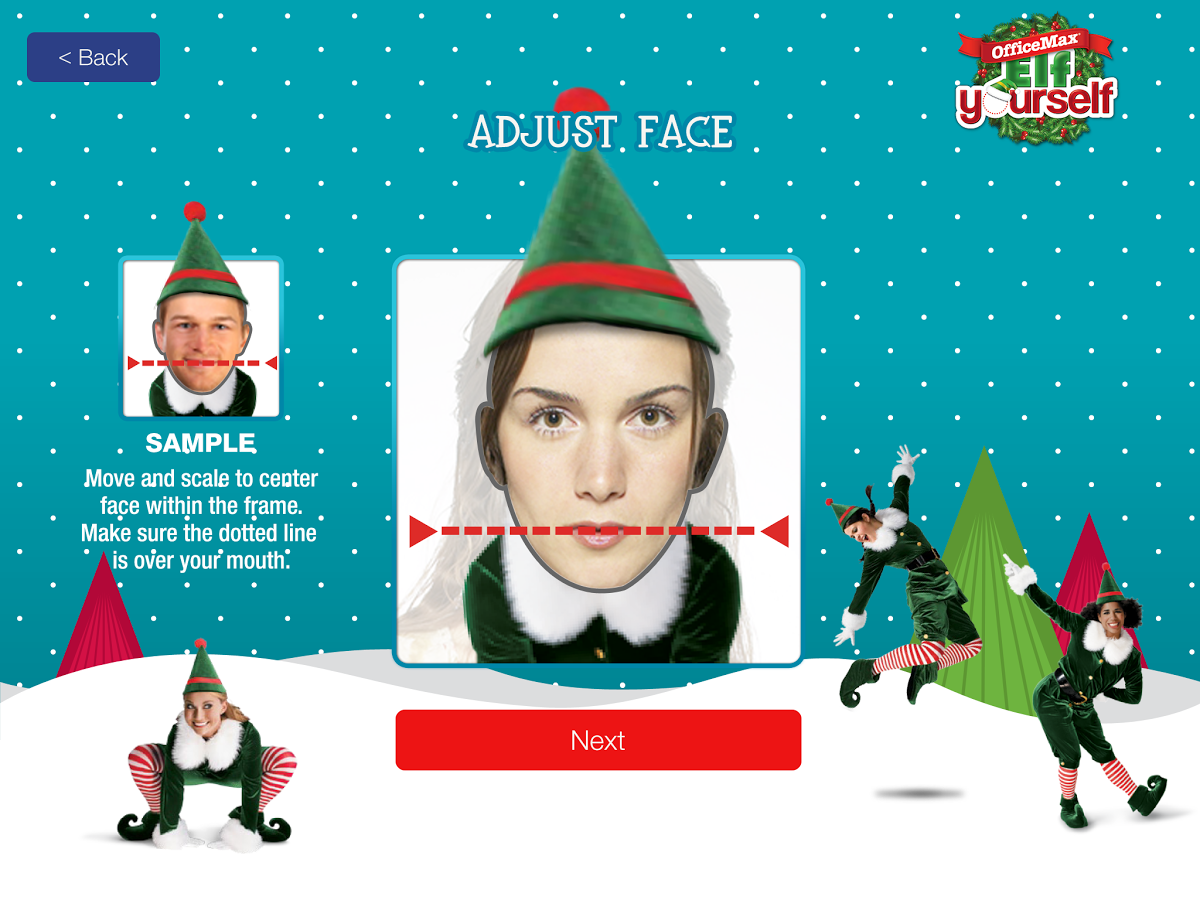 ElfYourself by OfficeMax made the most of the holidays, converting seasonal fun into revenue success.
LINE completed a strong month with 4 of the Top 10 apps by revenue excluding games in Google Play in December. While its messaging app continued to hold the top spot, both LINE Manga and LINE Fortune-telling made gains in December after continuing their strong performance in Japan. With Cocone's avatar app Mini Me joining the Top 10, publishers from Japan held a strong grip on the top ranked apps for Google Play revenue.
For those of you who also are looking for an update on top apps in gaming, please check out our December 2013 Games Index.
Notes:
The publisher and app rankings reported in the App Annie Index are based on the download and revenue estimates available through App Annie Intelligence.  The daily rank history charts and the home page feature app data are available to all users through App Annie's app tracker solution, Store Stats.

While the Games Index covers games, the Apps Index provides app tracking on everything but games.  Note that the Top Publishers rankings in the Games Index are based solely on the publishers' games downloads and revenue, while the Top Publishers rankings in the Apps Index are based on the publishers' downloads and revenue from apps excluding games.

Through August 2013, publisher rankings in the App Annie Games Index and Apps Index were based on apps that ranked in the Top 1,000.  Effective with September data, publisher rankings are based on publishers' full sets of apps.

Through September 2013, similar versions of the same app with different names (e.g., NYTimes and NYTimes for iPad) were ranked separately. Effective with October data, similar versions of the same app with different names will be unified (e.g., NYTimes and NYTimes for iPad are now aggregated and ranked as a single NYTimes unified app).

In the first month in which an app becomes unified, its rank change in the Index will compare the unified app that month vs. its highest-ranking individual app in the month prior.  As a result, rank changes for newly unified apps may overstate ranking increases from November to December 2013.

In the iOS App Store, an app can be categorized under a Primary Category as well as an optional Secondary Category.  If an app has a Primary Category of Entertainment and a Secondary Category of Games, it is a candidate to be included in this Apps Index.  If the app's Primary Category is Games and its Secondary Category is Entertainment, then it will not be included in this Apps Index; it is a candidate for the Games Index.

Note that the ranking approach used in the App Annie Index differs from that used in the iOS App Store.  In the latter, app rankings for a given category will include all apps whose Primary Category or Secondary Category matches that given category.  So an app can appear in the rankings for more than one category within the iOS App Store or in App Annie Store Stats rankings.

In Google Play, an app can be categorized under only one category, so there is no double-categorization.

Occasionally, a publisher may decide to shift an existing app from one category to another category.  In these cases, the App Annie Index will rank that app based on how it is categorized in the subsequent month.  Given that the App Annie Index now has a Games report and an Apps report, the scenario where an app's recategorization could shift it from one Index to another is if its category changes from the Games category to a category other than Games or vice versa.
In the App Annie Index, all apps and publishers are reported under their parent publishers, where available; for example, the Instagram app is reported under its parent publisher Facebook, rather than its direct publisher Instagram. Note that if you view the Facebook parent publisher page on Store Stats, you will see the publishers under the parent publisher Facebook, including Instagram. The Instagram app will be listed under the Instagram publisher page.

App Annie Index revenue rankings are based on revenue that the iOS App Store and Google Play earned from paid downloads and in-app purchases.  They do not include revenue earned from in-app advertising.

Any non-App Annie trademarks or images used in this report are the property of their respective owners.  App Annie claims no rights in those trademarks.