Worldwide App Annie Index for Apps April 2016

Each month, the App Annie Index highlights the top-performing games and apps for the iOS App Store and Google Play. Our analysis covers trends among the leading apps across countries and categories, and is the industry standard for professionals looking to compare leading apps and publishers.

You might also be interested in:
This Month's Top Apps
Inke Figures Out How to Monetize Mobile Live Streaming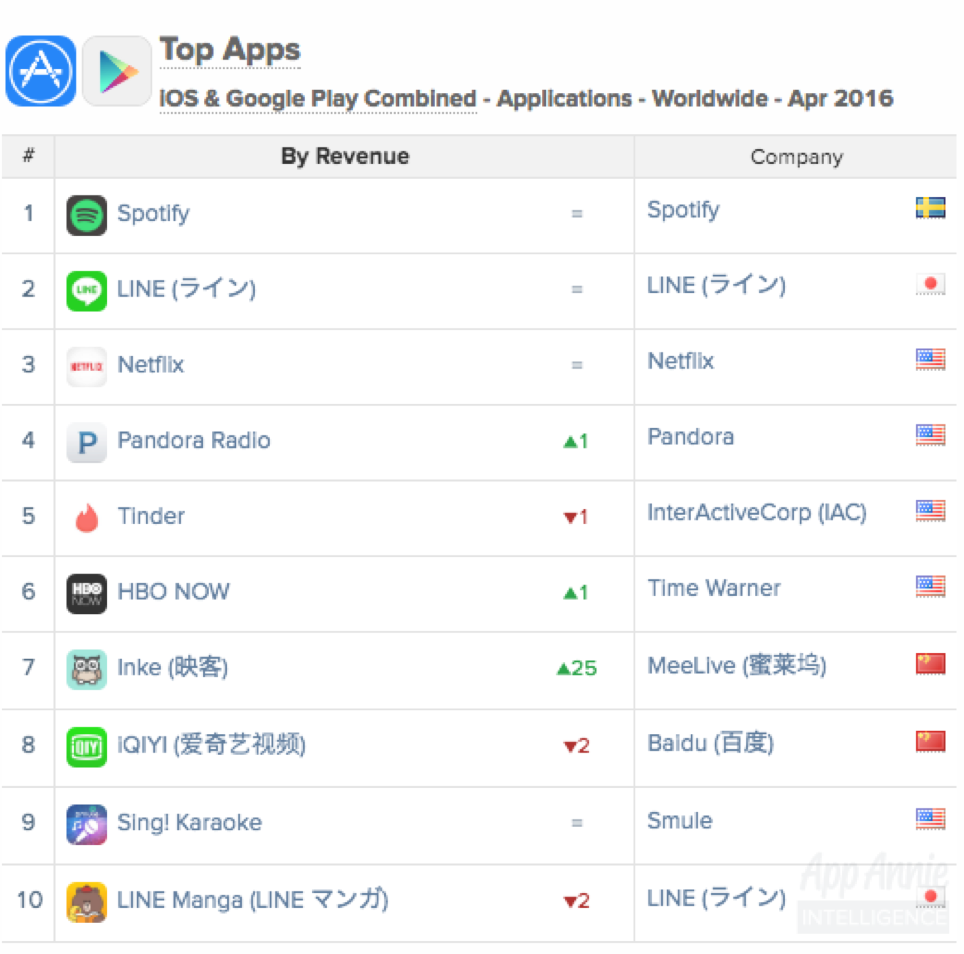 While several US live streaming apps have risen and fallen, China is the first to rapidly appear on the top worldwide revenue rankings with a new live-streaming app: Inke. Although functionality is comparable to other live streaming apps, such as Periscope and Meerkat, Inke goes beyond letting users watch others or broadcast their lives — broadcasters can enhance the viewing experience with interactive stickers and ultimately earn money from their channels. While live streaming is gaining popularity in Asia, Inke doesn't just steal the show with its #7 rank on our revenue rankings — it's seeing rapid growth in monthly active users (MAU) as well.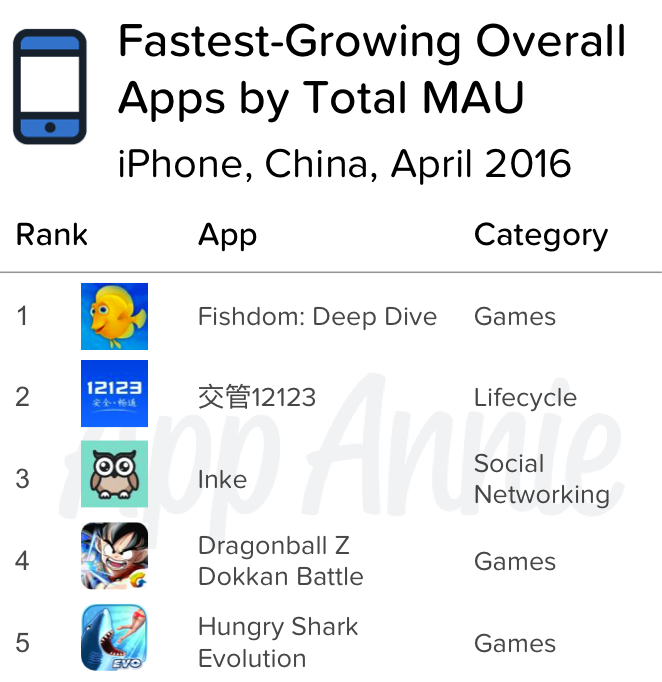 Games typically dominate when it comes to MAU growth, but Inke managed to join the rankings in China.
Inke's downloads and revenue first started ramping up in January 2016 in China around the same time that they received $10 million in Series B funding. Its growth in popularity, driven almost entirely by China, is tied to the app's entertainment promotional focus. Specifically, they recently broadcasted live shows for the highly popular Korean band Big Bang in mid-March. Inke uses a unique monetization model where users send virtual gifts, acquired via gem packs through in-app purchases, to their favorite channel hosts. The channel host will then receive 30% of the gift's value, which creates an environment that encourages users to produce high-quality content while keeping the platform profitable.
While Silicon Valley's live streaming apps also give users the opportunity to earn money, this isn't integrated into the apps directly. For instance, broadcasters on Periscope and Meerkat can ask for performance tips via a digital tip jar or users can give tutorials and include links for viewers to buy products. While many of these users take advantage of the monetary benefits of live streaming, the apps themselves are not monetizing directly within the app.
This contrasts with Inke's revenue model, since it gives the app an opportunity to not only make significant revenue with in-app purchases, but additionally through in-app advertising and partnerships. Publishers should look to Inke as an example of how to incentivize users to broadcast and engage with channels.
Pandora's Revenue Recipe: Subscriptions, Exclusives, Acquisitions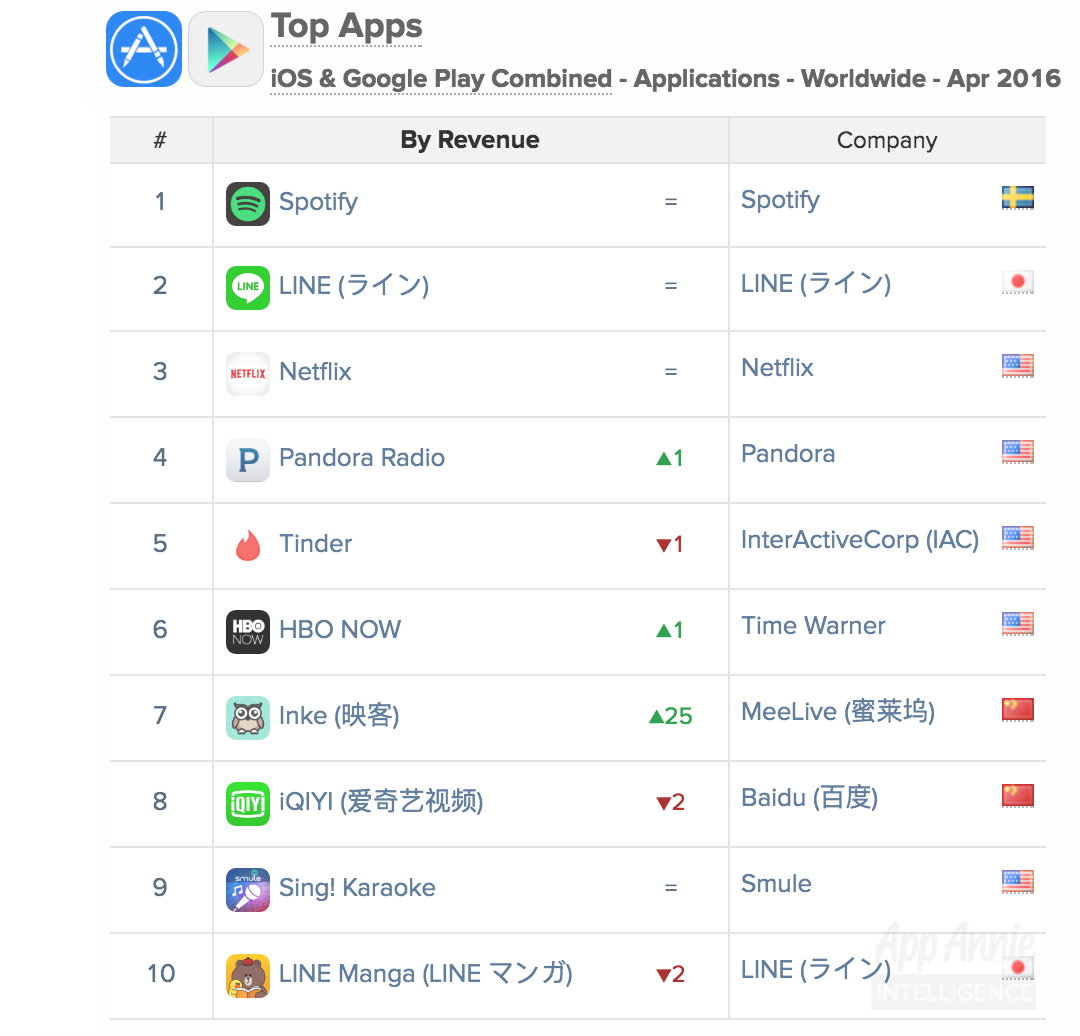 For the past few months, Pandora has been steadily building its revenue in the United States through continually leveraging the success of its subscription model. Due to the dynamic nature of the music category, and the need to stay competitively up-to-date, lately Pandora has been focusing on exclusives.
Exclusive content has proven to be a key component to revenue growth for the Music category. TIDAL is a prime example of a Music app achieving revenue growth with exclusive streaming launches from Kanye West and Beyonce. Pandora similarly took advantage of Beyonce's widespread popularity by announcing that the songs from Lemonade could be heard on their Internet radio service four days after the exclusive HBO and TIDAL release. Other exclusives include a partnership with Serial, a popular true-story crime investigation podcast, for streaming of a new season released in early 2016 along with the previous season. Pandora also announced an exclusive streaming partnership with This American Life, a weekly radio show, which started at the end of this April.
Additionally, with Pandora's acquisition of on-demand streaming service Rdio in October 2015 and the recent appointment of founder Tim Westergren as CEO, there are big changes on Pandora's horizon. With an on-demand streaming feature to launch by the end of 2016, Pandora's product offering will compete with that of Spotify, TIDAL, Apple Music and even SoundCloud with its recent release of SoundCloud Go. Pandora can take advantage of its strong monthly active user (MAU) position in the US across both Apple and Google's operating systems.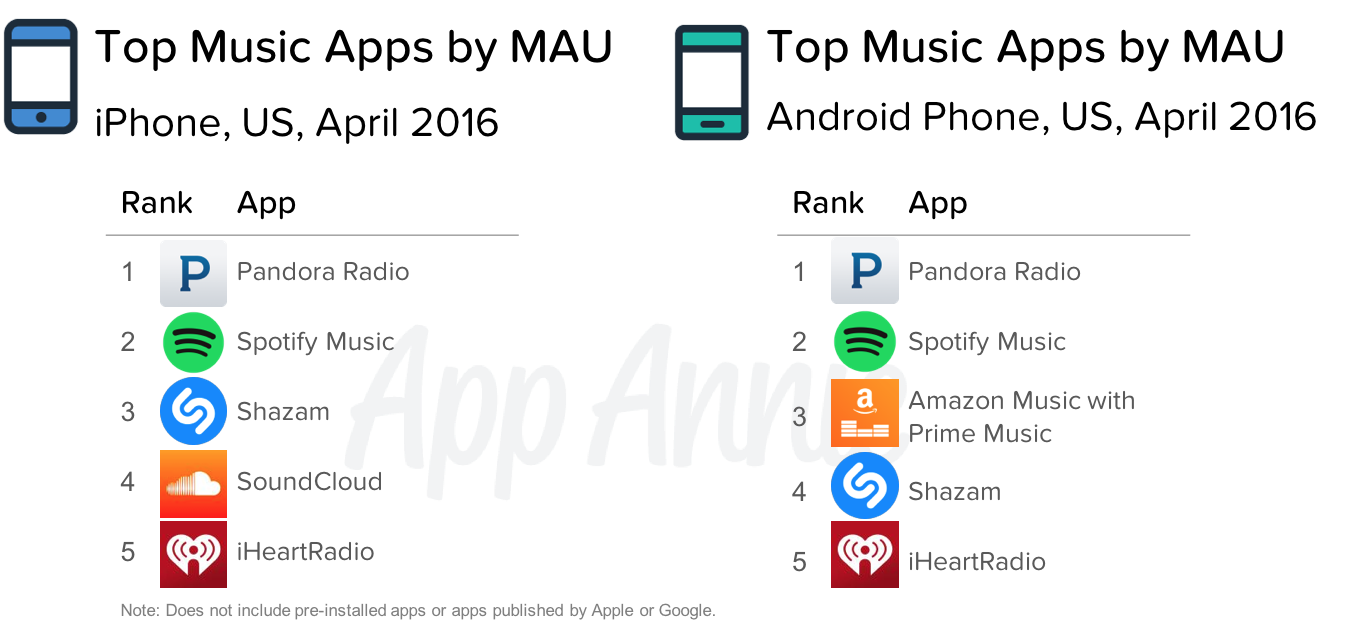 Pandora's lead in MAU shows the potential to increase revenue with a future release of an on-demand music streaming subscription service.
Seasonal Success: TurboTax, HBO NOW, MLB.com At Bat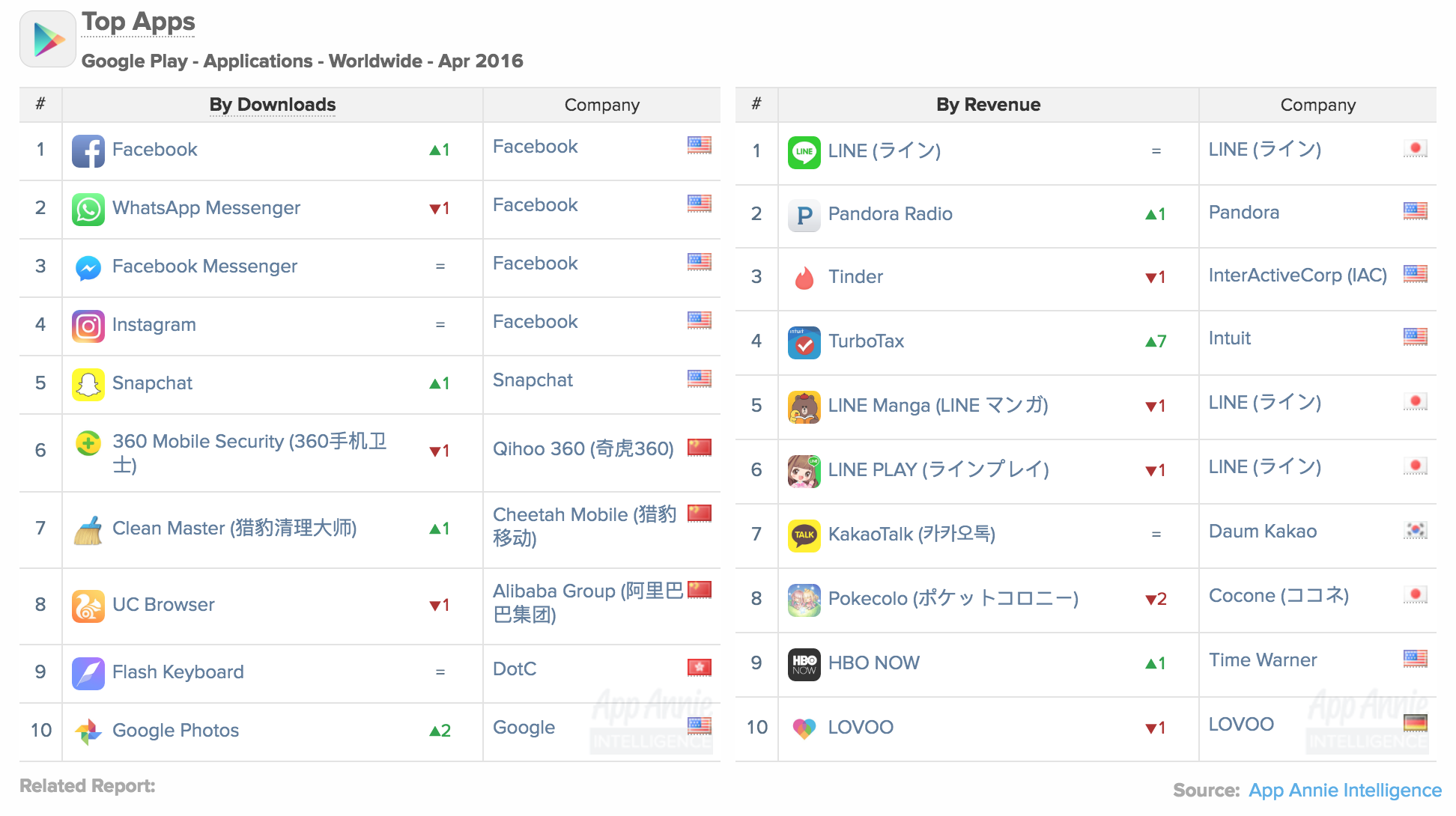 Seasonal success has contributed to revenue growth for several apps this April. TurboTax re-entered the top worldwide revenue rankings for Google Play. This year, the app saw a rise in January, but its revenue spiked again closer to US's tax deadlines in April. This can be explained by how 20–25% of people tend to do their taxes at the last minute.
HBO NOW continues to be a moneymaker, this time seeing a boost in revenue on Google Play. In-app subscription purchases allow users to set up an HBO NOW account without leaving the app experience. We anticipate that HBO NOW will experience a spike in revenue in May as users' trial periods expire following the sign-ups due to the premieres of Game of Thrones and Silicon Valley from earlier in April.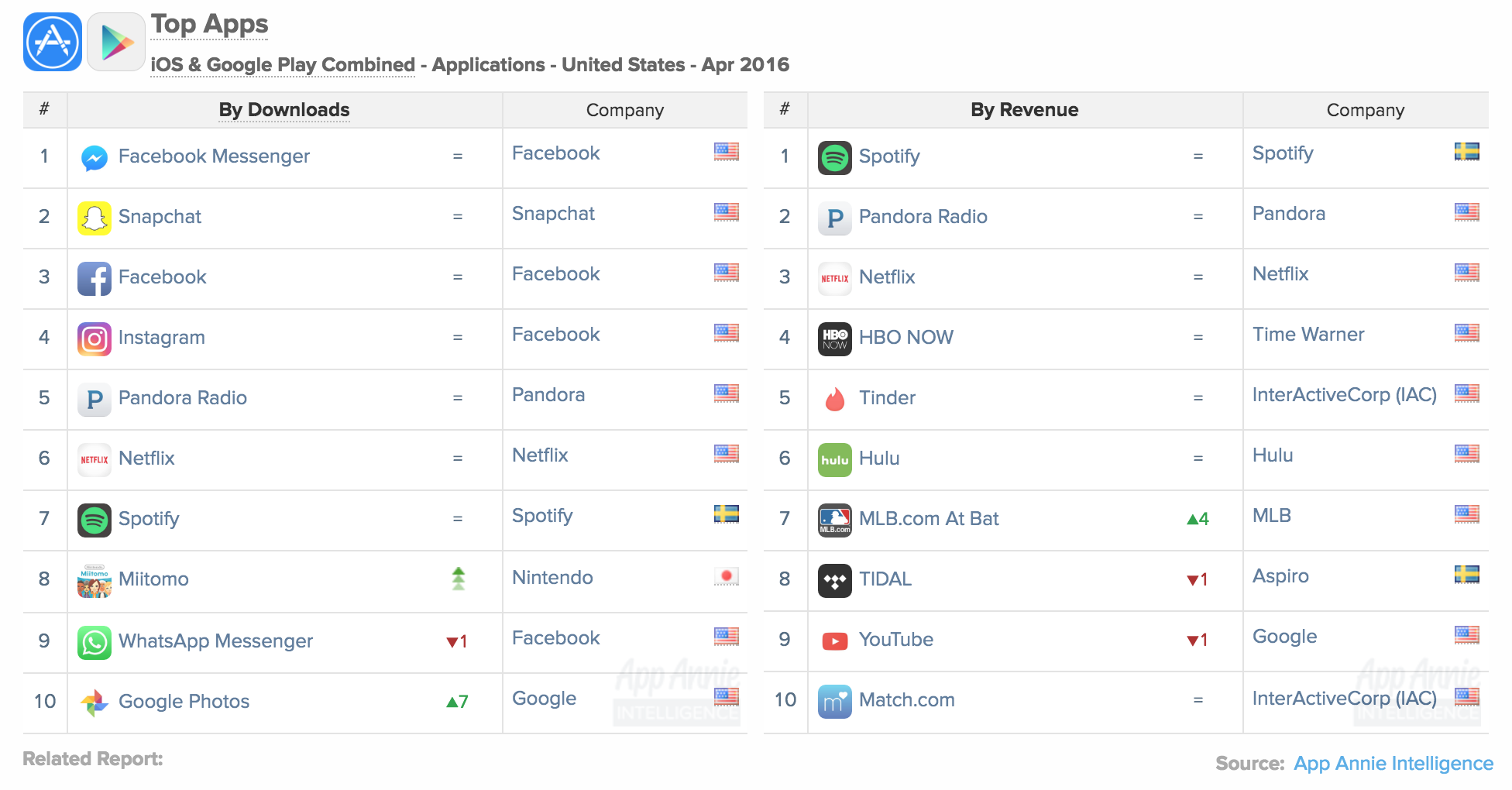 MLB.com At Bat is a yearly contender in top apps: last year, it was the top-earning US Sports app by combined iOS and Google Play revenue and #3 by iPhone MAU. This year, MLB.com At Bat resurfaced in the top revenue rankings for the US following Opening Day of the 2016 MLB season in early April, where viewers could watch the game via the app. The app's success is even inspiring other sports leagues looking to achieve similar results: the division in charge of the app is partnering with the National Hockey League (NHL) to build their streaming and mobile products.
The Technology Behind the Index
The information contained in this report is compiled from App Annie Intelligence, the leading market data solution for the app store economy. To see how our app store download, revenue, demographic and usage estimates can help guide your critical business decisions, request a demo today.
---

---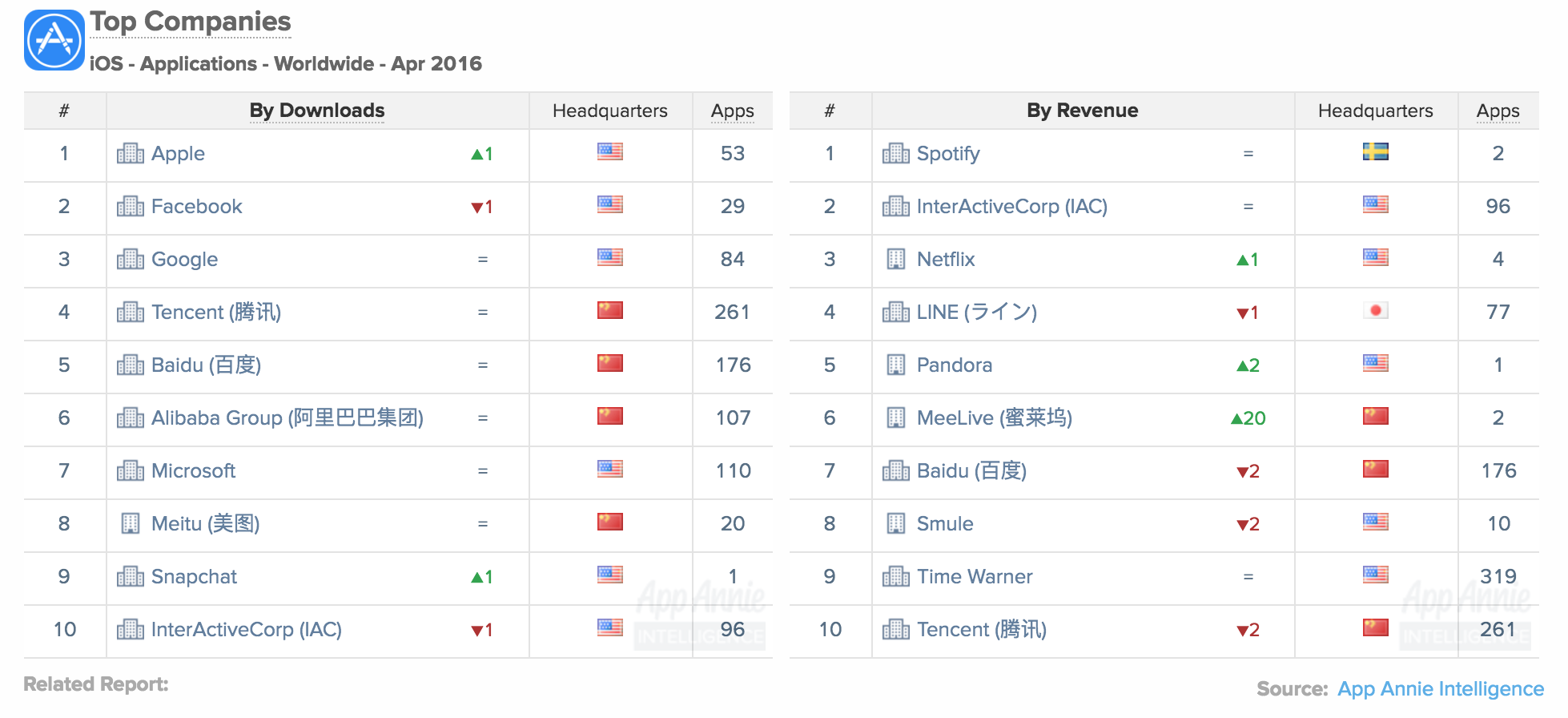 For the complete list of April's top apps and app publishers around the world, click the chart above.
Notes:
The publisher and app rankings reported in the App Annie Index are based on the download and revenue estimates available through App Annie Intelligence. The daily rank history charts and the homepage feature app data are available to all users through App Annie's app tracker solution, Store Stats.
App Annie Intelligence is currently available for the iOS App Store and Google Play. It does not currently provide estimates for other app stores, such as the Amazon Appstore. While iOS and Google Play represent a significant portion of the app market in many countries, that is not the case for some countries. For example, China has a number of sizable third-party Android app stores.

While the Index for Games covers games, the Index for Apps provides app tracking on everything but games. Note that the Top Company rankings in the Index for Games are based solely on the publisher's games downloads and revenue, while the Top Company rankings in the Index for Apps are based on the company's downloads and revenue from apps excluding games.

Company and unified app rankings in the App Annie Index for Games and Index for Apps are based on individual apps that ranked in the Top 1,000.

Download rankings are based on individually downloaded apps and exclude downloads of app bundles. Revenue rankings are based on download revenue from individually downloaded paid apps as well as in-app purchase revenue from both individually downloaded apps and app bundles.

In the first month in which an app becomes unified, its rank change in the Index will compare the unified app that month vs. its highest-ranking individual app in the month prior. As a result, rank changes for newly unified apps may overstate ranking increases from March 2016 to April 2016.
In the first month in which an app becomes unified, its rank change in the Index will compare the unified app that month vs. its highest-ranking individual app in the month prior. As a result, rank changes for newly unified apps may overstate ranking increases from March 2016 to April 2016.

In the iOS App Store, an app can be categorized under a Primary Category as well as an optional Secondary Category. If an app has a Primary Category of Games and a Secondary Category of Entertainment, it is a candidate to be included in this Index for Games. If the app's Primary Category is Entertainment and its Secondary Category is Games, then it will not be included in this Index for Games; it is a candidate for the Index for Apps.

Note that the ranking approach used in the App Annie Index differs from that used in the iOS App Store. In the latter, app rankings for a given category will include all apps whose Primary Category or Secondary Category matches that given category. So an app can appear in the rankings for more than one category within the iOS App Store or in App Annie Store Stats rankings.

In Google Play, an app can be categorized under only one category, so there is no double-categorization.

Occasionally, a publisher may decide to shift an existing app from one category to another category. In these cases, the App Annie Index will rank that app based on its categorization in the subsequent month. Given that the App Annie Index has a Games report and an Apps report, the only scenario where an app's recategorization could shift it from one Index to another is if its category changes from Games to a category other than Games or vice versa.
In the App Annie Index, all apps and publishers are reported under their parent companies, where available; for example, the Plants vs. Zombies™ 2 app is reported under its parent company Electronic Arts, rather than its direct publisher PopCap. Note that if you view the Electronic Arts parent company page on Store Stats, you will see the publishers that roll under the parent company Electronic Arts, including PopCap. The Plants vs. Zombies™ 2 app will be listed under the PopCap publisher page.
Company and app rankings are based on the App Annie DNA relationships at the time of publications. App Annie DNA relationships are subject to change over time.

App Annie Usage Intelligence data for smartphones and tablets were derived from mobile usage data collected from a large sample of real-world users, combined with additional proprietary data sets.

App Annie tracks usage at the device level using a privacy-protective hashed device ID. Data is only reported to third parties in aggregated format.

App Annie Index revenue rankings are based on revenue that the iOS App Store and Google Play earned from paid downloads and in-app purchases. They do not include revenue earned from in-app advertising.

Certain trademarks and/or images used in this report may belong to third parties and are the property of their respective owners. App Annie claims no rights to such trademarks or images.