The App Annie Index for Apps offers the hottest mobile app properties outside of games for both the iOS App Store and Google Play. To find out what's happening in game apps, please check out our April 2014 Index for Games.

TABLE OF CONTENTS
1. The Technology Behind the Index
The information contained in this report was compiled from App Annie Intelligence, the top market data solution for the app store economy. To see how our industry-leading app store download and revenue estimates can help guide your critical business decisions. Take a tour or request a demo today.
---

---
This Index also leverages App Annie's exclusive DNA, which classifies apps by publisher, parent company and franchise. App Annie DNA delivers the metadata you need to support your business, whether you want to analyze the performance of a franchise, or get a complete picture of a company's recent acquisitions. Learn more about DNA now.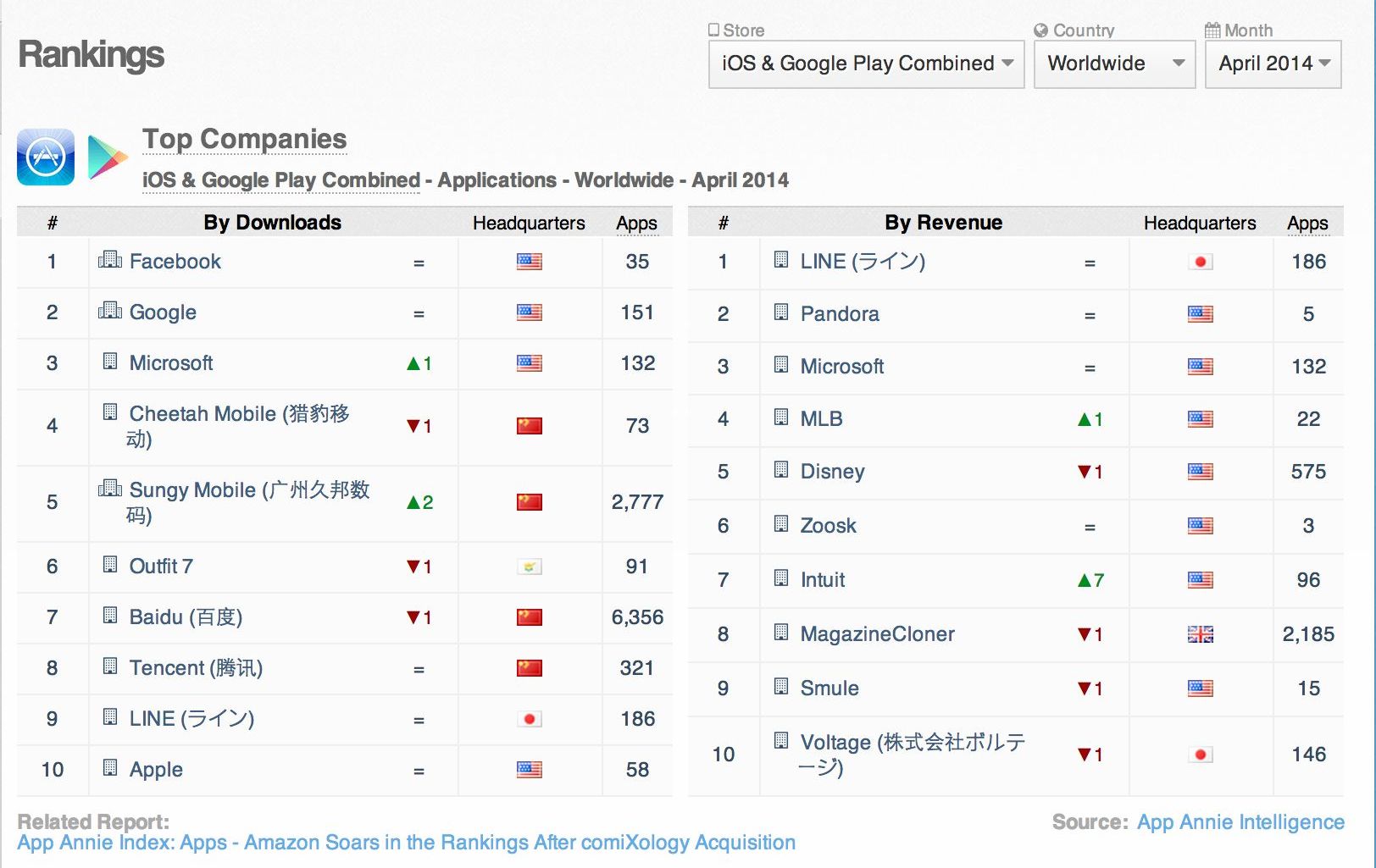 For the complete list of April's top apps and publishers, see the new App Annie Index tables.
2. Notable Apps and Publishers
Office Proves Productive for Microsoft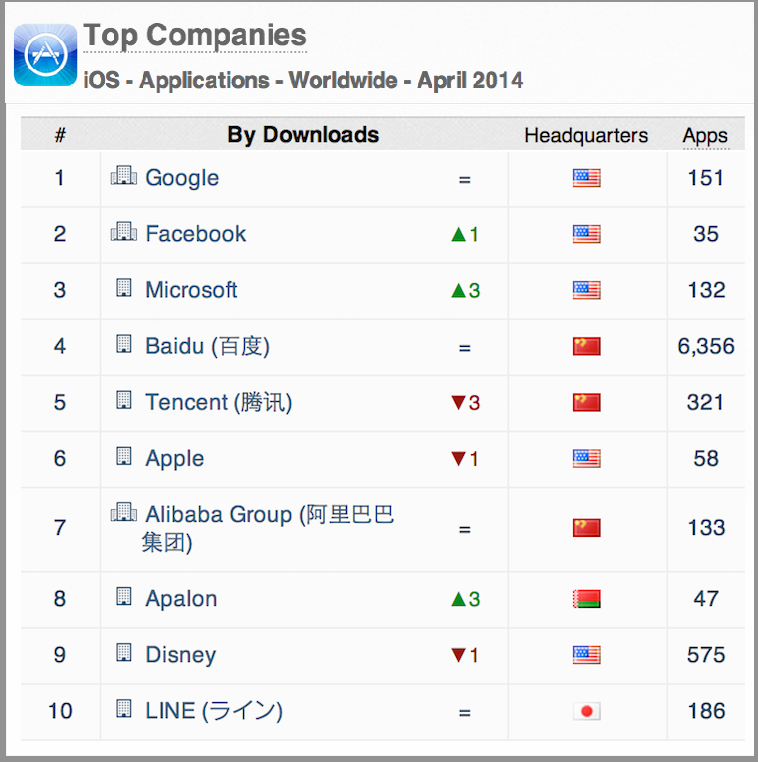 The Office for iPad app suite continued to perform strongly in April, pushing Microsoft to #3 for monthly iOS downloads and revenue outside of games. A little over a month after their release, Microsoft announced that the apps accumulated over 27 million downloads worldwide.  In April, Microsoft Word for iPad led the Office for iPad suite,  cracking the Top 10 iOS apps outside of games by monthly downloads and revenue. The app performed particularly strongly in the United States, United Kingdom and Brazil.
Gains for Microsoft and the Office franchise also extended to Google Play in April. Along with the release of Office for iPad, Microsoft removed the download price to make Microsoft Office Mobile free for Android and iPhone. The change appears to have had an immediate impact, showing strong growth in Brazil and the United States.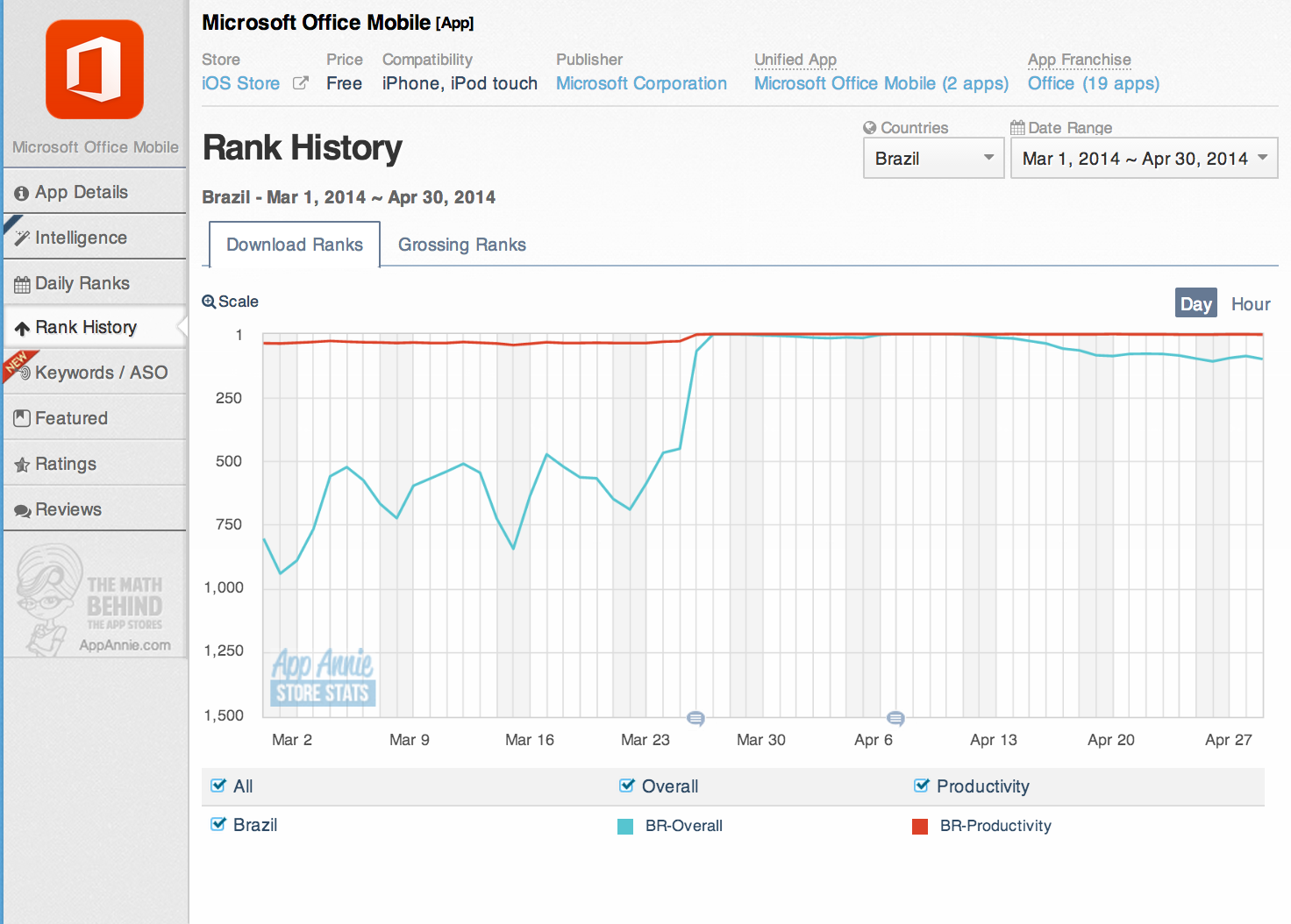 Microsoft Office for Mobile shot up the Google Play download rankings in Brazil after the price dropped to free.
Amazon Joins the Top Publishers With comiXology Acquisition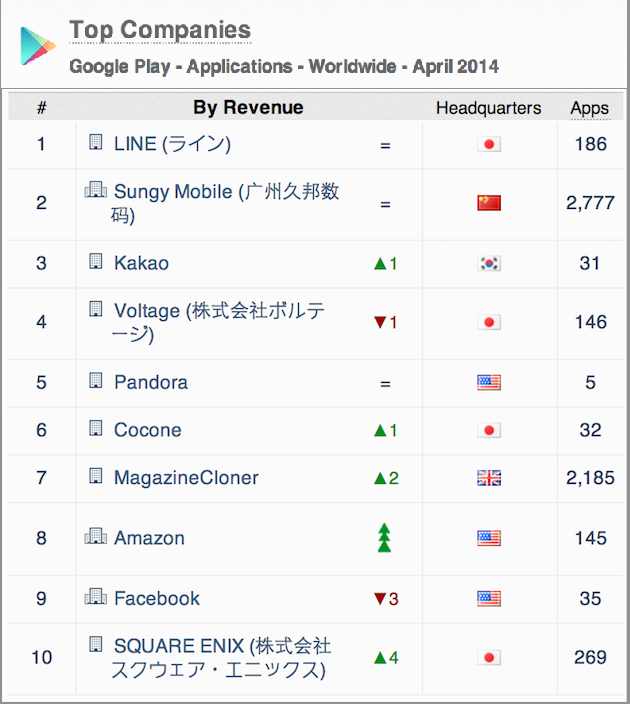 Comics publisher comiXology announced it was acquired by Amazon in early April. This acquisition brought Amazon into the Top 10 publishers by monthly Google Play revenue outside of games. Comics previously appeared in the iOS top grossing cha
rts, but an update to the app after the Amazon acquisition removed in-app purchases on iOS devices. Instead, iOS users will be directed to make purchases through the comiXology website in future.
Google & Facebook Battle For App Download Supremacy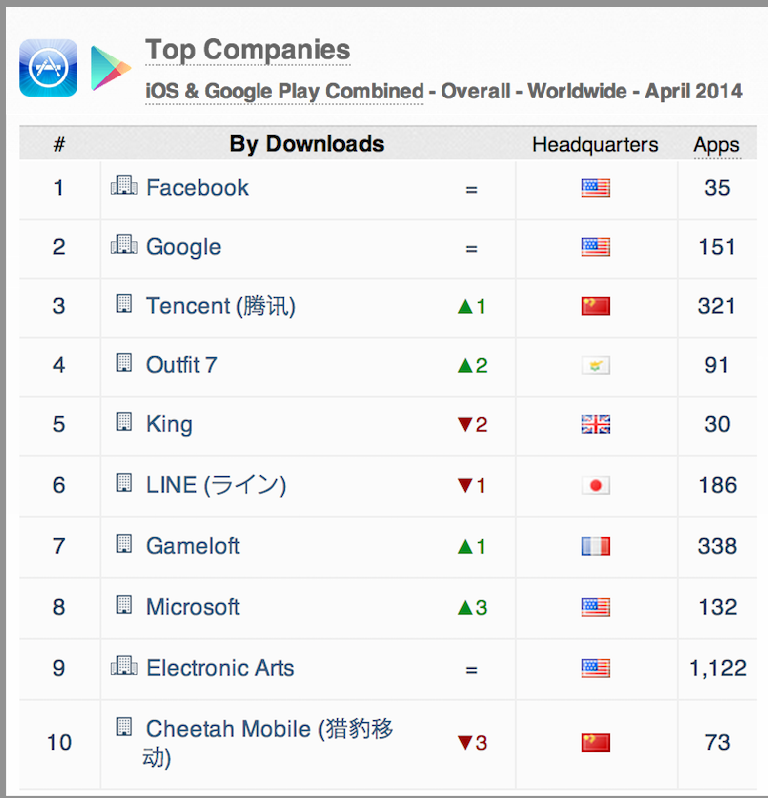 Facebook and Google occupy the top two positions by overall monthly combined iOS and Google Play downloads, with Tencent in third position. Facebook's prominence on iOS rose further in April through gains for Instagram. The photo sharing app moved up to #4 in monthly Google Play downloads outside of games, giving Facebook the top four apps outside of games on Google Play for April (noting that several of Google's apps come pre-installed on Android devices).
On iOS, Google Maps moved to #2 in downloads in April, giving Google the top two apps by monthly downloads (again, remembering many of Apple's apps are pre-installed on iOS devices). Google Maps saw a significant rise in ranking at the start of the month, particularly in Japan and the US. This coincides with Google's April Fools' Day joke in which it announced augmented reality Pokémon integration in Google Maps.
Intuit Makes the Most of Last-Minute Tax Submissions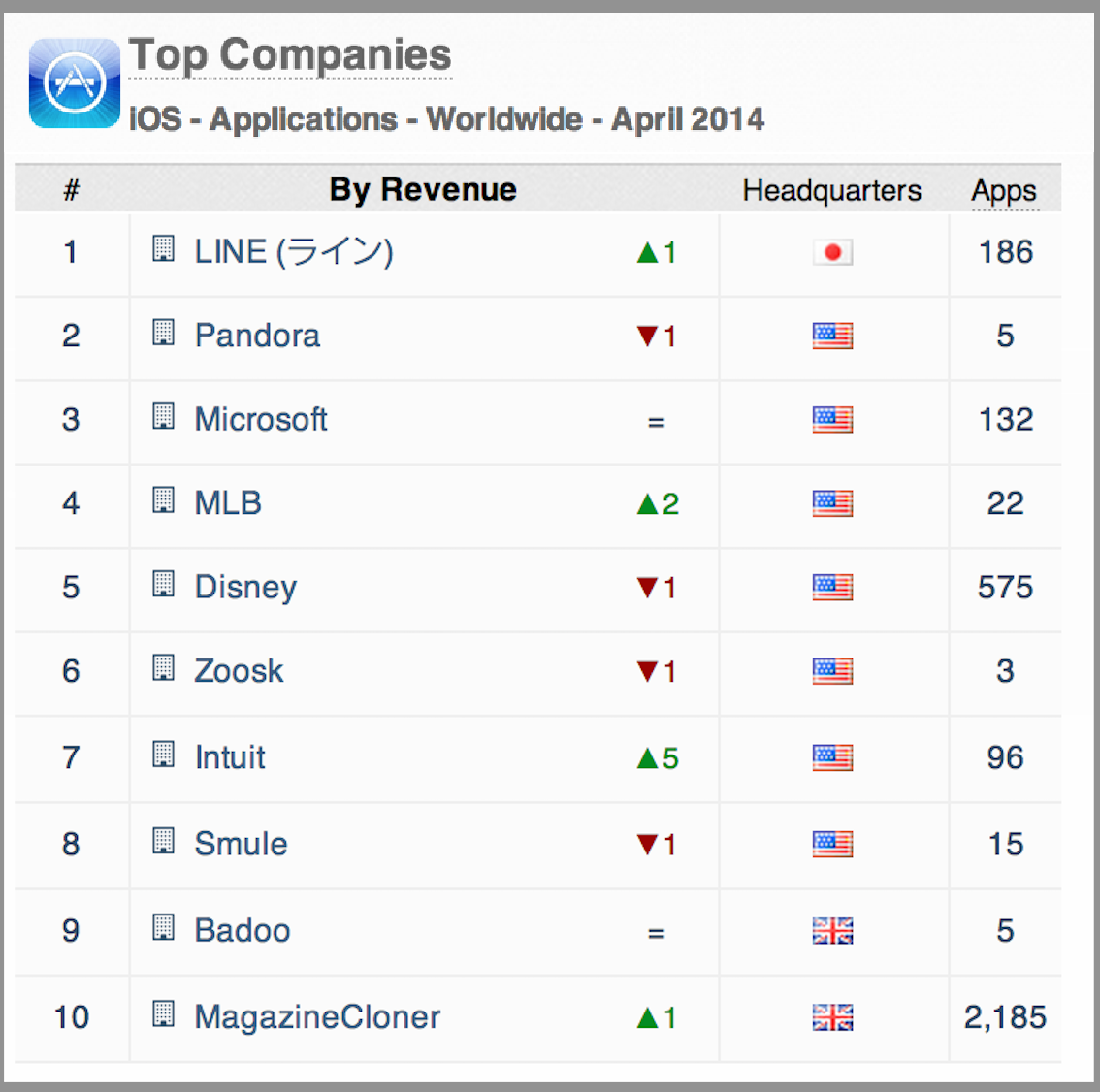 Intuit featured strongly in the February Index for Apps as TurboTax 2013 saw a revenue boost during tax season in the United States. With the deadline for individual tax returns looming on April 15, TurboTax 2013 climbed back up the rankings, peaking on April 14 and April 15. As the app monetizes by assisting users with the submission process, Intuit clearly saw benefits from some last-minute tax filings. The gains lifted Intuit back into the Top 10 by monthly iOS revenue outside of games in April.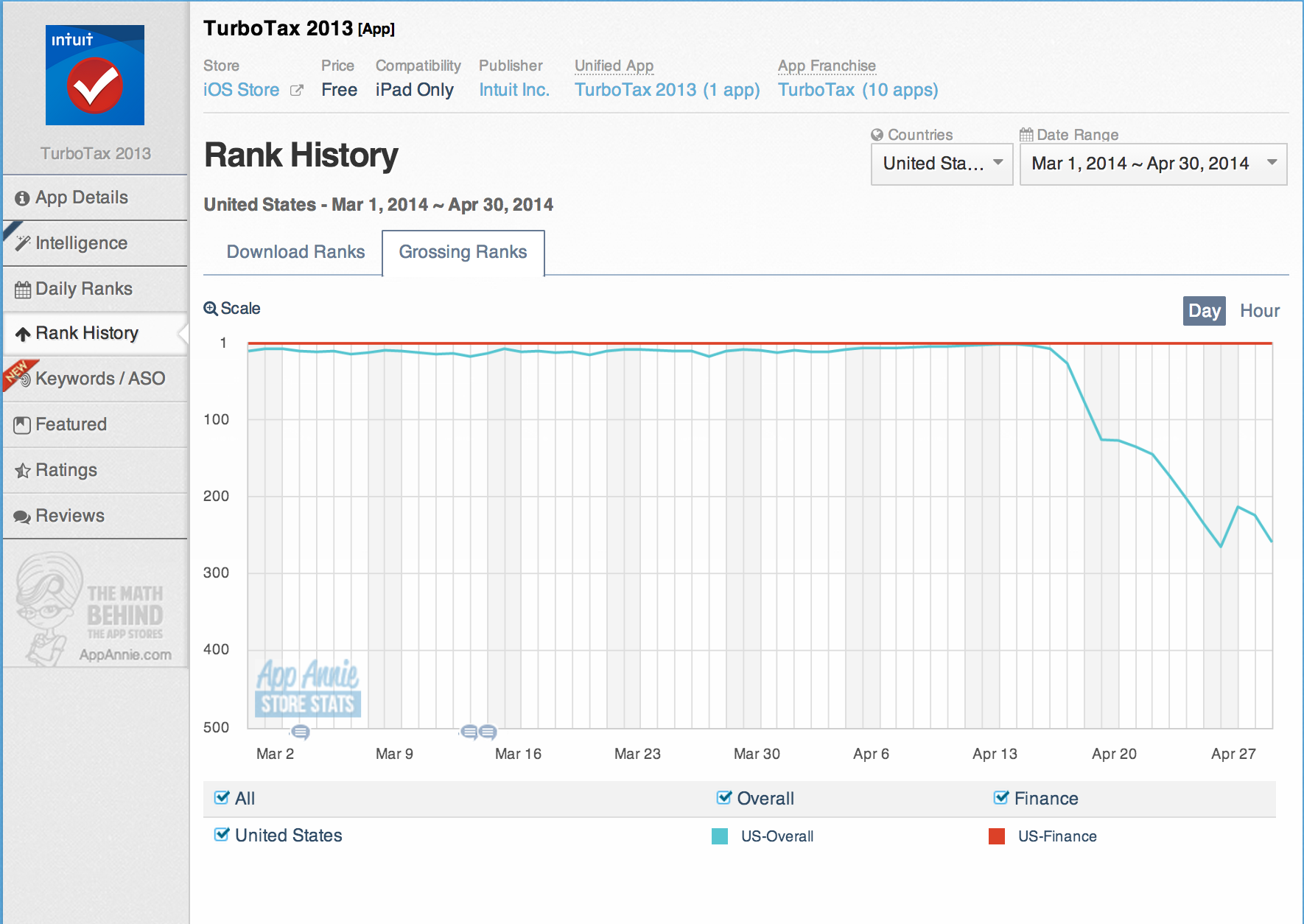 TurboTax 2013 peaked in the United States on April 15, the due date for tax returns.
3. More Movers and Shakers
Facebook Messenger Jumps in iOS Download Ranking
Messaging apps remain a hot topic in 2014. In April, Facebook Messenger climbed to #3 by monthly iOS downloads outside of games.
Earlier in the month, Facebook announced that it would remove private messaging functionality from its main app. Users were directed to Facebook Messenger instead. The rollout of the notification began in the UK and other European countries on April 9, coinciding with a climb in the rankings for Facebook Messenger.
Music Apps Hit the High Notes on iOS
The Top 10 iOS apps by monthly revenue outside of games featured two music streaming apps again in April - Pandora Radio at #1 and Deezer at #10. However, demand for music apps on iOS extends beyond these streaming hits. Smule has capitalized on this demand with its unique suite of music creation apps and associated social network, Smule Nation. As a result, it has consistently featured in the Top 10 publishers by monthly iOS revenue in the Index for Apps since September 2013.
In April, Smule closed a $16.6 million funding round led by Roth Capital. With 18 million monthly active users, and over 250 thousand subscribers, Smule's potential for growth in the future appears strong. Smule CEO and co-founder Jeff Smith spoke to App Annie about its long-term success:
"We've consistently made the App Annie Index Top iOS Apps lists. Great. But now what? We're finding that building a long-term, sustainable business takes a lot more. We also need community and user engagement. We need to give people plenty of reasons to keep coming back to our apps, not just download and forget that it's there. We never want to be complacent and will always strive to earn our place in the rankings." - Jeff Smith, CEO and Co-Founder, Smule Inc.
Customization Apps Continue to Shine
Apalon returned to the Top 10 publishers by monthly iOS downloads outside of games with steady gains in a number of its iOS customization apps. Wallpapers by Pimp Your Screen moved up the ranks in the United States, while Emoji Emoticons Art climbed in Italy.
On Google Play, NAVER made significant gains in the publisher download ranks after the release of LINE DECO. LINE DECO is published by Camp Mobile, a subsidiary of NAVER, in ass
ociation with LINE (a spinoff from NAVER). The app allows users to personalize their phones with LINE app icons and wallpapers. LINE DECO quickly rose to the top ranks in LINE's leading markets, including Japan, Thailand and Taiwan.
SQUARE ENIX Shows RPG Tools Can Be Moneymakers
SQUARE ENIX has long been recognized as a top games publisher. However, this month, it joined the Top 10 publishers by Google Play revenue outside of Games. The rise in rankings was driven by Dragon Quest X Adventurer's Convenient Outing Tool (ドラゴンクエストⅩ 冒険者のおでかけ便利ツール). This companion app for SQUARE ENIX's Japan-only console and PC MMORPG Dragon Quest X allows players to check their character's profile, review saved screenshots, and view information on item trading.
New Entries Into the Index for Apps Top 10
In addition to Microsoft Word, two other apps also entered the Top 10 by monthly downloads in April. On iOS, iTube Playlist Manager reached #9 by monthly downloads. The app allows use of YouTube as a streaming music service. iTube Playlist Manager saw strong growth worldwide, achieving notably high ranks in Canada.
On Google Play, Retrica landed at #10 by monthly downloads following its release in mid-April. The photo editing app has been available on iOS for well over a year, but only came to Google Play in April. In Retrica's first month, it found particular download success in Brazil, Italy and Mexico.
For those of you who also are looking for an update on top apps in gaming, please check out our April 2014 Index for Games. To keep up to date with all the changes at the top of the app and publisher charts, check out the complete set of App Annie Index tables.
---
| | |
| --- | --- |
| | Want to get even more advanced with your app store market analysis? Check out our enterprise product App Annie Intelligence. |
---
Notes:
The company and app rankings reported in the App Annie Index are based on the download and revenue estimates available through App Annie

Intelligence

.  The daily rank history charts and the home page feature app data are available to all users through App Annie's app tracker solution,

Store Stats

.

While the Index for Games covers games, the Index for Apps provides app tracking on everything but games.  Note that the Top Company rankings in the Index for Games are based solely on the company's games downloads and revenue, while the Top Company rankings in the Index for Apps are based on the company's downloads and revenue from apps excluding games.

Through September 2013, similar versions of the same app with different names (e.g., NYTimes and NYTimes for iPad) were ranked separately. Effective with October data, similar versions of the same app with different names will be unified (e.g., NYTimes and NYTimes for iPad are now aggregated and ranked as a single NYTimes unified app).

Company and unified app rankings in the App Annie Index for Games and Index for Apps are based on individual apps that ranked in the Top 1,000.

In the first month in which an app becomes unified, its rank change in the Index will compare the unified app that month vs. its highest-ranking individual app in the month prior.  As a result, rank changes for newly unified apps may overstate ranking increases from March 2014 to April 2014.

In the iOS App Store, an app can be categorized under a Primary Category as well as an optional Secondary Category.  If an app has a Primary Category of Entertainment and a Secondary Category of Games, it is a candidate to be included in this Index for Apps.  If the app's Primary Category is Games and its Secondary Category is Entertainment, then it will not be included in this Index for Apps; it is a candidate for the Index for Games.

Note that the ranking approach used in the App Annie Index differs from that used in the iOS App Store.  In the latter, app rankings for a given category will include all apps whose Primary Category or Secondary Category matches that given category.  So an app can appear in the rankings for more than one category within the iOS App Store or in App Annie Store Stats rankings.

In Google Play, an app can be categorized under only one category, so there is no double-categorization.

Occasionally, a publisher may decide to shift an existing app from one category to another category.  In these cases, the App Annie Index will rank that app based on how it is categorized in the subsequent month.  Given that the App Annie Index has a Games report and an Apps report, the scenario where an app's recategorization could shift it from one Index to another is if its category changes from the Games category to a category other than Games or vice versa.
In the App Annie Index, all apps and publishers are reported under their parent company, where available; for example, the Instagram app is reported under its parent company Facebook, rather than its direct publisher Instagram. Note that if you view the Facebook parent company page on Store Stats, you will see the publishers under the parent company Facebook, including Instagram. The Instagram app will be listed under the Instagram

publisher page.

App Annie Index revenue rankings are based on revenue that the iOS App Store and Google Play earned from paid downloads and in-app purchases.  They do not include revenue earned from in-app advertising.

Any non-App Annie trademarks or images used in this report are the property of their respective owners.  App Annie claims no rights in those trademarks.