App Annie — in partnership with International Data Corporation (IDC) — is pleased to announce the release of its latest App Annie & IDC Portable Gaming Report, focusing on game consumption trends for mobile devices and handheld game consoles. Included in this free review of 2014 are a variety of charts and insights comparing app store market share, per-platform spending and much more.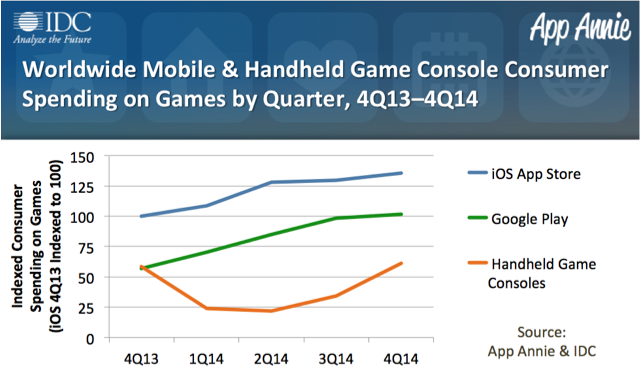 Our latest report includes key information for publishers and investors, such as device spending trends. 
Here are some of the key takeaways from our Portable Gaming Report Year-in-Review:
The worldwide number of smartphones and tablets used for gaming surpassed 1B for the first time in late 2014
Game spending on both iOS and Google Play exceeded that of handheld game consoles throughout 2014
Asia-Pacific saw a large leap in share of game spend on iOS, while North America outpaced other markets on Google Play
To gain access to this free 14-page report, click the download button below:
Subscribe to our weekly emails to be the first to know about new app industry reports, conferences and product updates. We love hearing from our readers, so share your questions and comments below or on Twitter (@AppAnnie).
Want to perform your own analysis? Monitor top-ranking apps with Store Stats, plug into our App Store Analytics dashboards, or request a demo of Intelligence — our market intelligence platform — today.