In partnership with International Data Corporation (IDC), today we are releasing a special annual review of our ongoing App Annie & IDC Portable Gaming Report. Readers will gain insight into the continuing shift in consumer spending from gaming-optimized handhelds to smartphones and tablets. This report includes analysis of the accelerating shift of the gaming industry towards tablets, Asian markets and global gaming franchises from both West and East.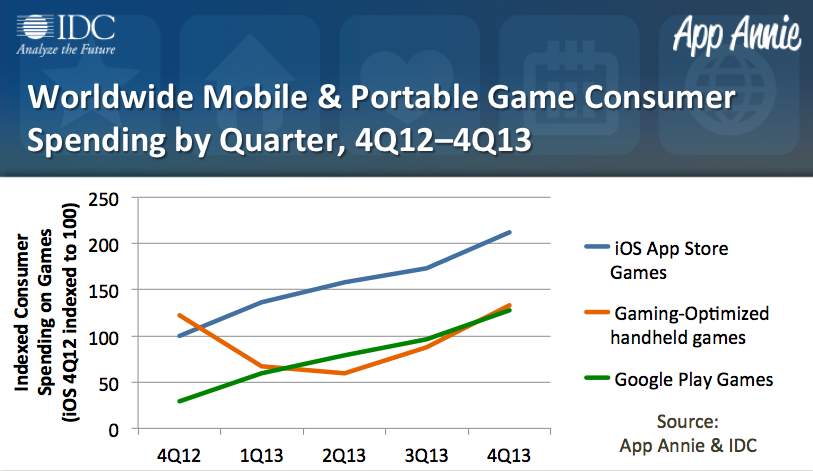 iOS revenue more than doubled, while Google Play increased more than fourfold from Q4 2012 to Q4 2013. Both stores saw continual growth.

Here are some of the key takeaways from our Portable Gaming Report Year-in-Review:
Tablet device install base exceeded that of gaming-optimized handhelds for the first time ever in Q4 2013, making large-screened devices a platform developers must focus on in order to optimize sales
Asia game spend continued to increase across all devices (mobile & non-mobile), reflecting the region's insatiable appetite for games and general GDP health
The Puzzle & Dragons franchise ranked in the top 3 grossing games across iOS App Store, Google Play, and gaming-optimized handhelds in Q4 2013, making it the first title to find this level of cross-platform sales success
Above are just some of trends included in our 14-page report. Download it now to see which platforms, regions, titles, and devices are shaping the portable gaming industry -- and get key insights to guide your business decisions for the upcoming year.
To gain more insights into 2013's spending trends for the global app marketplace and gaming-optimized handheld devices, download the full report below:


To see more worldwide app market reports, conference updates and product releases, see the rest of our blog. Share your questions and comments below, or on Twitter. Want to do your own analysis? Create a free App Annie Store Stats account today.