In partnership with International Data Corporation (IDC), today we are announcing the release of the second edition of the ongoing quarterly App Annie & IDC Portable Gaming Report. In this Q1 report, we offer insights into the shift of consumer spending from gaming-optimized handhelds to mobile devices. We've charted the changes seen in smartphone market share as well as the overall performance of downloads and consumer spending on mobile devices. Also included is an overview of the status of portable gaming packaged software sales and a regional breakdown of consumer spending across mobile and  dedicated gaming handhelds.
For the Portable Gaming Report Q1 2013, there are three important takeways:
iOS and Google Play both saw growth in game downloads and consumer spending.

iOS is now the leader in consumer spending on games, with Google Play likely to surpass gaming-optimized handhelds in 2Q13.
Gaming-optimized handhelds experienced significant decreases in consumer spending and packaged game shipments due to seasonality.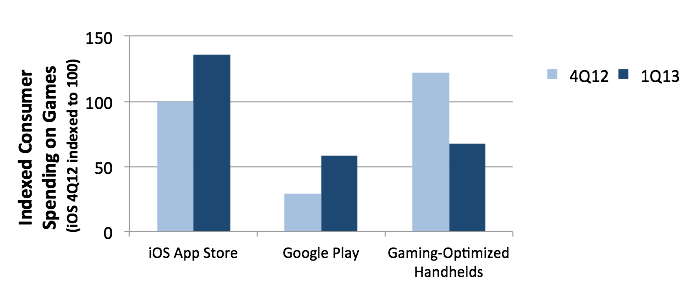 To gain more insights into Q1 2013 trends for the global app marketplace and portable gaming handheld devices, download and view the full report.