App monetization, whether through advertising, in-app purchases or paid downloads is top-of-mind for every app publisher. As the mobile app industry surpasses 102 billion annual app store downloads and $26 billion in revenues, companies who properly leverage advertising and monetization strategies will see massive revenue growth. Today, App Annie and IDC announce their report that provides important insight into the current and upcoming mobile advertising and monetization trends that will shape the industry.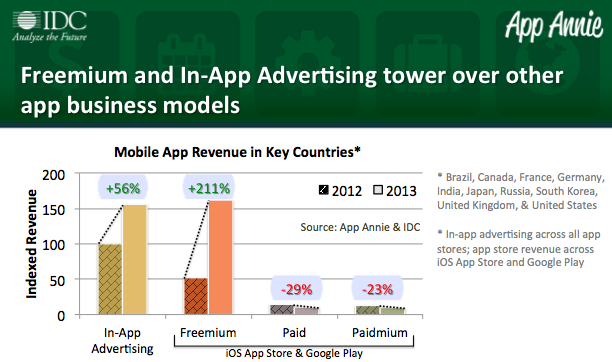 While paid and paidmium revenue models both shrank from 2012 to 2013, freemium and in-app advertising saw massive revenue gains.
By downloading this free report, you will gain key insights including:
Mobile Apps Capture More Eyes… and More Advertising Budget
Mobile device install base worldwide is skyrocketing, with a 49% jump in key countries from 2012 to 2013. Revenue per mobile device is also on the rise. These two trends are key factors in making mobile an extremely lucrative way to monetize.
Freemium is a Revenue-Generating Juggernaut
Freemium's low-friction adoption model lets publishers get their apps on phones with ease, casting a wide net for monetizing users. From 2012 to 2013, freemium saw 211% revenue growth, while paid and paidmium declined. Developers took note, and in 2013 most games (and increasingly non-games) incorporated a freemium business model with in-app purchases.
The Importance of Matching Your Monetization Strategy to Your Market
One size doesn't fit all, and our research showed that users in different countries can skew towards app store purchases or in-app purchases. When deciding your monetization model, you'll need to think about not just where you are, but what country you want to sell in.
Developer and Publisher Monetization Strategies
We surveyed our developer community asking them to explain how they advertise and monetize their apps, and we got a great response. This report contains current and actionable charts outlining freemium value propositions, in-app purchase targeting, popular in-app advertising formats, how developers are selling their ads, and more.
Advertising, Monetization and Individual Country Performance Projections
They say what's true today may not be true tomorrow, but our research showed that for mobile apps, what's true today will be magnified tomorrow. We outline the key points you need to consider so you can position yourself for future success.
Above are just some of the need-to-know items contained in our 38-page report. Download this report now to gain access to information you'll need to make the correct business decisions for your apps (or investments) in this rapidly-evolving industry.
The report is available in English today, with additional languages coming soon.

To see more worldwide app market reports, conference updates and product releases, check out the rest of our blog. Share your questions or comments below (or talk to us directly on Twitter). Create a free App Annie Store Stats account today to do some of your own app store analysis with our tools.