There's a lot to be excited about in mobile for this year's E3, where gaming's next big titles and hardware will be revealed to millions of avid fans. Hope you set aside some time to watch the big keynotes.
More and more traditional gaming companies are moving their budgets and focus from handhelds to mobile. Nintendo's mid-March partnership announcement with DeNA surprised the industry, but we've seen similar moves from key publishers like Ubisoft, Activision and Warner Bros. who are also extending their intellectual properties' reach to smartphones and tablets.
In addition, online multiplayer continues to be a growing part of the gaming ecosystem on consoles, PCs and handhelds. What started as a competitive gameplay experience in Quake and Duke Nukem 3D has evolved into complex, multi-layered RPG-like systems spanning hit franchises like Call of Duty, League of Legends and, of course, World of Warcraft. Online multiplayer brings with it a myriad of engaging — some would even say addictive — features that lead players to play games longer and with more ferocity.
This trend has made its way to mobile, where it's driving up monetization and session times in a big way. To highlight online multiplayer's significant impact on the gaming industry and mobile gaming's continued growth, we created a special report in partnership with IDC: App Annie & IDC Gaming Report H1 2015 (E3 Edition). Download it today to learn key trends driving the gaming industry.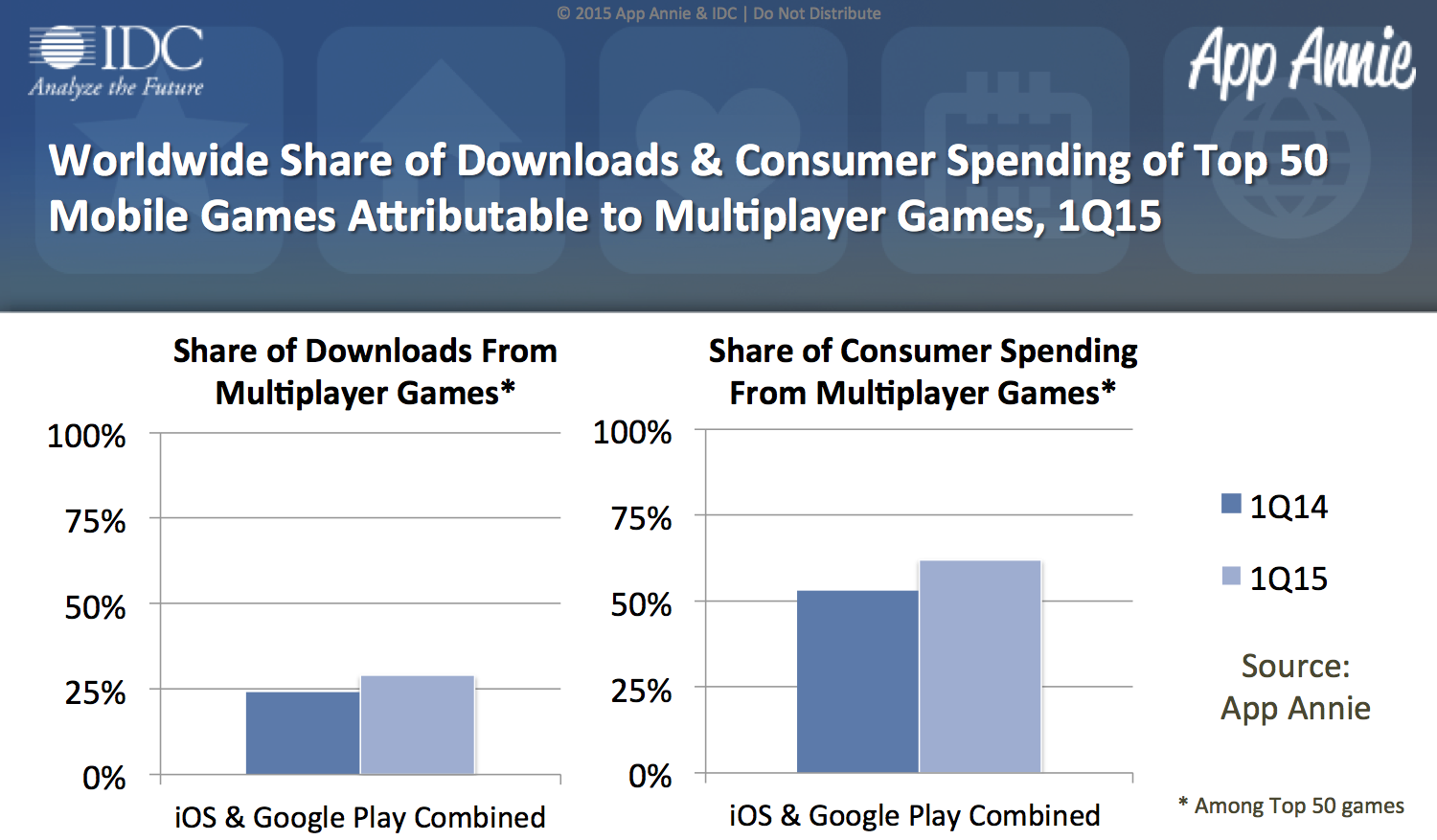 Top mobile games with multiplayer features are taking in increasingly more revenue compared to non-multiplayer games.
Below is what you can learn from our free report:
Online multiplayer gaming is on the rise, with an especially positive impact on gamers' lifetime value (LTV)
How online multiplayer, when done right, can potentially expand a game's lifespan
Which top-ranking mobile games support online multiplayer
To gain access to the full report, click the download button below:
Want More? App Annie Has It
Subscribe to our blog to see more app industry reports, conference updates and product news. We love hearing from our readers, so share your questions and comments below or on Twitter.
Want to perform your own analysis? Create a free Store Stats account or request an Intelligence demo today.