In his 2005 book One Billion Customers, Dow Jones China's former CEO James L. McGregor predicted the rapid expansion of the Chinese middle class and the subsequent pressure on China's retail industry to keep up with its peoples' increased consumption. In the wake of this additional demand, e-commerce websites like Taobao and JD arose and offered consumers tremendous convenience and choice. According to China's Ministry of Commerce, online retail sales in China totaled $296.57 billion for all of 2013, surpassing 2013 United States e-retail sales of $262.51 billion and making China the largest e-commerce market in the world.
Smart device penetration continues to drive the growth of mobile e-commerce (m-commerce) in China, as the ease and proliferation of mobile shopping satisfies Chinese consumers' strong desire for efficiency and convenience. On November 11, one of the most important days for Chinese e-commerce, App Annie is excited to share insights around the rapid growth of the mobile shopping industry in China.
TABLE OF CONTENTS
1. The Growth of Mobile Shoppers
China's increased smartphone adoption has been a key driver of the growing number of mobile shoppers. C.K. Lu, Principal Analyst at Gartner China, estimated that in 2014, 443.5 million mobile phones will be sold in China, and 90 percent of them will be smartphones. C.K. Lu even predicted that the country's smartphone penetration could hit 90 percent by the end of 2014.
As the number of smartphone users continues to grow, m-commerce apps on the iPhone platform will also continue to gain prominence. According to App Annie Intelligence, 42 of the China's top 500 iPhone apps (excluding games) by downloads in both October 2013 and 2014 were related to m-commerce. While the number of m-commerce apps in the top 500 didn't increase, total downloads increased nearly 80 percent in that time period. Smartphone users are clamoring to buy their goods via apps.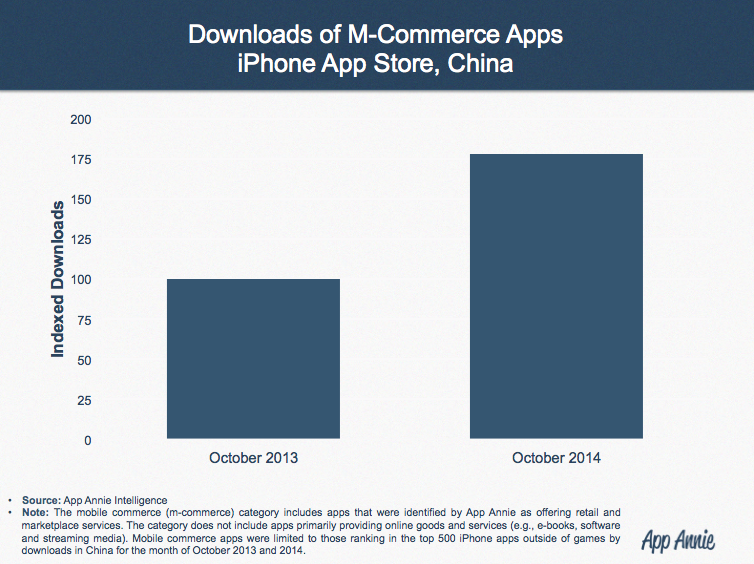 M-commerce apps ranked within the top 500 iPhone apps excluding games saw substantial download growth between October 2013 and October 2014.
In addition, the average rank of the aforementioned 42 m-commerce apps climbed from 227 to 169, indicating that download growth across many apps boosted their rankings, not just major apps.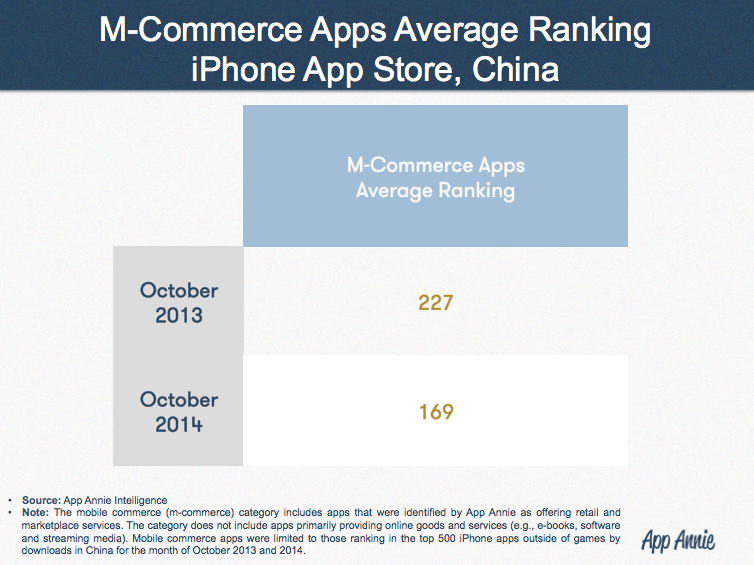 M-commerce app rank increases on iPhone clearly signal the importance of this type of app for Chinese consumers.
2. The Impact of the 11/11 Event
At a keynote session for the 2014 Credit Suisse Asian Investment Conference, Jack Ma, executive chairman of Alibaba Group, claimed that "in the US, e-commerce is just online shopping. In China, e-commerce is a lifestyle." A chief example of e-commerce's impact on Chinese culture is the promotional frenzy that surrounds November 11, or 11/11. Previously celebrated as "Singles Day," it's now a marketing event for e-commerce companies. After Alibaba Group started promoting 11/11 in 2009, the date has evolved into one of the biggest shopping days of the year. With retailers offering discounts of 50 percent or more, Chinese consumers typically spend well beyond analyst expectations. In fact, "Singles Day" sales have been double those of Cyber Monday in the United States for the past two years.
Huge discounts on 11/11 have had a variety of strategic benefits for participating companies. Aside from accelerating sales, cleaning out old inventory, and leveling out sales troughs between Chinese National Day (early October) and Christmas (late December), promotions can be powerful user acquisition vehicles for many m-commerce companies.
It is not difficult to find huge download spikes for m-commerce apps in their download rank history data around November. T-Mall, Alibaba Group's B2C online shopping center, was the initiator of the 11/11 shopping period and the most crucial participant in the event. Usually ranked between 40 to 60, T-Mall rapidly started to climb the download ranks on October 26, 2013. That year the app broke into the daily iPhone top 10 by overall downloads on November 1, and stayed there until November 13.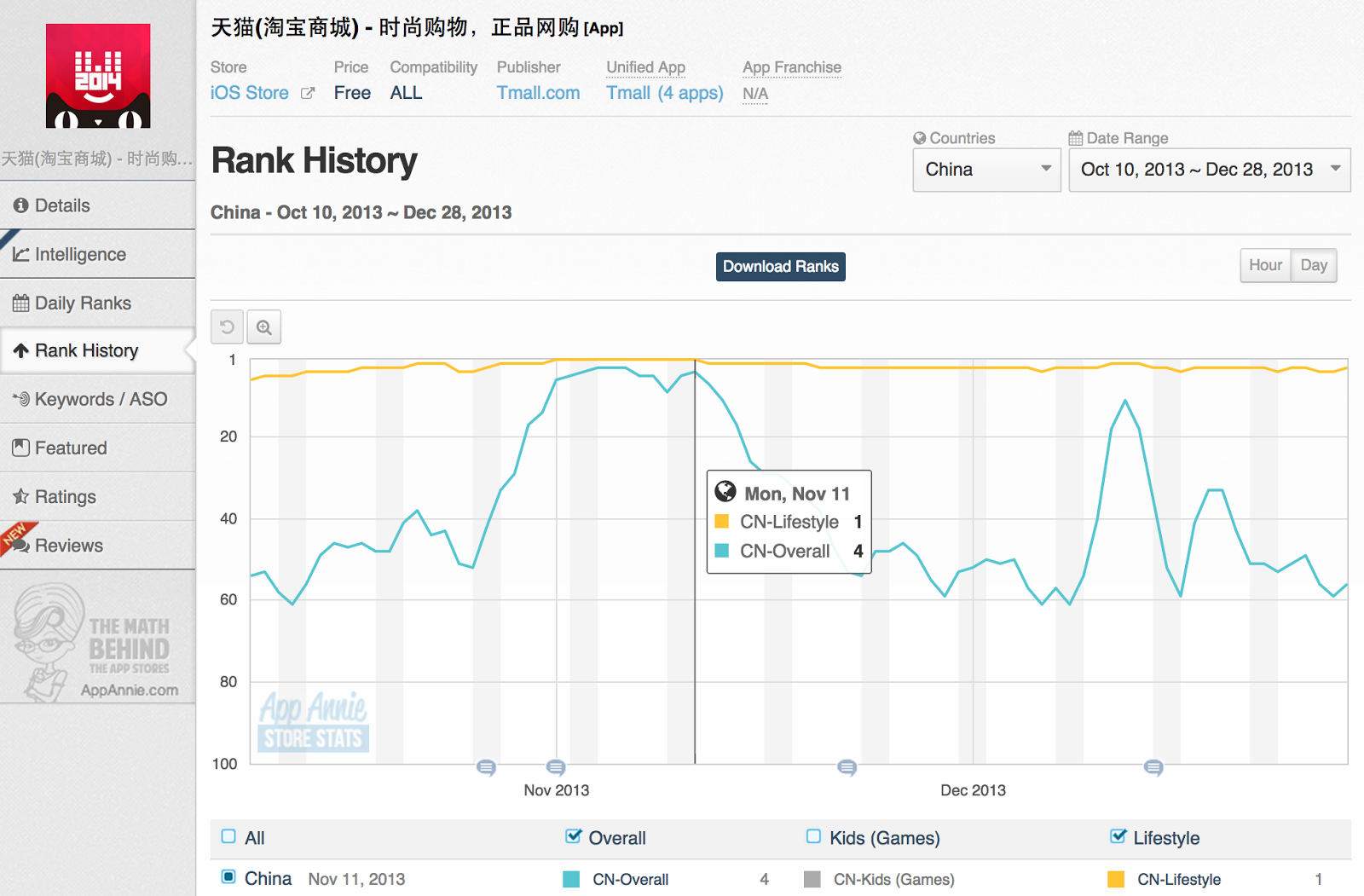 We observed download spikes for T-Mall around November 11 (Singles Day) and December 12 (a similar shopping period with less traffic).
JD, another Chinese e-commerce giant and big 11/11 event participant, saw its shopping app's downloads spike on November 11, climbing over 30 ranks in just two days.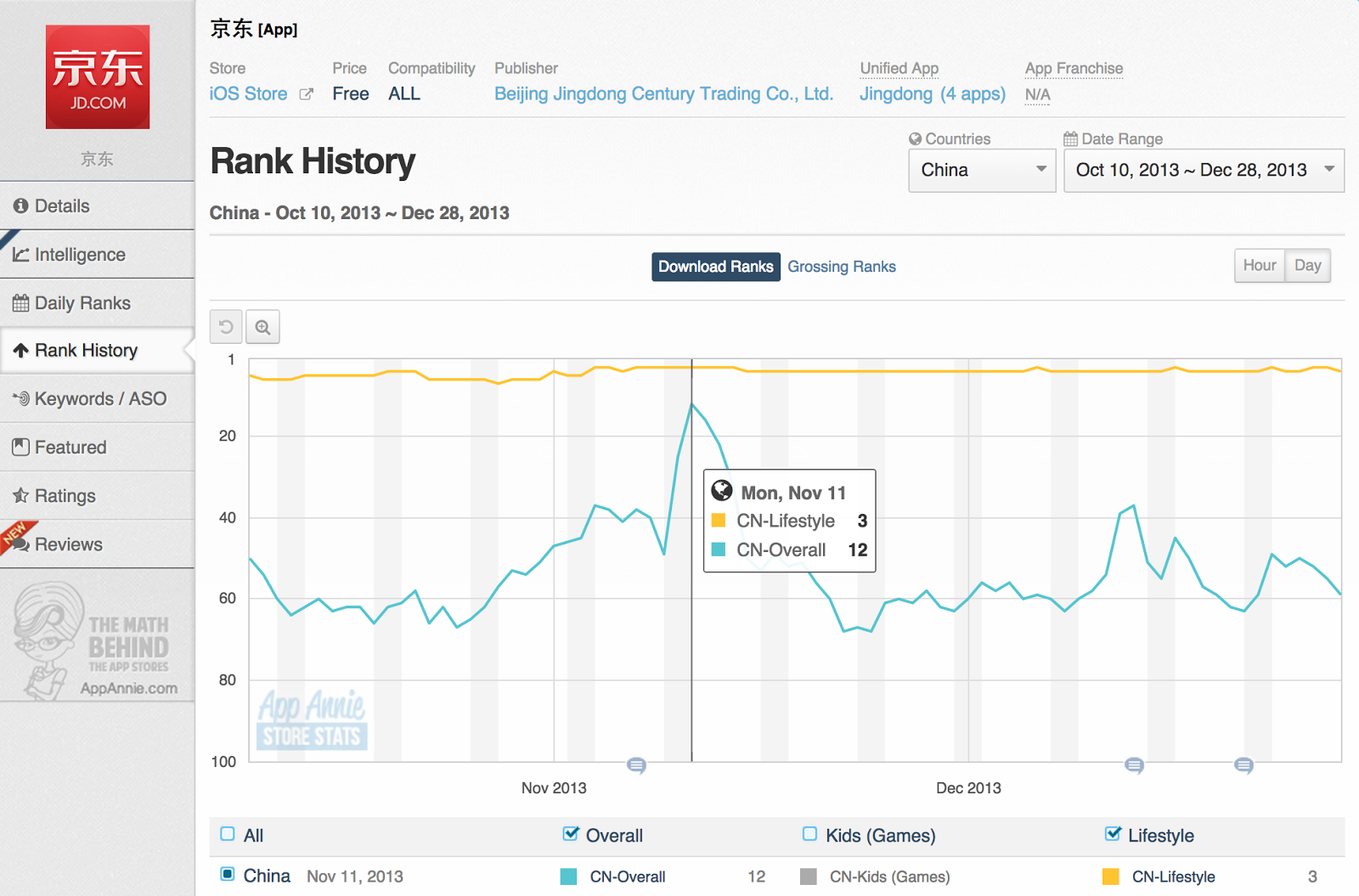 JD's app downloads spiked sharply around November 11, shown here with a drastic increase in its rank. Having a retail app around shopping holidays is crucial.
Beyond T-Mall and JD, download growth was widely observed across apps of other major e-commerce companies that participated in 11/11 promotions. Driven in part by mass media coverage and advertising campaigns, m-commerce apps participating in the 11/11 promotion shot up the download rankings last year in the days (and even weeks) leading up to it, vastly outperforming non-participating m-commerce apps. We're seeing similar behavior among m-commerce apps this year. As 11/11 looms, the climb up the iPhone download rankings has begun. Sign up with us to keep an eye on rank changes yourself as the year ends -- and the gift-giving season begins.
Notes:
The publisher and app rankings reported here are based on the download and revenue estimates available through App Annie Intelligence. The daily rank history charts and home page featured app data are available to all users through App Annie's app tracking solution, Store Stats.

App rankings covered in this report are ranked at the individual app level.

The mobile commerce (m-commerce) category includes apps that were identified by App Annie as offering retail and marketplace services. The category does not include apps primarily providing online goods and services (e.g., e-books, software and streaming media). M-commerce apps were limited to those ranking in the top 500 iPhone apps outside of games by downloads in China between October 2013 and 2014.