As the evolution of personal and mobile devices continues to redefine how we consume content, the digital content industry has become a $57 billion machine spanning across digital games, apps and movies globally. In order to better understand where growth is occurring and why, App Annie and IHS Technology have combined their expertise to create a unique report on the entire digital content landscape, uncovering the global trends that will impact the movie, music, technology and gaming industries in 2014.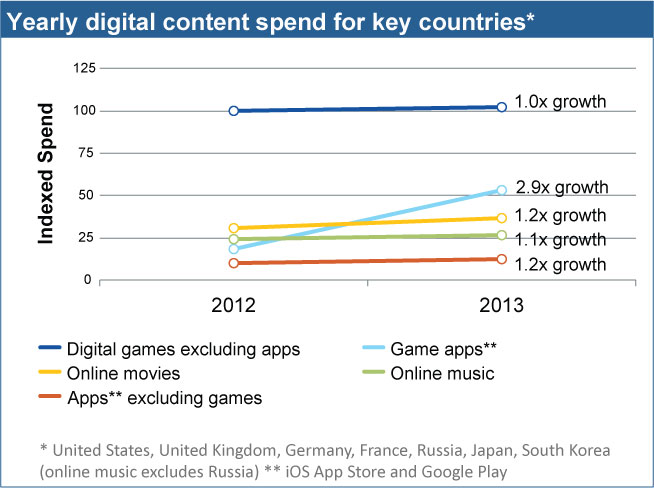 Mobile apps led digital content growth in 2013, with game apps stealing the show at an amazing 2.9x growth rate year-over-year.
By downloading this free report, you will gain key insights including:
Game Apps Drive the Growth in Digital Content Spend
Mobile gaming spend more than doubled over 2013, with growth particularly explosive in Asia. Find out what gaming publishers and platforms are doing to drive such explosive growth and how this is impacting other digital content categories.
Apps Opening Up New Sources of Revenue for the Music Industry
The music industry has gone through massive change over the last couple of decades, but the last year has seen apps redefine how consumers discover, download, stream and pay for music. Consumer spend on music apps was up 77% in 2013 with major players like Spotify, Pandora and Beats Music defining new forms of music distribution that will continue to shake up the industry in 2014.
Hollywood Embraces Apps Both for Marketing and Monetization
Movie studios got savvier with apps in 2013. You'll find in this report an analysis of how movie studios are now both using apps to broaden their movie audiences and embracing freemium games to monetize those audiences on mobile apps.
Smartphones and Tablets Reshaping the Gaming Industry
Consoles and PCs may dominate digital game spend, but mobile game apps are catching up at a breakneck pace. From 2012 to 2013, annual non-app digital games spend grew less than 5% while mobile game apps grew nearly 200% across the seven countries we analyzed. In response, we saw ranked game app publishers increasingly adopt mobile-first strategies, with others turning more mobile-centric each quarter.
Asia Driving the Disruption With New Forms of Content Distribution
Our report covers trends across seven countries with Japan and South Korea experiencing voluminous digital spend growth thanks to gaming and social messaging platforms. This growth is disrupting the regions, setting the stage for game app domination, new publisher powerhouses, and creative expansion strategies abroad.
Above are just some of trends in our 26-page report. Download this report now to get insights into the evolving digital content landscape that will shape the industry — and your business — in the upcoming year.
The report is available in English today, with additional languages coming soon.
To see more worldwide app market reports, conference updates and product releases, see the rest of our blog. Share your questions or comments below or on Twitter. Want to do some of your own analysis? Create a free App Annie Store Stats account today.