The App Annie 52 celebrates the top earners of 2015 by worldwide iOS and Google Play combined revenue from January 1, 2015 to December 31, 2015. Launched in 2012, this is our fourth year honoring the publishers leading the app economy. We thought we'd spotlight a few of the companies that have been on the list each year and showcase how they've been able to remain so successful in a crowded space.
Today, we are spotlighting Kabam and Storm8, #20 and #37 on our 2015 list for Top 52 mobile app companies.
Strong IP Partnerships Bolster Kabam's Success

Kabam has the honor of being the 20th highest-ranked company by worldwide iOS and Google Play combined revenue during 2015. Their two top-grossing apps leveraged intellectual properties licensed from other media: Marvel Contest of Champions and The Hobbit: Kingdoms. Scoring in third was the fully original mobile game Dragons of Atlantis: Heirs.
In the Fall of 2015, we highlighted just how strong of an app IP Marvel is and examined the success of Marvel Contest of Champions, which at the time was the #2 by worldwide iOS and Google Play combined revenue for the whole IP.
Looking at all of 2015, Marvel Contest of Champions was Kabam's most successful app by worldwide iOS and Google Play combined revenue. The game did well in Europe, bringing in a sizable amount of revenue from the United Kingdom, France and Germany. This reinforces just how impactful a global brand Marvel is and how Kabam leveraged this partnership to great success.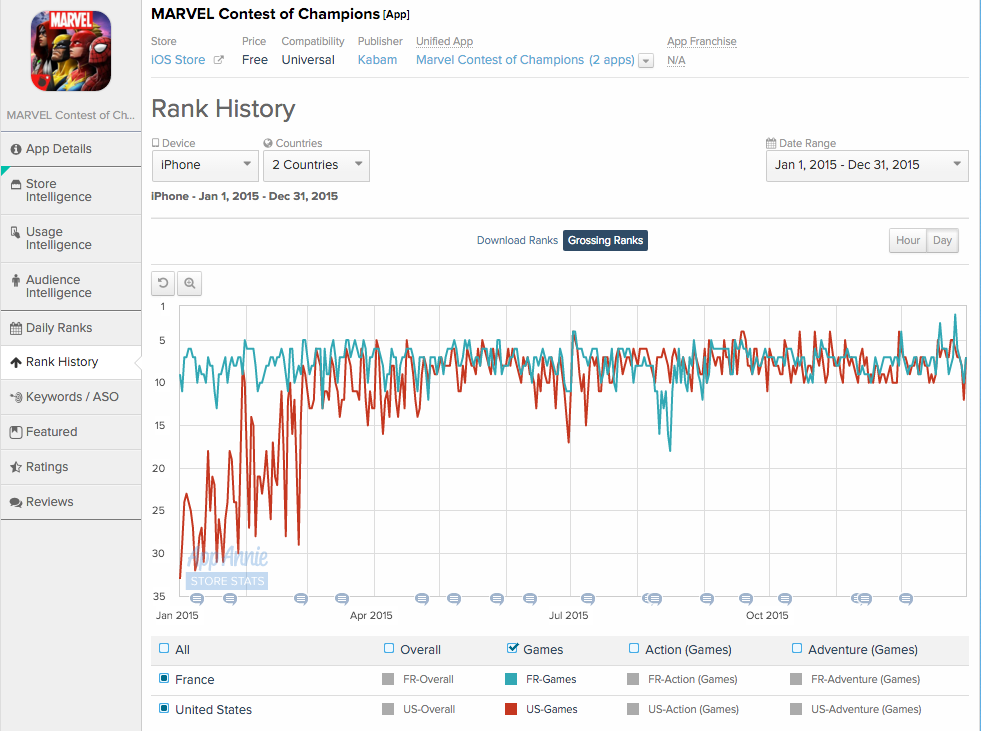 During 2015, Marvel Contest of Champions stayed in the top 33 ranks on iPhone on the Games category in the United States and France.
Storm8 Revels in Revenue Mania

Storm8 took spot 37 on our list of Top 52 app publishers. Their success came from a portfolio of games including their top 3 by worldwide iOS and Google Play combined revenue: Candy Blast Mania, MONOPOLY Bingo! and Shark Party Slots.
Candy Blast Mania and Shark Party Slots have been available on the iOS App Store since 2012. This has allowed these games to become established fan favorites in multiple regions. Storm8's home country, the United States, played the largest part in Candy Blast Mania's iOS and Google Play combined revenue during 2015, but the United Kingdom, Japan and Australia also made substantial contributions.
As for newer mobile games, MONOPOLY Bingo! has quickly become Storm8's fastest growing game, ranking as the company's #2 app by revenue while only releasing in December 2014 on iOS and January 2015 on Google Play. In the United States, MONOPOLY Bingo! even beat Candy Blast Mania in iOS and Google Play combined revenue during 2015.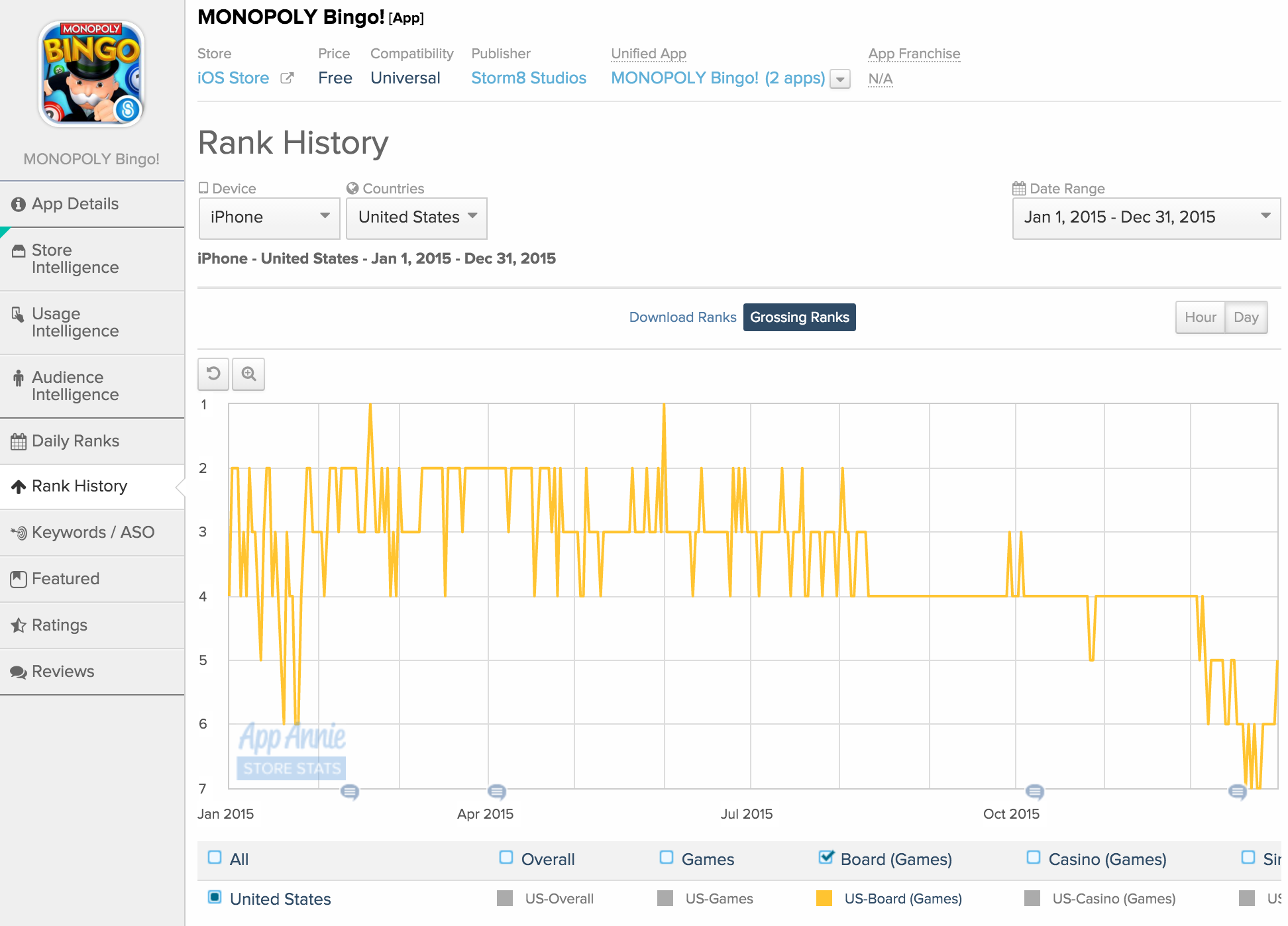 During 2015, MONOPOLY Bingo! stayed within the top 7 rank of the United States Board Games category on iPhone.
Storm8 sat down with us last April to give insight into their data-driven methods that successfully drove app downloads. A big factor was diversifying their portfolio instead of focusing on a single game or genre.
"Focusing on one game or genre felt too narrow given the huge mobile market opportunity. Similar to how people watch multiple channels on TV, we knew that people would play many different types of mobile games. As such, we've taken a diversified network approach since day one, catering to players' varying tastes," said Chief Strategy Officer Terence Fung.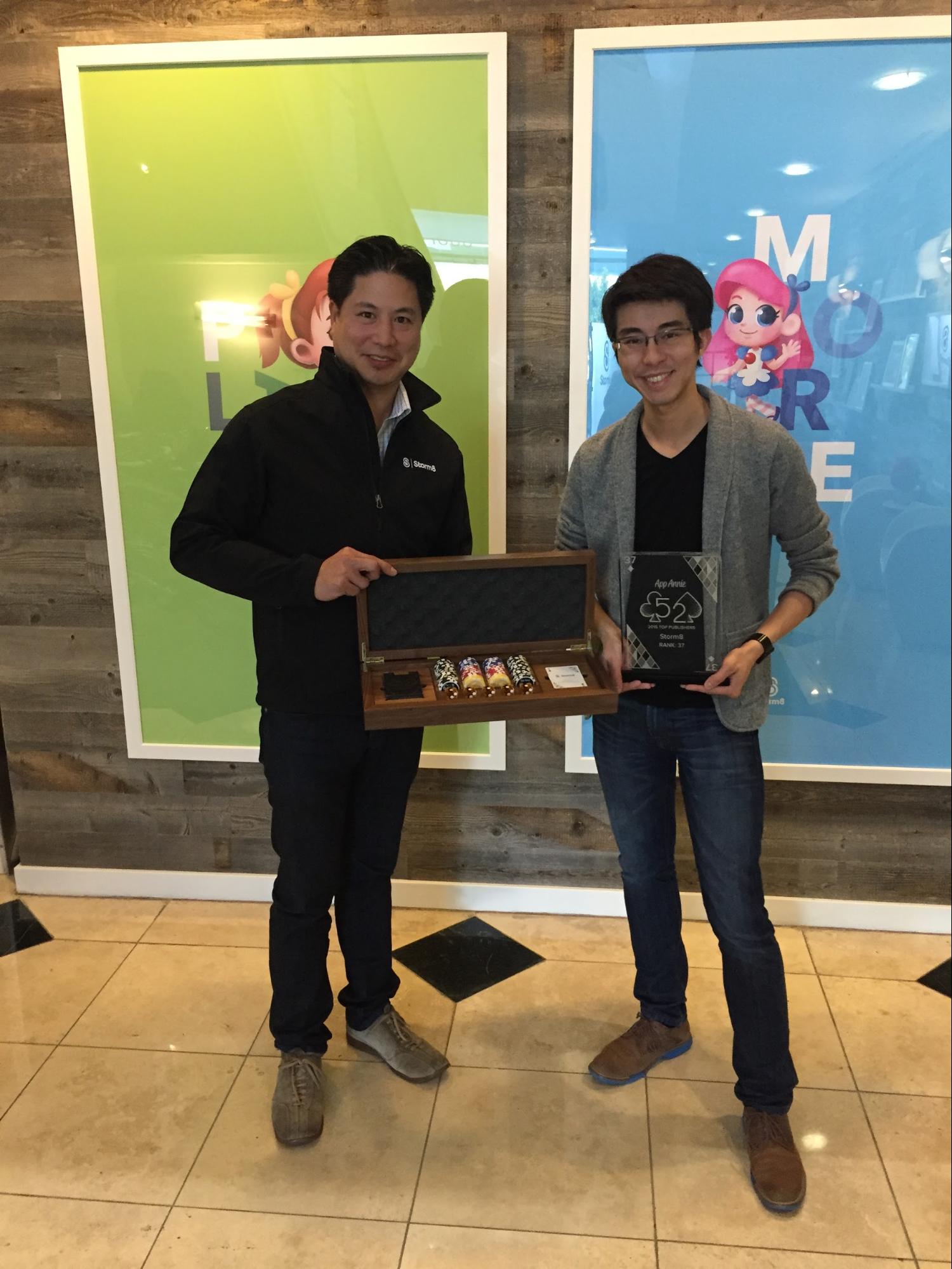 Congratulations to Storm8! Terence Fung, Chief Strategy Officer, and Perry Tam, CEO, accept the Top 52 award.
Playing a Royal Flush in the Global App Economy
During 2015, Kabam and Storm8 had what it took to succeed in the mobile games space. It takes a good strategy to reach the top 10 companies each month, and in turn, make it within the yearly Top 52. Apply these quick lessons and maybe your company will appear on our Top 52 list of 2016!
Stay tuned to our blog, as in the coming days and weeks we'll be featuring more of the Top 52 mobile app publishers.
Start Building a Better App Business
Subscribe to see more app industry reports, conference updates and guides. Have something to add? Share your questions and comments on Twitter.
Want to take your app business to the next level? Create a free account to dive deeper into Store Stats or request an Intelligence demo.