Looking ahead to the year 2022, App Annie forecasts that a boom in installed devices coupled with increased spend in mature markets will make for a thriving app economy.
Considering the now integral role of smartphones in our daily lives, it's hard to believe it's only been ten years since the iPhone App Store first launched, followed shortly by the Google Play store (which at the time was called the Android Market).
In that time, smartphones and apps have gone from nice-to-haves to absolute essentials for many consumers and businesses. Case in point, in 2017 there were almost 4 billion connected mobile devices generating 178 billion annual app downloads and more than $81 billion in app store consumer spend.
If we've come this far in less than a decade, what will the future of apps look like?
That's the core question we're investigating in our new report, the App Annie 2017-2022 Forecast, and this is our answer:
By 2022

First, the App Maturity Model
Those numbers above are impressive, but you can't truly understand what they mean without context; that context is the App Maturity Model. Simply put, as the global app economy grows, individual markets will move through three different phases of market maturity: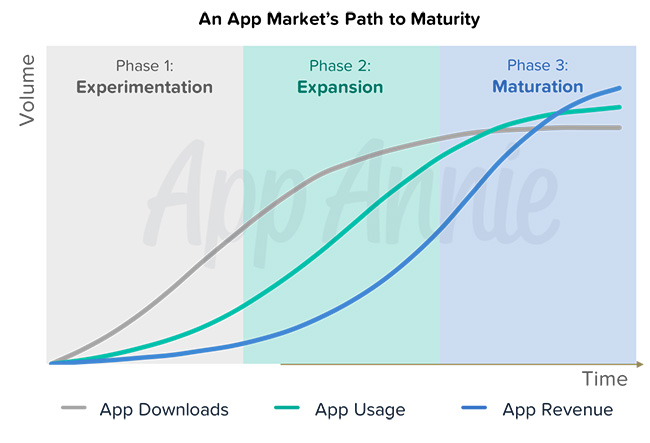 Experimentation
First time smartphone owners drive a surge in downloads as they discover and experiment with new apps in search of their favorites.
Expansion
Users now understand the types of apps that are most useful to them and search for new apps less often. Downloads remain high, but growth rates slow. Engagement and spend climb as people dive deeper into their preferred apps.
Maturation
Users increasingly spend in their preferred apps, and app developers simultaneously get better at monetization. This leads to rapid growth in app store spend, as well as in-app ad spend and m-commerce.
Together, those three stages serve as a lens to view all of the stats below through.
Global App Downloads: 258 Billion by 2022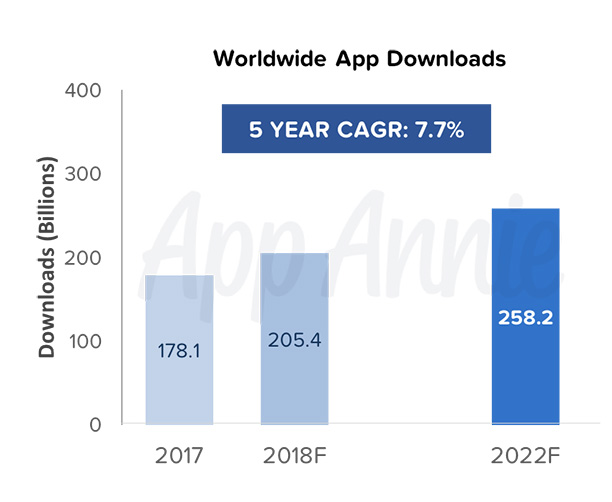 (iOS App Store, Google Play and third-party Android stores combined. Downloads are first time downloads only; re-installs and updates are excluded.)
With the App Maturity Model in mind, let's take a look at how downloads will grow. In the next five years, we forecast that annual worldwide app downloads, including China third-party Android downloads, will grow from 178.1 billion in 2017 to well over 250 billion downloads in 2022.
This download growth will be driven by a dramatic increase in smartphone install base from 3.9 billion in 2017 to 6.1 billion in 2022; that's approaching the equivalent of one installed device for every person on the planet.
In terms of downloads, it's not just the increase in smartphone owner that matters, it's where that increase in happening.
First time smartphone buyers in emerging markets like India, Brazil, Indonesia, Vietnam, Egypt, Ukraine, Poland and Tier 3+ cities in China will lead this device growth as waves of new smartphone owners download and trial new apps, while in conjunction users in Expansion phase continue to download at a strong but tempered rate.
For additional time periods of regional download data, see our supplementary Forecast Data Sheet.
Consumer Spend: Consumer Spend in App Stores: $156.5 Billion by 2022
We forecast that consumer spend in apps stores will first pass the $100 billion mark in 2018, and will reach $156.5 billion by 2022.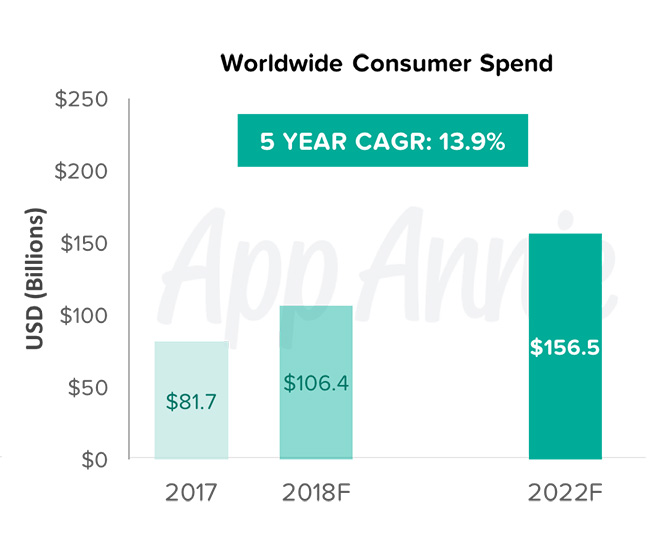 (iOS App Store, Google Play and third-party Android stores combined. Spend is gross, app store fees are included.)
This consumer spend growth will come from a combination of the rapidly growing installed base we previously mentioned and increasing spend per device in more mature markets.
Focusing in on the device level, by 2022, average spend per device for apps will reach $25.65, up from $20.94 in 2017.
Growing spend per device in more mature markets like the US, S. Korea, Japan, the UK, Germany, and higher tiered cities in China will be the predominate driver for global increases in app store spend. Notably, annual per device spend in Japan will exceed $140 by 2022, a figure that will be nearly 6x the global average, by far the highest in the world.
For additional time periods of regional spend data, see our supplementary Forecast Data Sheet.
China: The World Leader Now & in 2022
Simply put, China already stands above the rest of the world in terms of both downloads and consumer spend, and we forecast that in 2022 it will continue to be a dominant force in the global app economy.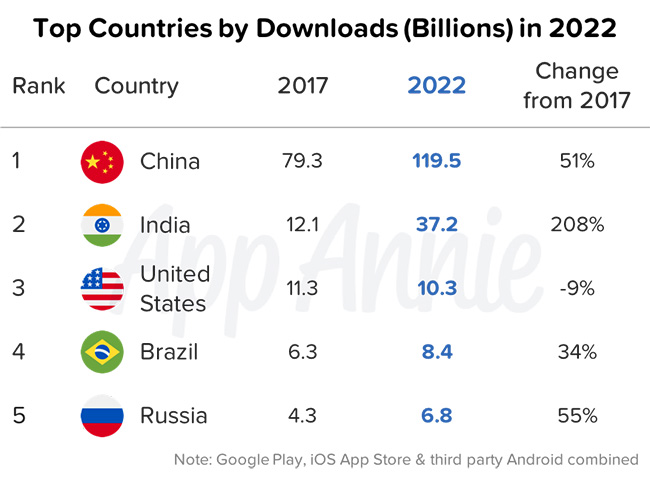 In terms of downloads, China will remain the number 1 market in 2022, rising to a staggering 119.5 billion. However, it should be noted that while India will be a distant second, the country is forecast to experience massive growth as downloads increase a forecasted 208% in the next five years.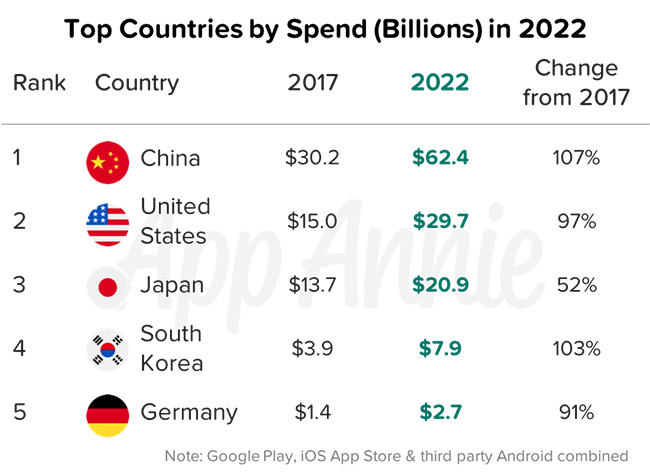 For spend, a combination of new users coming online with deepening spend in higher-tiered cities will drive spend to $62.4 billion, followed by the US at an impressive but still distant $29.7 billion. There's simply no other way to put it; China's position in the global app economy is now, and will continue to be, enormous.
Conclusion
The next five years will see regions throughout the world moving through stages that will drastically increase the number of installed devices and present massive opportunities for publishers.
In maturing and increasingly competitive markets, those publishers will need to encourage new app downloads through product innovation. In emerging markets, high downloads and limited direct spend will make alternate strategies that rely on large user bases more effective.
For the full free report including more in-depth analysis, charts and key takeaways, click the download button below. And for even more stats and charts from this report, see our supplementary Forecast Data Sheet.