Download our largest annual report to understand key trends that drove app market growth in 2016 and insights you can apply to 2017.
Apps are transforming how we interact with the world and each other. In 2016, the mobile market maintained strong momentum and saw significant growth in usage, downloads and revenue. Worldwide downloads exceeded 90 billion, an increase of more than 13 billion across the iOS App Store and Google Play.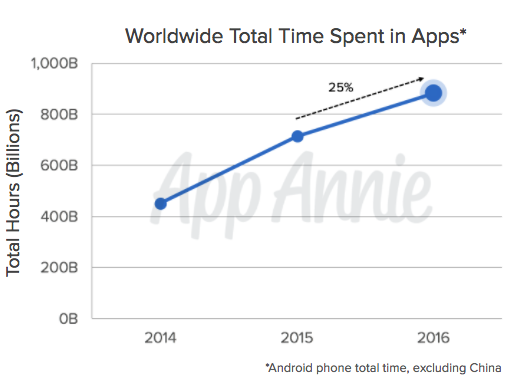 Overall, the total time spent in apps worldwide increased by over 150 billion hours year over year, reaching nearly 900 billion hours in 2016*.
In our annual report, we examine the key trends driving the growth of the app economy, and take a closer look at some of the stand-out countries, categories and apps. Download the complimentary report to learn about:
The emerging markets that that are growing by leaps and bounds for downloads and usage, and the factors behind their increases.
The monetization opportunity that exists for publishers worldwide, and the countries seeing the largest gains.
Top industries — like media and entertainment, social media, retail and retail banking — that are being transformed by mobile apps, and the trends they must embrace to stay ahead of the competition.
How mobile gaming continues to evolve, led in 2016 by the juggernaut that is Pokémon GO.
Download App Annie's 2016 Retrospective to uncover insights from the past year as you develop your strategy for 2017.