Among 2015's standouts in the mobile app economy, ridesharing and taxi apps performed tremendously. Usage is up across the board in both developed and emerging markets — some regions seeing as much as 30% penetration for these types of apps.
The rapid growth of ridesharing apps in each market has led to fragmented global competition. Uber is the only truly global player, holding a top-two spot in many countries. To establish a more global presence, regional powerhouses like Lyft, GrabTaxi and Didi Dache have formed a roaming agreement that allows international travelers to use their local app in other countries. For example, GrabTaxi would summon a Lyft driver when used in the US. This could create interesting market dynamics with strategic partnerships making up for lower market penetration, ultimately resulting in a much more consolidated vertical in 2016 and beyond. But that's yet to be seen.
Grabbing a Ride? You'll Probably Reach for Your Smartphone
In terms of active users, the ridesharing and taxi space grew phenomenally in 2015. This was especially true in emerging markets, some of which outpaced the world's leading app markets. China, Mexico and Brazil were major standouts on iPhone, while India led the way on Android Phone. In all four cases, over 20% of smartphone users actively used at least one major taxi or ridesharing app in Q4 2015. Compare this to more developed markets such as the US and South Korea, where the figure was less than 10%.

During Q4 2015, the percentage of users using major rideshare apps increased considerably in China, Mexico and Brazil on iPhone, and in India on Android Phone.
The Top Ridesharing Apps Around the World
As previously mentioned, Uber is a favorite in many countries. We expect regional markets to experience increased competition and innovation over the next few years. Ola cabs is already India's top ridesharing service and Jugnoo Autos lets you order rickshaws instead of cars in the country. If you want a spot in a country's top charts, remember to meet local needs, not just copy who has the most downloads.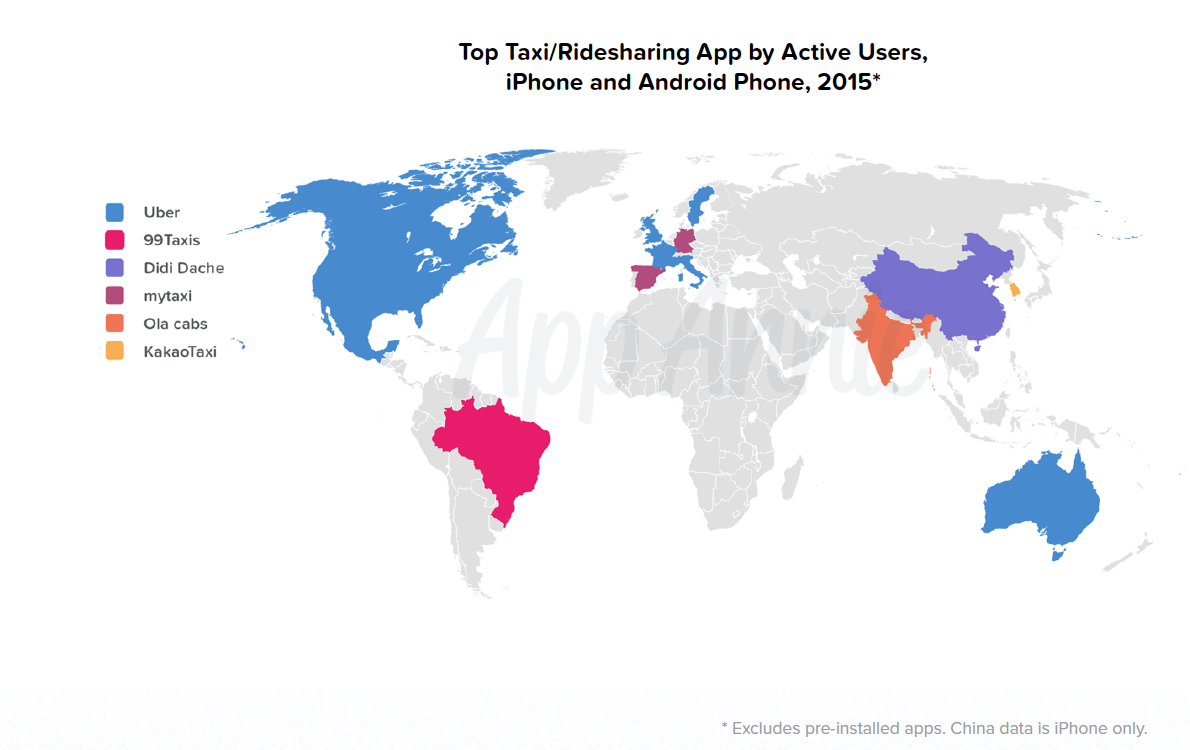 Uber has already taken steps towards protecting its top valuation as a rideshare company. In December 2015, they launched food delivery in certain locations. In February 2016, the company unveiled its new branding. Additionally, as Google and Tesla prepare to launch self-driving cars in the next few years, driverless ridesharing may be commonplace. As the sector expands, pivots and evolves, what makes a company a top player could shift drastically — and the map above may look entirely different in a few years as a result.
Want to dive deeper into our findings? Join us on February 17 at 10 AM PT to hear SVP of Research & Analysis, Danielle Levitas, and Market Insights Senior Manager, Amir Ghodrati, cover the major app trends from 2015. Register for the webinar now.