2015 was a big year for app monetization, with worldwide iOS App Store and Google Play combined app revenue growing about 25% compared to 2014. The continued adoption of in-app purchase models like subscriptions and shifts in gaming revenue have created more opportunities for app publishers.
Our 2015 Retrospective shares trends in app monetization across categories and markets. Check out the key highlights below, and be sure to download the report for the full details.
Subscription Models Expand Global App Monetization
Consumers and developers are embracing subscription revenue models. In particular, video-streaming and music-streaming apps have seen a great deal of success leveraging subscriptions. As this model continues to grow in popularity, it will likely be an even more significant contributor to the worldwide app market.
Improvements in mobile hardware and cheaper data plans helped make mobile video streaming more accessible. In the United States, apps like HBO NOW and SHOWTIME had increased revenue in part from pushing the cord-cutting trend. Additionally, Netflix introduced in-app subscription purchases on iOS in late September, while YouTube launched YouTube Red. In China, video streaming services, Youku, Tencent Video and iQIYI continued to skyrocket in revenue.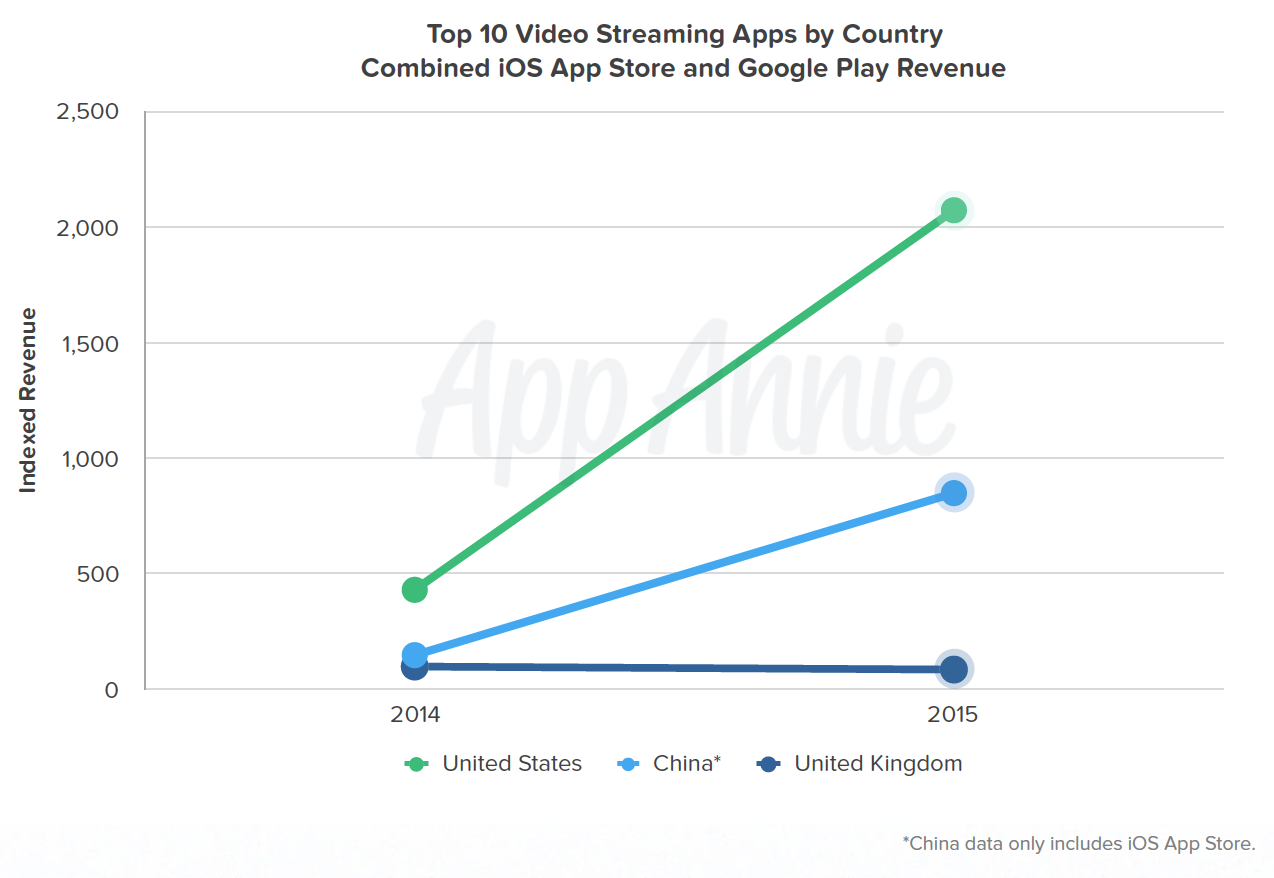 Sales of digital songs entered a slump in 2015 as subscriptions to mobile music streaming dominated. Region-specific licensing and user preferences have played a big part in the market's ecosystem. Spotify captivated most of the world, but it was Pandora Radio that led music streaming in the United States. Other local players did especially well like Deezer in France, Saavn in India and QQ Music in China. We predicted that under-tapped markets such as Japan will further shape music-streaming app revenue during 2016.
Game Changers: A Changing Landscape and the Rise of Core Games
Games are still the biggest revenue category, accounting for 90% of Google Play and 75% of iOS App Store revenue. Even as revenue grows, it has become less concentrated among top game publishers. Game revenue became more dispersed from Q1 2014 to Q1 2015, and has allowed more opportunity for long-tail publishers.
Engaging core games have proven popular in South Korea and China. New mobile GPUs and processors have allowed developers to create games with immersive gameplay and graphics, boosting the hardcore gaming category.
In South Korea core game usage grew on Android phones. From May 2014 to May 2015, time spent per active user in core games jumped 50%; time spent in casual games declined during that same time period.
In China, 8 of the top 10 grossing iOS games were core games, and half of those 10 were massive multiplayer online role-playing games (MMORPGs). Core games are already greatly impacting revenue in Asia and are steadily affecting western markets like the United Kingdom. 2016 may show increased growth for mobile multiplayer online battle arenas (MOBAs), like Hero Moba within China, and see mobile devices increasingly compete with traditional gaming platforms such as consoles.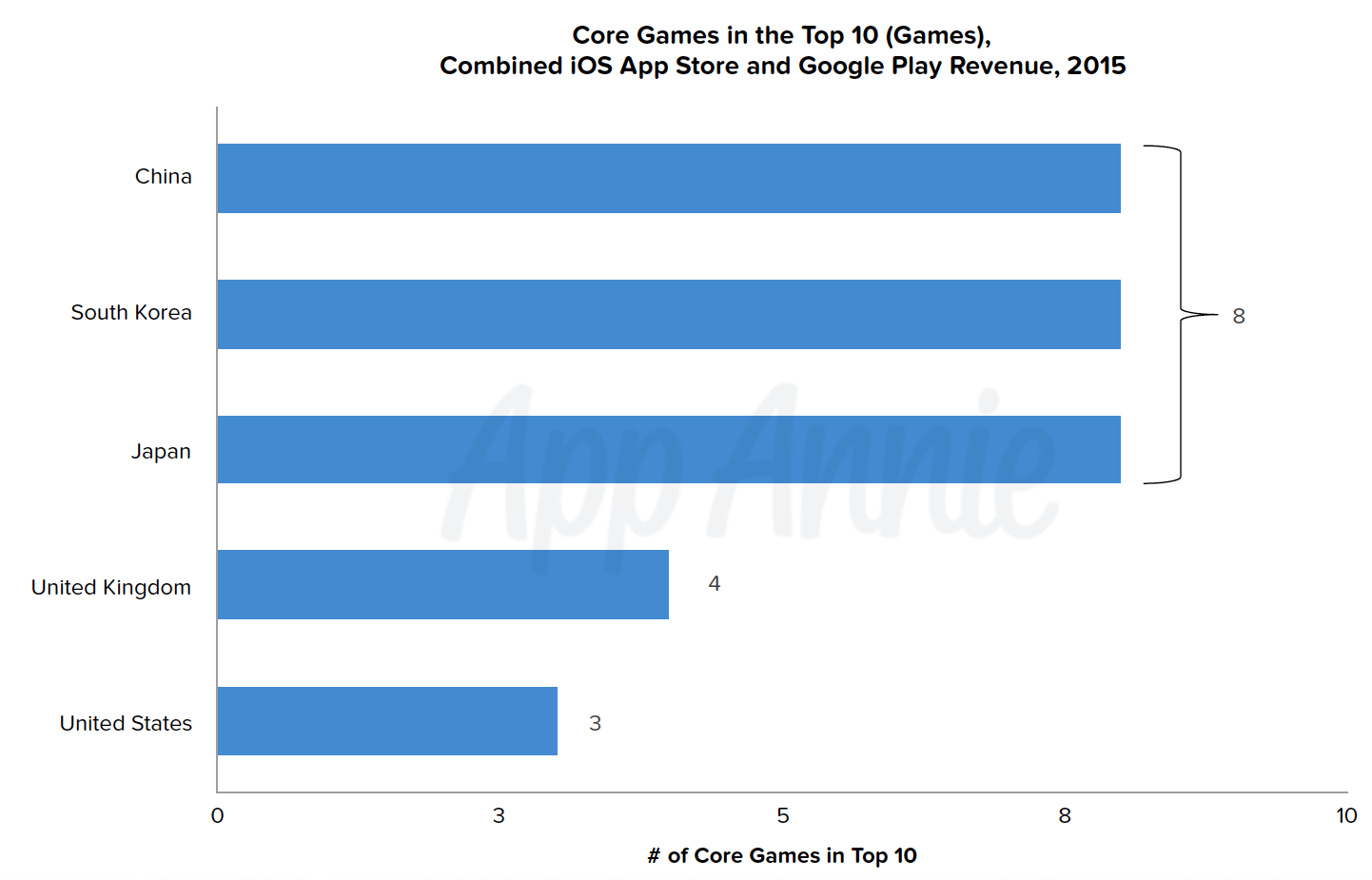 Monetization in 2016 and Beyond
Major trends in monetization and revenue developed during 2015, many of which will impact 2016. We'll continue to cover the exciting arena of app monetization over the coming months. As audiences broaden and monetization options such as in-app subscriptions gain further traction in the coming year, you can expect to see some new developments — watch this space. In the meantime, discover the key monetization trends that affected 2015.
Join us on February 17 at 10 AM Pacific Time to hear our SVP of Research & Analysis, Danielle Levitas, and Market Insights Senior Manager, Amir Ghodrati, cover the major app trends from 2015. Register now.