Apple made a huge splash in 2015 by pushing two new platforms into the limelight: tvOS and watchOS. TV and wearables have already been on the market with products like Fitbit and Android TV, but it was during 2015 and into the new year that these platforms soared. Fitbit was a smash hit during the holidays and a diverse amount of wearables made their debut at CES 2016. Consumers are rapidly legitimizing these devices by spending more time and money on them.
Our 2015 Retrospective shares how these growing platforms will change the app ecosystem. Check out the key highlights below, and be sure to download the report for the full details.
Apple Propels Wearables
Android Wear set a good foundation for watches during 2014, but in 2015 Apple Watch took the lion's share of sales. After being announced in April, Apple Watch quickly caught on with iOS developers who were interested in further monetizing Apple's install base. By December 2015, the number of iOS apps with Watch support reached over 14,000, with leading categories Games and Utilities each making up 12% of all apps.
During 2015, among top 10 iOS apps by category, there were varied amounts of supported Apple Watch extensions. Seven of the top 10 Weather apps had Apple Watch compatibility, while Shopping, Social Networking and News also had a considerable amount of support. Conversely, none of the top 10 Games featured Apple Watch support, despite there being more Watch-enabled apps in the Games category than in any other at the time.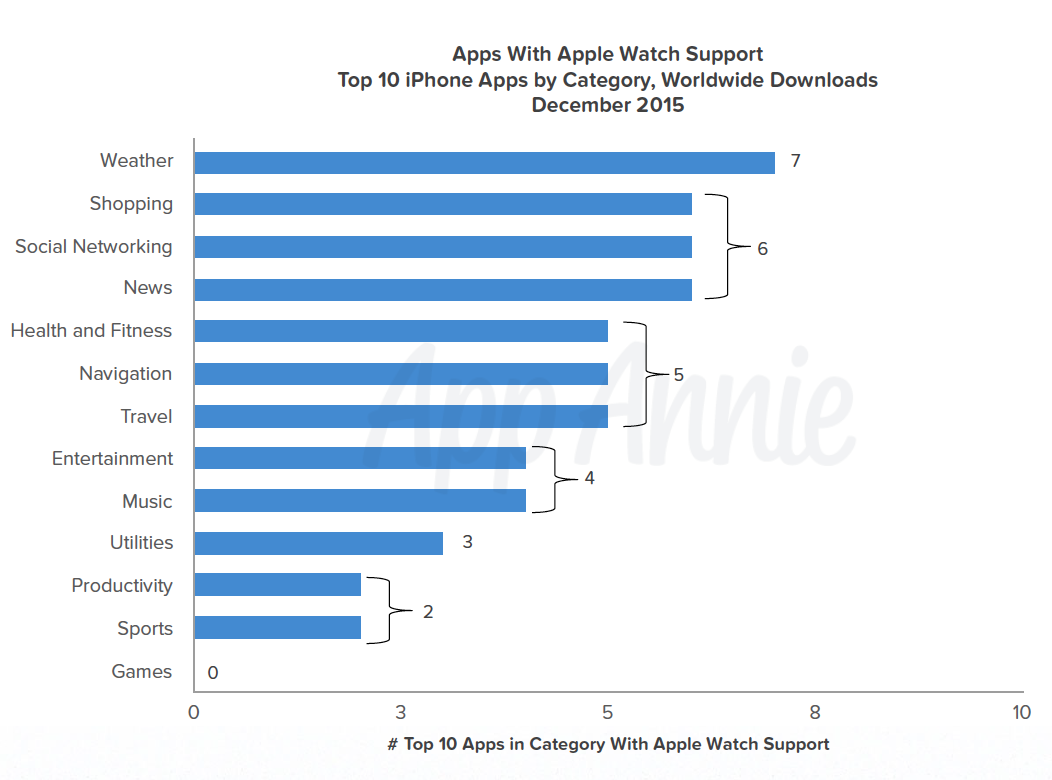 Developers of all app categories will need to find ways to utilize and highlight wearables' key benefits over the now common smartphones.
Apple TV Brings in New Advertising
In September 2015, Apple CEO Tim Cook debuted tvOS and boasted that apps are TV's future direction. TV's large screen allows for many opportunities for app developers to deliver new experiences to consumers. In the United States, Entertainment is the leading free category while Games dominate in both Japan and the United Kingdom.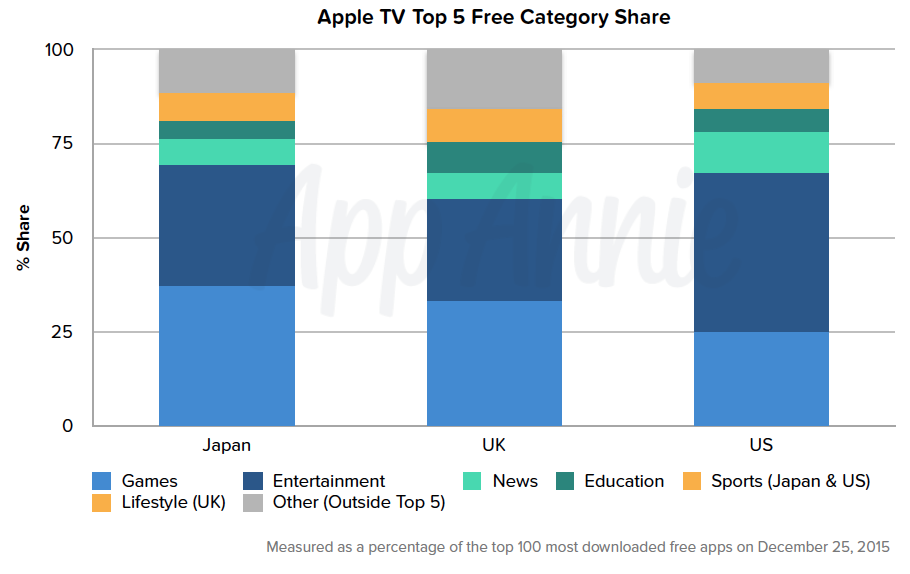 The communal nature of TV allows for multi-user experiences and engagement. Apps made for TV may have increased monetization from both higher store revenue but also diverse CPMs from advertising that target multiple simultaneous viewers of the same TV.
New Platforms Are Changing Apps for the Better
2015 showcased that consumers are interested in devices beyond smartphones and tablets. In 2016, it won't just be TV and wearables that challenge app developers — virtual reality, augmented reality, The Internet of Things and automotive apps will all engage people's everyday lives. We'll be eagerly watching app development for these platforms and new ones to come. Until then, see just how much TV and Watch impacted 2015.
Want a deeper dive into our findings? Join us on February 17 at 10 AM Pacific Time to hear our SVP of Research & Analysis, Danielle Levitas, and Market Insights Senior Manager, Amir Ghodrati, cover the major app trends from 2015. Register for the webinar now.