Global spend on in-app advertising on the rise as brands connect with consumers via apps
Advertising has always followed the public's attention, and it's no different when it comes to smartphones. Users typically spend hours per day on their phones, so it makes sense for advertisers to catch users' attention where it's highly focused: in apps. But whether you've already launched mobile ad campaigns or you're just starting to think about it, it's important to have a sense of the big picture when it comes to in-app advertising.
Here are three things to know now about where advertising on mobile is going over the next four years, based on App Annie's recent forecast on the app economy.
Global in-app advertising spend is growing as the mobile advertising industry meets the needs of businesses
From a global perspective, in-app advertising is set to triple, surging from $72 billion in 2016 to $201 billion in 2021. Mobile now accounts for more than half of digital ad spend — 51% of the total — a figure that will only increase. While many brands were initially skeptical of mobile ad tech, the fact is now they're increasingly embracing it. Given that many users in top markets often spend more than four hours per day using their smartphones, there's enormous opportunity to get your message right in front of them.
There are regional distinctions in terms of growth of in-app ad spend
APAC, which is growing at a rate of 25% CAGR, is set to outpace other regions when it comes to in-app ad spend. By 2021, ad spend there will total over $77 billion — roughly tripling from 2016. Meanwhile, the Americas is forecast to retain its standing as the single largest region in terms of ad spend, reaching $100 billion by 2021, also roughly tripling from 2016 figures. EMEA is a bit behind in terms of mobile ad spend CAGR — it's standing at about 15%. That's largely because both commerce in general and mobile advertising infrastructure specifically are less robust in parts of the Middle East and Africa, which counterbalances growth in Europe. Still, in that part of the world, mobile ad spend will more than double from $13 billion in 2016 to $27.5 billion in 2021.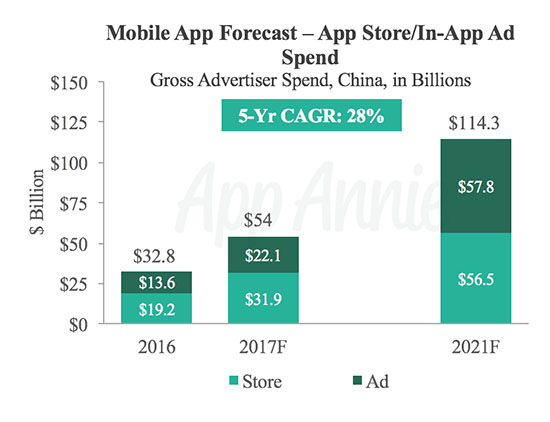 The global average for advertiser spend is set to grow per user because mobile advertising is so effective
As noted above, mobile ad spend in general now exceeds that of other digital formats. Accordingly, global advertiser spend will grow from $13 to $52 per user over the course of the forecast period. More and more, advertisers are shifting their advertising dollars from platforms like desktop and television to mobile, and legacy brands are starting to "get it" that their success now relies on smart mobile advertising. As interest in mobile ad tech grows, advertisers and mobile marketing platforms are partnering to determine how to best target consumers and measure and optimize campaigns, creating an environment of continual experimentation. Advertisers are particularly energized because they can iterate on campaigns in real time based on data. There's also constant innovation happening in terms of mobile ad formats: art and science merge to deliver the best possible returns, whether that's through banner, full-screen interstitial, video, native, vertical, or playable ads.
Mobile advertising is a booming industry right now, with a steady stream of advances that help ensure that brands reach the right consumers in regions around the world. Advertising on mobile is highly targeted and delivers incredibly relevant ads — more so than on desktop — so it's arguably the most effective approach to digital advertising today. With mobile ads, brands can benefit from tight feedback loops that ensure that their advertising dollars are well spent, which explains why mobile advertising is on the rise and even eclipsing other forms of digital advertising.
What we are experiencing now is a gold rush, and it's well worth investing in mobile advertising to get your business in front of valuable new customers.
Read our full report on the the exploding app economy, where you'll find information on growth of annual spend per user, forecasts covering in-app advertising and mobile commerce, and data on regional markets.