Emerging markets fuel momentum for video streaming apps while diverse monetization models make content widely accessible
Worldwide, streaming video on mobile has become such a way of life that users watched about 80 billion hours in the past year or so. In some regions, online-first companies like Netflix are users' first stop for mobile video content, while in others, TV-first companies lead the pack, and of course figures vary by region depending upon device and data affordability. But overall, much of the growth the market has seen is rooted in dramatic shifts happening in the APAC market. Globally consumption of mobile video streaming has surged by 150% between H1 2015 and H1 2017, but in APAC, time spent streaming video grew by more than 300% in the same time period.
We've just released a new report, The State of Video Streaming Apps in Asia, where you can find details on this surge. Here are just a few interesting takeaways:
APAC now accounts for almost half of all worldwide video consumption on mobile
We measured video streaming consumption over the past two years on Android in APAC, and it now stands at 40 billion hours — almost half of the worldwide total. When you look at revenues, in H1 2017 APAC outpaced the Americas as the highest grossing region for combined iOS App Store and Google Play revenue in Entertainment; video streaming apps account for the upset.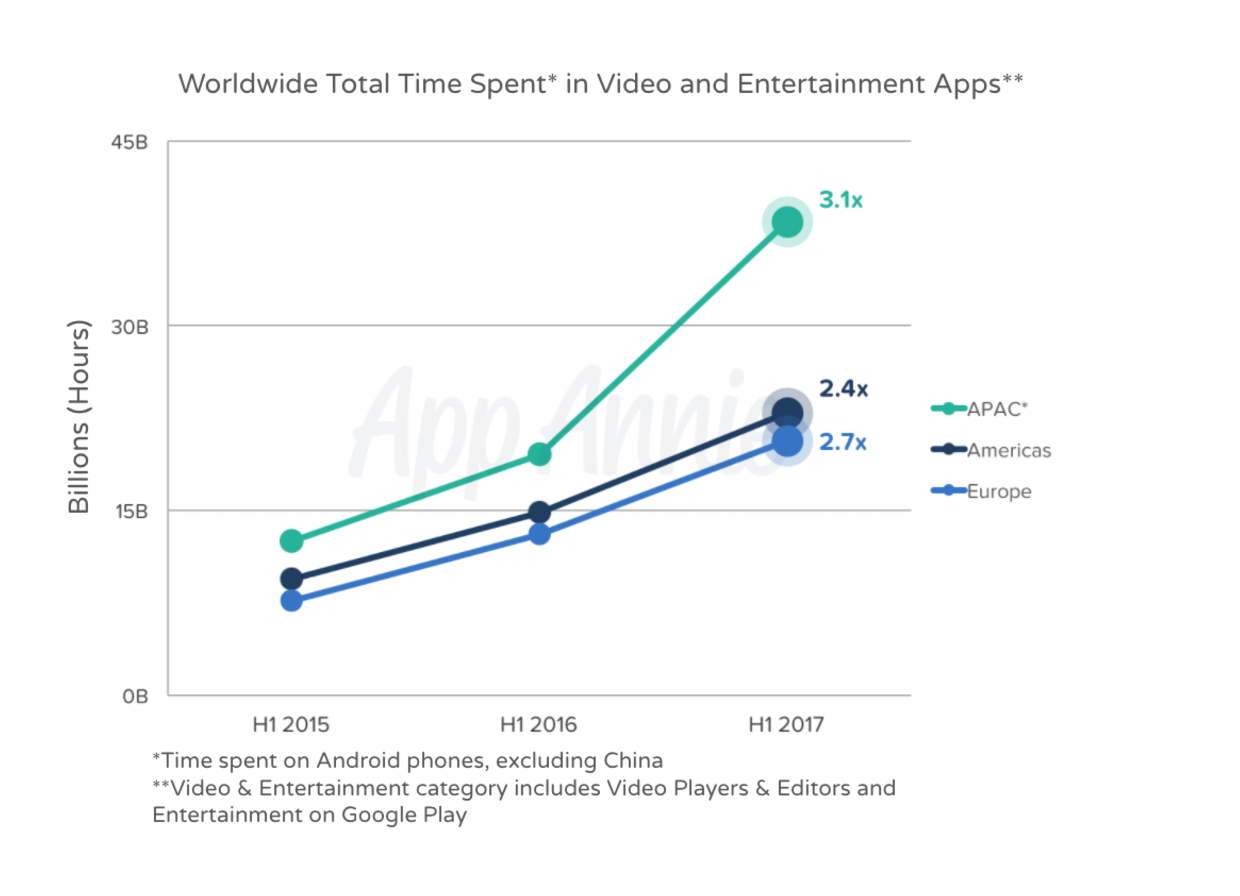 In China, video streaming has seen significant gains largely due to a lowering of the monetization barrier
In China, where domestic video streaming platforms dominate and there has been a 50% growth in average MAUs (monthly active users, a standard measurement of the success of an app) in the top five video streaming apps since last year, growth is rooted in flexible monetization models. Pay-per-use spending is popular with casual users in China, hence the proliferation of in-app purchase options within video streaming in addition to subscriptions.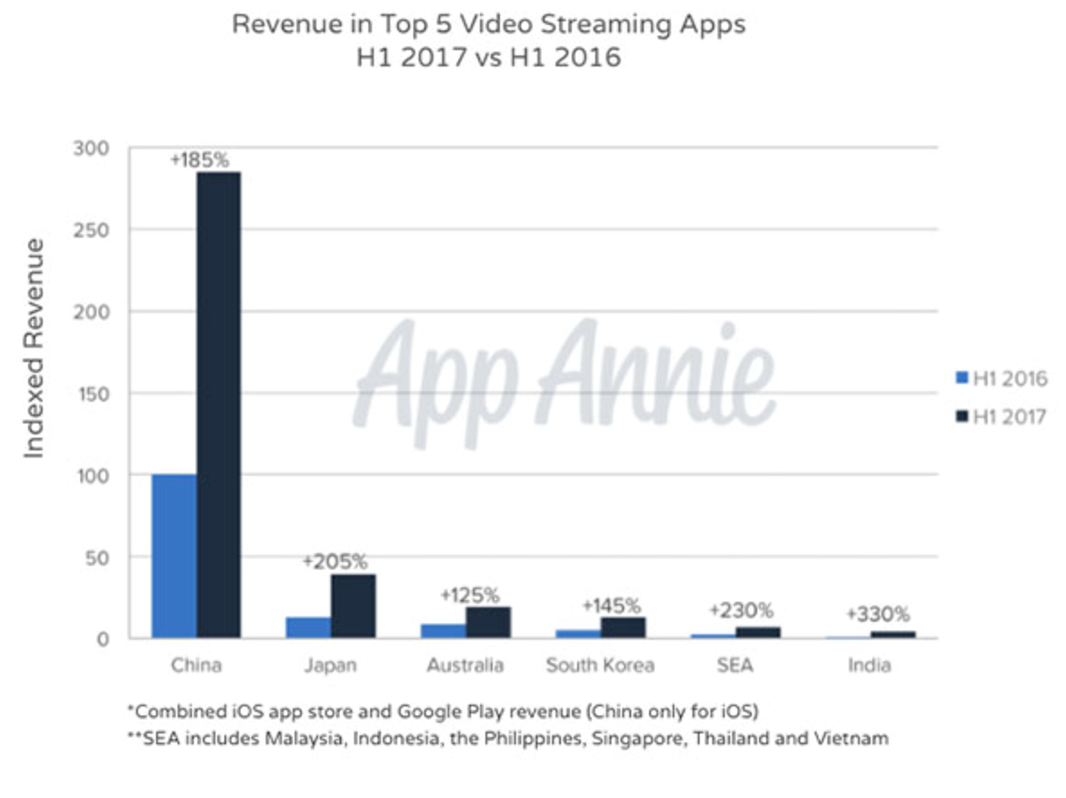 India has the highest year-over-year-growth in terms of average MAUs
While we're seeing strong growth across the region with respect to average MAUs within top video streaming apps, the emerging market of India is ahead of mature markets like South Korea, Japan, and Singapore when you compare growth rates. In India, average MAUs for the top five video streaming apps grew by more than 100% in the past two years, more than twice the rate of other APAC countries analyzed. Domestic publishers, including leading Indian broadcasters and conglomerates, are setting the pace there.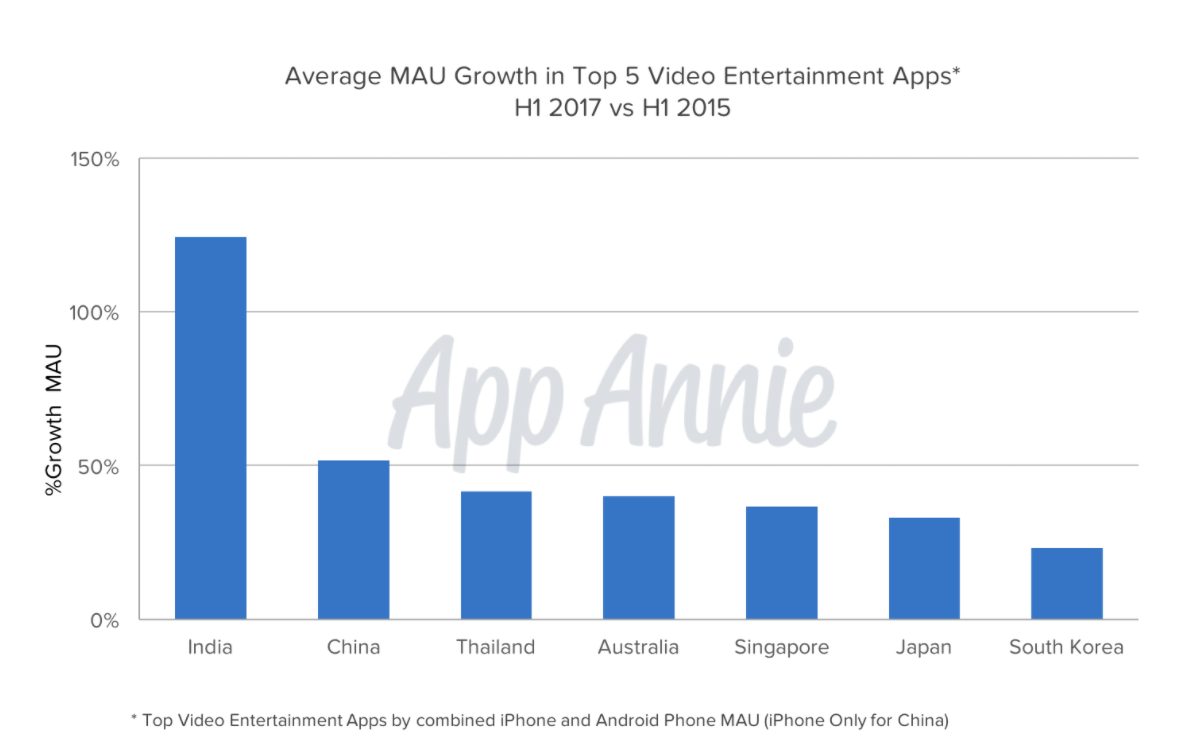 These are just a few of the insights you can find in The State of Streaming Video Apps in Asia — you can find much more on particular streaming apps, trends among locally-based and international platforms, and the longer engagement periods of online-first video apps when you read the full report.