The app space is crowded and standing out among the competition is tough. Great apps can go unnoticed without an excellent user acquisition strategy. It's a science in motion, constantly changing nearly every day.
Lucky for you, App Annie is full of mobile app industry experts that have launched a large range of games and non-game apps — and those are just the people we interviewed to build this guide. We were dead-set on making something that didn't just appeal to one niche or category. Below, you can find 5 key tips to help alleviate risks and quickly optimize your return on investment. Regardless if you're an expert or novice user acquisition manager, we have some novel tips you can systematically implement for your own UA strategy.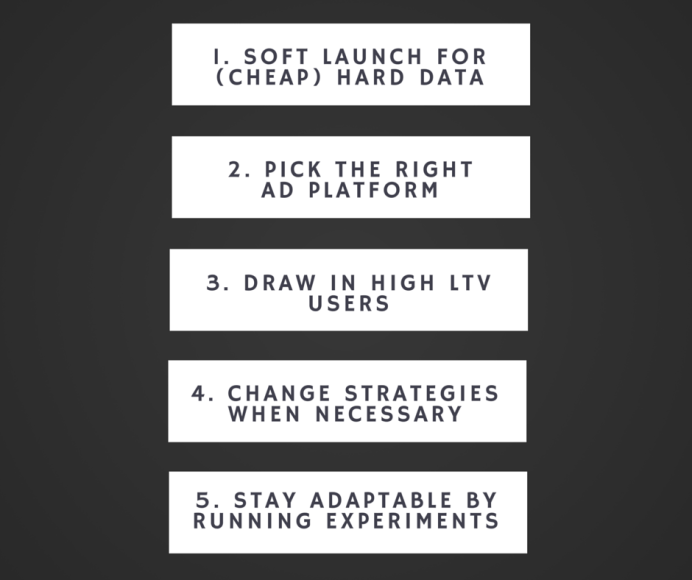 1. Soft Launch for (Cheap) Hard Data
"Soft Launching" is an important means of finding a product-market fit. It lets you evaluate pricing tiers, collect user feedback to make design changes or fix bugs, and helps reduce the chance of negative reviews and press before fully launching.
Here at App Annie, we have several methods for determining where to soft launch. The Store Stats Top Matrix shows which regions apps are generally being released in, and how competitors are ranking in downloads. Usage Intelligence can be used to compare your launch strategy against a specific competitor, letting you decide if you should emulate it or avoid particular regions. For mobile games, websites such as Pocket Gamer keep tabs on where companies are soft launching.
It's a good idea to soft launch in countries with cheaper users that will download in large volumes. Low lifetime value users aren't usually a risk as they typically cost less and it's assumed that you won't be allocating much of your budget to attempt making back ROI. Low LTV users may not always be power users, but they can provide great data on what to improve. This data can further be used to make projections about user growth patterns for planning future user acquisition strategies. These early users may also boost your app's download rank within the soft launch country, making it more visible for organic discovery within the region.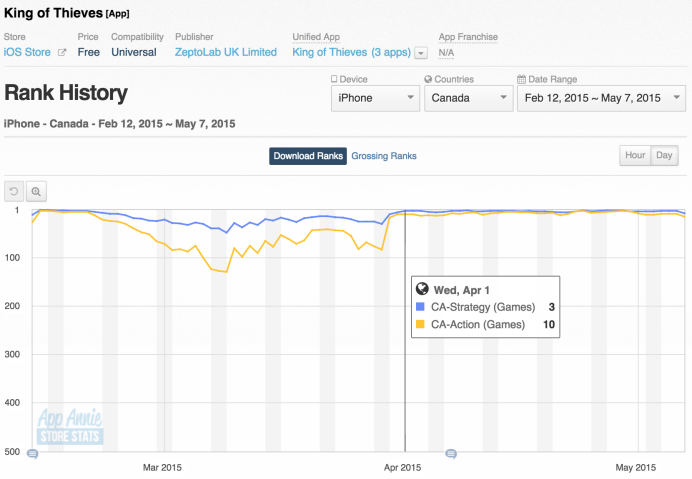 King of Thieves' February soft launch in Canada allowed ZeptoLab to work out kinks and improve downloads by April.
Ideal regions with low cost per install users include countries in South America and Southeast Asia. Even places such as Canada and Australia are comparatively cheaper than soft launching in the United States or the United Kingdom.
Take any advice from user feedback and behavior to improve your app, store page, ad formats and channels. Cut the Rope publisher ZeptoLab soft launched in Canada to gain retention data for King of Thieves while only spending a few hundred dollars.
2. Pick the Right Ad Platform
Picking a good ad platform is key to get a high volume of users, although it doesn't always lead to quality users and high conversion rates. Still, it can be great for exposing an app to the mass market. Researching Store Intelligence can help find a market-fit, and narrow down potential ad partners. However, it's up to each UA manager to first pick an ad platform and later evaluate campaigns for volume and user quality.
In general, CPI is more important than cost per click as it is easier to manage and generally better for small budget campaigns. It's also good to pick an ad platform that is either for general apps or gaming-specific. Some ad platforms also have strengths in different regions and on certain mobile platforms.
There are lots of ad platforms, but the "best" one for you won't be the best for someone else — it all depends on your app and campaign KPIs. Most ad platforms offer two products: one for publishers and another for advertisers. However, some have different capabilities, such as targeting age or gender.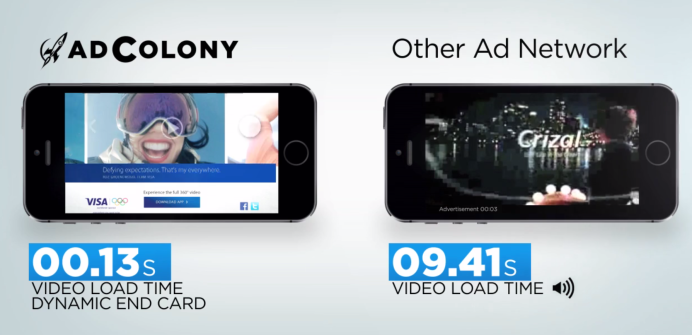 AdColony's  video specialization can potentially engage audiences that may ignore low-cost banner ads.  
AppLift, AdColony and AdMob are good selections for general apps, offering great CPI rates. What helps AdColony stand out even more is a greater focus on HD video advertising, which is much more compelling to users than banners. If your budget allows it, the additional cost can be worth it.
Chartboost, PlayHaven and TapJoy are among the top choices for gaming ad platforms thanks to their good CPI monetization rates and strong use of interstitial ads to promote through other games. TapJoy also prioritizes incentivized downloads, bringing in users who receive rewards for installing your app. If your current goal is improving store ranking, the increase in download volume is worthwhile and cost effective.
There are also times when geo-targeting is important for picking an ad platforms. It can be a driving factor in quality and cost-effectiveness, especially among different mobile platforms. For example, Taptica currently has strong volume performance on Android in countries such as Brazil and India.
Regardless of the ad platform, it's important to have strong and clear creative that will draw in the right users. Have banners and trailers prepared for different audiences (age, gender, country, psychographics, etc.).
3. Draw in High LTV Users
After (or even during) a soft launch, you'll begin to better understand customer segments. You always need to target ROI-positive users with greater LTV than their associated CPI.
Good metrics to track are Average Revenue Per User (ARPU) and Average Revenue Per Paying User (ARPPU), and even user virality to bring in additional customers. These metrics will help identify profitable channels, which can make for better budgeting choices.
Power users typically have high LTVs but can also come with high CPIs. One less risky place to find potentially cheaper but high-quality users is on Facebook, both with a marketing campaign on Facebook and integration within your app. For Facebook ads, start with Audience Insights tools to get a sense of the targeted demographic. When combined with App Annie's Audience Intelligence you can find out additional details about your targets — including age and income — and related apps they are downloading.
You can then create strong visuals and copy that clearly describe your app and how it's better than similar competitors. This will draw in quality users that would otherwise glance at or outright ignore weaker ads. In time, this will also potentially improve CTR, CVR and Relevance Score. As you collect data and optimize with A/B testing, more high LTV users will eventually arrive.
If you're working very closely with the app developer (or if you're taking on the developer role in addition to publishing) try to work in friction-reducing and viral Facebook functions to the app. For example, let users log in with their Facebook account, post to users' pages when something interesting happens and invite their Facebook friends to try your app. This organic sharing will increase the chance of attracting more high LTV users that are on Facebook.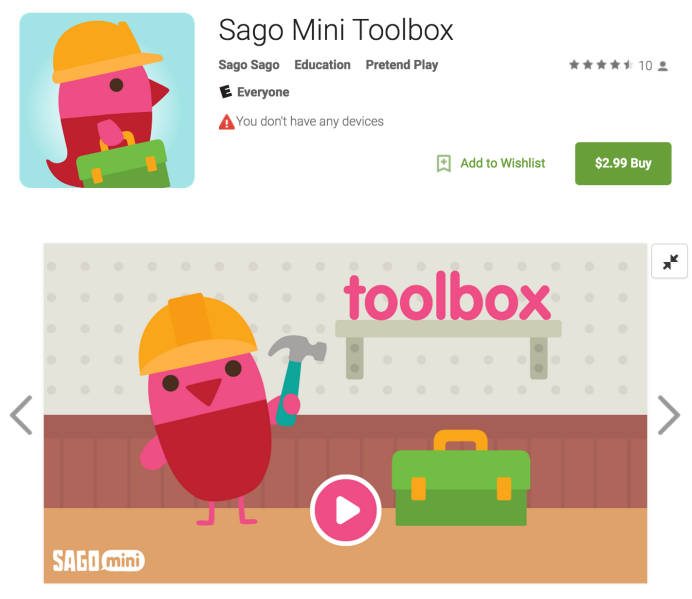 Sago Sago's use of video and cartoon icons has helped apps like Sago Mini Toolbox stay popular among the Canadian and US Education and Pretend Play categories on Google Play.
With strong data gained from your soft launch, you can focus on getting high LTV users through app store optimization (ASO) tricks.Things like improving your app pages on iOS and Google Play with creative and copy and good app icons will work wonders to get people to click on your app. From there, have detail-oriented and relevant screenshots, a video displaying key features, and strong copy that summarizes your app succinctly. With ASO, your rank will steadily improve and more organic users will arrive from app store front pages and search queries. It may take time, but word of mouth downloads will yield very high LTV users.
4. Change Strategies When Necessary
Once you discover which data are drawing in quality high LTV users, try to replicate it within other segments. While it serves as a good testable baseline, every region and market will have different preferences. Keep looking at post-install metrics and begin to whitelist or blacklist ad sources accordingly. This will help maintain your budget and where to adjust spending.
Each new country you release an app in will present new obstacles. Change any KPIs that aren't working, for example so that effective cost per install match with customer lifetime values. If needed, readjust your creative, copy and call to actions on all channels and formats. If it's within your budget, run sustained campaigns focused on user ROI and burst campaigns for sheer volume.
5. Stay Adaptable by Running Experiments
Every user acquisition campaign is different. What worked for a competitor, in another country, or on a previous title could utterly fail once you're working on a new app. It all depends on your particular app and a slew of factors that can be assessed with data. One good method is to keep coming back and adapt to the situation. You will want to re-engage and retain an audience via optimization.
If you pushed a campaign on Facebook using our advice, you know about tools like Custom Audiences which let you save top target audiences based on metrics, as well as Lookalike Audiences, which is a way to find other users similar to the Custom Audience.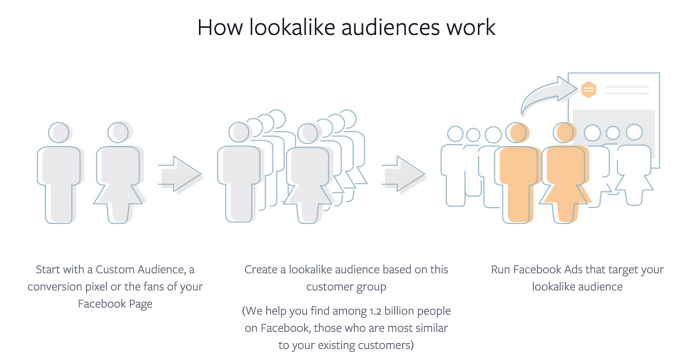 Facebook's Lookalike Audiences can help find users similar to those you've previously targeted.
There are also a myriad of tactics for acquiring users in Asia, which could be a hugely untapped user base if they weren't included in your soft launch. China alone has overtaken the United States in iOS downloads, making it one of the key locations to have specialized campaigns. In other countries, such as Japan and South Korea, creative should contain 2D characters in comic or anime styles; something that probably didn't get as much traction in a similar campaign held in Canada or the United Kingdom.
Combining these 5 tips together will greatly increase your user acquisition. Keep soft launching in different regions and with new audiences. Evaluate your ad channels, changing between ad platforms if necessary, to help pinpoint high LTV users. Even low CPI users in high volumes can provide important metrics and feedback to change creative and copy. As long as you stay open to adjusting KPIs and optimize through experiments you'll soon discover the right target audience. With time and an adaptable strategy, you'll be acquiring quality, ROI-positive users.
Want More? App Annie Has It
Subscribe to our blog to see more app industry reports, conference updates and product news. We love hearing from our readers, so share your questions and comments below or on Twitter.
Want to perform your own analysis? Create a free Store Stats account or request an Intelligence demo today.