As we head out of a year gripped by a global pandemic, what does the new normal look like for mobile in 2021 and how can you prepare your business?
2020 has reshaped and redefined daily life — with working from home, social distancing, travel restrictions and digital connections becoming new norms as countries sought to contain the spread of the novel COVID-19 epidemic. As consumers hunkered down at home, the world turned to mobile to stay connected, entertained and informed. As we head into 2021, we've compiled 5 key trends you need to know to build your best mobile strategy during uncharted times. 
1. TikTok Set to Reach 1.2 Billion Average Monthly Active Users in 2021
TikTok has seen sharp growth in active users by amassing a sizable global footprint in 2020 — nearly tripling in size since 2018. In 2021, we expect TikTok to not only achieve a coveted spot in the 1 Billion monthly active users club, but to sail straight past to 1.2 billion.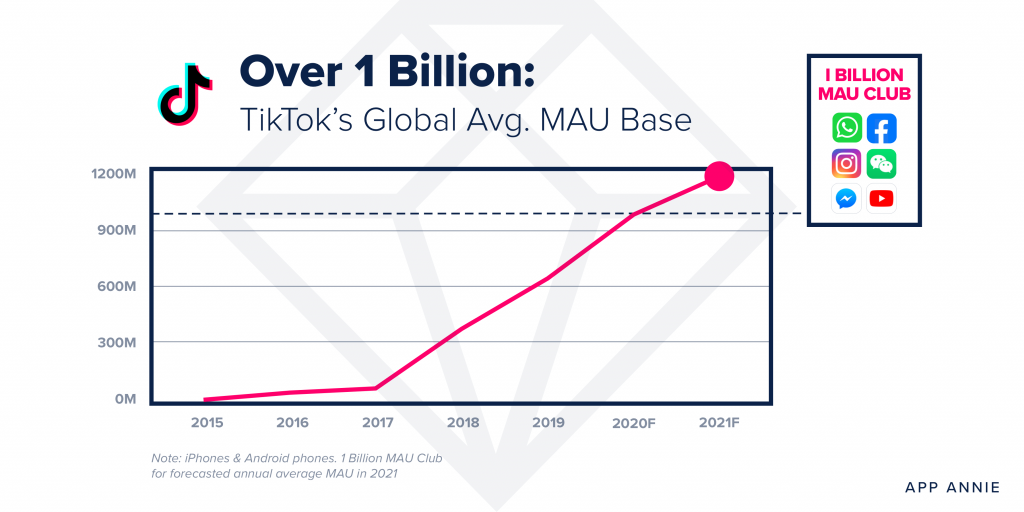 Other notable social members of this club include  Facebook, Facebook Messenger, WhatsApp, YouTube, WeChat and Instagram. As of Q3 2020, TikTok was the #2 non-gaming app by consumer spend — a testament to the breadth and depth of engagement for its user base. Many of the most used social media apps don't break into the top consumer spend charts, as they primarily monetize from ad revenue. While TikTok monetizes through ads, it also allows users to transact in the app through sales of virtual gifts used for tipping streamers, where users can increase their chance of getting a shout-out out of the recognition they earned through tipping, creating a positive feedback loop which further encourages creativity and spending. Part of TikTok's success lies in the combination of user-generated content, short looping videos and robust video editing tools. TikTok represents a powerful opportunity for businesses to engage with a large global base of invested consumers. 
Mobile data is more important than ever to prepare for future roadmaps — allowing you to prepare for rocket-ship market disruptors like TikTok and critical shifts in consumer behavior. 
2. In the New Normal, Home Will Remain the Epicenter of Our Social and Working Lives — With Mobile Driving 43% Acceleration in "At-Home" Activities
During COVID-19, social distancing policies and lockdown measures were instituted to flatten the curve and curb the spread. Consumers turned inward and settled into their homes — where mobile was the portal to the outside world. In 2021, we expect "at-home" activities to dominate the landscape — with mobile taking over a greater share of our lives in facilitating these activities. Time spent in key "at-home" categories is expected to top 1.3 trillion hours on Android phones alone in 2021. 
Business and Education apps are poised to see a 4-year CAGR of 57% and 62% in 2021, fueled by the continued growth in collaboration and video conferencing apps like ZOOM Cloud Meetings — growth that has catapulted the company to a household name synonymous with conference calls. Zoom is poised to move into the virtual experience arena, with the launch of its new OnZoom platform.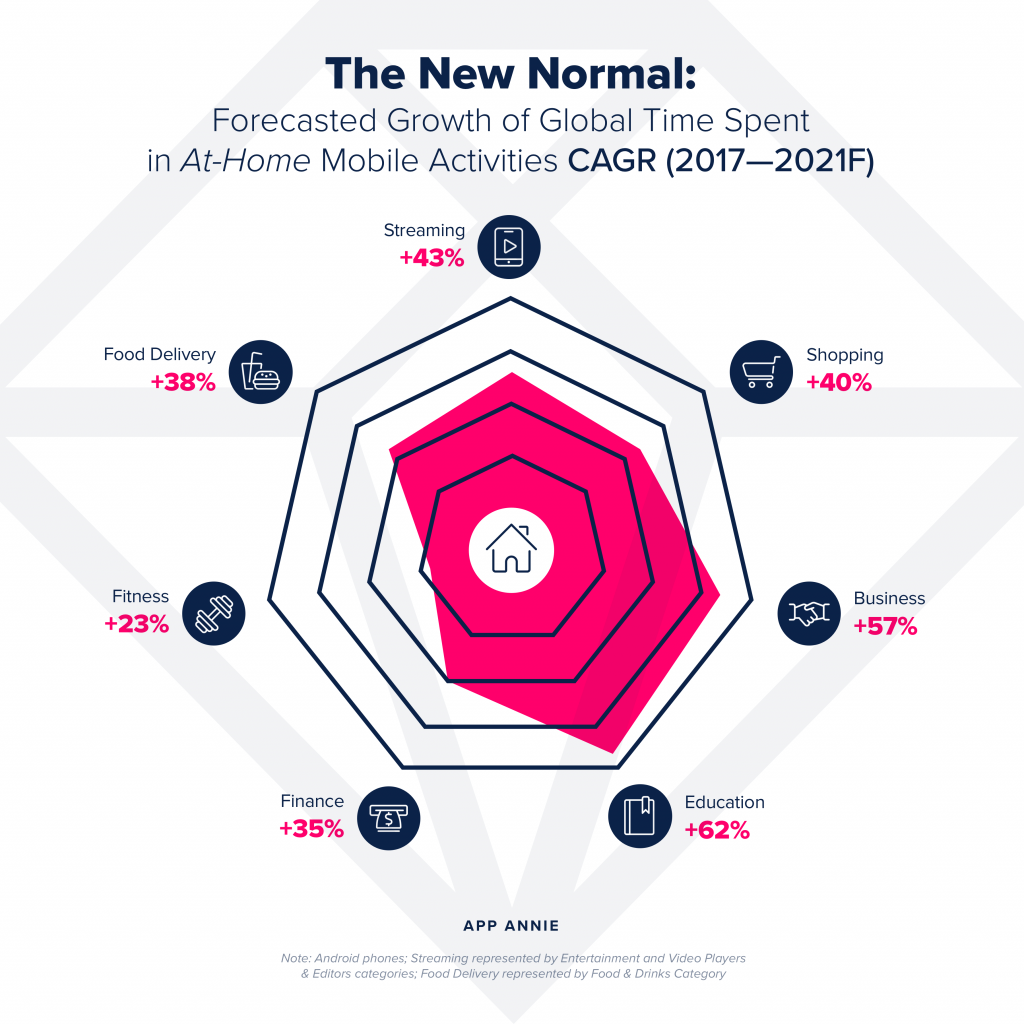 Couch commerce (or m-commerce) will dominate our shopping experience and engrain app habits — fueled by grocery delivery and innovative contactless pickup options. In the US, consumers are poised to set a new record for mobile shopping at 1 billion hours spent on Android devices in the holiday shopping season. These tailwinds will propel time spent in shopping apps in 2021 to a 4-year CAGR of 40%. Consumers will continue to rely on food delivery apps like DoorDash and Uber Eats to bridge the gap between restaurants and staying home. With tourism and hospitality hit hard by shelter-in-place policies, we anticipate food delivery apps will be a cornerstone of restaurant strategies. 
Economic uncertainty propelled adoption of finance apps during the first waves of COVID-19. We expect finance apps — including retail banking like Barclays Mobile Banking and fintech providers like PayPay — to continue to drive adoption into 2021 as consumers turn to their most trusted devices for peer to peer payments, banking and investing. Total time in banking apps globally will surpass 31 billion hours annually on Android phones in 2021F, representing a 4-year CAGR of 35%. 
At-home fitness apps surged in demand, and companies with a core mobile focus like Peloton saw phenomenal growth in revenue. In Q2 2020, Peloton's quarterly revenue grew 172% year over year, and earnings per share reached almost 3x expectations. We foresee home fitness to continue to grow throughout 2021 as companies adopt long-term work from home strategies and a 'return to normal' is buoyed by vaccine development. Peloton's live-streamed classes are also riding the mobile video streaming market trend. Video streaming on mobile is poised to play an ever bigger role in 2021, topping 1 trillion hours on Android phones alone. Disney has announced a reorg to bolster its new strategy with a primary focus on streaming — a move we expect other companies to follow, as consumers are spending more time than ever on streaming on mobile devices.
The road to recovery won't look like anything we've seen before. To navigate 2021 and the years ahead, companies need a clear lay of the land in mobile and a trustworthy source of analysis and insights to stay ahead of the competition.
3. Consumers Will Spend Over $120 Billion in Mobile Games in 2021
Mobile games saw record downloads in 2020 — carrying momentum from peak lockdowns in Q2 into Q3 2020, where average weekly downloads of games worldwide were up 15% year over year. Amidst increased demand for both casual and core gaming, consumer spend on mobile games will reach new heights in 2021, surpassing $120 billion.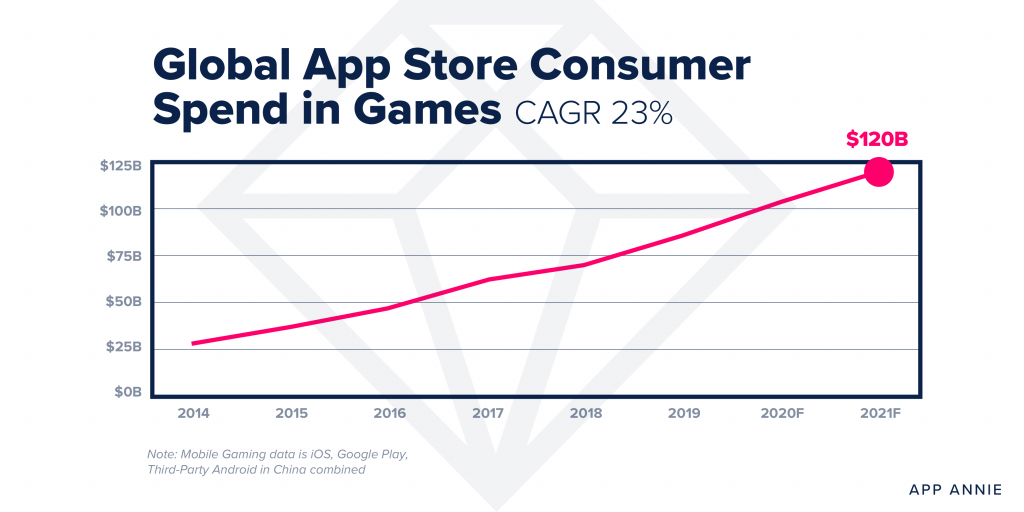 Over the last two years, we've seen an expansion in both ends of the gaming spectrum — for hyper casual and hardcore gaming. We expect 2021 to be the year of the hybrid mobile game genres, as gamers get savvier and mobile phones are becoming more capable in providing sophisticated experiences previously only available on Console or PC. Hyper casual games as a genre have seen a boom in demand. In H1 2020, hyper casual games saw 5 billion downloads worldwide. We expect hyper casual games will adopt midcore elements to continue to grow. Hunter Assassin was the #1 hyper casual game by downloads in 2020 year to date (Oct 25) — a game employing a mixture of stealth-based action elements with strategy puzzle-solving mechanics. We expect more hyper casual games to evolve in terms of blending mechanics and creating deeper engagement. Hyper casual games have been a great user acquisition funnel for many publishers, and now we expect the focus to shift partially to building depth and engagement. 
We have also seen this hybridization occur in multiplayer games becoming more 'casual'. Among Us! has captured a casual audience while leveraging deeper 'core' multiplayer gameplay. In fact, US congresswoman Alexandria Ocasio-Cortez livestreamed playing Among US! on Twitch as an innovative marketing campaign to encourage voting, and it became one of the most viewed Twitch streams ever. This represents a new area of marketing on mobile that businesses should consider when trying to maximize reach and engagement, particularly with Gen Z consumers. 
We expect social and multiplayer gaming features to remain in high demand in 2021 as consumers seek to stay connected with family and friends. Mobile has enabled core games to become more 'casual' in nature given the device specs and user interface. Yet, mobile phones are powerful enough to stand up to the 'core' game experience and enable cross-platform play. We expect 5G to see its first impact in gaming — particularly core gaming — by reducing latency and lag. Core games are the biggest driver of overall consumer spend in mobile games and we predict will be a key area of growth in 2021.
Mobile gaming is the world's most popular form of gaming, capturing 1.5x of the market compared to all other gaming platforms combined. Navigating the complexity and nuances of mobile gaming is critical to success in this industry-leading sector. Game IQ is a comprehensive taxonomy that can help you level up your gaming strategy.
4. Mobile Ad Spend Will Reach $290 Billion in 2021 — Bolstering the Ad Industry's Growth
The average daily time spent per user hit a new high of 4 hours and 20 minutes per day during the pandemic — up 20% from 2019. This equates to over 25% of the average user's daily waking hours. This momentum continued into Q3 2020, with overall time spent in apps globally up 25% year over year. For the advertising industry, the adage "money follows the eyeballs" has proved true as more eyes turn to mobile for longer than ever before. In 2021, we'll see mobile ad spend jump to $290 billion worldwide — a 2-year CAGR of 21%.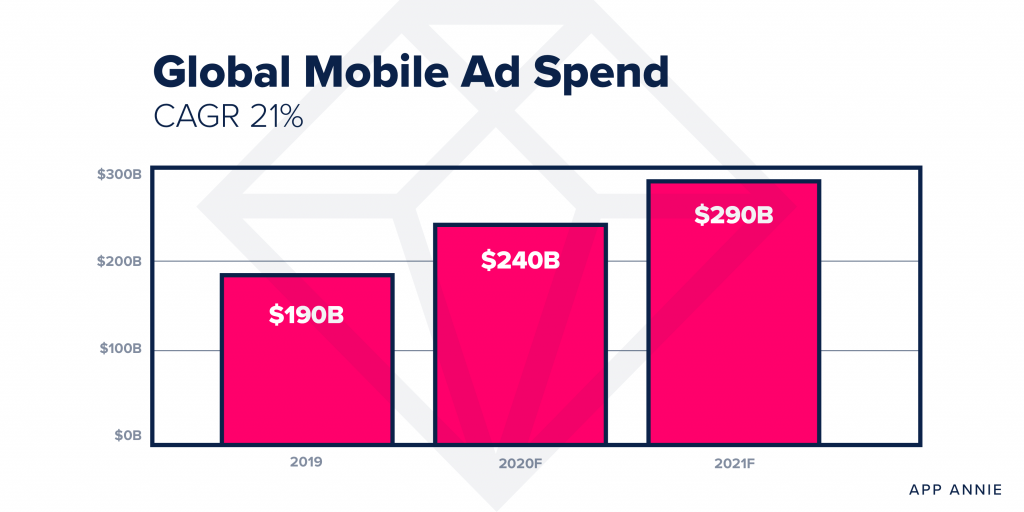 In 2020, mobile advertising has bucked the trend and bolstered a level of resilience for digital ad spend overall. During H1 2020, we saw mobile ad placements increase by 70% despite reduced budgets. Given mobile's resiliency during the pandemic, we expect advertisers to continue to allocate larger portions of their budget to mobile. While the US presidential election has helped fuel mobile ad spend in the latter part of 2020, we expect ad dollars to continue to flow to smartphones in 2021. Particularly given the consumer shift to mobile is not an isolated trend — COVID-19 catalyzed the habits we were already forming. 
Reaching $290 billion in mobile ad spend is still subject to performance from other parts of the advertising market. A large portion of this growth is expected to come from strong m-commerce growth and the further shift from offline advertising to digital — another mobile trend accelerated by 2020 — while OTT platforms have the potential to create headwinds from eating into mobile's share of growth.
Brands should take advantage of the surge in mobile advertising and streamline your ad analytics today with App Annie Ascend to make the most of your ROI.
5. Consumers Will Install up to 85% More Video Streaming Apps in 2021 from Pre-COVID Levels
Consumers in the US will have an average of 9.5 video streaming apps installed on their phones in 2021 — up 85% from 2019 as they seek new providers to fill content-hungry voids. We saw an acceleration during the pandemic of consumers looking for more content options, but largely this was a lagging indicator. As lockdowns turned from weeks into months, consumers around the world sought out more video streaming providers to fill out their content repertoire. In a fragmented market, we are starting to see a major movement toward consumers seeking out a mini, curated 'bundle' of video streaming providers — as apps on their phones.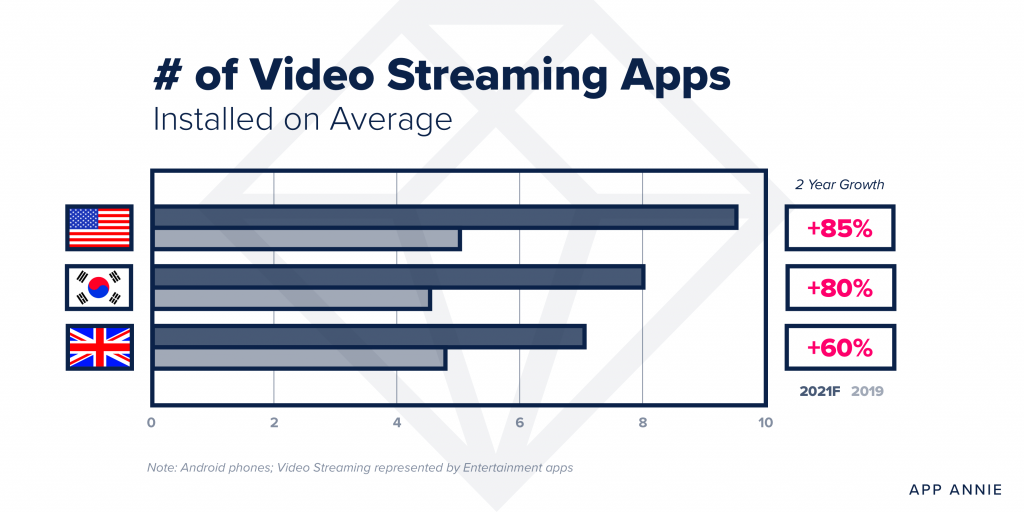 While we don't expect major industry consolidation to happen in the next year, competition is fierce and this is a viable option for smaller players in the space. Shudder is designed to supplement some of the larger streaming apps for less than $5 a month for their annual subscription — a model in-line with consumers seeking more content, while balancing a competitive price tag to drive long term retention. To stand out, companies should capitalize on features that cater to today's socially distant, "at-home" consumers to stand out and cultivate meaningful growth in engagement into 2021. Disney+ launched GroupWatch, a shared viewing experience — which taps into the growing trend of streaming together, while apart. We expect features that enable socializing, connection and shared-experiences to be new priorities on roadmaps. Traditional video streaming providers need to also monitor peripheral market movements — such as their cross-app usage with mobile-first, user-generated short-form streaming apps like TikTok and Snapchat, especially for Gen Z. 
Monitoring mobile market data alerts you to emerging consumer trends and preferences — prioritizing these can set your app apart in a highly saturated market. For competitive industries like video streaming and gaming, decisions made with accurate mobile data and analysis are critical to ensuring you can break through the noise.
Join our panel of mobile experts on Dec 9, 2020 to hear a deeper dive on these key predictions and how you can prepare to win on mobile in 2021.
DISCLAIMER
App Annie is a mobile market estimate service provider. App Annie is not registered in any investment advisory capacity in any jurisdiction globally, and does not offer any legal, financial, investment or business advice. Nothing contained in this communication, or in any App Annie products, services or other offerings, should be construed as an offer, recommendation, or solicitation to buy or sell any security or investment, or to make any investment decisions. Any reference to past or potential performance is not, and should not, be construed as a recommendation or as a guarantee of any specific outcome. You should always consult your own professional legal, financial, investment and business advisors.