In 2021, global economies emerged from lockdown into the post-pandemic recovery. Would the 'return to physical' stall the growth of the app economy? Not at all.
When the 21st century history books are written, the years 2020 and 2021 will demand chapters all of their own. And one of the big takeaways will be that the global population adapted to the pandemic by embracing a mobile lifestyle. As we look ahead to 2022, we can ask: what are these new mobile habits? How 'sticky' are they? And which products were the biggest winners?
Another Year, Another Record: Global Spend Across iOS and Google Play Stores Set to Reach $135 Billion in 2021, Up From $112 Billion in 2020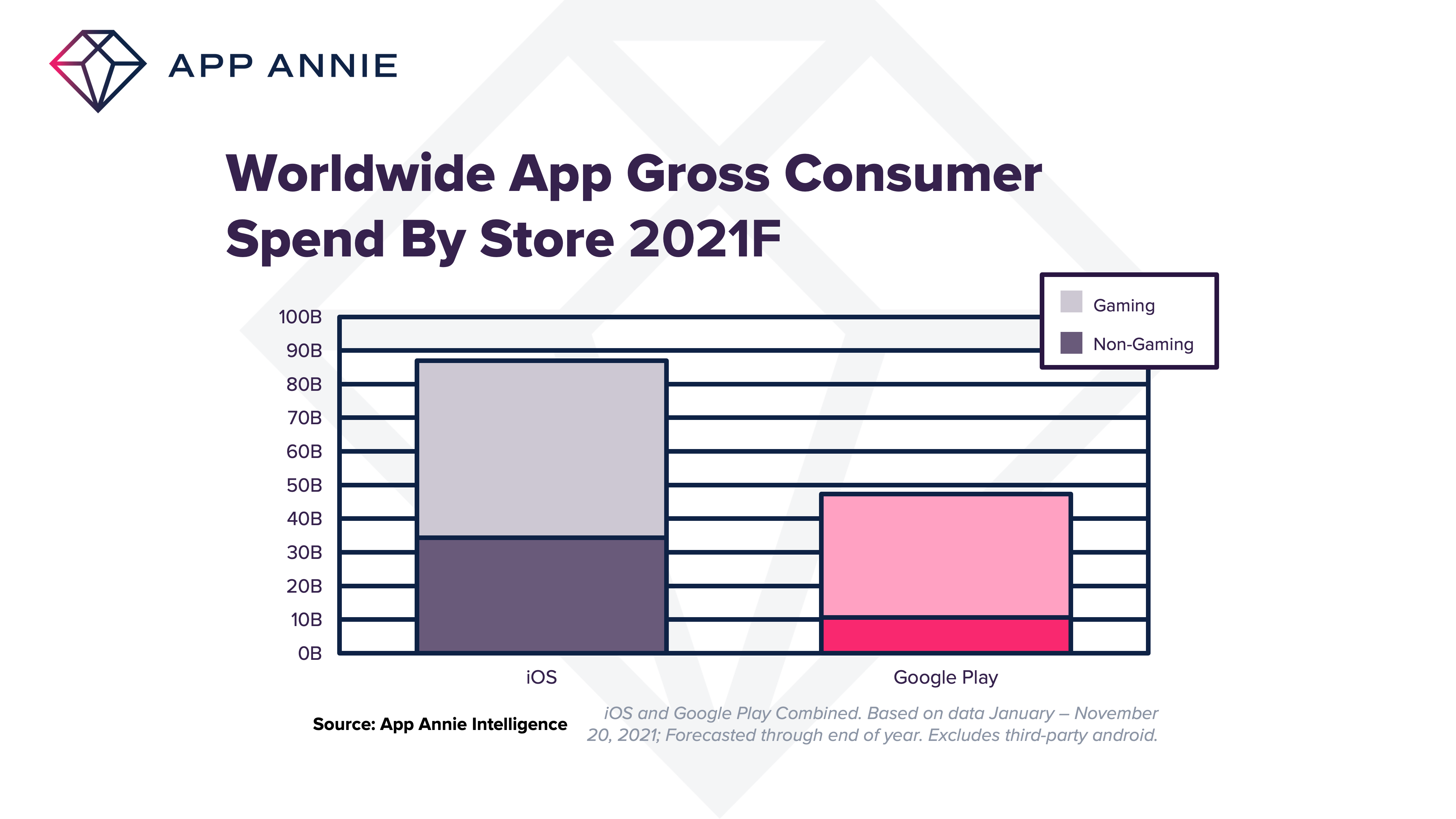 Total spend in the two dominant app stores has been rising since they launched more than a decade ago. Despite predictions of a slowdown, the app economy keeps growing. In 2021, total spend is on target to rise by nearly 25% to hit $135 billion.
As in previous years, iOS spending dominates: 65 cents in every app economy dollar is spent by Apple users. Gamers spend the most – they contribute around 60% of iOS revenue and nearly 80% of dollars spent in Google Play.
Outside of gaming, more than one third of non-gaming spend now comes from entertainment and social apps. We predict tremendous growth for both in the coming years – with revenue from entertainment apps rising to $12 billion in 2022. That's double the total for 2020.
iOS and Google Play App Downloads Climb Toward 140 Billion —  20% Growth in Two Years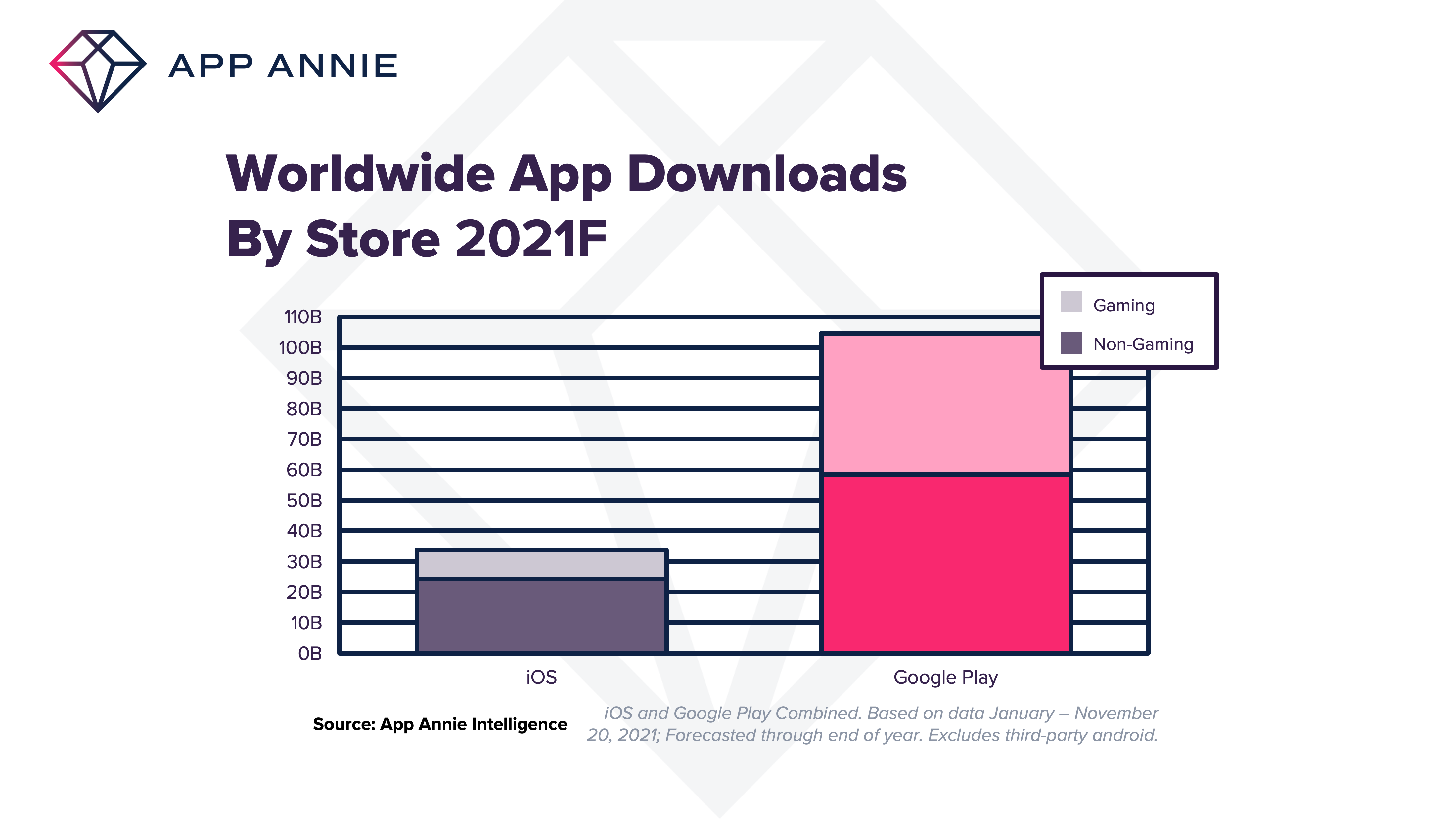 By the end of this year, mobile users will have downloaded nearly 140 billion new apps – that's 10 billion more than in 2020, and 20 billion more than in 2019, up 8% YoY. 
The dynamics of downloads are the opposite of spend. Here, it's Google Play that dominates. In 2021, we expect Google Play to account for more than 100 billion app downloads alone.
Regionally, India was the #1 country year-to-date, contributing 20% of global downloads across iOS and Google Play combined. This was followed by the US (9%) and Brazil (8%).
Video Sharing and Editing Apps Dominate the Breakout Charts for 2021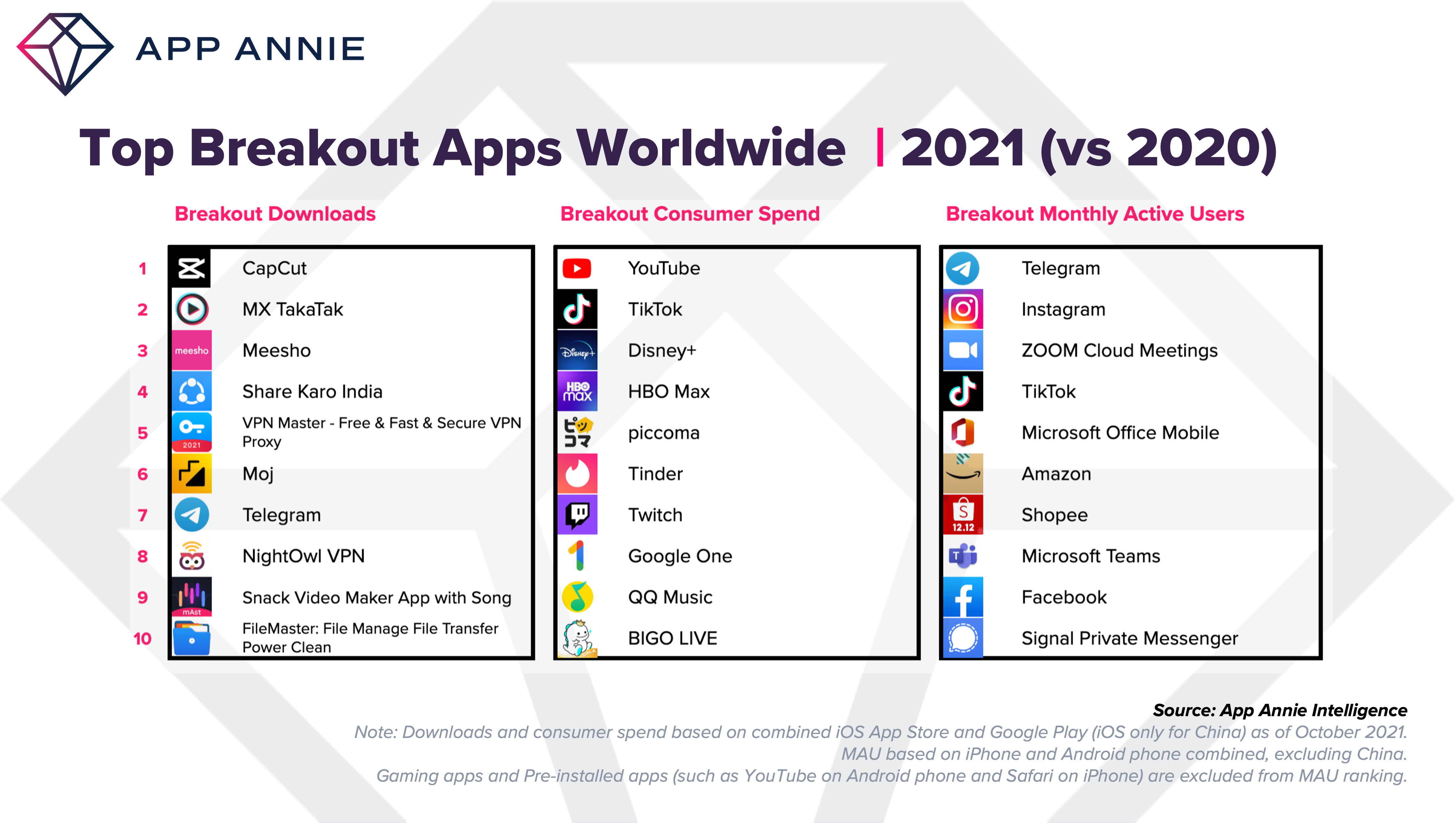 The 'TikTok' effect is readily apparent in the breakout app data for 2021. ByteDance's video sharing app is a global cultural force now. In fact, we project that it will surpass 1.5 billion users in the next 12 months.
Its influence on the 2021 data is obvious. It ranked #2 in the breakout app spend chart (this chart ranks apps that have registered the biggest change in spend over 12 months), and it also propelled CapCut to the top of the breakout downloads chart. Why? Because CapCut is an editing tool for TikTok, which rolled out globally in April 2020. 
India's own short video apps, MX TakaTak (#2) and Moj (#6) ranked in the top top 10 breakout apps by global downloads, serving as a "replacement TikTok" in light of the TikTok ban in India alongside competitors like Josh (#15 breakout app by downloads). 
Then there's the ongoing rise of mobile video streaming. Reliable 4G, the rollout of 5G and falling data tariffs are making it easier than ever for users to consume video on the go. In the Breakout Spend chart, we see YouTube at the top (it surpassed $3Bn in spend in October) with Disney+, HBO Max, Piccoma (a 'webtoon' comic app) and Twitch all scoring in the top 10.
Mobile Gaming Market Across iOS and Google Play Approaches $100 Billion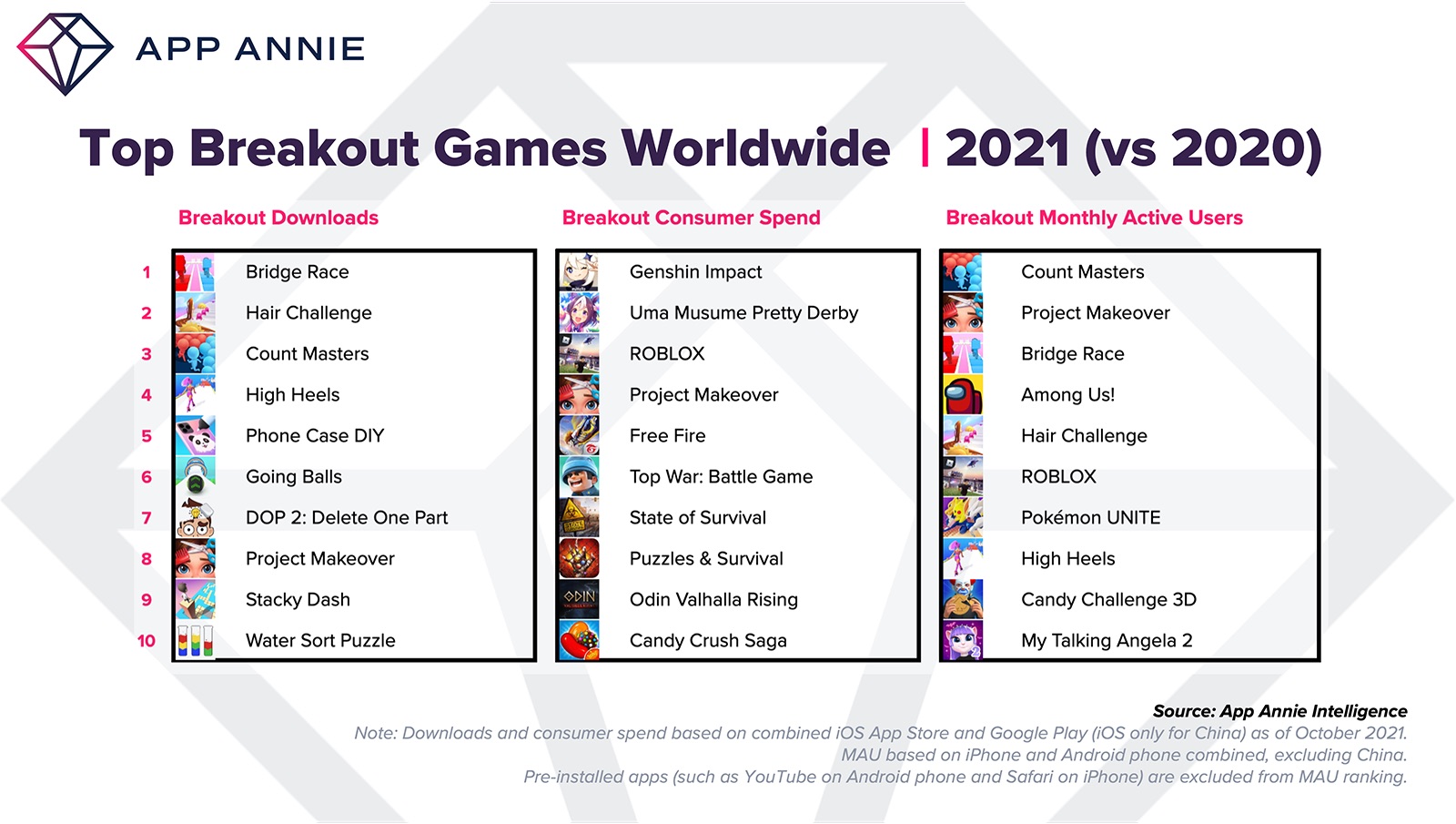 A glance at the global spend data for 2021 reveals gaming to account for around $90 billion in total revenue. Mobile gaming is big business. But it's also a sector that never stands still. New sub-genres emerge to shape gameplay habits, while new titles come from nowhere to dominate the download charts.
2021 in gaming was as dynamic as any previous year. Predictably, the breakout download chart was full of casual games. Supersonic's Bridge Race topped the listing, while Hair Challenge was at number 2. The latter is one of three female-friendly titles in the top 10. These products combine puzzles with personal styling. The other two are Project Makeover and High Heels, who recently surpassed the major milestone of seeing over 100 million downloads across the world in just 11 months. 
Project Makeover also made it into the breakout consumer spend chart. But it was an outlier here since most of the games in the top 10 are 'core' titles rather than casual. At #1 is Genshin Impact. This open world RPG topped the chart thanks to the 'gacha' model, in which players spend in-game currency to receive a random virtual item. 
Other notable titles included League of Legends: Wild Rift, which surpassed $150 million in consumer spend as it marked 1 year of its global rollout — the 2nd fasted MOBA game to do so after Honor of Kings, almost twice as fast as Mobile Legends: Bang Bang, which was the second biggest MOBA game by lifetime consumer spend globally at the time of this milestone. Free Fire which was the #1 downloaded battle royale game in H1 2021 — second only to Join Clash 3D, a hypercasual game. 
If there is constant flux in hit games titles, the same is also true of hit genres. Using our latest Game IQ product, we can see that the top-performing sub-genres were:
Strategy —

Spend on 4X March Battle games increased by 32% in the year to date. Hit titles included

Top War: Battle Game

and

State of Survival

.

RPG

— The MMORPG sub-genre was up 21% in spend, while Open World RPG (thanks largely to Genshin Impact) rose by nearly 500%.

Simulation — Spend on Creative Sandbox (eg ROBLOX) was up 57%. Idol Training Sim (eg Uma Musume Pretty Derby) went up 110%.
Will Metaverse Games Set the Pace for Active Users in Games?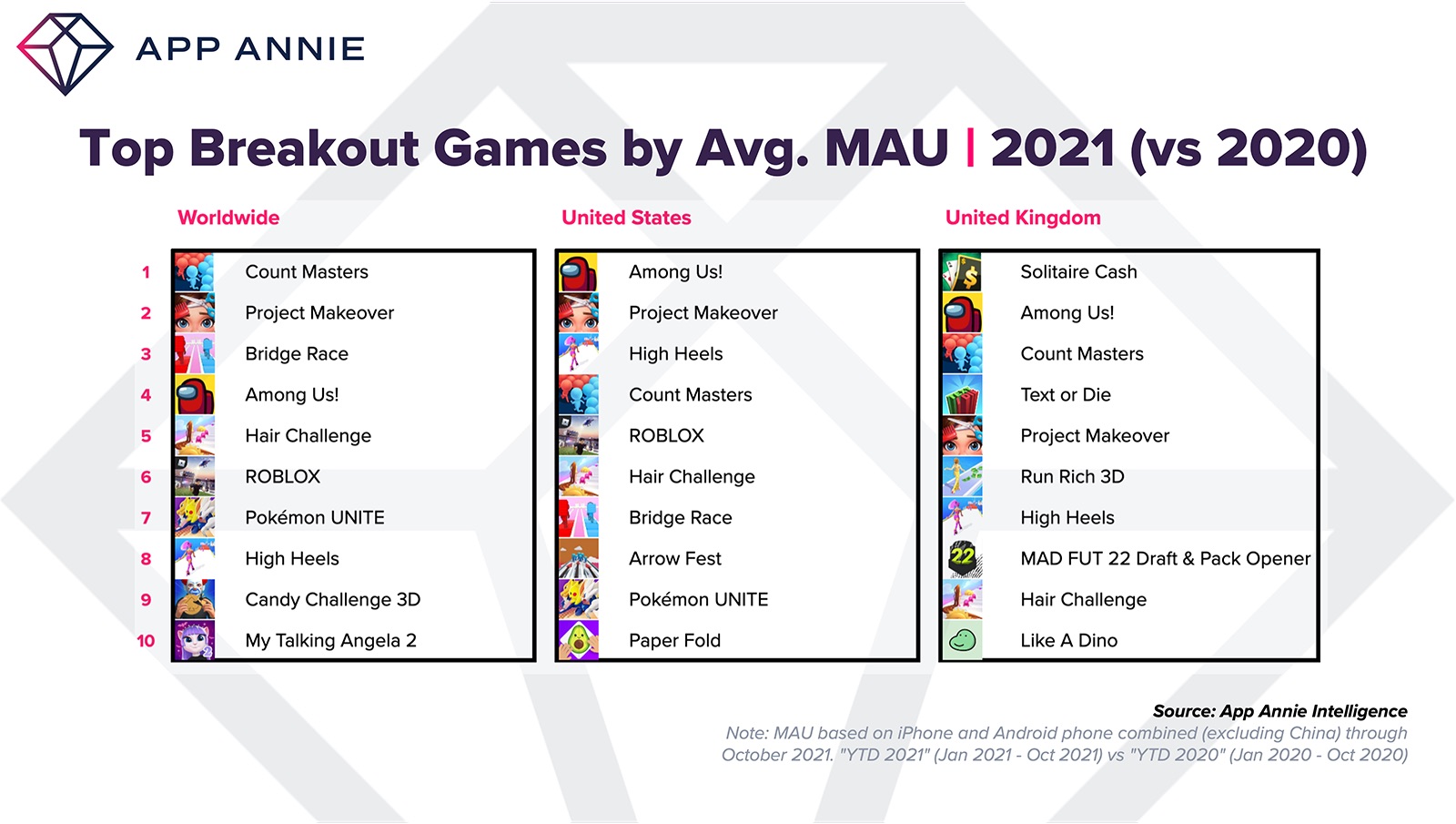 Casual game titles tend to dominate the charts when it comes to average monthly active users. This makes sense. There will always be a bigger addressable market for snack-like fun compared to immersive core gaming.
Our breakout chart for 2021 shows this to be the case, with Count Masters, Project Makeover, Bridge Race and Among Us! featuring at the top. The interesting exemption is Roblox, at #6.
Roblox is more like a platform than a single game. Players can meet and socialize and then choose to play a vast range of games-within-a-game. They can also create their own games – using the creation engine, Roblox Studio – and receive a cut of any profits.
In this sense, Roblox is a pioneering example of the metaverse. We believe Roblox is heading a new trend and that metaverse mobile games are on target for $3.1 Billion in annual spend.
Live Video Streaming and Chat Put the Social App Category on Course for $9 Billion in 2022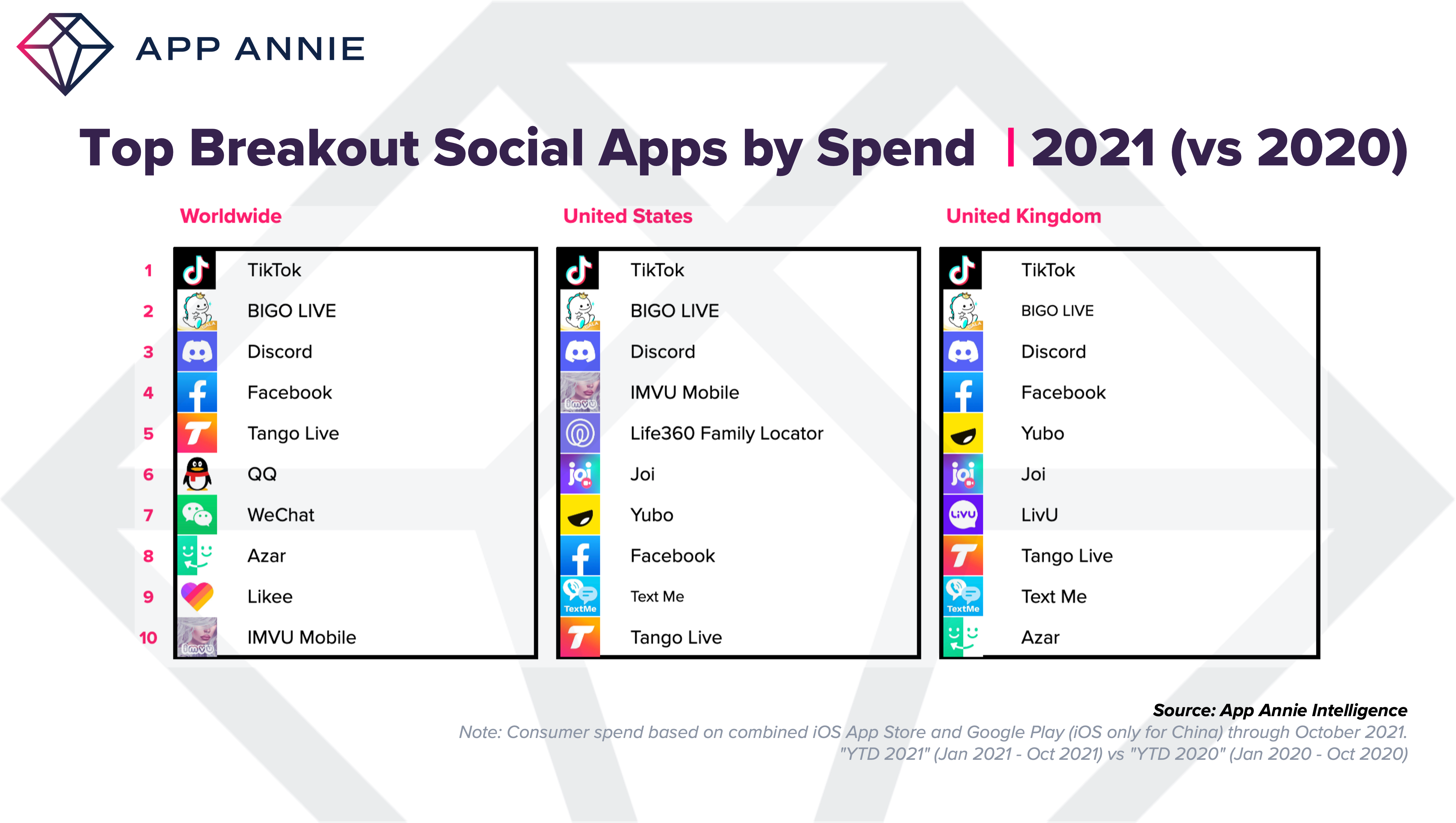 Like gaming, social is also a highly dynamic app space. We estimate that social apps will earn $9 billion in 2022, an 82% increase from 2020.
Looking at the breakout charts for 2021, it's obvious that video streaming and community features are the primary drivers of success at present.
TikTok leads the spend chart worldwide (and in the US and the UK). However, at #2 and #3 respectively are BIGO LIVE and Discord. Discord, which blurs social networking with voice communication and gaming has over 205 million global monthly active users as of October 2021.
#1 in Dating — Things Are Still Going (Swiping) 'Right' for Tinder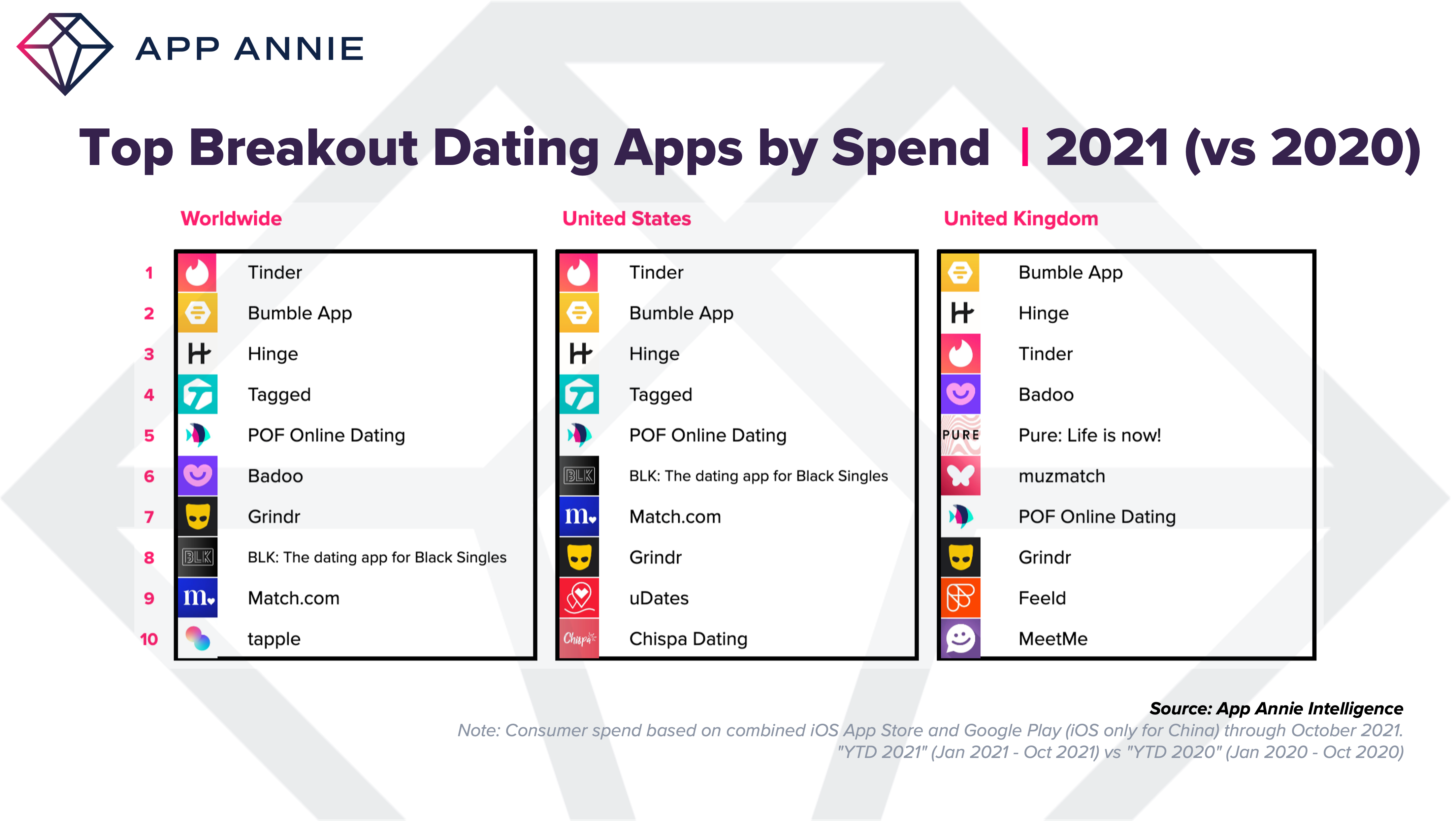 Earlier this year, we revealed that only TikTok and YouTube outranked Tinder in terms of consumer spend in the global mobile app space.
This is a testament to the enduring demand for dating apps – and to the ongoing success of the market's biggest player. Our new data shows Tinder once again at the top (worldwide) in dating. And the numbers were published just days after Tinder's owner Match revealed plans for an expansion of its business model. Tinder will embrace the 'metaverse' concept by building an avatar-based virtual goods economy. In fact, it is already testing Tinder Coins in several markets.
Occupying the two slots below Tinder (worldwide and US) are the market's two female-oriented dating apps: Bumble and Hinge. According to our numbers, Bumble's lifetime consumer spend just surpassed $1 billion with Hinge surpassing $250 Million. Tinder's stands at $4.4 billion as of November 29, 2021.
Looking down the chart, it's worth noting another rising trend in the data app space: segmentation. Several hit products are targeted at Other niche groups. They include muzmatch (Arab & Muslim), BLK (black singles) and Chispa (Latin).
Disney+ and HBO Max Challenge YouTube in the Video Streaming Space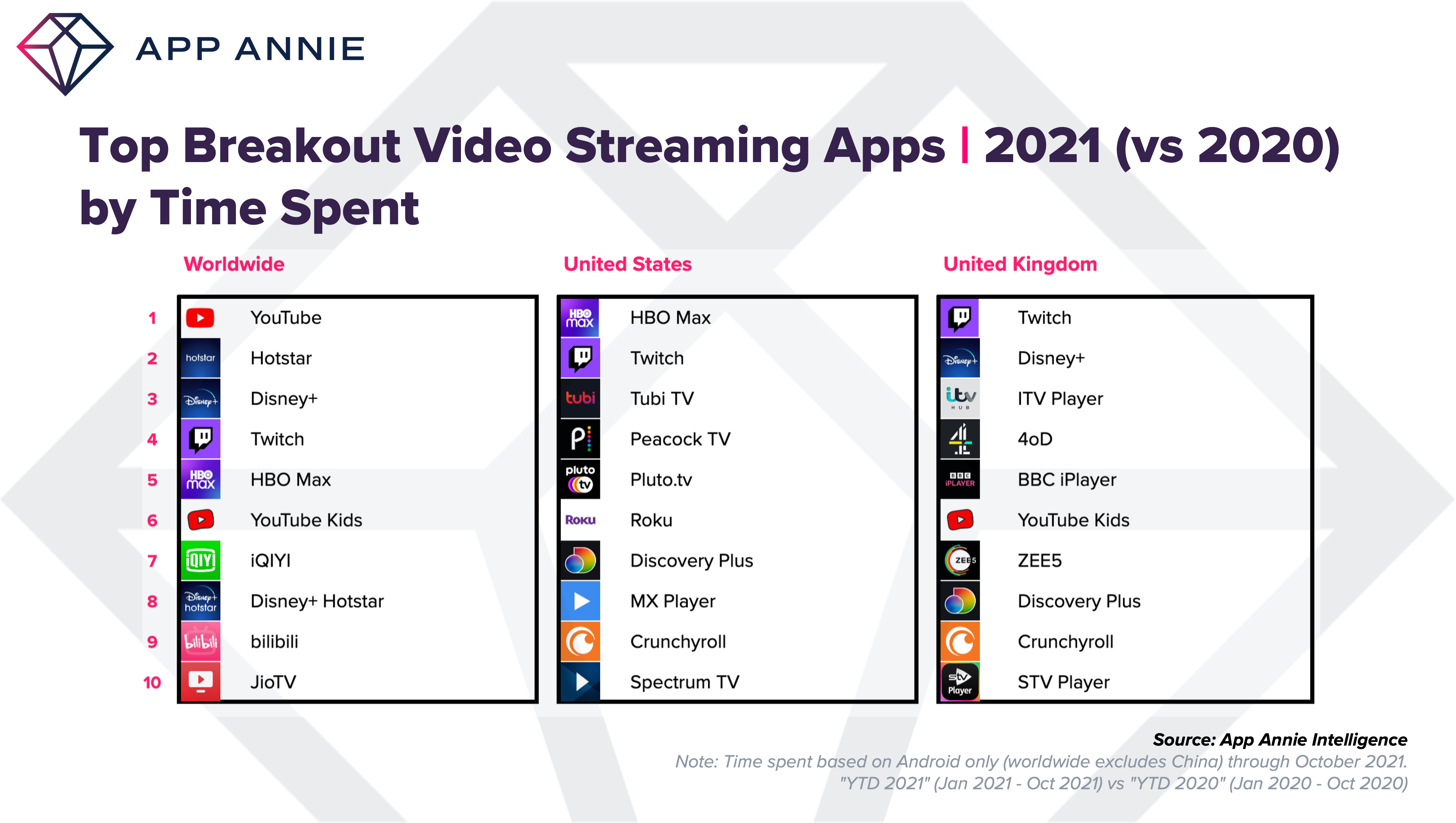 In 2019 and 2020, some of the world's biggest entertainment brands launched into the subscription TV market. In 2021, we got to see which had made the biggest success of it. Our Breakout Video Streaming Apps By Time Spent places YouTube in the top spot globally. However, it's worth noting the presence of Disney+ and HBO Max at #3 and #5 respectively. Disney+ Hotstar (owned by Star India and operated by Disney Media and Entertainment Distribution) is at #8.
We estimate that time spent in Disney+ on Android phones hit 975 billion hours globally in YTD 2021 (Jan 2021 - Oct 2021).
Niche products are also a feature of the video streaming space. Crunchyroll, for example, is devoted to anime videos. It scored at #9 in the US and UK chat. Our data also shows that more than a quarter of total time spent in Crunchyroll on Android was driven by Brazilian users.
Hungry for More Mobile Insights on the State of Mobile in 2021 and 2022?
Pre-register to be among the first to receive the industry's leading mobile report: App Annie's State of Mobile 2022:
DISCLAIMER: 
App Annie is a mobile market estimate service provider. App Annie is not registered in any investment advisory capacity in any jurisdiction globally, and does not offer any legal, financial, investment or business advice. Nothing contained in this communication, or in any App Annie products, services, communications, or other offerings, should be construed as an offer, recommendation, or solicitation to buy or sell any security or investment, or to make any investment decisions. Any reference to past or potential performance is not, and should not, be construed as a recommendation or as a guarantee of any specific outcome. You should always consult your own professional legal, financial, investment and business advisors. Additionally, by providing the information herein, App Annie does not make any representations or warranties and does not undertake any legal or contractual obligations whatsoever. No liability may accrue to App Annie as a result of providing this information to you.