2020 underscored the importance of mobile to growing a business's top line. As we head into 2021, we've outlined why a data-fueled mobile strategy is the key to success.
2020 — a monumental year. As COVID-19 has gripped the world, altered economics and transformed daily lives, one thing is certain: we have all leaned on mobile to connect, work, learn, play and escape. At the height of the pandemic our mobile usage has sky-rocketed — accelerating our mobile adoption by 2 to 3 years. As we close the books on 2020, what has happened in mobile? How has this transformed the game for business, and how should businesses prepare to win on mobile in 2021? 
Global Spend Across iOS and Google Play Stores to Hit $112 Billion in 2020, Growth of 25% Year Over Year
Across iOS and Google Play, total spend in mobile apps and games set a new annual record. While 65 cents of every dollar went to iOS, spend in Google Play will grow close to 30% — a trend we've reported on for many quarters. iOS maintains the stronghold of global spend, but due to competitive Android devices and a growing device footprint, Google Play has seen sizable growth.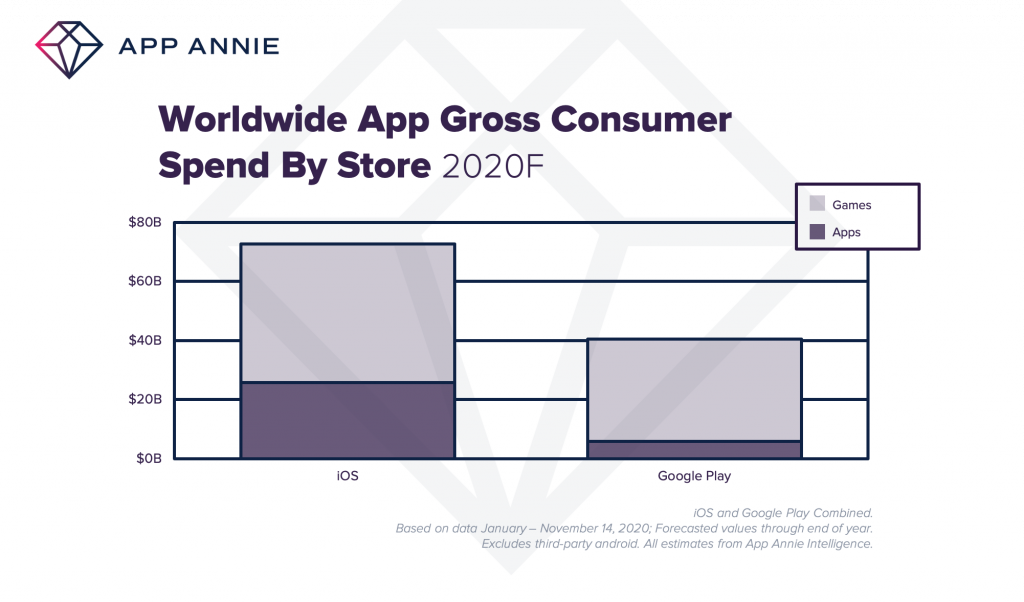 Top markets driving growth for iOS include US, Japan and the UK — which differs from the top markets for growth in iOS consumer spend from 2018 to 2019, including the US, China and Japan. Top markets for growth in spend on Google Play included the US, South Korea and Germany — with South Korea and Germany taking Japan and the UK's place in terms of growth in Google Play spend from 2018 to 2019. In terms of categories, $0.71 of every dollar went to games across iOS and Google Play combined — with spending accelerated by this year's boom in mobile gaming. Among non-gaming categories of apps, in-app subscriptions drove the most growth. Top categories for growth were Games, Photo and Video and Social Networking on iOS and Games, Entertainment and Social on Google Play. 
DISCLAIMER
App Annie is a mobile market estimate service provider. App Annie is not registered in any investment advisory capacity in any jurisdiction globally, and does not offer any legal, financial, investment or business advice. Nothing contained in this communication, or in any App Annie products, services or other offerings, should be construed as an offer, recommendation, or solicitation to buy or sell any security or investment, or to make any investment decisions. Any reference to past or potential performance is not, and should not, be construed as a recommendation or as a guarantee of any specific outcome. You should always consult your own professional legal, financial, investment and business advisors.