Vietnam is home to 5 of the top 10 game publishers in ANZSEA (Australia, New Zealand & Southeast Asia); YoY consumer spend growth up 50%
Southeast Asia is a major region for mobile gaming growth — with markets seeing up to 55% growth in consumer spend. Vietnam is a major market in terms of both being home to a stronghold of mobile apps and game publishers as well as having a heavily mobile-first consumer base. 
Vietnam's Own Amanotes Tops the Chart for Gaming Downloads in ANZSEA 
Early in 2020, the Vietnamese publisher Amanotes announced that total downloads of its games had passed one billion.
These outstanding accomplishments helped to make Amanotes the #1 game publisher (by downloads) not just in its home country, but across the whole of the ANZSEA (Australia, New Zealand & South East Asia) region for 2020.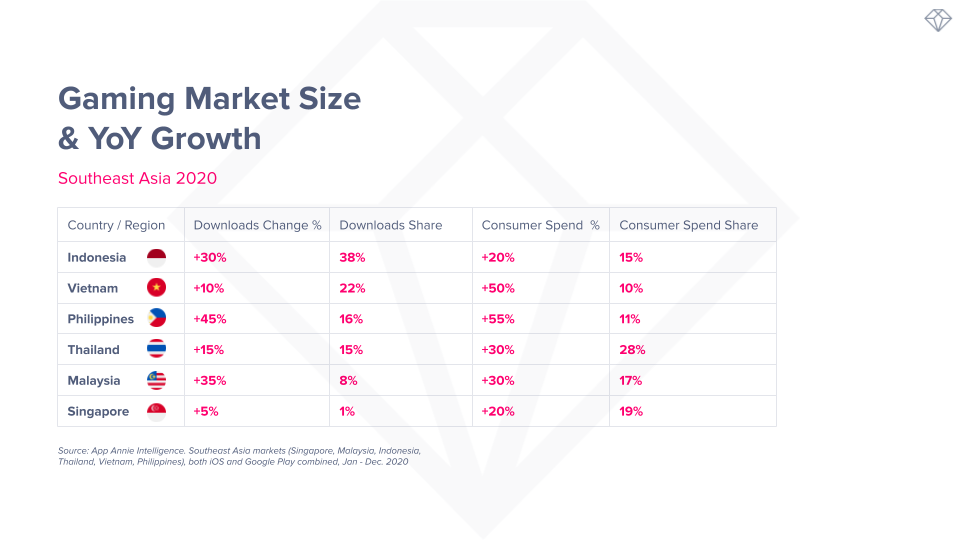 However, Amanotes' achievements merely reflect the wider success of the Vietnamese games market. Now that App Annie's 2020 market data is in, we can see the extent of this success.
Vietnam is a Gaming Powerhouse in Southeast Asia
In terms of downloads, Vietnam ranks second across the SEA (Southeast Asia) region in 2020. It accounted for 22% of all games downloads (after Indonesia with 38%). Year over year, the Vietnamese games market grew by 10% in terms of downloads. Gaming consumer spend in Vietnam grew by 50% year over year in 2020.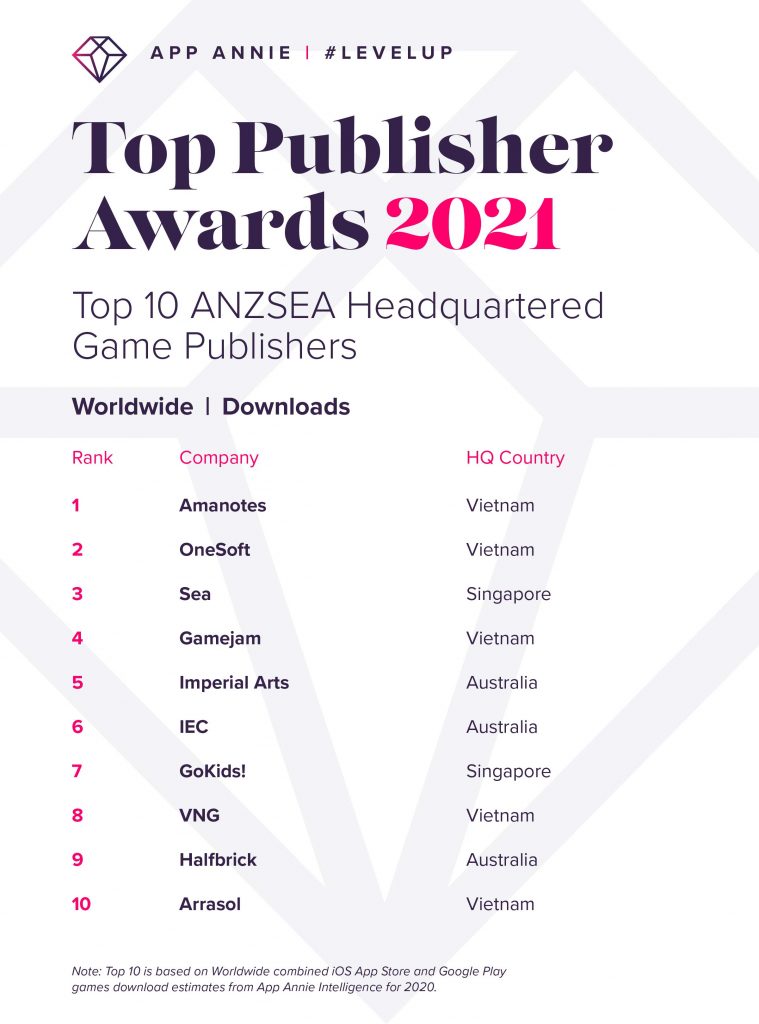 Certainly, Vietnam has the 'raw materials' to support a flourishing mobile games economy. This is a country of 97.8 million people (the 15th highest in the world), and it is a youthful one too. The median age in Vietnam is 32.7, which is 7.6 years younger than in Thailand's median age, and 5.7 years younger than in the US.
Vietnam is also a 'mobile first' culture. It is home to 68 million smartphone owners, 64% of whom are on 3G, 4G or 5G. The average daily time spent in gaming is 3.9hrs — 10% more than for the average user in the US.
Vietnam is a market of opportunity in the mobile economy. To uncover deeper insights into what makes Vietnam unique for mobile apps and games, download our latest report: Spotlight on Vietnam: A Mobile Market of Opportunity.
Looking to make more of the mobile opportunity? Talk to an expert today.
DISCLAIMER: 
App Annie is a mobile market estimate service provider. App Annie is not registered in any investment advisory capacity in any jurisdiction globally, and does not offer any legal, financial, investment or business advice. Nothing contained in this communication, or in any App Annie products, services, communications, or other offerings, should be construed as an offer, recommendation, or solicitation to buy or sell any security or investment, or to make any investment decisions. Any reference to past or potential performance is not, and should not, be construed as a recommendation or as a guarantee of any specific outcome. You should always consult your own professional legal, financial, investment and business advisors. Additionally, by providing the information herein, App Annie does not make any representations or warranties and does not undertake any legal or contractual obligations whatsoever. No liability may accrue to App Annie as a result of providing this information to you.