Consumer app store spend will surge past $110 billion, with expanded opportunity for independent publishers
2018 will mark the 10-year anniversary of the Apple App Store and Android Market. In just a decade, we've already reached a point where apps are a way of life for users around the world and the app economy — heading well into the trillions of dollars now — has had very real effects on the global economy at large.
Tens of thousands of apps arrive in the app stores every months — roughly 50,000 in the iOS App Store and over 150,000 in Google Play in October 2017 alone — to the point where there are more than 2 million apps in the iOS App Store and more than 3.5 million in Google Play. The fundamental truth is apps have transformed how people spend their time, and their money.
We recently published a series of predictions for the app economy in 2018, and here are some specifics regarding the app stores.
Consumer app store spend will surpass the $100 billion mark
As markets mature around the world, app monetization is simultaneously growing, diversifying and becoming more sophisticated as app publishers zero in on what monetization methods work in different contexts and optimize accordingly. The result is a very healthy growth rate in terms of worldwide consumer spend across all mobile app stores — we project a 30% increase year over year, to blow right past $110 billion in 2018.
Games, which currently account for over 80% of total consumer spend in app stores, will continue to account for the majority of spend, of course, but their share of spend will decrease as non-gaming apps' growth rate outpaces games, a shift that is driven in large part by subscription-based monetization. The diversification of monetization methods is part and parcel to the growth and maturation of the app economy as a whole. Users continually assess the value of apps, and publishers continually experiment to capitalize on that value.
App store curation will drive a surge in in-app purchase (IAP) revenue
One of the big, ongoing stories of 2017 was the shift in the app stores toward editorial content and curation as Apple completely redesigned its store, and Google revamped the "Editors' Choice" section of Google Play to incorporate Android Excellence Collections. By adding the more human element of curation to the mix, both stores will surface apps that otherwise might not have seen the spotlight, and overall this will boost in-app purchase (IAP) revenues across the board.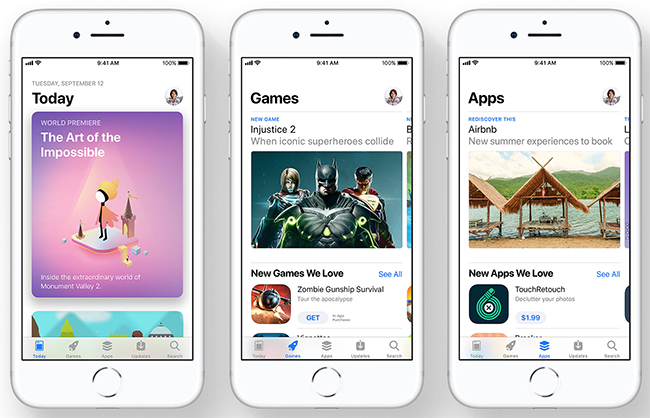 Generally speaking, we anticipate that leisure time apps will benefit the most because they're the most likely to be attractive to consumers as they browse. In contrast, "needs-based" apps (e.g. utilities, food delivery, ride-sharing) are more likely to be discovered via search or word-of-mouth. Extrapolating then, we anticipate that the improved discoverability of leisure time apps will boost IAP revenue overall.
Improvements in discoverability will lead to increased revenues for indie devs
One fairly immediate outcome of the app stores' new emphasis on editorial content and curation is that consumers can more easily find and download quality apps built by indie devs that are showcased by Apple and Google. For indie devs, this win will translate into lots more in-app purchases and ad revenue, which they can channel into building still more quality apps.
Ten years on, we're seeing that the app economy has evolved into a robust and complex economy unto itself — and what transpires in the app stores is of course key to driving revenue in an array of verticals. In 2018, consumer spend in the app stores will hit and surpass a major milestone, and increased emphasis on app store curation and editorial content will boost IAPs help allow independent developers to thrive.