We celebrate Valentine's Day by taking a look at how people across the globe are looking for love on dating apps, and opening their wallets in the process
When it comes to matters of the heart, our wallets often follow. In 2017, global consumer spend in the top five dating apps across iOS and Google Play combined nearly doubled year over year. In fact, Tinder was the single largest generator of global consumer spend among all dating apps in 2017, coming in second only to Netflix for consumer spend in apps outside of games.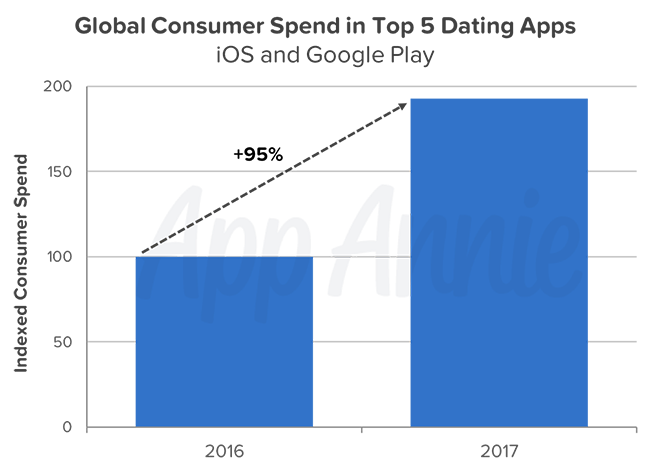 In many countries – including the United Kingdom, France and Germany – a dating app claimed the #1 rank for consumer spend in apps. France had a particularly high concentration of dating apps in its top chart, with dating apps representing 6 of the top 10 apps by consumer spend. South Korea also saw a high representation with 3 dating apps in its top 10 apps by consumer spend.
When a human drive like the search for love is married to the accessibility and personalized nature of mobile phones, massive consumer spend in dating apps can result.
Gamification Meets Subscriptions in Dating Apps
Most of the top dating apps monetize through in-app subscriptions, allowing consumers to pay for a premium version of the service on a weekly, monthly or yearly basis. Many apps also offer gamified features via in-app purchases such as streamlining the matching process or helping users stand out among other potential matches. Considering the massive year-over-year growth in consumer spend, the combination of both these monetization streams – recurring payments as well as ad hoc – has worked particularly well for dating apps in 2017.
Ultimately, people have spoken with their wallets – a lasting dating paradigm has taken hold with apps as the matchmakers.