China gamers' incredible spending rate and more must-know insights from the mobile gaming conference
Earlier this month, Danielle Levitas, App Annie's SVP for Research, shared data on the growing appetite for mobile gaming at Casual Connect in Seattle. Mobile gaming has always been ahead of the pack in the app ecosystem in lots of ways, and right now all of the data points to it continuing to innovate and drive revenue through multiple avenues in the coming years. For those of you who didn't make it to Seattle, here are some key insights from her presentation:
Mobile game consumption varies dramatically by country
On average, mobile gamers play about four games per month, at the rate of about one game per day. "Whales" (the top 10% in terms of time spent) play mobile games for about an hour per day globally. But when you look at the actual amount of time spent playing, the figures vary dramatically, with Japan and South Korea having a significant lead: the most active mobile gamers in those countries play for around three hours per day. When you look at the global average without factoring in Japanese and South Korean players, the overall weighted average is about 33 minutes per day. Among the top country markets App Annie analyzed, every country except France has seen year over year growth in terms of time spent playing mobile games.
With this steady increase in hours played, mobile revenues continue to climb: in Japan and the United States, revenues are growing at similar rates, while in China, there's been a sharp uptick on iOS in the past two years.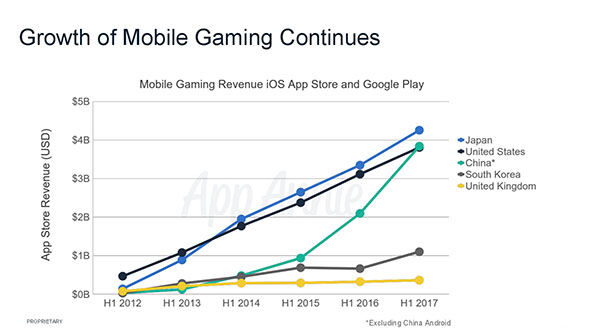 Understanding local preferences is key to understanding the gaming category
RPG and strategy games are the most popular worldwide and together account for close to 50% of Google Play revenue, but when you look at how revenue by genre breaks down by country, the differences among countries are stark: preference for RPG in particular in South Korea and Japan are quite pronounced. In terms of Google Play revenue, RPG has increased from about 40% to over 60% in South Korea in the past two years, while in Japan, it has increased from about 20% to 35%.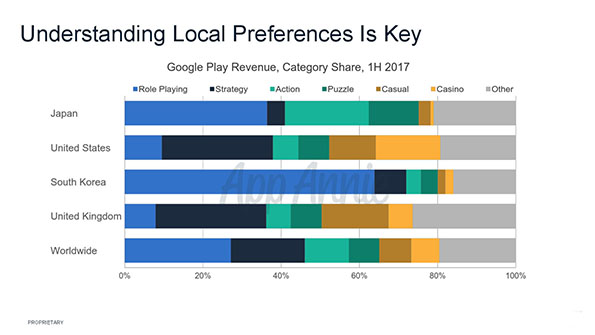 Chinese mobile gamers are spending at an incredible rate
As Danielle pointed out, China can be a tricky market to understand because it's really comprised of two markets -- there are the upper tier cities like Shanghai and Beijing where smartphone usage is similar to that in Tokyo, San Francisco or Seoul, and then there are lower tier cities that are still massive in terms of population but are a bit behind in terms of adopting mobile. Still, when you look at the average monthly ARPU of the top 30 games in top markets, China dominates yet again: Chinese mobile gamers spend about $25 per month on mobile games, with the top game, Fantasy Westward Journey, bringing in an average of $125 ARPU. China's average ARPU has in fact doubled over Q2 2016 figures.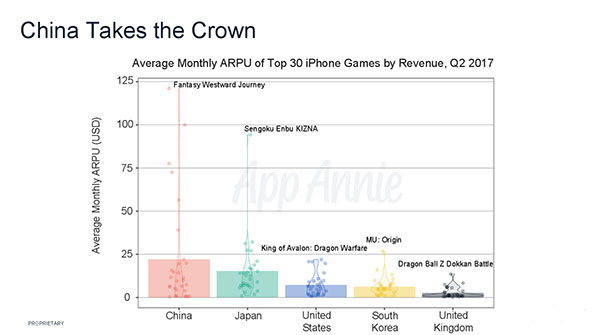 Chinese mobile gaming companies are growing rapidly, and that's great news for the global mobile gaming industry
Chinese companies are increasingly finding growth outside of China, and the US has become the Chinese mobile gaming industry's top export market (40% of China's overseas game revenues come from the US).
Most of this expansion of the Chinese footprint is happening through mergers & acquisitions, of course, which is a great strategy for diversification. But typically when consolidation occurs in a market, competition, and yes, innovation, tend to weaken. That's not the case in the mobile gaming market by a long stretch — there's more consolidation than there was three years ago, but there are far more players overall competing for users' time and pocketbooks, making the market more competitive, not less. There's appetite among mobile gamers to discover games that aren't the usual suspects, or published by the usual suspects, which is great news for innovation and for new publishers and developers.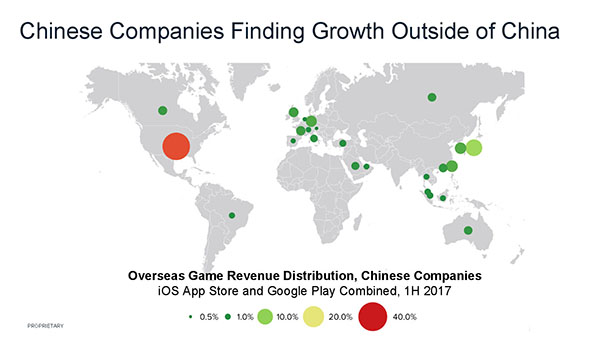 Mobile gaming spend is projected to more than double by 2021, surging from $50 billion in 2016 to $105 billion in 2021, as we covered in our recent forecast on the app economy — and that's not even factoring in the additional $20-$30 billion in ad revenue the industry can expect between now and then.
As Danielle noted at Casual Connect, it's important to be aware of what's going on in different regions and countries as the mobile gaming industry evolves, because there's so much opportunity in so many different ways, whether that's through leveraging local tastes, innovating to attract users who don't identify as gamers, or forging partnerships that marry local expertise and distribution with games that have seen success elsewhere.
To track the performance of millions of apps across app stores, devices and countries for free, including thousands of games, sign up for App Annie Store Stats now.