Customize alerts to keep an eye on your competition launches and auto-share with your team by email
At data.ai we bring you market insights in real-time ⏰. That's our commitment to you. But having up-to-date market data available all in one place is just the start. Helping you to focus on the most relevant events in your world can help you take action faster. In fact, Time to Value has become a key theme for our product roadmap, and that's why we are introducing improvements across search and alerting.
Getting notifications on changes that matter to you help you to stay on top of things and screen out the noise. We introduced new alert customization options so you can do just that. Let's take a deeper look.
Helping you keep an eye on the bigger picture
You already use alerts to follow events related to specific apps or app groups. However often you want to be in the know about specific companies - competitors, partners and other significant influencers in the market. And now you can! With our new option to configure alerts for a company. Now you can easily find out when a competitor launches or soft-launches a new app, globally or in a specific country, with data.ai alerts.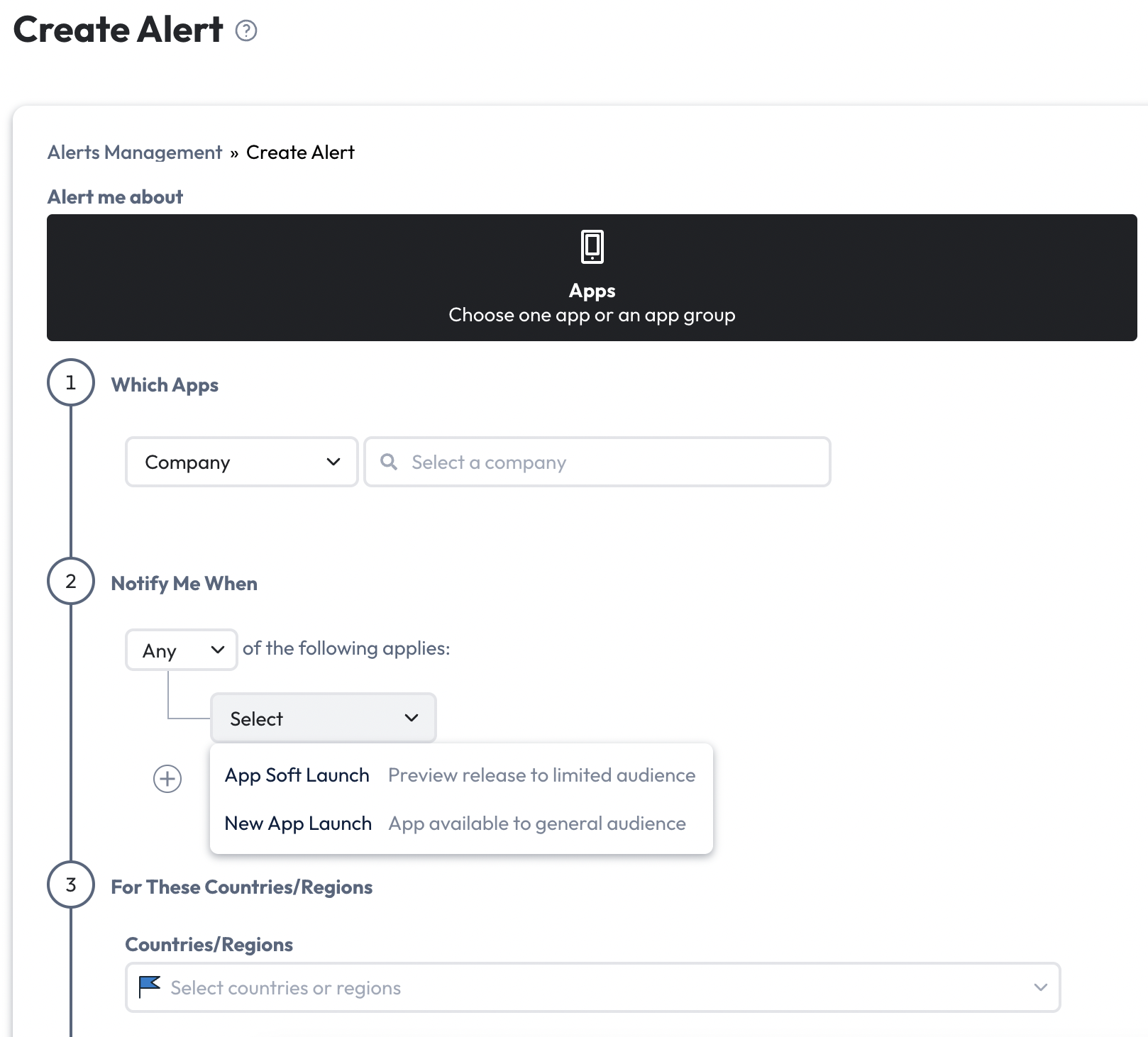 Keep an eye on the market
However your focus doesn't have to be limited to a specific company - keeping track of market movement is also vital for your business. We now support alerts at the market level, helping you to stay on top of market trends in the app categories you are invested in or looking to grow into. You can now create alerts to inform you of changes in market level reports like Top Apps, Market Size, and Compare Apps.
Emerging market trends
But what about emerging market trends? As a Biz Dev Manager, Corporate Strategist, or a Market Research Manager, we know you want to keep up with emerging threats or opportunities.
We now offer you a way to easily detect new or emerging apps that are breaking into the Top Ranks by monitoring movements at the bottom 20% or last 100 apps of an App Category.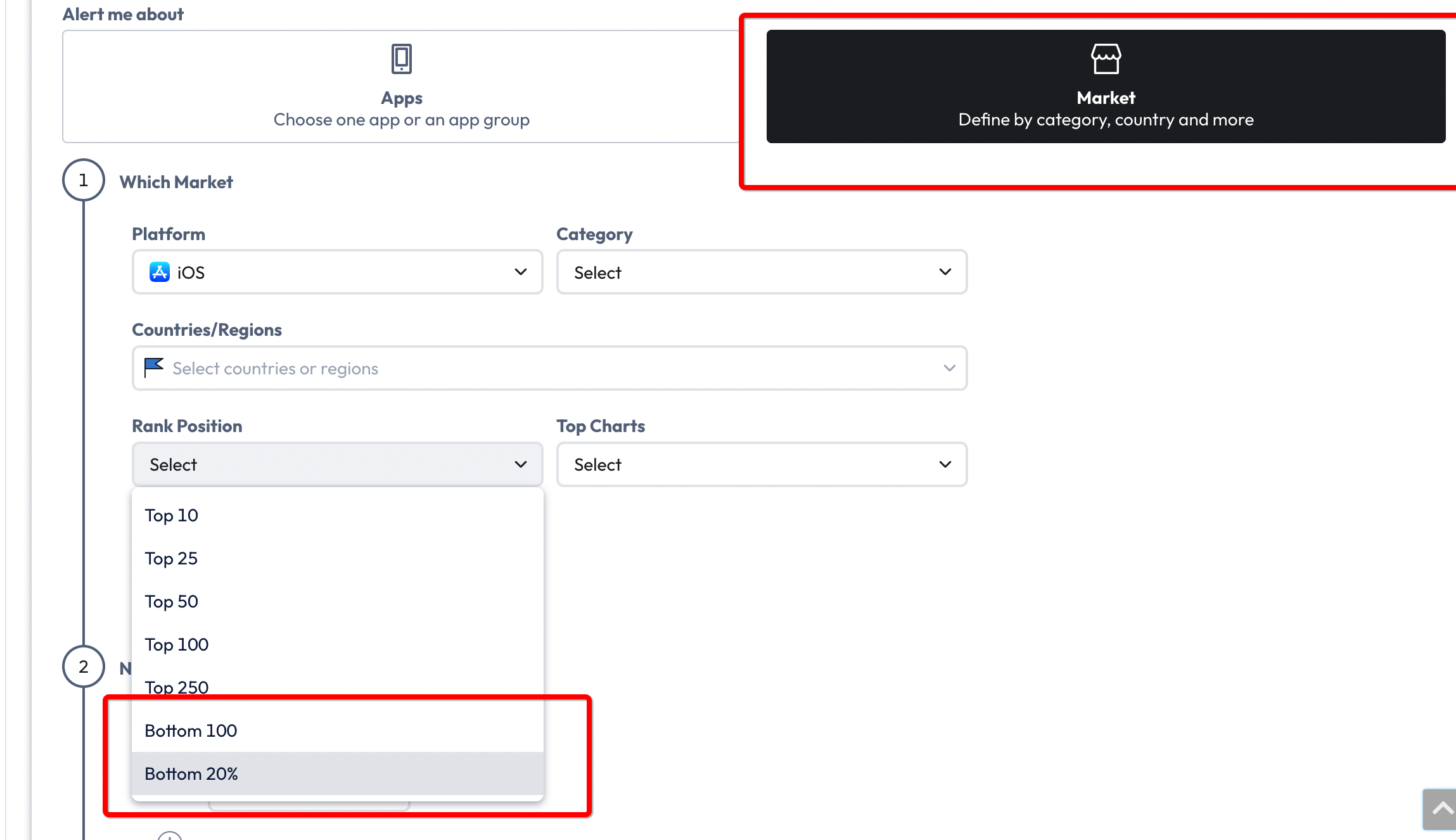 Be creative
With our enhanced alerting you can fine tune your alerts by using AND logic. All market or app level alerts can be made more targeted with this functionality.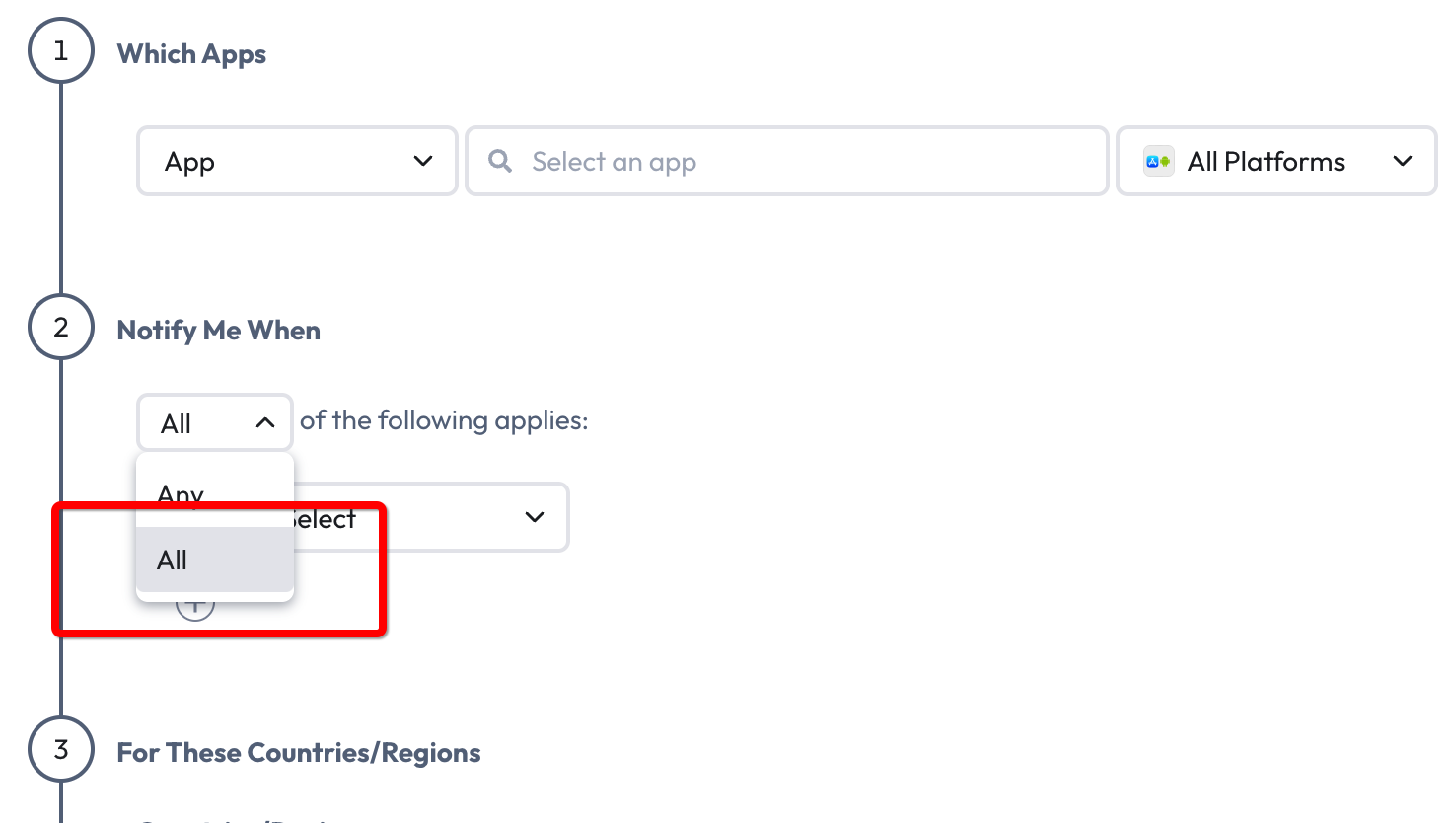 Sharing is caring - It's all about teamwork with email auto-share 
We know that it takes a village to be successful and you want to share the data.ai data love with your entire team, so you are winning together. We have enhanced our sharing capabilities to help you accomplish just that. You can now easily help your team stay on top of trends by including their email addresses when you set up the alert, as well as adding to sharing channels such as Slack or Pulse.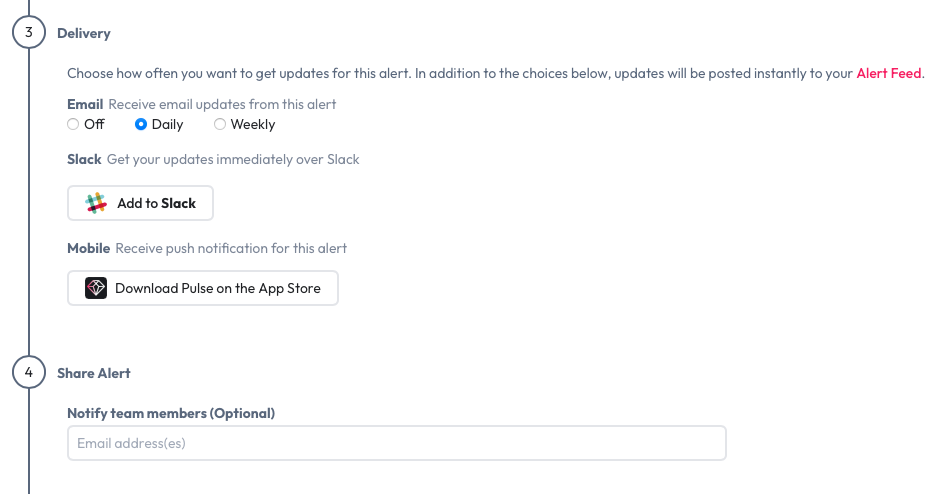 Similar to how app groups are shared, adding an email essentially replicates the alert for the recipients. All recipients maintain full control over such alerts and can edit/delete them using Alerts Management under User Settings.
In addition, you can share an existing alert through Alert Management options, and when it's shared, the recipients will receive an invitation with alert details immediately.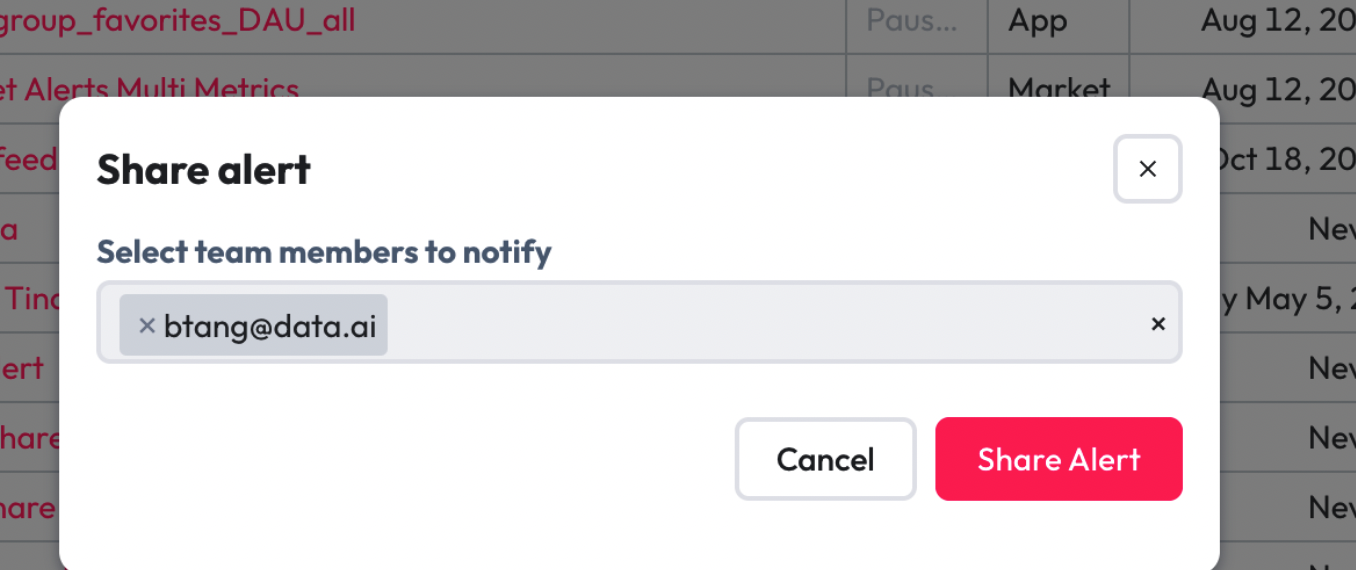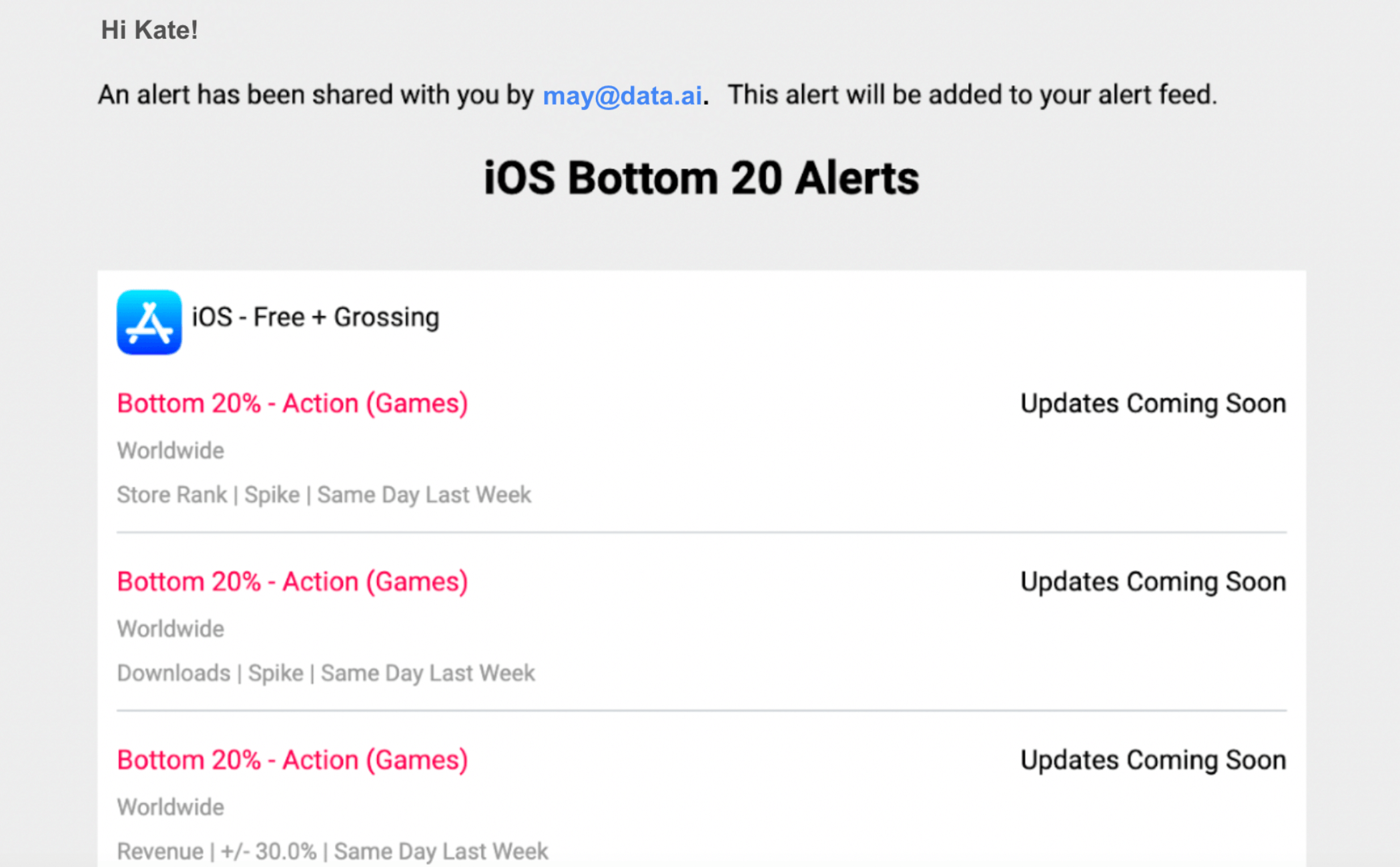 We hope you and your team enjoy using our new alerting options and promise this is just the beginning.
Access the Industry's Leading Mobile Reports Today
Register here to open a free account today, or if you are already a user, login now to start exploring the new reports.