data.ai's central destination for customers to learn, share, grow, and connect with mobile professionals from around the world.
We are thrilled to announce the launch of the data.ai Community! The data.ai Community exists to build the future of mobile, together.
For the first time in the mobile data world, there is a central location for digital professionals to network and collaborate on topics and themes specific to their industries. Whether you're new to data.ai and looking to learn from seasoned users, or you've been using data.ai for years and are an industry leader, the data.ai Community is for you.
Some of the most influential brands and mobile leaders like Google, EA, Sciplay, and others have already started connecting and you're invited to join!
What is the data.ai Community?
The data.ai Community is the online, one-stop-shop for data.ai users to learn, share, grow, and connect with other mobile professionals from around the world.
In the Community, members can:
Ask Questions and Share Best Practices: Seek advice, share your expertise, and learn from the collective experience of your colleagues.
Join Community Groups: Engage in specialized discussions with like-minded professionals in your industry.
View Product Update: Access the latest (and past) product updates directly within the Community.
Submit Product Ideas: Contribute your innovative ideas to enhance our product and services.
Search Everywhere: Search for anything in the Community, data.ai LEARN, and the Help Center, all from one centralized hub.
Earn Points, Badges, and Ranks: Engage actively to earn points, level up, and become a recognized community leader.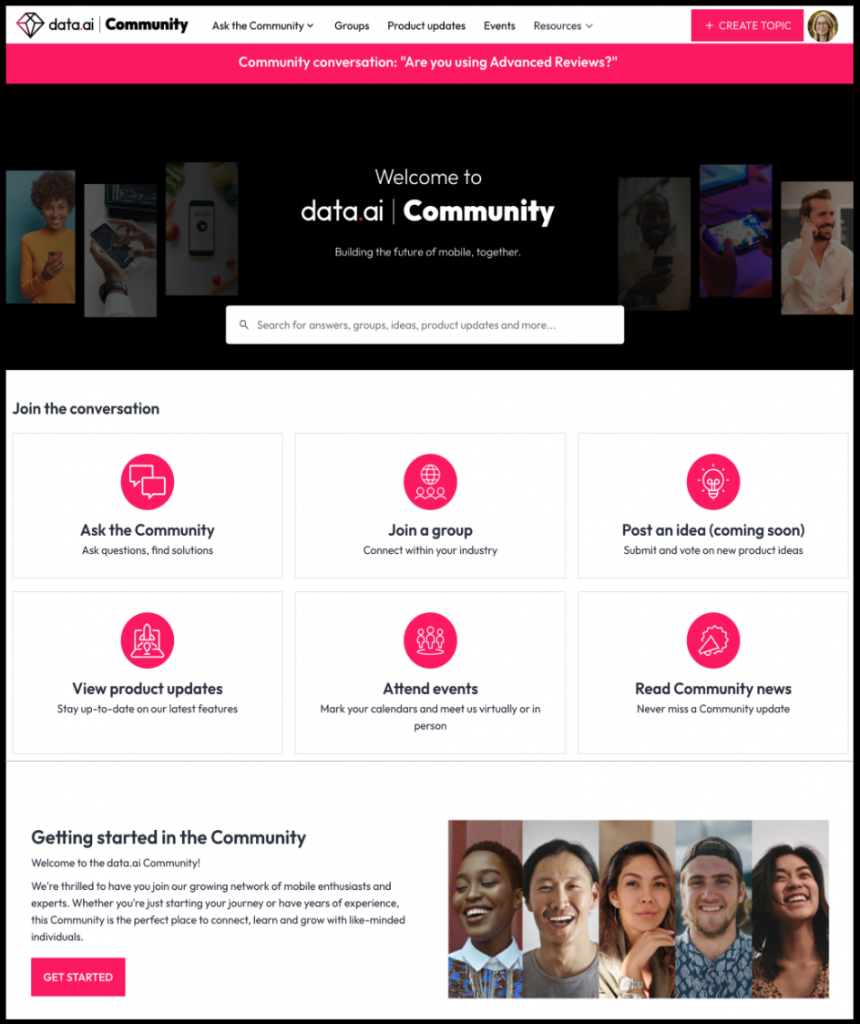 Who can join the Community?
To become a member, all you need is a data.ai login. Head over to community.data.ai to sign up and start exploring the possibilities. 
If you're a data.ai user, you can also access the community through the account tab in data.ai.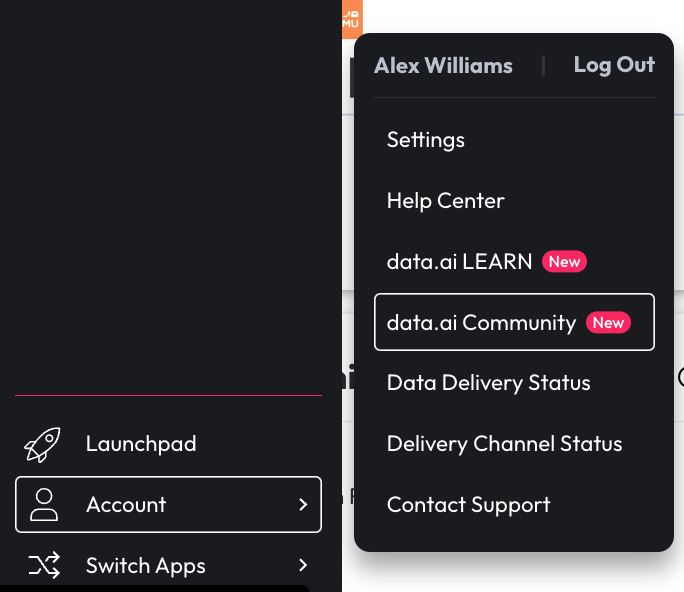 What value does the data.ai Community provide?
As a member, you'll be able to:
Unlock Expertise: Connect with like-minded individuals, industry leaders, and experts to exchange knowledge and insights.
Stay Informed: Access the latest product updates, upcoming events, and mobile industry news.
Shape the future of data.ai: Contribute your ideas and feedback to shape the future of the data.ai Product.
Collaborate:

Join specialized community groups and engage in discussions on topics that matter to you.

Learn and Grow: Explore resources, best practices, and educational content to enhance your mobile skills.
This is just the beginning of a new global initiative. We invite you to join us and other data.ai users from around the world on this new journey.
Here's to building the future of mobile, together.