In our last post about Forecast Intelligence — our new product that delivers a powerful combination of proprietary modeling with detailed global data and industry insight — we discussed how marketers and strategists can use our projections to plan, manage and measure success.
One client challenge that our forecast addresses is sizing categories across all app stores — including third-party Android stores in China — as each store uses different categories. With our cross-store categories, Forecast Intelligence empowers users to benchmark category sizing and growth in 60 countries. In this post, we focus on our global view of entertainment apps — the combination of App Annie cross-store Video and Music category apps.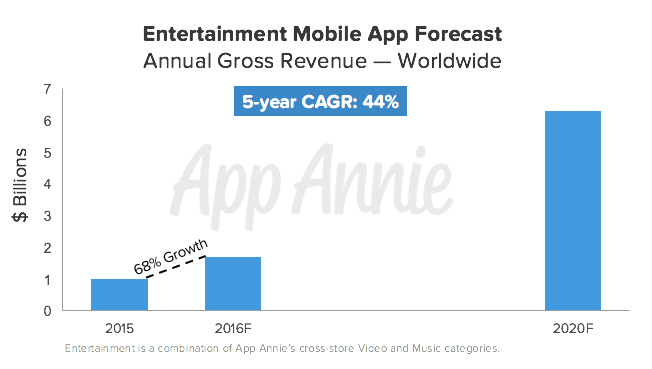 App Annie forecasts that revenue from entertainment apps will grow from just over $1 billion in 2015 to over $6 billion by 2020, a CAGR of 44% that represents stronger growth than we expect to see in the global app economy across all categories. While music apps will benefit from low prices and limited bandwidth consumption resonating in emerging markets, we expect to see the strongest video revenue growth China, Germany and India.
The conditions driving increased smartphone usage — including more capable and less expensive phones with larger displays and faster networks — have been highly conducive to video. Once, long-form video was impractical on a mobile device. As consumers have become more mobile, however — and as the content available has become more compelling — usage and dollars have increased. Time spent in Google Play Media & Video apps jumped 93% from 2014 to 2015, well ahead of the impressive overall time in apps increase of 63%.
Video Apps Will Capitalize on Global Expansion
We have already seen many examples of video breaking out to become a major revenue driver. As noted in our 2015 Retrospective, HBO NOW shot to the top of the iOS revenue charts following its release last April while the autumn months saw both Netflix and YouTube introduce in-app subscription options.
And in 2016, even more professional video content has been made available on apps. In June, Amazon announced that it would offer its Instant Video service, which includes exclusive content, as a standalone subscription in addition to bundling it with its Prime subscription service. Netflix, which recently increased its subscription rate, rolled out its first original series for India. Expansion of such original and exclusive content attracts viewers, improves margins and offers differentiation from competitors that goes beyond size of catalog. We also expect to see continued explosive video growth in China as we've seen with apps such as iQIYI and Tencent Video.
We have also seen expansion by over-the-top (OTT) traditional cable alternatives such as Sling TV add channels well as more affordable specialized on-demand offerings, such as NBCUniversal's comedy app Seeso. The availability of such apps on TVs as well as the easing of authentication via measures such as single sign-on should strengthen the role of apps for video entertainment.
Music Apps Will Pick Up Revenue Lost to Piracy
Unlike streaming video, which has been greatly facilitated recently by faster 3G and 4G networks, streaming audio has long been well-suited to mobile apps. Pandora Radio, for example, which launched shortly after the iOS App Store in 2008, has been a longstanding driver of mobile revenue. It is the fourth highest revenue-generating app of all time on Google Play.
App Annie expects music streaming apps — which already account for the majority of top 10 Music & Audio apps for Android phones by MAU in countries such as the US, UK, Japan and Brazil — to continue to drive usage and revenue. Already revenue for the top 10 music streaming apps in 2015 was about 2.2x what it was in 2014. And in 2016, we've seen that music services, like video services, can use the power of exclusives to drive downloads and revenue.
In both emerging and mature economies, we expect the relative affordability of music services and the ubiquity of access that mobile apps provide to lower the incentive for music piracy. In addition, the more modest bandwidth demands of streaming music, which helped it gain momentum in the early days of app stores, should again prove advantageous in markets with evolving cellular networks.
Many entertainment apps that have driven revenue in their current markets face great international expansion opportunities. Netflix, for example, launched in the iOS App Store in 2010 and has service available in over 190 countries. But HBO NOW, which launched last year, is currently available only in the US even though HBO's international pay-TV service is available in over 50 countries. The coming years will allow for more immersive mobile video experiences such as those Google showed were possible with Daydream at its developers' conference.
Forecast Intelligence enables the entertainment leaders of today and tomorrow to scale investments in line with download and revenue development in 60 countries, benchmark performance and growth projections against those of competitors at large, and get a true picture of market opportunity across app stores, including third-party app stores in China, with App Annie-developed categories. Learn more by contacting your account manager or requesting a demo.
Build a Better App Business
Subscribe to see more app industry reports, conference updates and guides. Have something to add? Share your questions and comments on Twitter.
Want to take your app business to the next level? Create a free account to dive deeper into Store Stats or request an Intelligence demo.