Visually striking IQ views with improved navigation coupled with NEW IQ classification and compare options gives you the power to beat the competition
Apps are not a 'cookie cutter', one-size-fits-all proposition.  To be successful, you need to quickly figure out how you stack up against the competition in your own space.  Not every Card Game is the same, nor are Lifestyle apps all the same.
That's where GameIQ and AppIQ, the world's most comprehensive digital taxonomy for mobile apps, fit in when figuring out your strategy for winning. Over the last couple of months we introduced additional ways to explore market reports by secondary genres or subgenres, offering more nuanced app classifications so you can focus on what matters to you.  For example, the recently released App IQ provides a deep and robust taxonomy (19 genres / 152 subgenres) with granular insights into competitive features.
IQs Home Page got the WOW Factor
If you have been winning with data.ai IQ  products, you'll now notice a brand new IQ(s) homepage featuring  an easy on the eyes color palette for enhanced accessibility as well as  simplified navigation, easy toggle between genres/subgenres and feature tags, improved list view and direct linking to all reports with IQ integration.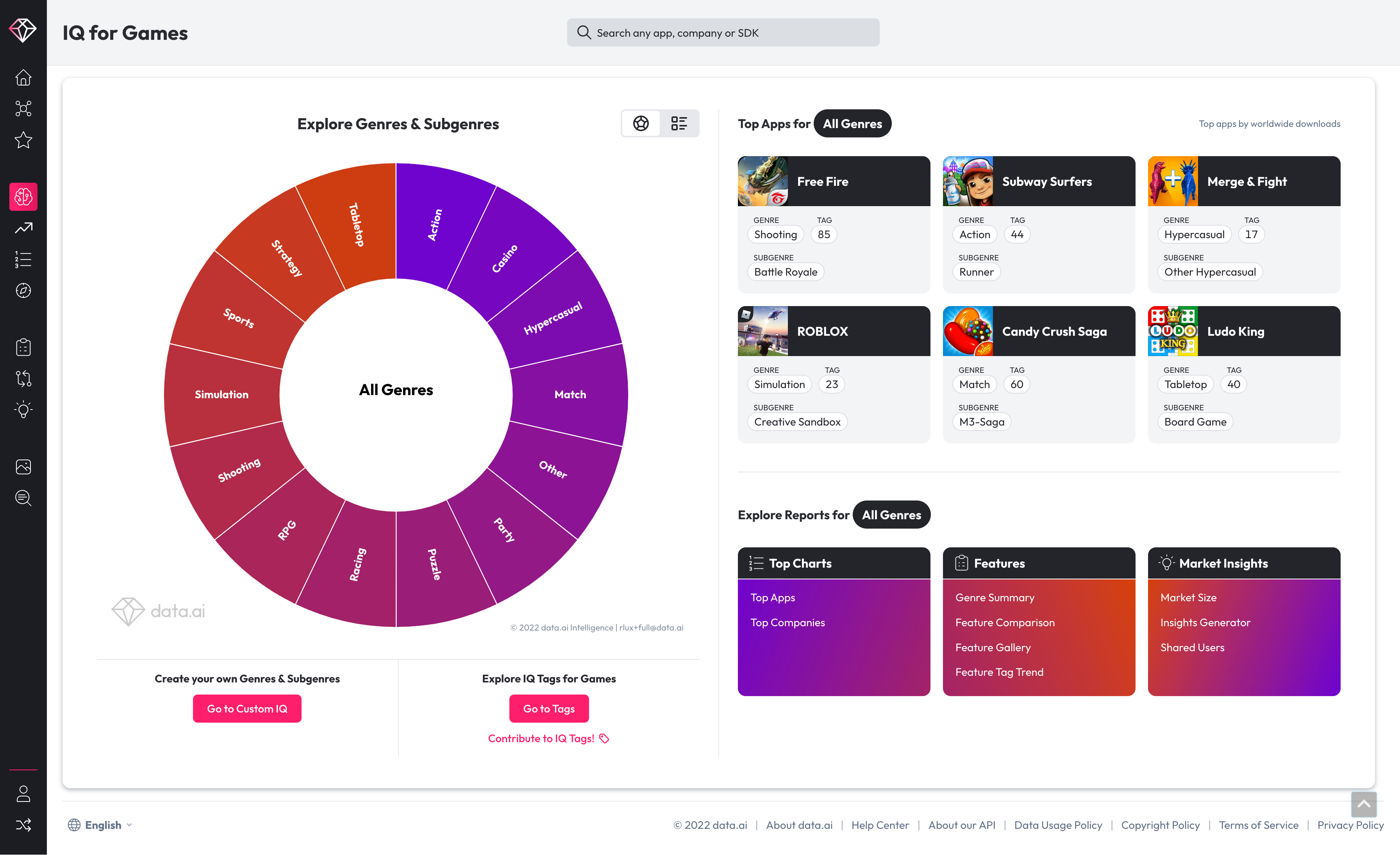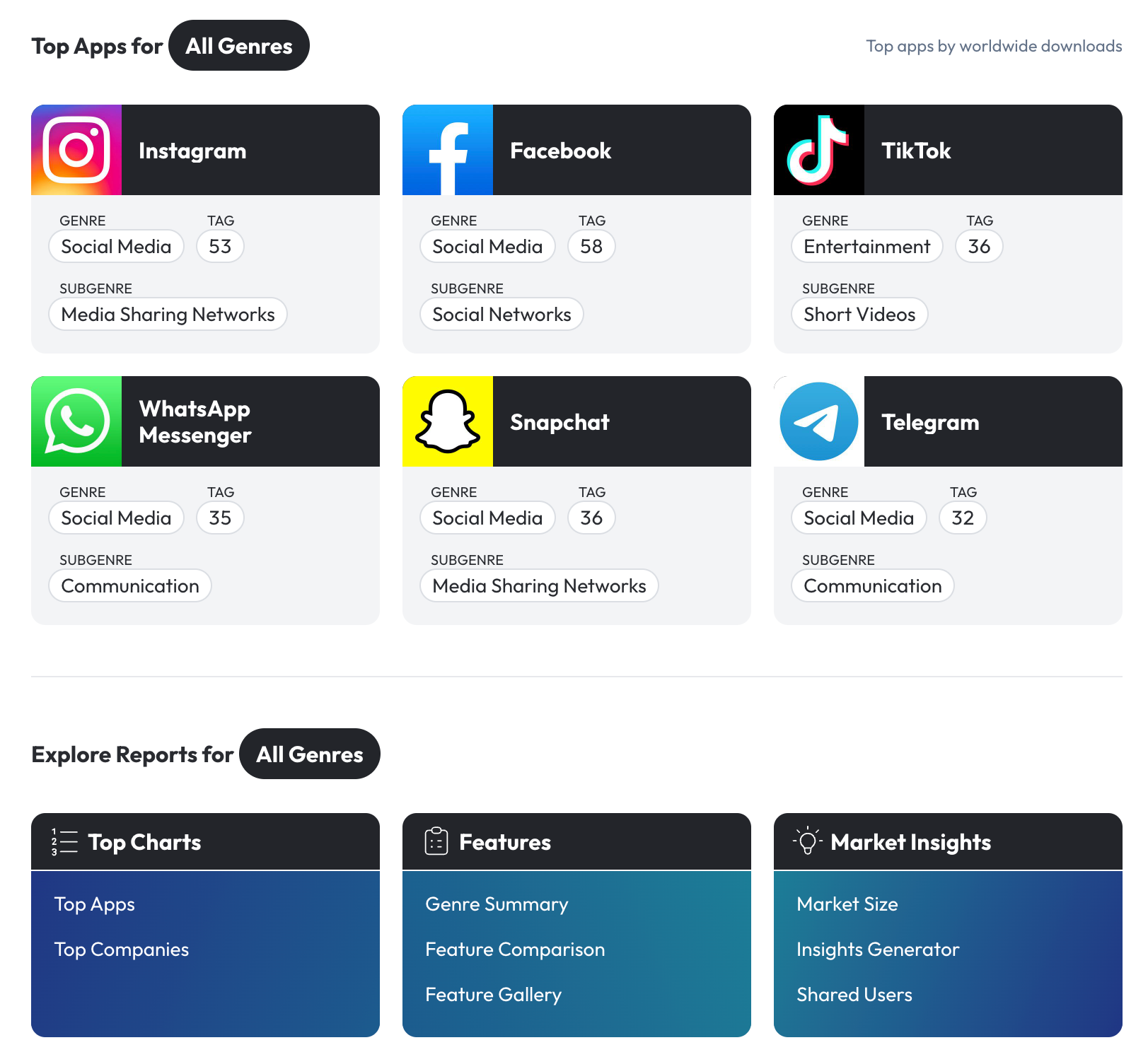 Drill Down with More Options and Ease
Starting this month we added the ability to filter by secondary genre/subgenre, with support for Any/All matching; implemented on all reports that support filtering by genre/subgenre.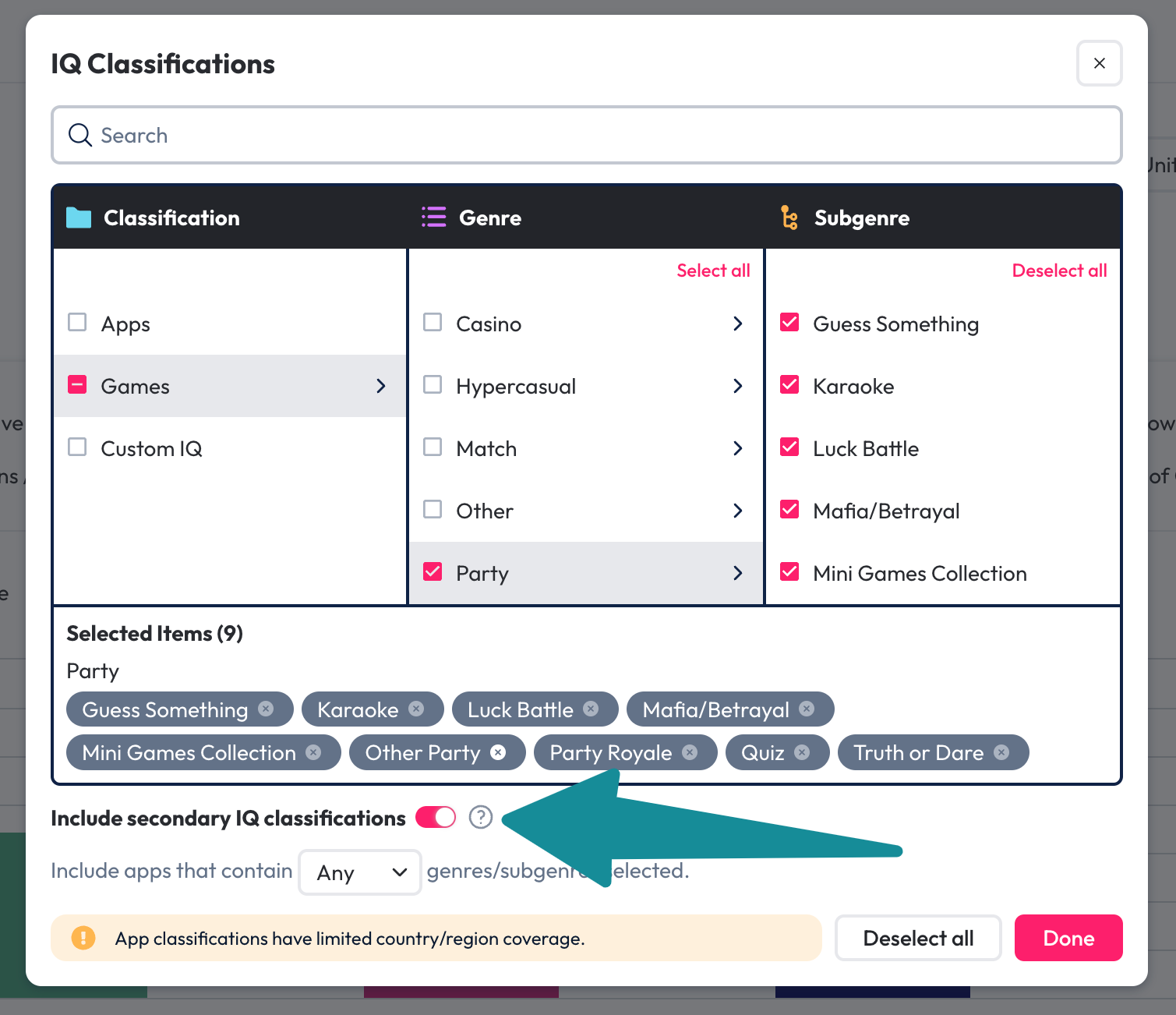 Take a Finer Look at the Market Secondary Classification
On the Market Size and Insight Generator report, you now have the flexibility to add apps' secondary classifications to genre/subgenre breakdown.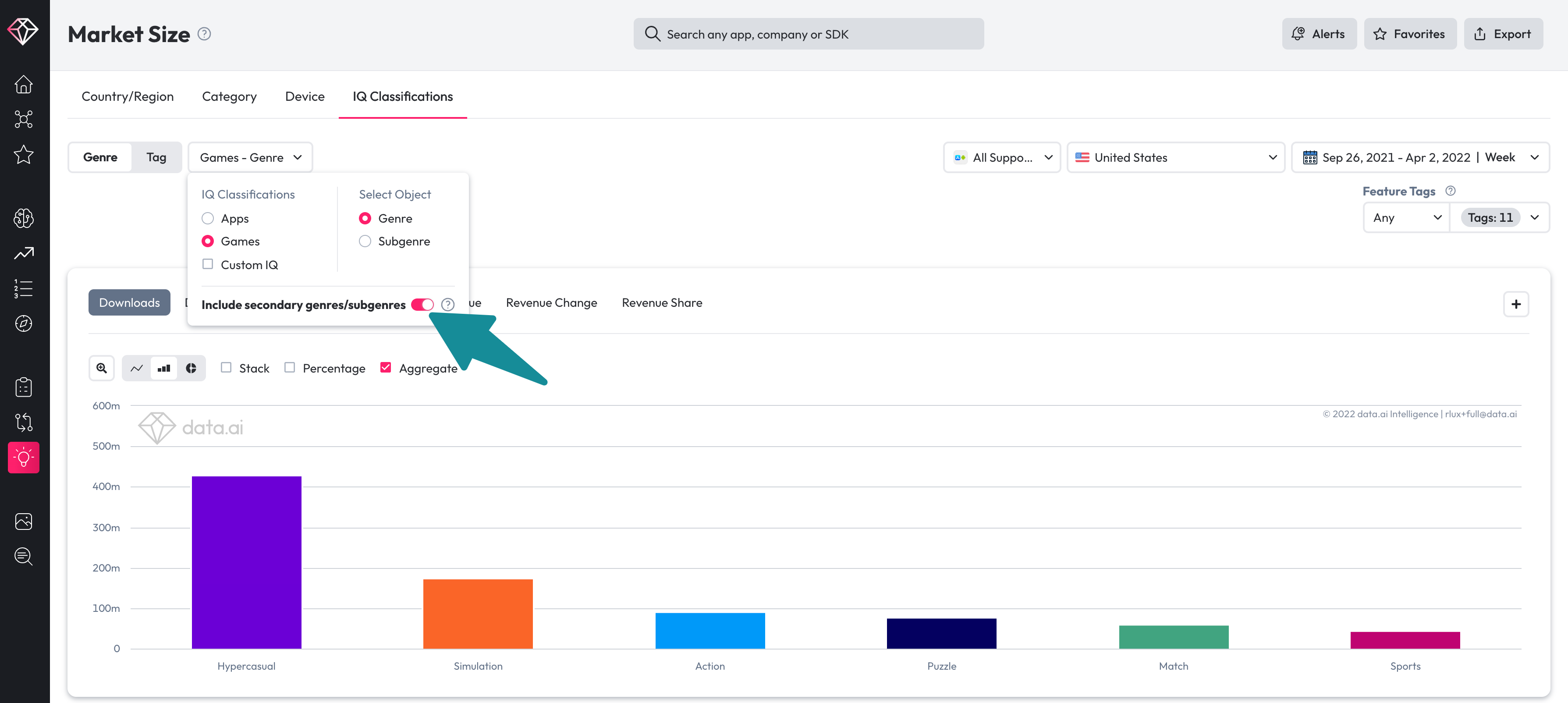 There's more!  and now more options to compare apps
App Groups can now be used in the Feature Comparison report. The Feature Comparison report is based on App-tagging which is exclusive to the IQ product line. App Groups allow you to build your own compare report so you can keep an eye on other apps in your category at one go. With IQ data you can create more relevant compare views.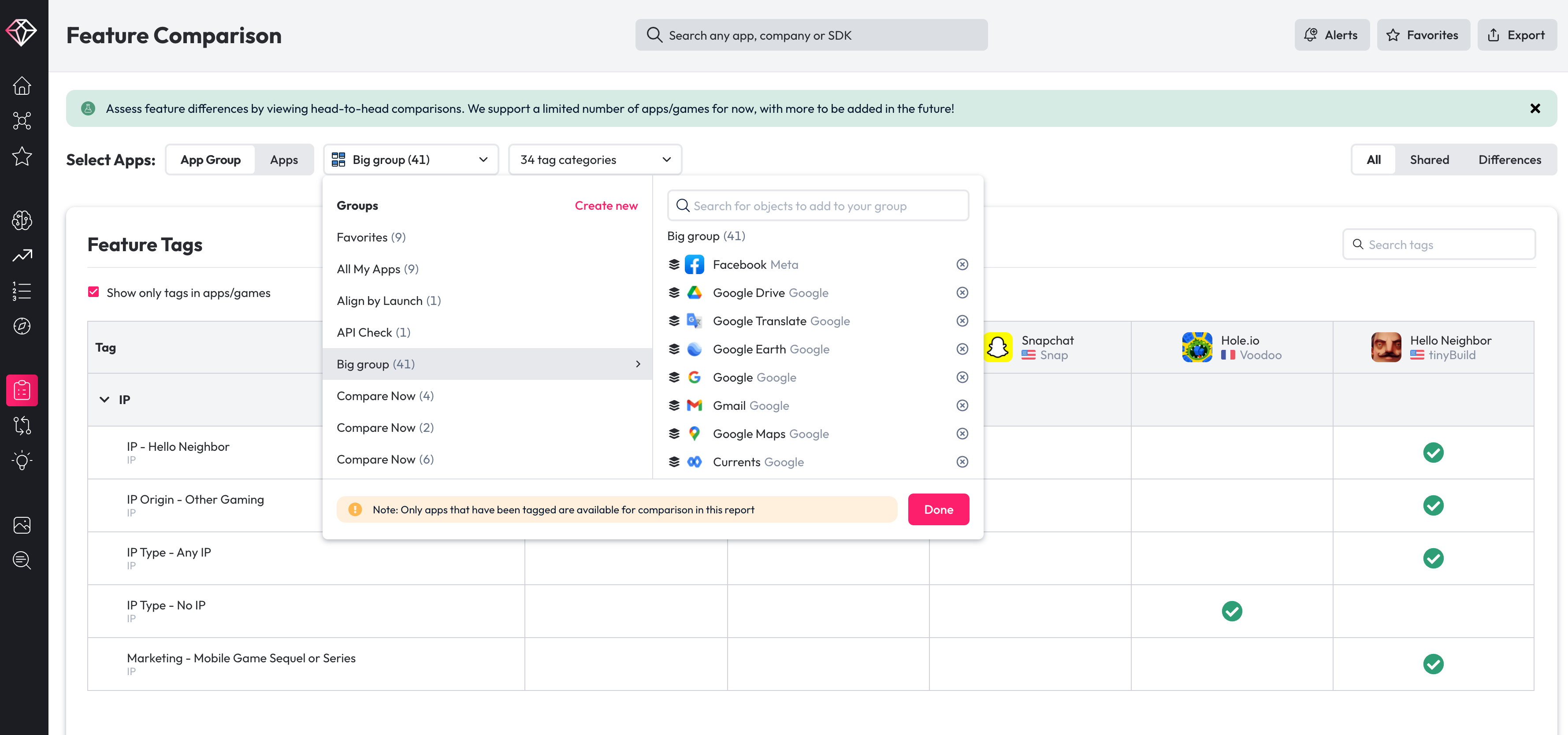 Genre insights at glance
In the Genre Summary report, you can now see Revenue Per Download (RPD) in the summary bar broken down by Genre/Subgenre and Engagement Metrics.
You can view the RPD on the summary bar at the top of the report to better understand the genre performance. The sparkline underneath also gives a quick insight into the trend.
We have added The Engagement Metrics, a new chart section, providing you an impression of the average engagement for this genre, when you select avg time/user.
In the example below you can see that Average RPD is going down while the user engagement is going up.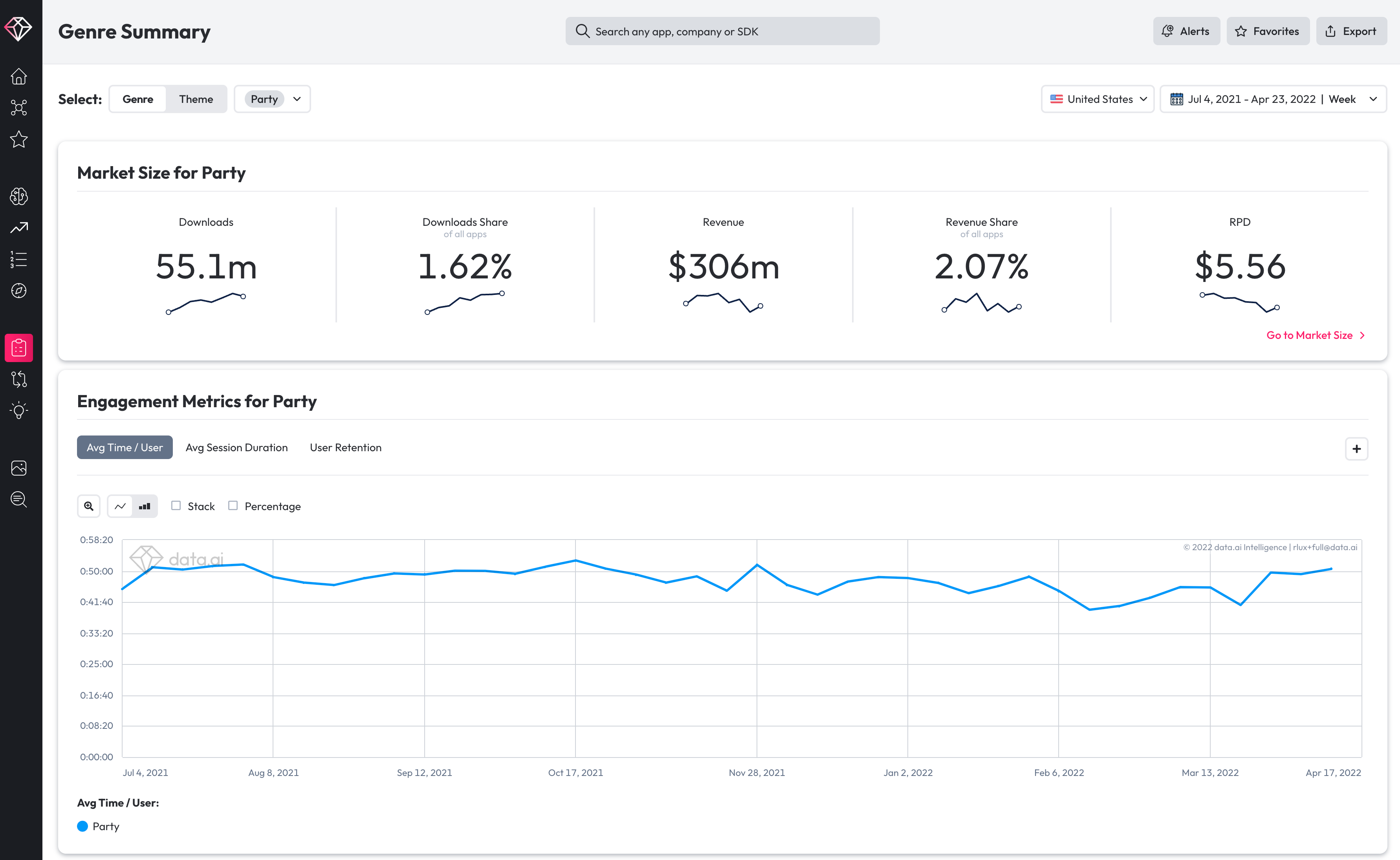 With the world's most comprehensive digital taxonomy for mobile apps at your service, you can focus on the most important features that move the needle in your category.
Feature Tags for deep Vertical analysis
Feature tags enable you to quickly compare features implemented by different apps. We do the hard work of tagging apps, so you can focus on the analysis to drive business actions. Feature tags are available for apps in genres Shopping, Media and Entertainment, Finance, Travel with new verticals coming soon.
We are geeking out over the world of possibilities a fine tuned app taxonomy offers. Hope you will too.
You can visit the help pages to watch a quick video of the product. 
Illuminate the Digital Landscape Today with data.ai App IQ
Request a demo today to uncover how data.ai App IQ illuminates the digital landscape and helps you identify new opportunities and maximize growth: