Lion Studios' Army Commander may be a hypercasual game, but it has much in common with militaristic 'core' titles. Is this the key to its extraordinary success?
Anyone who's been paying attention to mobile gaming for the last five years will know about the huge impact of hypercasual titles on the space. Just a few weeks ago, we unveiled research which confirmed that mobile now generates 60% of total global gaming spend. This is 3.2x more than the revenue of the next largest form factor: home consoles.
The main reason for this is reach. When mobile gaming emerged, it removed all the traditional barriers that stopped people from playing: expensive hardware, expensive software, arcane gameplay traditions and so on. As a result, millions of people joined in for the first time.
As we described on the first part of this Gaming Deep Dive, when hypercasual exploded in the later half of 2017 it dismantled any remaining hurdles. A consumer could download a hypercasual game for free and the game mechanics were so obvious that he or she could be playing in seconds.
As the hypercasual universe grew, it splintered into multiple sub-genres. Last year, action was the biggest. It alone generated 4 billion downloads out of a total 15 billion. Action would appear to be a vibrant place to be. But within it are there underserved areas that are ripe for growth?
We think there might be – and that this might help to explain the blockbuster success of Lion Studio's Army Commander over the last quarter.
War - Modern Military: the Uncut Gem of Hypercasual?
Army Commander sits within the "War - Modern Military' hypercasual subgenre, which accounts for just 3% of all hypercasual games analyzed. We know that across all gaming categories (not just hypercasual) military-themed titles perform outstandingly well. These 'core' battle titles attract a dedicated audience that stay loyal to the same franchises for years.
Look at the stats for 2021. Military game Free Fire, published by Singapore's Garena, was the most downloaded mobile game in the world.
What we can see from our latest data is that Army Commander has busted out of its hypercasual framework and is now competing head to head against titles like Free Fire. If we look at the United States Top 10 "War - Modern Military" Games By Mobile Active Users chart for May 2022, Army Commander sits at #5. The only games with more MAUs are Sniper 3D Assassin, Fire Fire, PUBG MOBILE and Call of Duty: Mobile. In fact, in the United Kingdom, Army Commander sits at #2 for the month of May 2022.
This is no accident. Lion Studios' appears to have marketed Army Commander to appeal to a core audience as much as a hypercasual one. For example, it has launched promotional videos, which show popular game streamers playing the game. This is a tactic that the publishers of core games frequently use.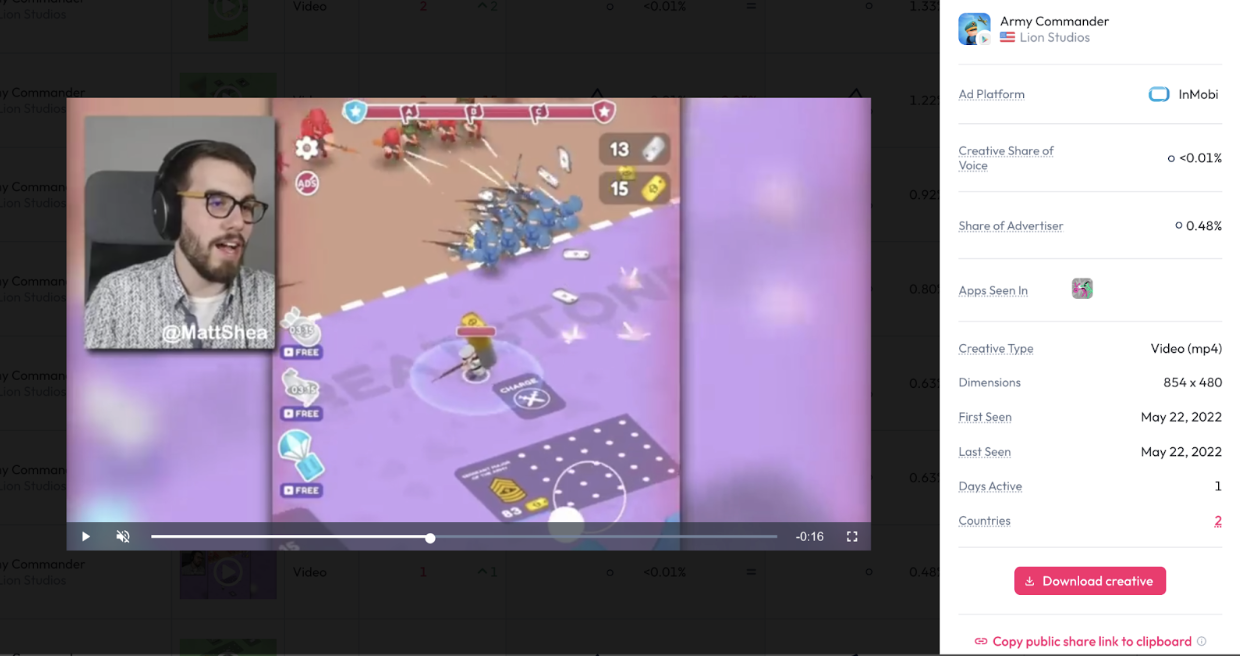 Army Commander leveraged video ads to drive adoption, as seen in one of the Video Creatives for Army Commander, United States, Android Phone May 2022
And it has obviously worked. Army Commander was released in February 2022 in over 175 markets and has since been downloaded around 24.1 million times. It has also made its way up to the 5th breakout game by month-over-month consumer spend growth in March 2022 among games with the same theme/ settings, which is typically dominated by other core genres. Its success proves there is still room for innovation for hypercasual – and that there remain under-served niches even in the most over-crowded spaces.
Looking for More Mobile Gaming Insights?
Sign up here to claim a copy of data.ai's industry-leading IDC Gaming Report 2022:
Looking to make more of the mobile opportunity? Talk to an expert today.
DISCLAIMER: 
data.ai is a mobile market estimate service provider. data.ai is not registered in any investment advisory capacity in any jurisdiction globally, and does not offer any legal, financial, investment or business advice. Nothing contained in this communication, or in any data.ai products, services, communications, or other offerings, should be construed as an offer, recommendation, or solicitation to buy or sell any security or investment, or to make any investment decisions. Any reference to past or potential performance is not, and should not, be construed as a recommendation or as a guarantee of any specific outcome. You should always consult your own professional legal, financial, investment and business advisors. Additionally, by providing the information herein, data.ai does not make any representations or warranties and does not undertake any legal or contractual obligations whatsoever. No liability may accrue to data.ai as a result of providing this information to you.