Retail banks in Europe are utilizing mobile to attract and retain customers. See which demographics and markets are driving demand.
Mobile banking is carving out its own space in the app economy. Now more than ever, European consumers are turning to smartphones for their banking needs. For instance, the United Kingdom and France saw more than 2x as many sessions in the top 10 retail banking apps by monthly active users (MAU) in H1 2016 compared with the same time period in 2014. Germany saw this number more than triple.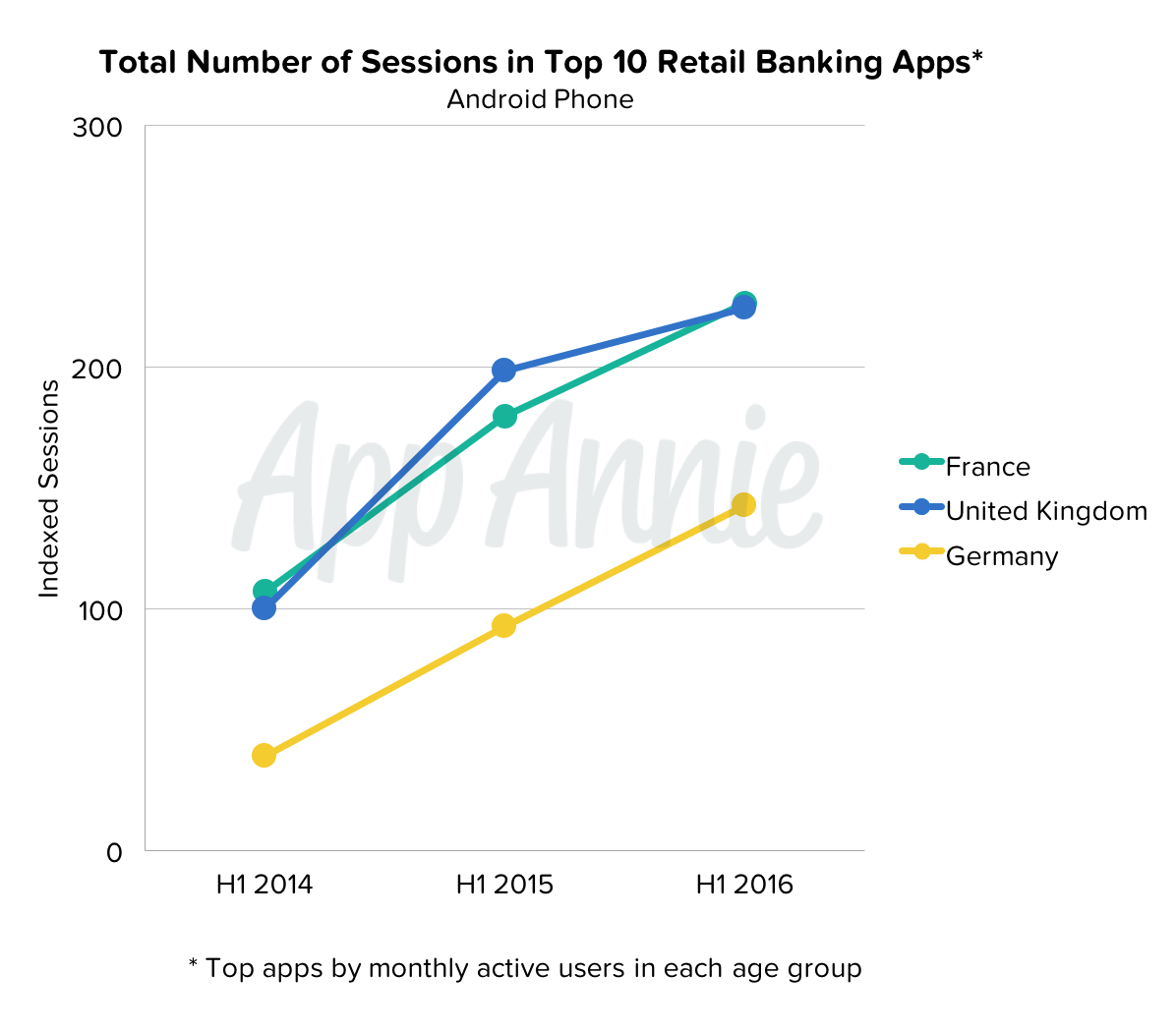 As our CEO, Bertrand Schmitt, pointed out, the financial services industry must embrace apps and adapt to shifting consumer expectations, or face the consequences.
While current use cases for mobile banking are strongly established — Lloyds estimates 60% of mobile banking usage comes from customers simply checking balances and statements — there's a clear opportunity in markets like France and Germany to build on this behavior and grow engagement.
But publishers must take into account generational differences and preferences among mobile banking users. Across Europe, 25–44 year olds use retail banking apps the most, with users older than 45 in the UK accessing these apps 85% less often per week (a large contrast to Germany and France). The over-45 demographic in the UK could represent an untapped market that mobile banking apps could target to boost adoption and usage.
Many retail banks across Europe have heard the call: adapt or else. These banks have realized that an investment in mobile technology can improve the customer experience and reduce churn.
It's an exciting time for retail banks. Download our complimentary report, Retail Banking Apps in Europe, to learn about key trends and opportunities, and learn best practices in creating a successful retail banking app.
To get the full report, click the download button below:
Looking for More?