Growing your app isn't easy, even for powerhouses like Pinterest. See how it's tackling international expansion with usage insights and user feedback.
Launched in 2010, Pinterest went from being one of the world's most popular sites to one of the world's top apps, ranking within the top five on iOS's Social Networking category in over 30 countries. Translating the success of a site's success to mobile is no easy feat. In Pinterest's case, it was the result of two things: mobile becoming the first screen and an intentional push to drive people to use Pinterest on their mobile devices.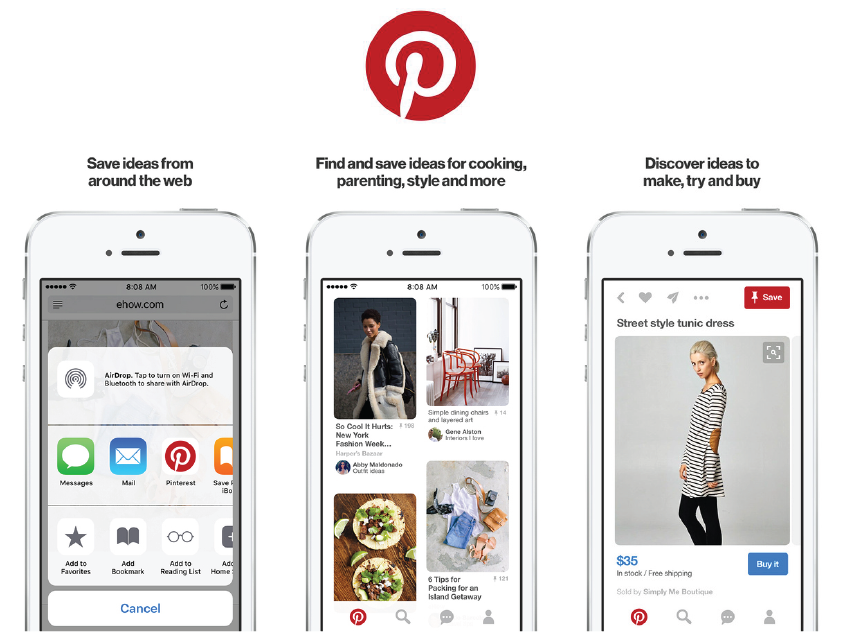 To get more app users, the Pinterest team needed a clear idea of who their mobile users are, their app usage habits, and a way to measure efforts. As the company doubled down on international growth, the team realized they needed demographic and behavioral insights. That's when Pinterest looked to App Annie to gain insight into both current and prospective users around the world.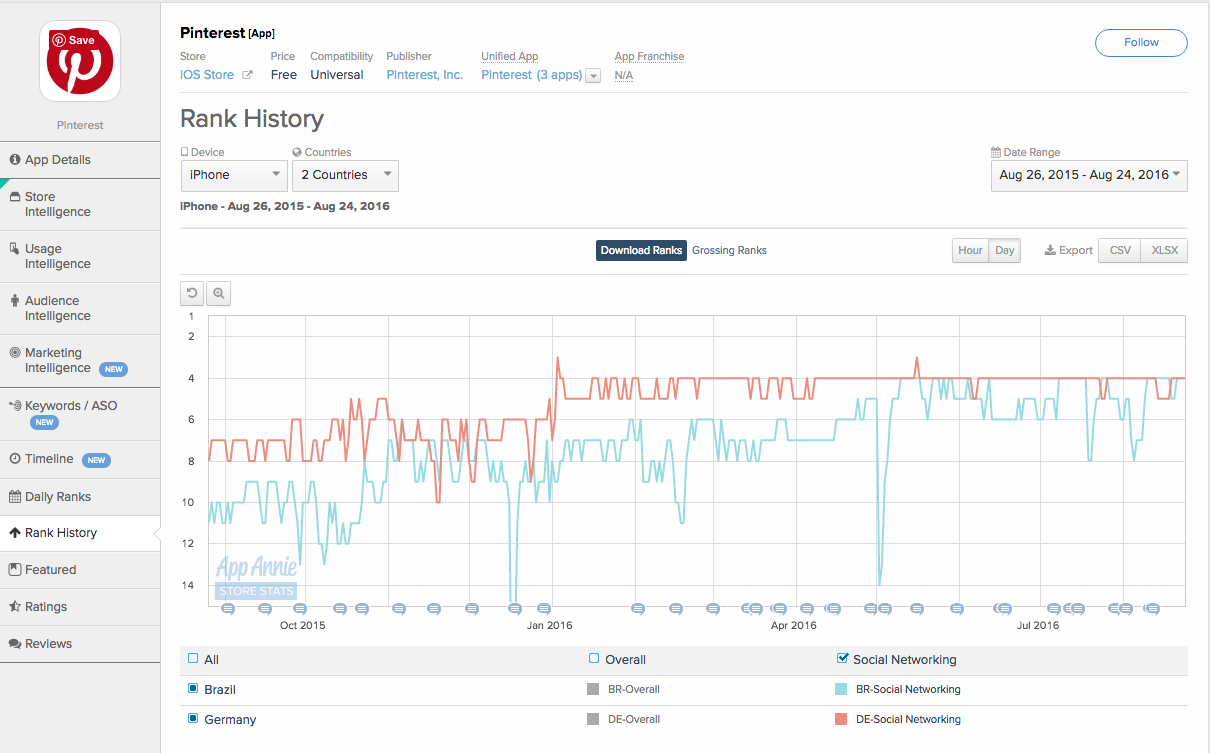 Pinterest has seen steady progress in the Social Networking category in Brazil and Germany.
Going International Requires Insight
In Pinterest's case, they were able to identify the markets they wanted to move into and, like best-in-class app publishers, understood the importance of localizing the whole experience, not just cosmetic elements like the Pinterest Save button. But in order to grow more quickly, they needed to tap into local user insights at scale by answering two important questions:
What other apps do current Pinterest users also use? For example, whereas US Pinterest users (on iPhone) are more likely to use

Etsy

, UK users are more likely to use

ASOS

. This insight into cross-app usage can be used to inform critical development strategies, such as app design and content partnerships.

What are the relevant benchmarks for these new markets?

Pinterest evaluates

engagement and retention metrics

for related apps and benchmarks against them.
App Annie Usage Intelligence answers both of these questions for app markets around the world.
Omar Seyal, Head of Growth at Pinterest, sat down with us to explain how his team uses App Annie to identify and get insights into new target markets and ultimately create their expansion strategies.
Omar's team found they needed information beyond common app metrics such as DAU and to develop their growth plan. The team realized that evaluating time spent in-app across their competitive app set revealed more insight since users spend upwards of an hour searching for and collecting things each week. With this new benchmark, they could see how interacting with their app relative to their competitors.
"By using App Annie, we've come to realize that overall, Pinterest users spend more time per week in our app compared to others. So the market DAU-to-WAU ratio isn't the best metric to use to compare ourselves to the market, as Pinterest isn't the type of app you come to every day for a minute — it's the type of app you come to twice a week for an hour."
–Omar Seyal, Head of Growth at Pinterest
The Virtuous Cycle: Good Reviews Drive More Downloads
App store optimization (ASO) — and humans in general — prefer high-quality things. On the app stores, the closest proxy to quality is an app's rating. Apps with four- or five-star ratings fare much better than those with two or three stars. These ratings can be accompanied by reviews, and not monitoring these closely early on can lead to disaster when entering new markets.
There are two key benefits to striving for high ratings (beyond keeping existing users happy):
Potential users have a higher incentive to download. (If you've ever shopped online, you know just how powerful a high rating can be when comparing items.)

You increase your chances of improving search visibility, which in turn can drive organic discoverability and installs.
This results in more downloads, which begins the virtuous cycle. But the cycle works both ways — and can be negative if reviews go unaddressed.
"It's important to be able to care about ratings on a micro level. With App Annie, we're able to segment our ratings and reviews by each market, which allows us to identify the app improvements we need to make within each country, helping us to increase our ranking over time."
–Omar Seyal, Head of Growth at Pinterest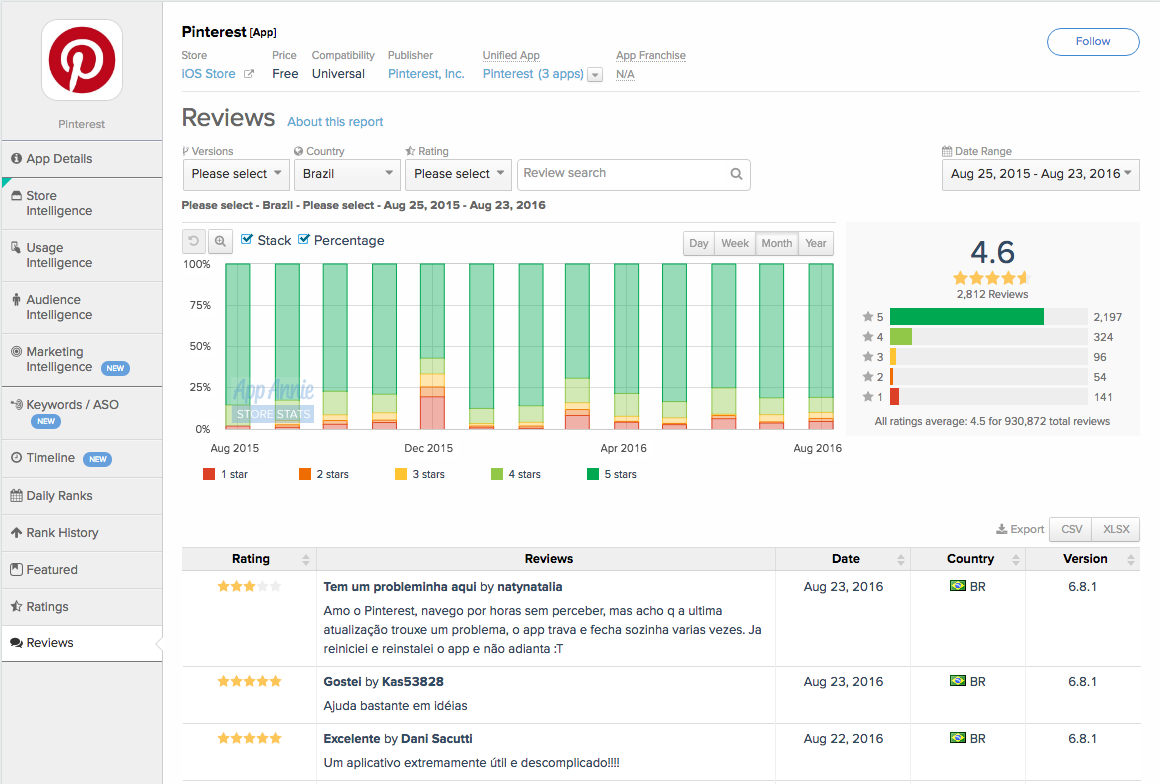 Don't just look at the star count. Ratings often come with reviews, which hold critical feedback from local users. Dig into why users that gave lower ratings to improve retention.
As Pinterest expanded into new markets, Omar's team dug into negative reviews and ratings and took immediate corrective action. With App Annie's Reviews feature, they segmented reviews from each target market and addressed them on a micro level. Using ratings and reviews, they were able to better understand how to improve Pinterest across multiple countries by understanding real user feedback and rapidly taking corrective action.
Keeping a pulse on what users are saying in each market makes you a strong competitor. In a world where there are millions of apps competing for space on users' phones, the highest quality apps will prevail.
Build a Better App Business
Learn how to perform analyses like this and deepen your understanding of the app market. Request a free demo of App Annie Intelligence.