Mobile games are a growing genre. But as people raised on AAA-quality console games start to transition to the small screen, they bring their high expectations with them. As recent criticism shows, many console-turned-mobile gamers are dissatisfied with casual mobile gaming.
Enter midcore gaming: games that offer a more in-depth experience than a casual game, yet aren't as time-consuming as a hardcore game. Nor are these games tied to a specific platform. A classic example of a midcore game is Clash of Clans, which you can access through a smartphone, while offering a deeper level of gaming sophistication that's way beyond, say, Candy Crush.
Localization can boost sales (or downloads) for any kind of game. With midcore games, however, making your game multilingual is especially important. That's because, unlike casual games, midcore requires more depth, nuance, and textual content so players can fully grasp your game.
Your users are going to want to play in their preferred language. For the majority of the world's gamers, that language is something other than English.
HonorBound: A Case Study
Consider HonorBound, an role-playing game (RPG) available for iOS, Android and Kindle Fire. JuiceBox Games, the creator of HonorBound, was founded by ex-Zynga employees and specializes in creating midcore games.
HonorBound has been a big seller — it's racked up more than five million downloads after being on the market less than a year. Most of its success comes from building a great game. But HonorBound's growth has been helped along by a smart, aggressive push into localization — one that turned HonorBound into a global competitor.
Localizing HonorBound
Understanding that localization can spell success for midcore games, JuiceBox Games decided early on to localize HonorBound. And as a localization startup that tailors our work to games and mobile apps, we were excited to help. Together, we localized HonorBound into eight languages: French, German, Turkish, Spanish, Brazilian Portuguese, Italian, Russian and Japanese.
To support HonorBound, we put together a translation guide that was tailor-made for the game, helped JuiceBox Games build a translation glossary, and suggested which typeface to use for the always-tricky localization into Japanese.
Local Rankings Skyrocket After Localization
On October 8, 2014, HonorBound released localized versions of its game in all but one of those languages (Japanese was delayed a bit). Here is localization's impact in action: Before the release, HonorBound ranked in the general game categories on the Apple App Store in just four of our targeted localization countries —France, Germany, Spain, and Russia.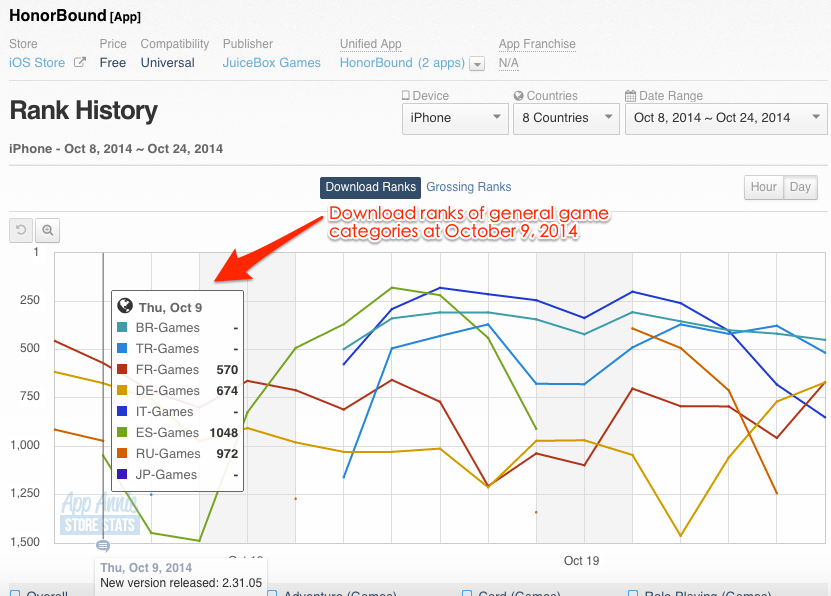 Two weeks after the global release, the ranking at almost all of the localized stores increased — especially in Turkey and Spain, where HonorBound experienced major gains. In Turkey, it wasn't even on the chart. After getting translated into Turkish, it hit #377.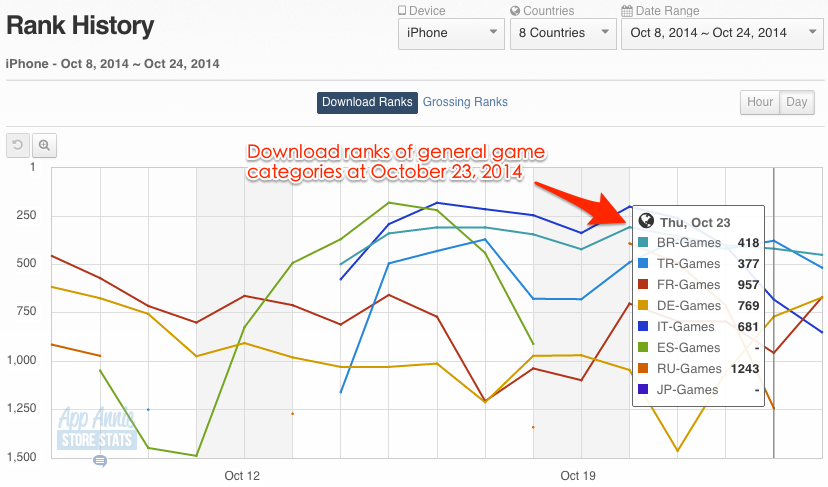 Finding the Spotlight: Featured 14x More in 2 Short Months
Before localization, the iOS App Store had featured HonorBound only 24 times. Among the target countries for localization, it had only been featured in Spain.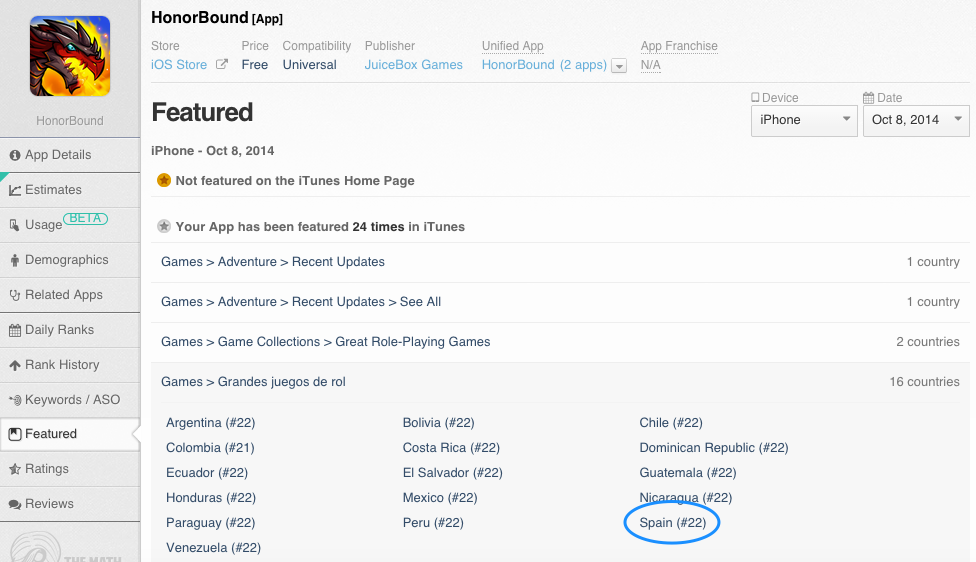 In the two months after the localization release, HonorBound was featured 340 times on the iOS App Store, a fourteen-fold increase. Just in that period, HonorBound was featured four times in Germany and three times in Russia, Turkey, and Spain. In every target country, iTunes featured HonorBound at least twice.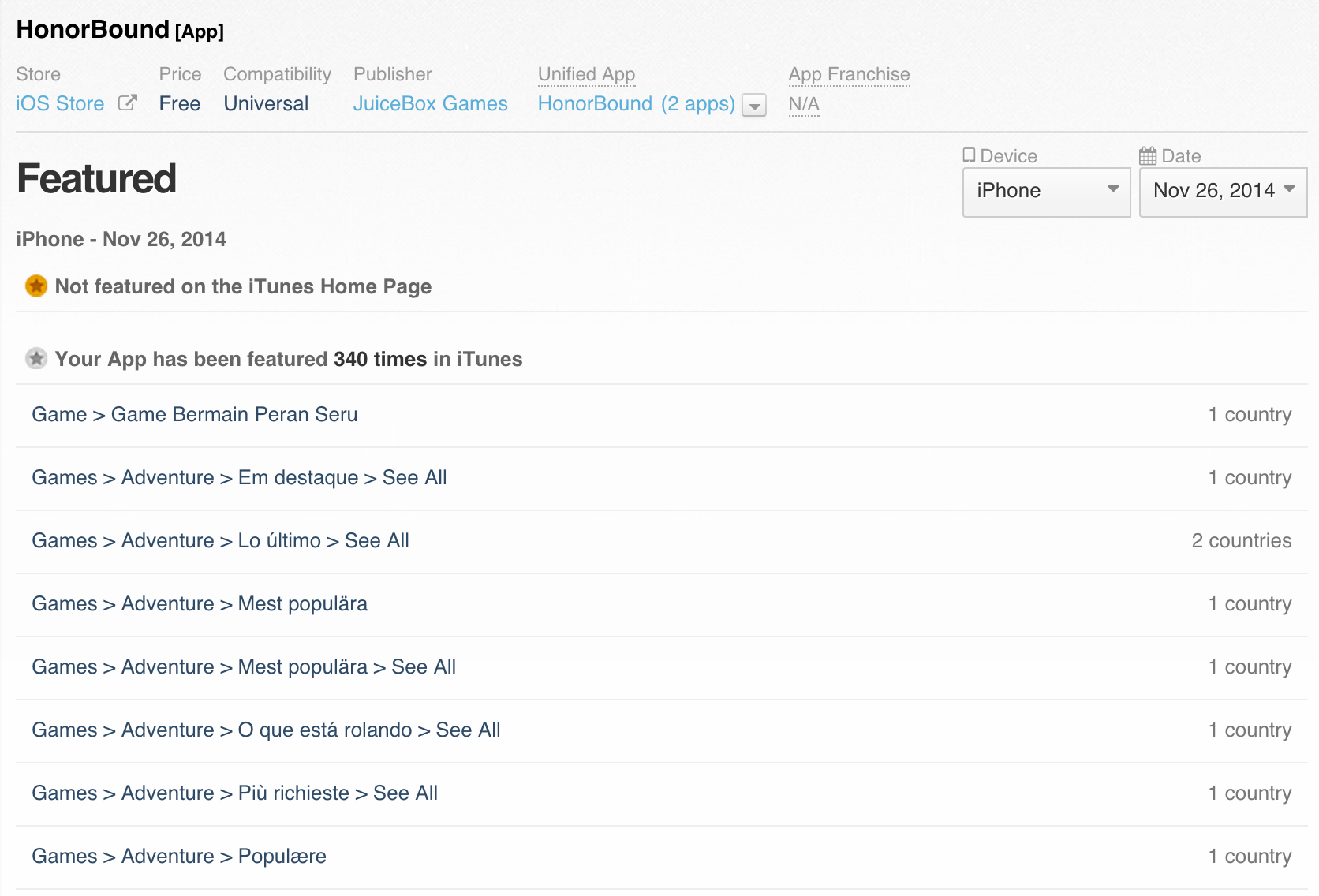 HonorBound Gamers Stick Around
People around the world aren't just downloading HonorBound – they're playing it a ton. According to JuiceBox Games, the average playing session time for HonorBound is 62 minutes per day.
So, What's the Hold Up?
HonorBound isn't alone in its a post-localization performance boost. For midcore game developers, localization is key for reaching a global audience. If you want to see the results of localization, now is the perfect time. Whether you're preparing for release or have been on the app store for months, the only way you can go wrong with localization is, well, not doing it at all.
Have you developed or marketed a midcore game? What results did you see? Tell us in the comments!
| | |
| --- | --- |
| | OneSky offers a cloud translation platform that helps mobile apps and games manage localization projects, access professional translators and crowdsource translations. Over 3,000 companies — including 500px, Intercom and QuizUp — have used OneSky to expand their global presence. |