Congratulations are in order to our customer, Ada, as they're recognized for its sophisticated use of AI as it aims to set a new standard for healthcare.
At Mobile World Congress yesterday, the GSMA announced the winners of its annual Global Mobile Awards (GLOMOs). Ada, the fast growing London and Berlin-based startup, beat fellow nominees to take home the award for the judges choice of 'Best overall mobile consumer innovation'.
Ada was up against the likes of Revolut, Nintendo, Tencent and Intermedia Labs for its recent success with HQ Trivia. However, it was the company's personal health guide app, which combines artificial intelligence (AI) with expertise from actual doctors to help people manage their health, which caught the judges' eyes.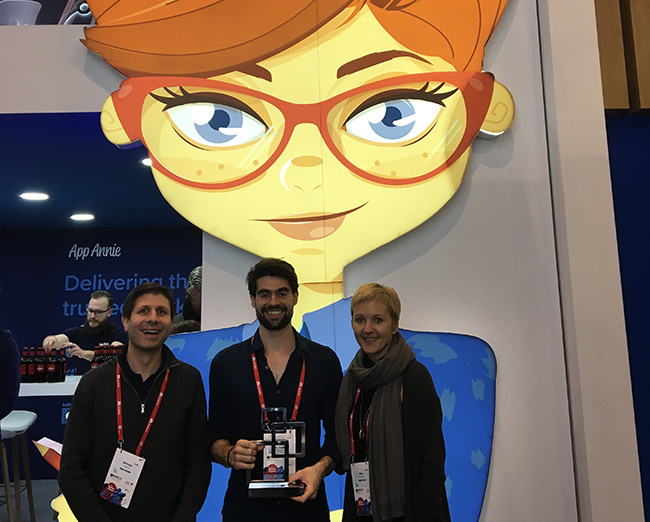 (Ada's Head of Marketing, Marvin Rottenberg, with his award, alongside App Annie's Bertrand Salord, Sr Marketing Director, EMEA and Silvia Buermann, App Annie's Territory Director for Central Europe)
From the outset the company has endeavored to bring a more patient-centric health advisory model to the masses. Since its launch in 2016, more than 2 million people have used its app. Diagnosing symptoms can be a complicated process, and Ada is one of very few companies that have made the task accessible through the conversational interface of their app.
While the Ada team will surely be celebrating their victory, they won't be resting on their laurels as they continue their efforts to achieve their goal of becoming the fastest growing medical app in the world.
App Annie is proud to have been chosen by Ada as their partner to help them continue their ambitious journey in mobile. A customer since Autumn 2017, Ada is using the App Annie platform to maintain and increase its speed of growth. The data in the platform is providing a faster and more comprehensive understanding of how mobile is changing the medical & healthcare markets, how Ada's competitors are performing and identifying which countries will provide their biggest source of growth potential.
Watch the video below to learn how App Annie is supporting Ada's mobile journey.