We're excited to announce our latest developer resource, Facebook Advertising: The Mobile App Marketer's Ultimate Starter Guide. This is your new Swiss Army Knife — make room in your toolbox.
Within this guide, we highlight the core aspects of Facebook mobile app marketing, explaining the process start-to-finish and detailing things like audience research, user targeting, ad optimization, and even tools to scale your operations so you won't slow down once things get running. (Inertia is important!)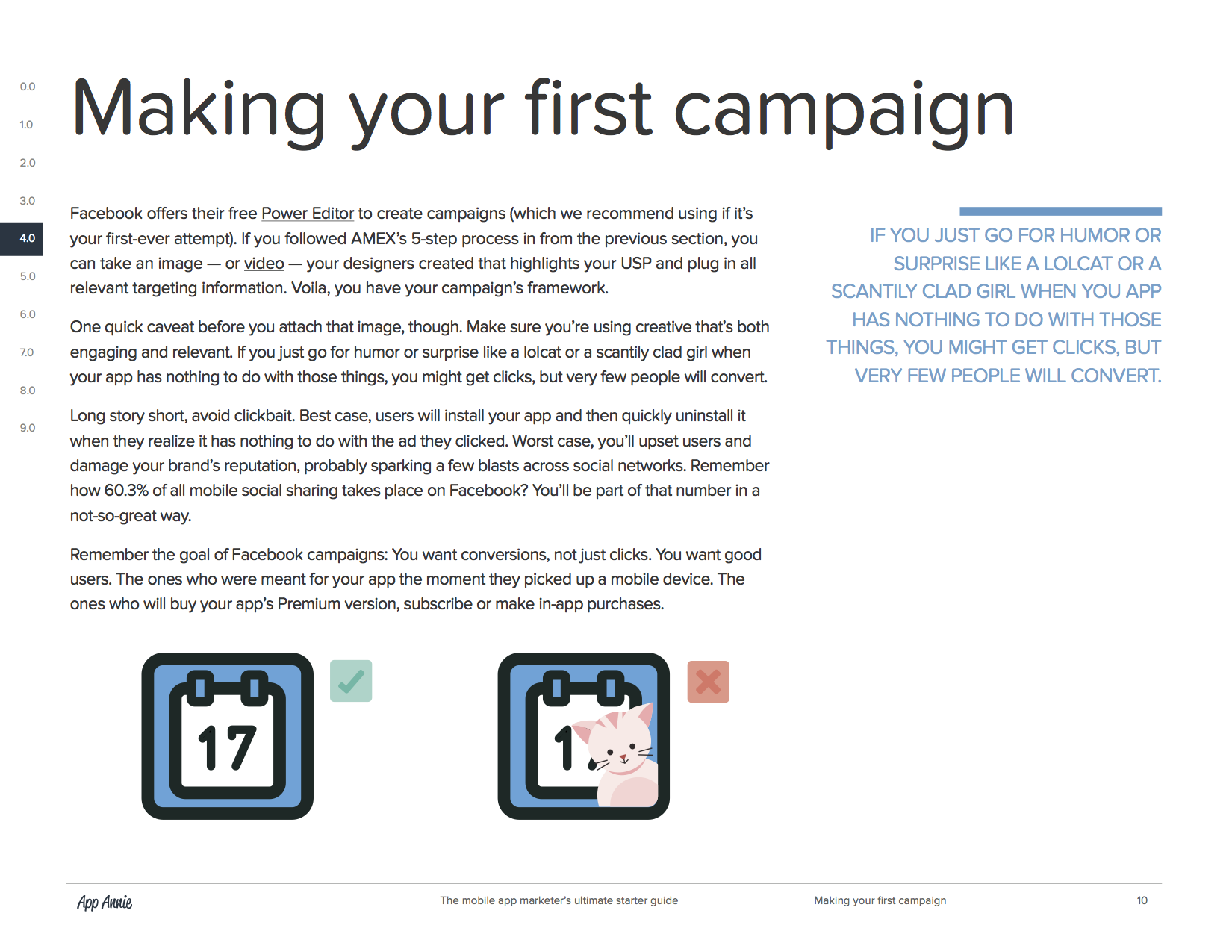 Don't know where to start when it comes to Facebook? We lay it all out in our guide.
While we designed this guide for app marketers dipping their toes in Facebook's deep waters for the first time, we made sure to include tips for long-time veterans, too. We brought in industry experts from Facebook, Adquant and more to get the most up-to-date advice and their take on what makes a great Facebook mobile ad campaign.
Whether you're setting up your first campaign or a Facebook ads veteran, this guide will tell you:
How to define your (crucial and often overlooked) Unique Selling Proposition to find your app's best users
What the 'one-second rule' is and why it should be your #1 concern when designing your ad
Tactics and tests you can put to use immediately to tweak your user funnel and optimize your ROI
The top professional tools (free and paid) that will scale your ad operations as you build out your campaigns
International expansion and APAC-specific tips that'll both increase your reach to billions of users and ensure your ads are market-appropriate
To gain access to this guide, click the download button below:
Ultimately, your goal is to get your app on peoples' devices and boost conversions. Our guide lays out the steps you need to take to make that happen. The name of the game is optimizing your ads' effectiveness while minimizing the impact on your budget, and there are tons of tweaks you can do to save your budget. It's all in this guide.
Want More? App Annie Has It
Don't miss a single app-related update. Subscribe to our blog to get more free app industry reports, conference updates and guides. We love hearing your opinions and ideas (hey, sometimes we overlook some key tips), so share your comments and questions below or on Twitter.