By Chad Mureta
Chad Mureta is author of App Empire and founder of three mobile application businesses that he sold for millions. He has spearheaded the development and marketing of over 60 apps, which have been downloaded over 50 million times worldwide. He's been featured on 60 Minutes, Tech Crunch, and The Four Hour Work Week. App Empire has been a proud customer of App Annie for over two years as Chad has worked with indie developers and small companies to position them as forerunners in the mobile app marketplace.
There are a multitude of ways to measure success in the app business, but for most developers, success in the marketplace begins with getting downloads. The best way to maximize downloads and start monetizing is with solid app marketing. How do you optimize your app marketing? Testing! It's the fastest way to get data that shows you the best tactics for bringing in, and then monetizing, downloads.
Testing for app marketing is different than in other industries, so you have to follow new rules to collect the best intel possible. In this guide I'll cover what types of app marketing to focus on and some fundamental rules to follow while conducting your tests.
Essentials of App Marketing
It's extremely rare for your app marketing to be optimized upon launch simply because there are not a lot of resources to test important features pre-launch (screenshots, marketing copy, icons, etc.). Without real customers giving you data, you won't know what sticks until you launch your app. You can speculate, but I can tell you from experience your app will not be perfect on launch day, so you need to be ready to make changes and updates in the following weeks. In order to understand what to change on your app, it's important to understand what's important in app marketing.
External Marketing:
Elements located on the "outside" of your app, such as screenshots, icon, and description.
Apps are extremely unique compared to other industries in that they are essentially their own advertisements and billboards. The vast majority of downloads come from finding apps through keyword searches on mobile devices' app marketplaces.
Your app has to sell itself instantly because there's not an initial landing page or website promoting your app -- just title, icon, and screenshots. You have about 3 seconds for your "external marketing" to intrigue people to tap on your app.
Since these elements are so crucial to your marketing, little changes make a huge difference in your app's performance. A simple icon swap can significantly spike your downloads or make a sale. Check out how one of my students went from #433 to #69 overall simply by changing their app icon.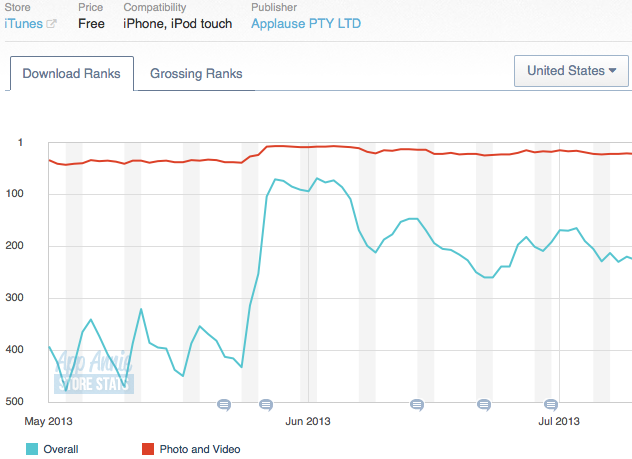 Instablend rank increase shown here on Store Stats
The reason they were able to jump the charts is because they understood the power of testing. They weren't seeing their desired conversion rate so they continually made little changes until they optimized their external marketing.

Instablend's progression to the top charts (final icon on the right).
Internal Marketing:
Elements "inside" your app, such as copy (nag screen, ads, titles, etc.), graphics, and funnels.
Market testing doesn't stop after the initial download. Especially with the rise of the freemium model, it's extremely important to test your internal marketing to convert into revenue through ads and IAPs. A simple change to your copy, graphics, or overall "flow" can mean the difference between a couple dollars a day versus thousands.

After adding the "Try This Treat" copy for the bonus button, it saw a 25% increase in click-throughs.
However, internal marketing takes the most strategic planning because it's not all about how something looks, it has a lot to do with buyer psychology. Sometimes simple changes works (like above), and other times it's about the combination of when, how, and what you present to a user. You have to think of your internal marketing as a funnel that your customer is being taken through. Will they buy an IAP 10 seconds into your app? Probably not, so don't prompt them before they're dedicated users.
Take a look at the
Top Charts and Top Grossing Charts
to study how these popular apps utilize buyer psychology to create a funnel that is non-invasive for users, but productive to the app's bottom line (whether that's acquiring users or making sales).
Optimize App Marketing with A/B Testing
With external and internal marketing in mind, now you must test these elements against each other to see what users will respond to most. The most powerful type of testing is A/B Testing (aka split-testing) because you're testing two different elements at the same time to see which performs better. Since the app market changes so quickly, this is the most effective way to
test your marketing
.
However, exact A/B testing isn't necessarily possible in app marketplaces because many platforms don't allow you to publish identical apps. Instead you have to use ninja tactics to recreate a testing environment by using two (or more) apps with similar demographics, or even free vs. pro versions. For example, using similar photo apps to test which nag screen copy prompts a sale more often, or what icon colors are most appealing to Photo & Video users. While testing with only one app is possible, the results might yield less conclusive data due to how quickly the marketplace changes. So here are four rules to follow when testing your app marketing.
1. Test One Element at a Time:
If you change your icon at the same time you change your screenshots, you won't really know what caused a change in downloads. Remember, it's about optimizing your marketing, so finding the best of each element. App Annie
Analytics
has a great custom event tracking feature to help you stay on top of changes that you make along the way. Mark all your changes so you can evaluate the results.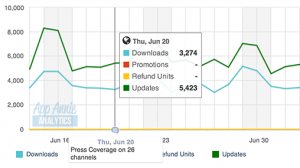 Here is an example of what even tracking looks like, you can learn more about this
here
2. Focus on Your External Marketing First (screenshots, icon, description):
External marketing is the most important marketing because without the initial download, no one will even see your internal marketing, so make sure to optimize your external marketing first. Remember to keep track of any changes you make.
Once you're generating downloads, you can use these customers to optimize your internal marketing to convert into revenue (especially if your app is free). For example, how are your IAPs converting? Would different copy, graphics, or pricing produce more revenue? I've seen dramatic increases in revenue simply by changing the color of a button that linked to my app's "store" or the title of an IAP.
3. Establish Your Market Before Building More Features:
Many developers assume that when they're not getting enough downloads, they need to change their app's features or add more interesting benefits. However, it's much more important to know that your marketing is converting to downloads even if your customer ends up leaving right away.
Of course you want to try and put your "best app forward" to start, but you need to make sure there is a market for your app before spending more time and money building out features. "Before you create any more 'great content', figure out how you are going to market it first," by Joe Pulizzi and Newt Barrett, authors of Get Content Get Customers.
4. Test, Measure and Repeat:
Testing is more than just changing marketing elements to find what increases downloads - its purpose is to provide insight into your customers behavior. The more you know about buying behavior and what appeals to your customer, the more you can build on top of your existing apps to meet that need. You'll find coming up with ideas will be much faster and production will increase exponentially.
As someone who mentors thousands of students, the distinguishing factor among successful developers are those with an extremely fast turn-around rate because they understand their time is money in the fast-paced app market. They don't get attached to their apps, instead they test every element and move with the market. That's why I wrote this free report with you in mind: Move FAST, Make More, 5 Steps to "Flip" Apps.
The data you collect from split-testing your marketing will significantly improve your apps and grow your network. Most importantly, don't forget to track your changes in! The custom event feature is a great, free way to stay on top of your changes. Setting up this system from day one is one of the most crucial aspects to growing your app empire.
If you're looking for further insights into the app world, be sure to review the monthly and quarterly App Annie Index. Also check out my previous guest blog post on Developer Central on How to Leverage Market Data to Make Hit Apps.
Thanks for reading!
Chad Mureta
App Empire