In the ruthlessly competitive app stores, the only direct line an app publisher has into their user's mindset are the reviews and ratings the app gets. Understanding that feedback is critical for improving your app users' experience and getting more positive reviews. Furthermore, people often look at reviews and ratings when deciding if they're going to download an app, and are much more willing to try an app that has positive feedback.
Realizing the importance that reviews and ratings can have for publishers, we've been hard at work to bring you an updated set of tools and features that lets you better understand your own reviews and ratings, and also delve into those of your competitors'.
Our reviews and ratings update brings you the ability to analyze reviews for all apps on iOS and Google Play. The new update offers:
A brand-new UI with easy-to-consume graphs and charts
Filtering options by country and date customization
Daily, weekly or monthly granularity for data sets
Keywords search feature that allows you to search through all reviews for keywords and phrases
Analytics users are able to take their apps' reviews and ratings data and export it into a CSV file to slice and dice it as they need. In short, this new update empowers you to not only harness the full power of your own reviews and ratings, but also dive right into the competition's.
Keep Your Reviews Close and Your Competitions' Closer
There are a number of insights you can get from data mining your competitors' reviews. For example, you can track the volume of your competitors' reviews and ratings and benchmark against your own, to see trends over time. You can also filter by country to see trends in reviews coming from specific countries. For more complex insights, you can dive deeper into competitor reviews and track things like, complaints and feature requests, which can be built into your own app's roadmap, allowing you to truly stay one step ahead of the competition.
Keyword Search for Reviews
Navigate through reviews with ease by using the new keyword search bar. Search for specific keywords or phrases through all existing reviews in a matter of seconds, without sifting through them manually. This feature helps you stay on top of the feedback your app is receiving. For example, if someone is reporting a crash at a specific level in your app, you can quickly search for the word "crash" to see how many people are reporting a similar issue. You can further refine this search to "crash on level 5" and see if your app is crashing for multiple people in the same spot. Alongside detecting bugs, you can search for keywords to see if specific features are getting a positive response.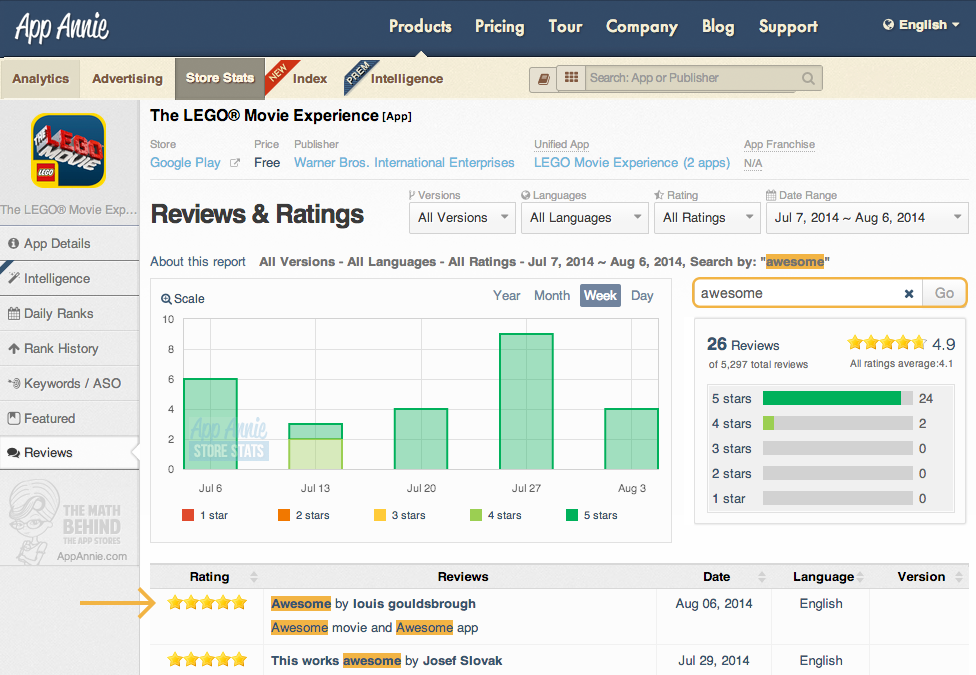 Hone in on specific keywords and phrases within reviews with the search bar.
Filter by Versions to See What Features Are Driving a Positive Response
Filter for specific versions to see which updates result in the largest number of positive ratings and reviews and get a better understanding of what features are making your app users happy. You can also use the version filter to see if specific incentivization tactics are successful. For example, if a version change has an incentivization for users to leave reviews, you can use the version filter to track the success of that specific update.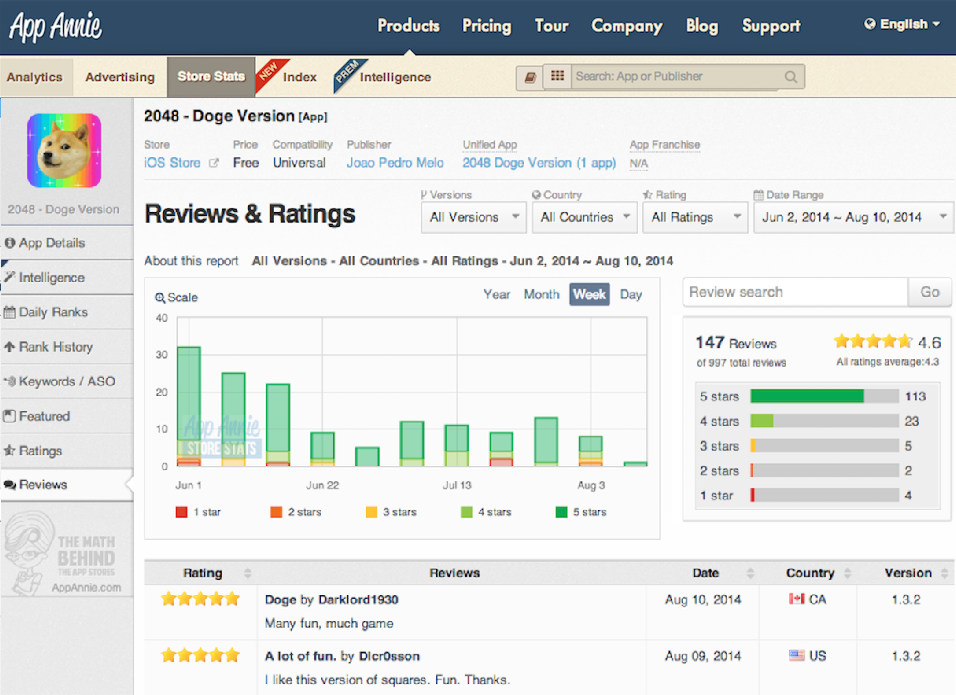 Dig into each version's reviews to see what users loved (or hated) about the update.
Know Which Country's Users Are Actively Engaged in Your App
See which countries are giving your app a boost by monitoring where your reviews are coming from. You can also use this data to determine if certain regions have specific preferences or feature requests that can feed into your localization strategy. If certain countries have low ratings or poor reviews, it can also be an indicator of the quality of your localization efforts or other factors, such as the device optimization of your app.
App Annie's Reviews and Ratings offers you these updates and more, allowing you to stay connected with your users and ahead of the competition. But hey, don't take our word for it, try it out yourself by checking out the reviews and ratings for Talking Tom Cat.