AppsFlyer shares best practices for measuring user lifetime value.
Marketing is critical to ensuring an app's success. With fierce competition, how can your app stand out among the dozens, hundreds or even thousands of apps that may not be that much different than yours? Amid rising media costs, there are only so many users that can be acquired.
Measuring your average app user's lifetime value (LTV), will show exactly how much you can afford to spend while still remaining ROI positive. There are several ways to calculate LTV, but regardless of which formula you choose, first you'll need to separately measure:
Incoming revenue
User retention
Organic traffic
Focusing on these three metrics will put you in an ideal position to maximize your LTV and ultimately your bottom-line ROI.
Once you've defined these, a good place to start is defining what to do and not do when measuring your LTV. Let's explore:
Do Measure Rich In-App Events.
Understanding what users are doing in-app is a crucial element of app marketing. In a space that shifted from focusing on installs to engagement, acquiring users is only one stage of the funnel. The ultimate goal is to acquire quality users who engage with an app and will eventually monetize.
Tracking an in-app event at a basic level will only scratch the surface of what can be gleaned from your data. Measuring standard revenue events will only tell you whether a purchase was made, but enriching the event by adding multiple parameters will provide more information (like who, when, where, what, for how much and how often). The following example clearly demonstrates how much more information can be discovered by diving deeper into the data: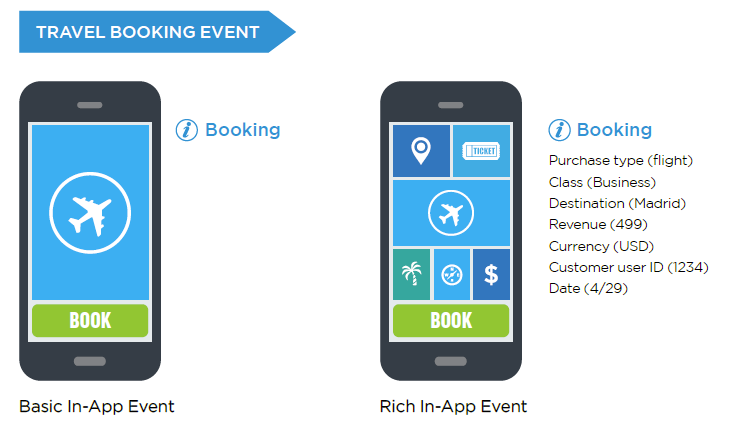 Do Define KPI Milestones to Boost Retention.
Retention is a key parameter in any LTV calculation, and reducing churn will drive your LTV upward. To reduce churn, it is essential that you understand the relationship between retention and funnel progression by measuring relevant in-app event milestones. These vary depending on what type of app you have. For example, a gaming app milestone could be defined as tutorial completion, registration, and completing a certain level, while e-commerce might equate a milestone as adding an item to a cart or making a purchase.
Pinpointing exactly where a user is in the funnel enables highly relevant messaging to be used, and ultimately create an opportunity for far better engagement. For example, if an active user suddenly becomes inactive, you can encourage a user to re-engage by offering a special promotion or discount. Depending on the actions a user took and what permissions they've given your app, there is an opportunity to re-engage either through email, a push notification or personalized retargeting. Look at aggregated engagement levels:  If there is a consistent significant drop after a certain stage in your funnel, there might be an element of your app or funnel that can be improved.
Do Measure Out-Of App Revenue.
App marketing cannot be created in a vacuum. In today's hyper connected, multi-touchpoint world, users are constantly switching between activity on different devices. App marketers need to connect any purchase activity an app user performs out-of-app. This information can significantly alter a user's LTV. How is this done?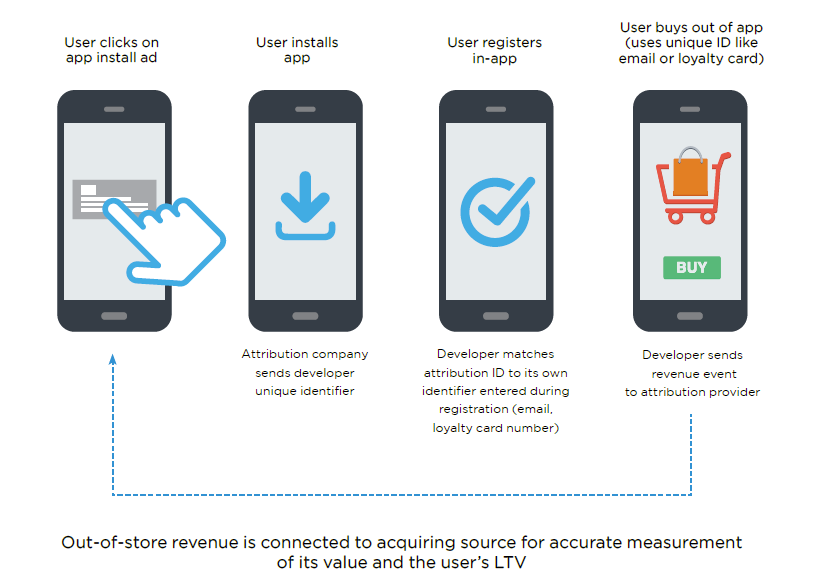 Do Track Uninstalls.
If an app doesn't deliver on all fronts quickly, it won't be used and could be removed. According to our recent App Uninstall Report, one in three installs on Android devices are removed, with iOS touting a 16% uninstall rate. Digging into the why, when, by who, and from where users uninstall apps will assist in the battle against dwindling usage rates.
Uninstall data offers important insights into improving LTV predictions, informing acquisition and re-engagement strategies, and providing valuable information about your app itself and the experience it may have failed to deliver. Uninstalls can also serve as  an important factor in the app stores' ranking algorithms, and keeping your number as low as possible is vital for better chances of organic app discovery.
Don't Think You Can Rely on Organic Traffic Alone.
In the past, paid acquisition was primarily used to boost the number of organic installs through burst campaigns. Previously, the number of installs had significant weight in the app stores' discovery formula. Recently, this factor has become far less important, with quality-driven parameters like ratings, reviews, usage and uninstalls pulling more weight.
With over two million apps in both the iOS App Store and Google Play Store, the organic multiplier or the number of organic installs a developer can expect from a non-organic install is well below what it used to be two years ago (The current challenge and catch: The vast majority of developers still need organic users to reduce their eCPI and become ROI positive).
Don't Run User Invite Campaigns Without Setting up Deeplinking.
To generate more organic users, use deep linking configured with multiple parameters. Deep linking can help you identify which geos, platforms, channels, and types of promotions deliver the highest number of invites (and which do not). For example, let's explore the following deep link:
http://___.com/id88888888?pid=applovin&c=campA1&sub1=987654321&sub2=US&sub3=FB//Path
App ID = 88888888
Media source = AppLovin
Campaign = N1
Sub 1 = user ID
Sub 2 = Geo
Sub 3 = Channel
Path = Scheme of landing page within app
Based on the configuration determined by the advertiser, this link will provide data that a user was acquired through campaign N1 (November Friend Connect), that it happened in the United States via Facebook, and that the invite was sent by customer "987654321" so the advertiser can reward him/her with a $10 gift card for their next purchase, thereby encouraging more invites to be sent.
Don't Measure by Last Click Only.
Each source that a user comes into contact with contributes to your overall brand and holds value, whether it was the first or last touchpoint. Multi-touch attribution exposes the impact of previous touchpoints, which will in turn change overall ROI calculations. For users to convert, they have to be driven down the funnel. If a media source delivered 125 install assists and 75 installs as the last click, the return from that media source is obviously higher than the 75 installs. In addition, with more users viewing ads rather than clicking on them, view-through attribution can help measure the impact of each touchpoint .
LTV is all about the different waves of mobile app marketing. The first wave was centered on user acquisition at scale, and is now well past its prime. Now we're nearing the peak of the second app wave, centered on retention and engagement. The third is slowly gaining momentum, and focuses on LTV and ROI together with the understanding that measuring mobile ROI is completely within reach. It's only a matter of time before app marketers and developers are able to catch the perfect LTV and ROI wave.
For more on LTV measurement, check out our Complete Guide to Measuring Mobile Marketing LTV & ROI
Shani Rosenfelder is the Content & Mobile Insights Lead at AppsFlyer, Leading Mobile Attribution & Marketing Analytics platform.
Shani has over 10 years of experience in key content and marketing roles across a variety of leading online companies and startups. Combining creativity, analytical prowess and a strategic mindset, Shani is passionate about building a brand's reputation and visibility through innovative, content-driven projects. You can follow him on LinkedIn.