From the start, we designed our app analytics tools with the belief that app developers prefer to spend their time building great apps, not analytics dashboards. App Store Analytics community, we hear you. Especially those of you shipping your 2nd, 3rd or even 10th cross-platform app.

We noticed many of you were spending a lot of time going from app to app, exporting CSVs, and creating graphics to show your teams, managers and investors. That was the reality.
Now, you can cross-compare all your apps and platforms without ever needing to open Excel. With this new dashboard view, you can perform this analysis on the spot — like, say, in a meeting when someone asks how your iOS and Google Play apps are doing — with a few clicks.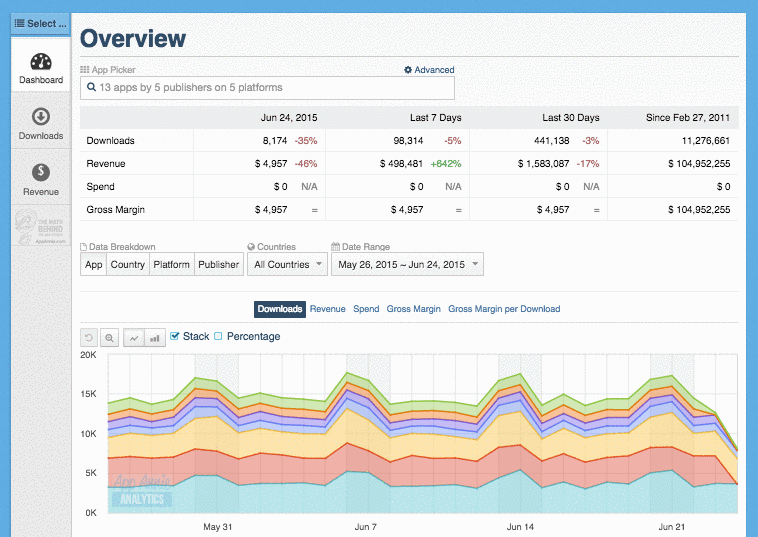 Now you can select which individual apps — or app stores — you'd like to compare on one dashboard view. No export aggregation necessary!
This new view lets you sidestep the manual export-and-aggregate process and lets you answer questions like these right from your browser:
How much was our user acquisition spend last month per app?
Which app generated the most revenue across my whole portfolio yesterday across all platforms?
Which app store is generating the most gross margin per download — iOS or Google Play?
At what times (and by how much) is our user acquisition boosting our app ranking?
Answering these questions takes time that could be spent making apps or putting together pitch decks. This update is our way of helping you get that time back.
Users with apps connected to our App Store Analytics platform already have this dashboard.
Not a user? Develop or manage apps and want to save tons of time? Just sign up and connect your app store accounts — it's quick and easy.
Want More? App Annie Has It
Don't miss a single app-related update — subscribe to our blog to get more free app industry reports, conference updates and guides. We love hearing your opinions and ideas (hey, sometimes we overlook some key tips), so share your comments and questions below or on Twitter.