Leanplum looks at which push notification strategies actually increase app retention.
(Leanplum, an integrated mobile marketing platform, just released a new data science report on app retention. We invited them to unveil some of its key findings and strategies you can implement in your own app. Read on to see what they have to say. Our recent interview with Pinterest came to similar conclusions and digs into a range of other ways to retain users.)
Our recent report, Retention, Revealed: The Need-to-Know Facts Behind App Retention & ROI, breaks down all your pressing retention questions when it comes to mobile apps.
What's the current state of mobile app retention?
How do push notifications affect retention?
What's the impact of personalized sends?
And do push notifications increase app uninstalls?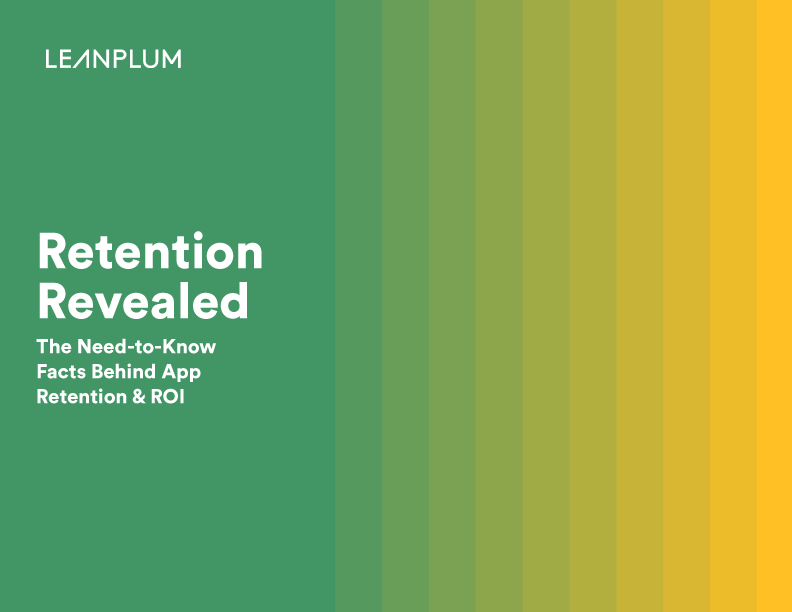 We analyzed hundreds of apps to not only let you know if your mobile retention is on par with industry benchmarks — but also give you actionable strategies to improve your own numbers.
Here's a quick recap of our findings. We learned that the average retention rate falls to 21% by day one, and dwindles all the way down to 1.89% by day 90. We also found that implementing push notifications into your mobile marketing strategy can increase retention by up to 20%.
But by far, the most jaw-dropping discovery was the effect of personalized push notification send times on app retention.
Below are two ways you can personalize the time at which you send push notifications to users.
1. Triggering Behavior-Based Push Notifications
Triggered push notifications are what you'd expect — when a condition is met, a notification appears on a user's screen. For example, if someone adds an item to their shopping cart but forgets to check out, you can automate a push notification to send the next day, reminding them to complete the purchase.
The figure below shows the difference in retention rates between apps that trigger push notifications in response to user behaviors versus apps that do not. At the 90-day mark, you can see there's a difference of 0.55% in retention. That's slightly more than sending push notifications without taking into account behaviors, but not by a sizable amount.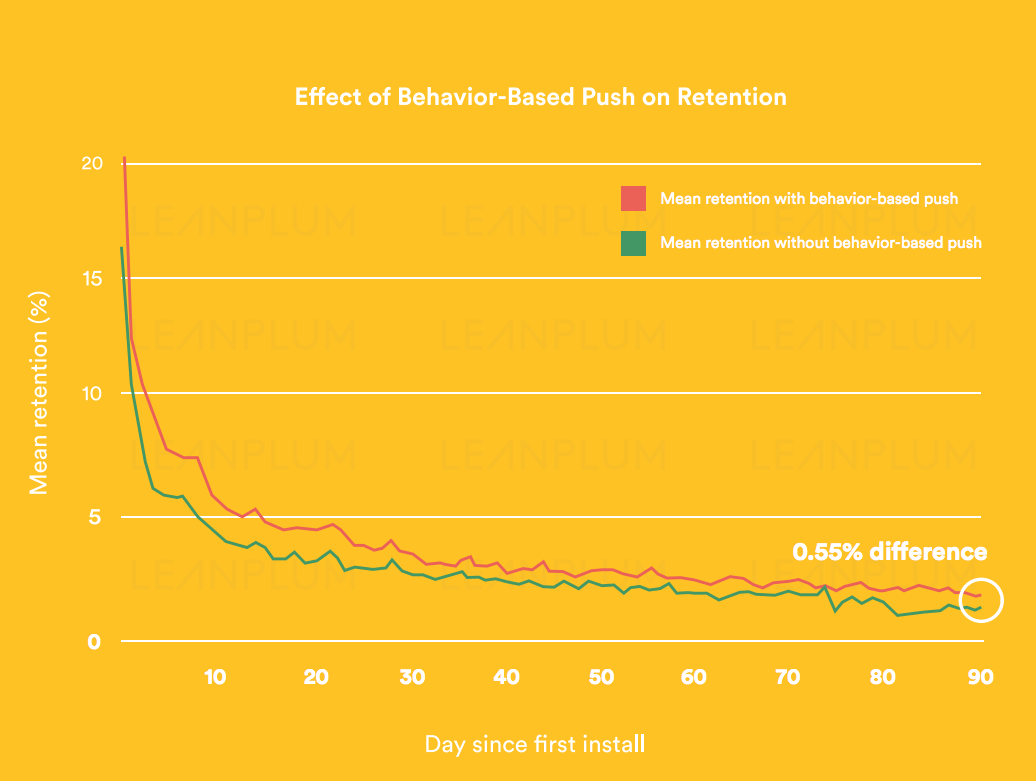 2. Delivering Push Notifications with Optimal Time
At Leanplum, we developed Optimal Time, a machine learning algorithm that analyzes individual app usage patterns to automatically send a push notification at a time when the user is most likely to open it. For example, if Katy listens to a music app (such as Spotify) on her commute to work, the app could send her notifications to check out new artists in the morning. But if Brian listens to music while winding down at night, the app would automatically send him the notification in the evening.
The figure below shows the difference in retention rates between apps that leverage Optimal Time push notifications versus apps that do not. The average difference in retention is 6.97% over the first 30 days. That number barely drops by day 90 to a still-steady 6.17%.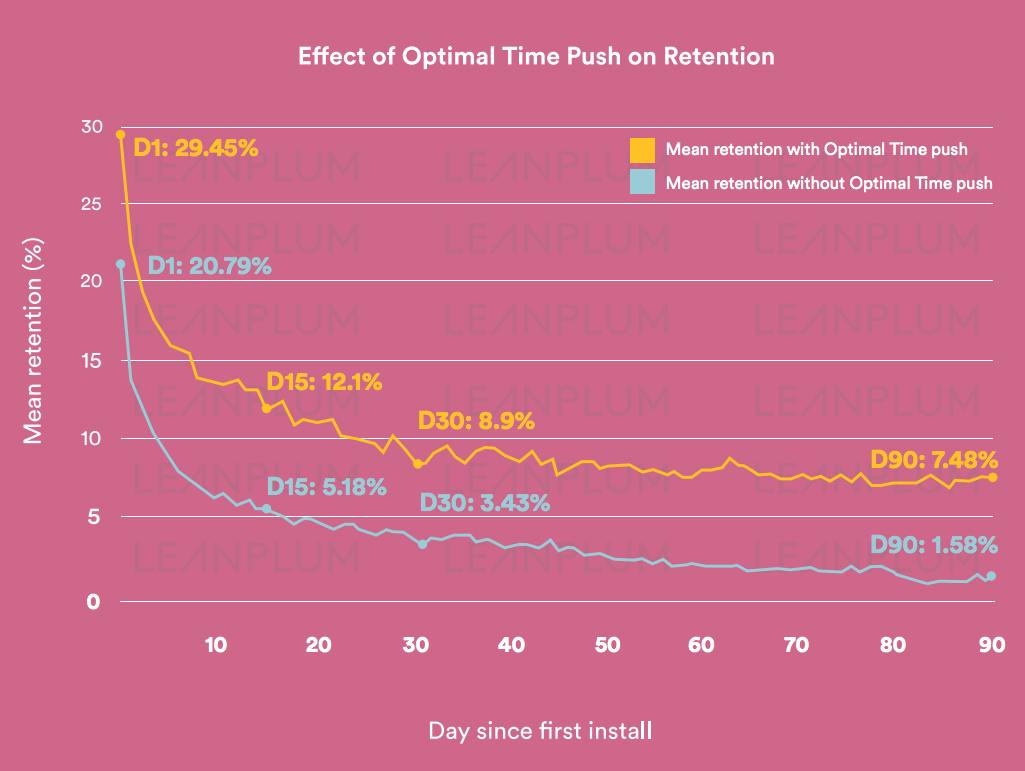 What We Learned
Sending push notifications clearly impacts your retention rates. If you can send push notifications in response to unique behaviors, you could increase retention by half of a percent. This is a positive increase, yet you can do even better. Mobile teams that use tools to understand and predict individual engagement patterns can garner big wins. Using machine learning algorithm-based tools like Optimal Time could result in retention rates almost 7x better by day 30.
This shows that users clearly respond to personalized triggers. Understanding your users at the right moments is a major key to app retention.
How do personalized push notifications affect real-world customers?
One mobile game publisher, Pixowl, relied on Leanplum to share messages when the time was right — by queueing up push notifications in each user's local time zone. But this wasn't enough, because everyone has different personal habits. Some played the game before school, others during their lunch break, and some on their commute home.
So Pixowl tested a push notification promoting in-game currency. One group of players received the new personalized push delivery, and the other group of players received the message at the standard time. Pixowl's team saw that their players were much more engaged with the personalized approach. In fact, sending push notifications with Optimal Time increased overall revenue by 17%.
Download the Full Report
To get your hands on all the juicy data and other surprising findings, download our full report, Retention, Revealed: The Need-to-Know Facts Behind App Retention & ROI.
Brittany Fleit is a Content Marketer at Leanplum. When she's not writing about mobile, you can find her hiking, obsessing over politics, or curled up on the couch with a glass of wine and her ornery cat.

Leanplum is the most complete mobile marketing platform, designed for intelligent action. Its integrated solution delivers meaningful engagement across messaging and the in-app experience. Leanplum offers Messaging, Automation, App Editing, Personalization, A/B Testing, and Analytics.