Here at App Annie, we're focused on making products that help app publishers and marketers make the best business decisions with minimal time investment. Veteran users are probably familiar with our original trio of products — Store Stats, Analytics and Intelligence  — that each complete a crucial piece of the app store economy puzzle. Nothing's changing with our existing lineup, but we just released some new products that take our platform to the next level.
App discovery is quickly becoming the biggest challenge for the app industry. With both Google Play and iOS App Store each hosting more than 1 million apps, you're in for a struggle if you want to get your app in front of users. Today we are excited to announce two new completely free releases: Advertising Analytics (officially out of beta) and App Store Optimization (ASO). Our new products tackle the app discovery challenge head-on: Advertising Analytics helps optimize your paid app discovery, and ASO defines your organic app discovery. Both are crucial to understanding the full impact of your marketing.
Starting today, our platform now allows you to get a true birds-eye view of your marketing, distribution and monetization strategies from our dead-simple dashboard.
Advertising Analytics: Unify Your Advertising and App Stats on One Dashboard
Advertising Analytics has been active for a few months, and we've seen more and more users connecting their ad platforms. As FDG Entertainment's Philipp Döschl mentioned, it's a huge convenience to see mobile ad spend and revenue alongside app downloads and revenues. It doesn't sound like a big deal, but when you're manually pulling reports from dozens of ad platforms and a bunch of app stores, you start to feel the pain. Advertising Analytics is here to make your life easier with automatic reporting so you have more time to drink lattes, start that new Capoeira class, or even start work on that next chart-topping app.
Today, Advertising Analytics' BETA sticker is lifted, and its release includes connections to more than 20 of the top mobile advertising platforms tripling the original number. We've integrated all the major ad platforms such as iAd, AdMob, Tapjoy, MdotM, TapIt, Chartboost, AdColony, InMobi, RevMob, AppLovin, Everyplay GameAds, LifeStreet Media, AppLift, Appia, Taptica, Millennial Media, LeadBolt and NativeX. If we're missing your platform, tell us at iwantthis@appannie.com.
Are you an ad platform that wants to be on this list? Reach out to us at support@appannie.com to get integrated into our Advertising Analytics platform. We'd love to have you on board.
App Store Optimization (ASO): Know the Keywords That'll Drive Your App to the Top
App Store Optimization is an industry term used to describe the process of getting more organic app store search traffic. Typing a search term into Google gets you ranked results, and monitoring and improving your rank in these results is called Search Engine Optimization (SEO). When it comes to the app stores, a similar ranking algorithm exists that can, when leveraged properly, help vault your app to the top of any relevant user's search results, and as a result get you more downloads. This process of measuring, testing and improving your search rank on the app stores is known as App Store Optimization.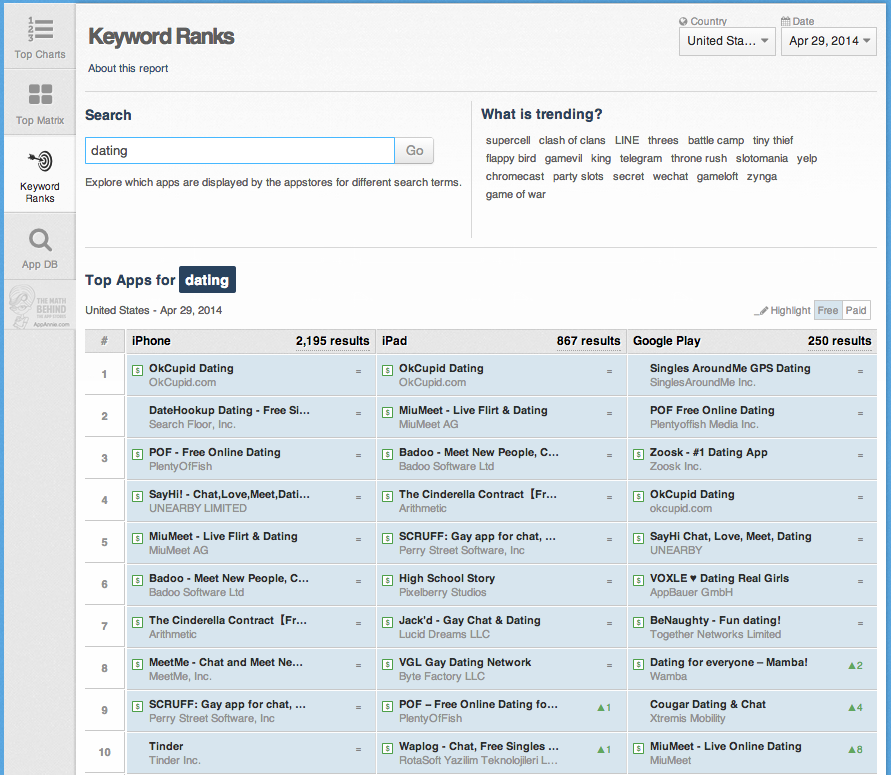 Our new ASO tools will give you access to the crucial metrics needed to maximize your organic search traffic. When you only have a Twitter status worth of characters to work with to position your app on search rankings, every character counts. Our new tool will show you which apps are ranking for the leading search terms, reveal competitors on terms you're already using, and much more. Picking, testing and refining keywords is a top priority for big app publishers — and it should be for you too.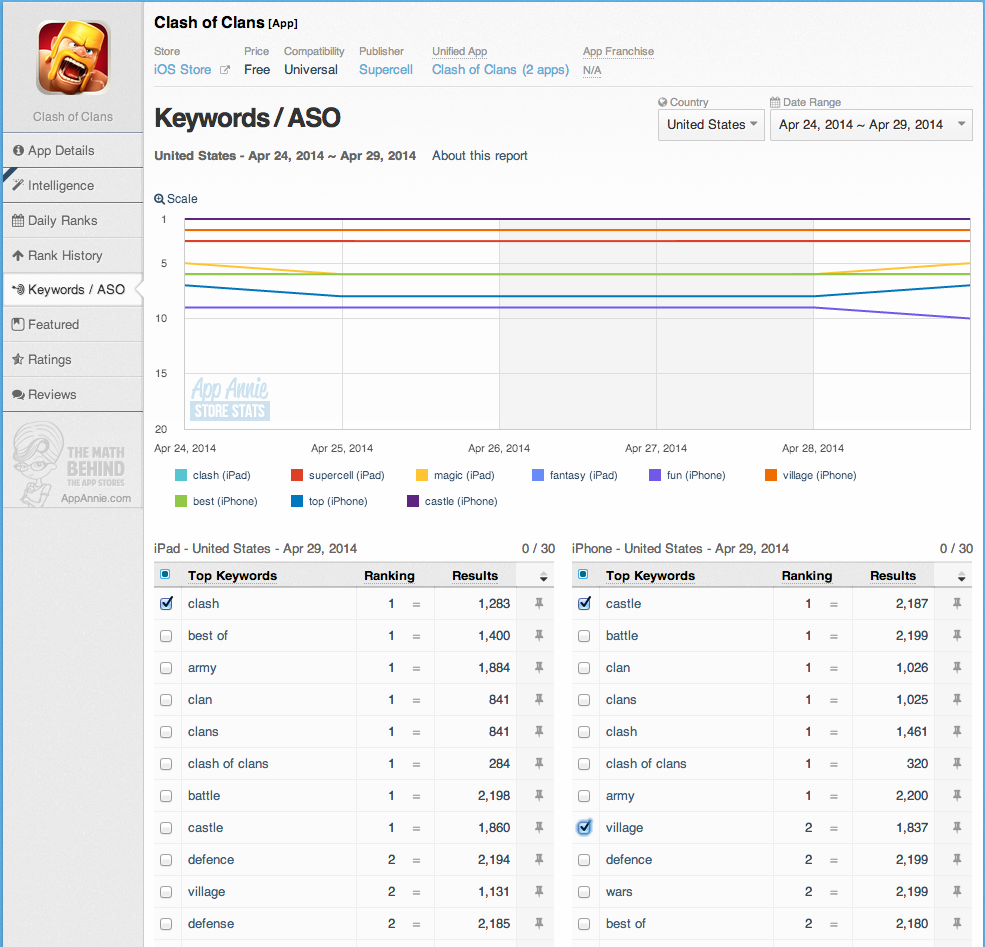 App store search is becoming increasingly important, so picking the right keywords matters. We are launching with support for iOS in 10 countries, and support for other app stores, countries and languages will be coming soon.
Cost? Who Said Anything About Cost?
While we might be releasing more products and fleshing out our existing offerings, one thing isn't changing: all these tools are still available to you for free.

Our philosophy is that an abundance of data creates a healthier app ecosystem for publishers, advertisers and marketers alike. We take data seriously (we're a company full of geeks, after all), and we're happiest when we have a huge data set to dig into. If you're reading this, you're probably the same. So enjoy our Store Stats, Analytics, Advertising Analytics and ASO tools completely free.
With Advertising Analytics and ASO fully integrated into our platform, App Annie is officially the most complete dashboard on the market. And our engineers are working tirelessly to bring new — and completely free — updates to these products in the weeks and months ahead. Our team reads every piece of feedback, and as always, we'll be using it to roll out the best dashboard on the market.
Whether you own your own app business, market a group of apps or manage a mobile product, our solutions give you a full view of your entire app business so you can pounce on opportunities the moment they arise. Seeking Alpha showed how our Store Stats charts can make you a savvier investor. re/code frequently cites our rankings to pair up with market trends. By connecting to our platform, you'll have access to all the tools you need to succeed on the app stores.
So what are you waiting for? Get out there and start topping those charts by connecting with App Annie today.
Best,
- Matt Hunter
VP of Product Management