We are thrilled to announce support for Windows Store and the Windows Phone Store for App Annie Analytics and Store Stats. In addition, we are also introducing new Team Sharing features that will let yourself and other app professionals create teams and share app store data safely with collaborators.
With innovative practices such as letting users sample apps before they purchase them, Windows Store and Windows Phone Store have established themselves as major app marketplaces. Known for championing their developers, Windows offers active support and outreach to its developer community. In fact, Microsoft recently launched the Dev Center Benefits portal to better serve the Windows developer community. We've had a lot of enthusiasm from Windows developers, requesting support for the platform. Your requests have been heard, and support for Windows Store and Windows Phone Store is finally here!
Windows Phone and Windows Store for Analytics
The addition of Windows Store and Windows Phone Store opens up a whole new audience to App Annie and we're excited to welcome you and all Windows developers to our Platform. Analytics aims to make app store and advertising data accessible and actionable for your app business by cutting out manual aggregation and eliminating the possibility of human error in your data collection. Once you've connected to Analytics, we'll automatically collect and update all your data in your dashboard each day, as well as deliver a daily email with your key metrics so you can keep up with the your business' bottom line from anywhere.
If you're publishing on Windows Store or Windows Phone Store, see how Analytics can help you get a handle on your app store data and make meaningful business decisions.

Exploring the World of Windows Through Store Stats
Each app store is its own ecosystem and has unique elements that impact the ups and downs of top apps. Now with Windows and Windows Phone data included in Store Stats, you can get a better understanding of the top apps and their rank movements for the largest global app stores, all in one place. Store Stats also gives you the opportunity to look back in time and see what the top apps were for both Windows stores starting as early as March 2013 for Windows Store and March 2012 for Windows Phone Store.
Not only does Store Stats allow you to explore how apps are trending on each of the supported major app stores, it also unveils trends about successful app types across platforms. For example, on October 31, 2014, Facebook was leading the top free overall chart in the United States across iOS (iPhone and iPad), Google Play and Windows Phone Store with its Messenger app and on Windows Store with its Facebook app. While these 4 stores all shared the trend of Facebook being dominant, the only outlier was the Amazon store, which showed a propensity towards games and had World of Goo as the top free app.
Windows Phone Store's Top Charts includes a Top New section along with Free and Paid, allowing people to see the new top trending apps at a quick glance.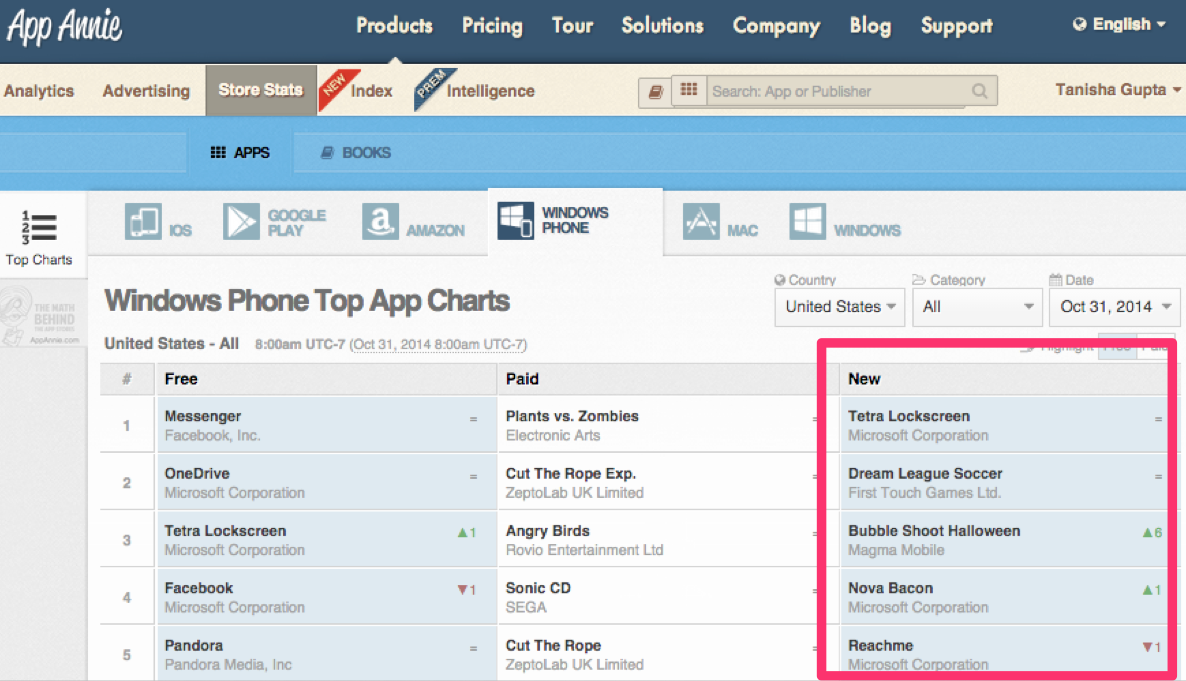 The Windows Phone Store Top Charts in Store Stats.
The Top Charts for the Windows Store provides even more visibility by showing the top apps for Free, Paid and Grossing apps, plus the New+Rising list. Those interested in better understanding the Windows ecosystem can use this list to see all the new apps that are gaining traction in one go, so you can spend time analyzing the apps having big impacts on the Windows Store. Store Stats even lets you segment top apps by device on the Windows Store, allowing you to filter by RT, x86 or x64.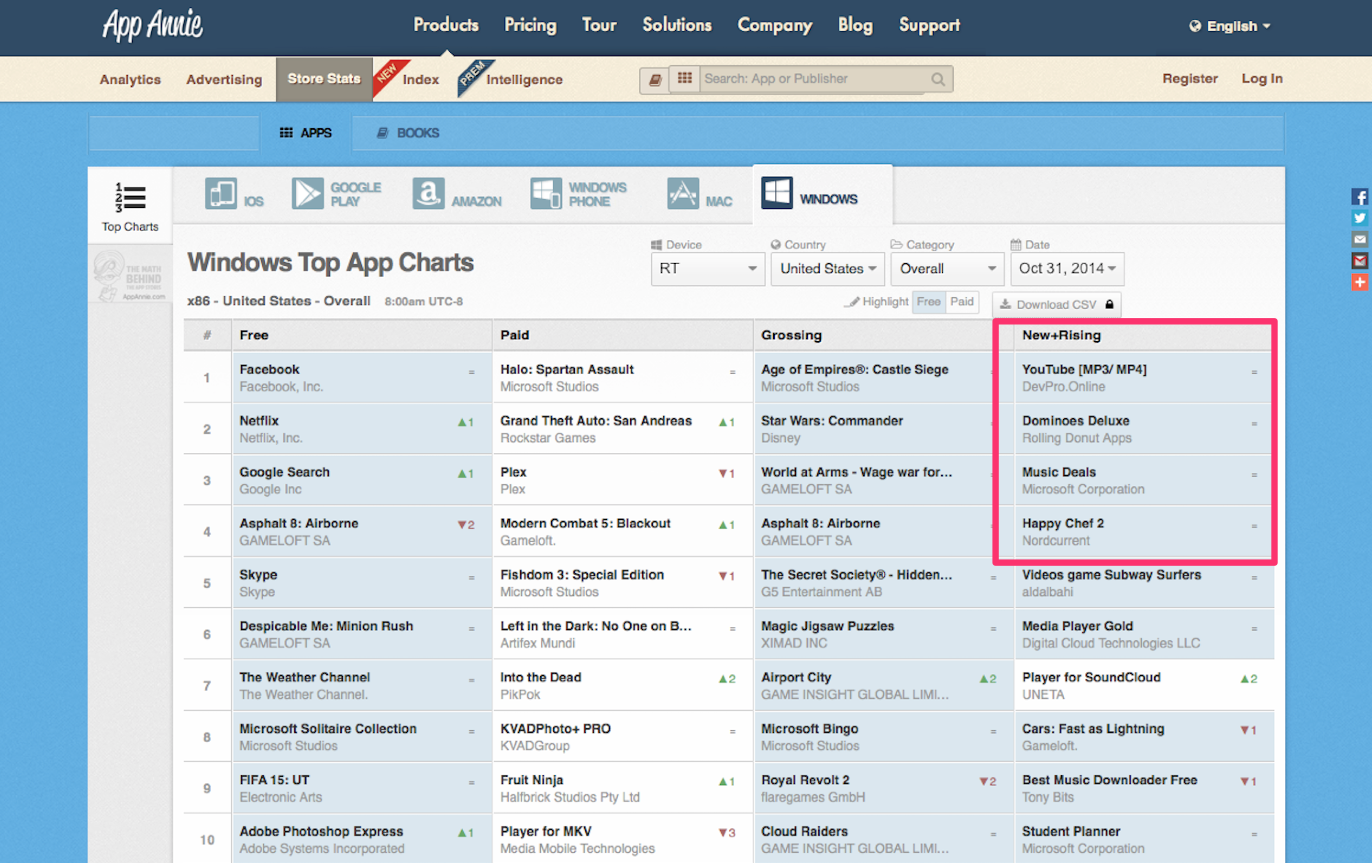 The Windows Store Top Charts in Store Stats.
That's not all, along with Top Charts, other Store Stats features such as Rank History, Daily Ranks, App Details and Publisher's Pages will also be available for Windows Store and Windows Phone Store.

Analytics Gets Enhanced with Team Sharing
Beyond supporting Windows, we've also been devoting our time to making the overall Analytics platform more collaborative and giving you more control over what data points you share. Next up, we introduce updates to Team Sharing.
Be a Team Player and Share Data Securely
Team Sharing is built around the idea that communication and collaboration lead to innovation. In the spirit of quick and efficient info-sharing, Analytics now lets you create teams and invite people to access your apps' download or revenue data, as needed.
Let's say your manager wants you to report on the total downloads for all apps in your company's iTunes Connect (ITC), Google Play account, Amazon Store account and Windows Store account, broken down by app, to the Business Intelligence department each week. With App Annie's newly introduced Team Sharing, you can simply create a team with all the key members from BI and share only the pertinent accounts with access to just the download data. This will not only save you the trouble of spending valuable time pulling reports each week, but ensure that the data that the BI team gets is up-to-date and accurate.
Creating a team is easy. Simply click Teams in the drop-down in the upper right and you'll be taken to the Teams page. Here you can see your existing teams and create new ones.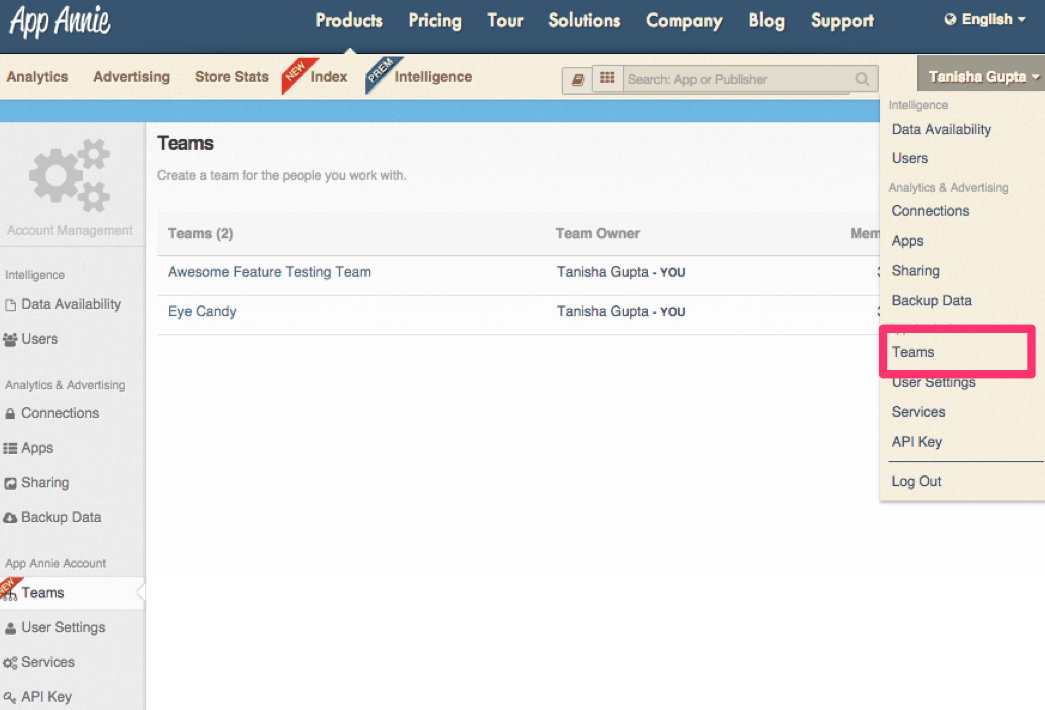 Team sharing page in the Analytics dashboard.
Once you've created/selected your team, simply click on the "Share Data" button in the top right corner and select the data you want to share.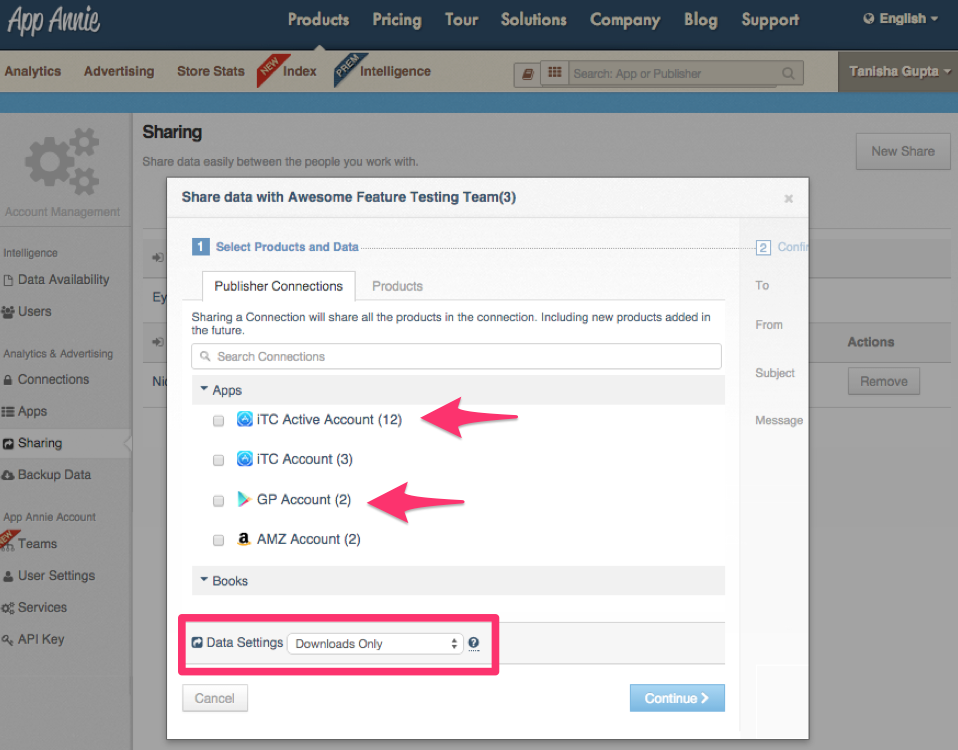 Data sharing selection in the Analytics dashboard.
Creating teams allows you to divide the data you share with people in a way that makes the most sense for your work environment. We suggest naming your teams based on your company's departments, functions or products, but you can choose whichever system makes sense for your organization.
To further ensure security, we've added a few key functionalities:
Control how much each team gets to see. You can share data for an entire publisher or single app.
Select specific data types you want to share. Maybe you only want one team to see download data instead of both downloads and revenue. That's possible with data type granularity.
Control the level of access for all members in your team. This update lets you appoint users as owners, admins or members.
With Team Sharing, we hope to bring control and ease to your workflow. Gone are the days of sharing sensitive data through emails or CSV files. Let your team access the exact data points they need, so everyone can remain focused on the end goal of building great apps, like an amazing side-scroller featuring Grumpy Cat!