Learn how retail apps are using ASO to attract and connect with holiday shoppers.
We're coming up on the busiest time of year for retail businesses. As more retailers look to mobile apps to play a starring or complementary role during the holidays, they're faced with the challenge of making sure their apps stand out in the crowd. We've compiled a few app store optimization (ASO) tips app publishers have leveraged this season. Key tactics to consider:
Switch up your icon
Swap out screenshots
Add target keywords to your description
Highlight any new or relevant features
Check in on the competition
1. Switch Up Your Icon
The icon is the first thing that a user notices about your app, and makes a lasting impression. If you're looking to show potential new users that you're ready for the holiday season, consider updating your icon to reflect this.
Walmart wanted to show consumers it was gearing up for the winter holidays and added a snowy overlay on top of its original icon in Google Play. This recognizable difference can delight users and tip them off to seasonal updates in the form of sales.

Walmart showed its festive side and added a winter theme to its icon on November 10.
Retailers outside of the US are also adopting this strategy. China's shopping holiday, Singles' Day, occurs on November 11 and netted $17.7 billion this year (skyrocketing past previous Black Friday revenues). Popular Chinese retailer Alibaba's AliExpress let shoppers know it was equipped with deals and the latest styles by changing its logo to include 11:11 (the date of Singles' Day).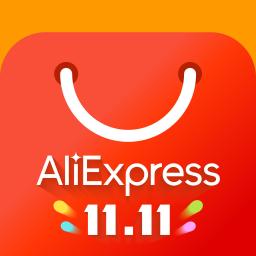 AliExpress included 11:11 to its icon to alert shoppers about in-app savings.
2. Swap out Screenshots
Retail apps are putting a holiday spin on app store screenshots, showcasing features and promotions pertinent to the holidays and highlighting seasonally relevant merchandise.
Couponing app Flipp updated its current screenshots across iOS and Google Play to include a banner letting users know its catalog of Black Friday deals were available to browse.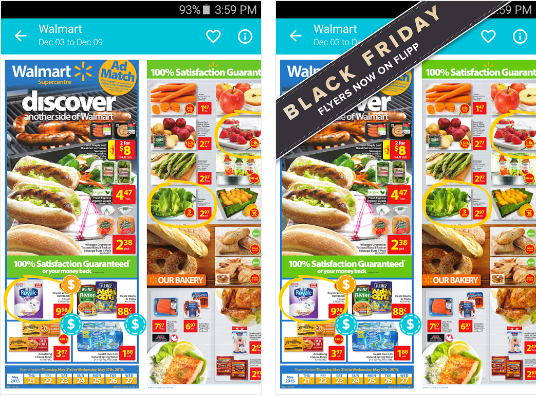 Flipp updated its screenshots (left) on November 11 with Black Friday advertisements (right).
3. Add Target Keywords to Your App Page
Beyond modifying app icons and screenshots, some brands also amended their names and descriptions to reflect discounts and persuade consumers to download. In addition to alerting app store browsers of deals, this is a good way to utilize any keywords that you are specifically targeting this season. Using App Annie's Keyword Explorer (ASO), app publishers can find out which keywords are organically attracting the most consumers and prioritize using those in app store pages.
Target changed their app description to include timely keywords and added "Plan, Shop & Save" to its name on Google Play. These words convey that Target can be a great resource for organizing gift purchases, locating coupons and making purchases.
Online shopping app Jet put its effort toward winning customers for Cyber Monday. It's currently ranking highly for keywords associated with this online day of shopping on the iOS App Store with the phrase "Cyber Monday" ranking #3.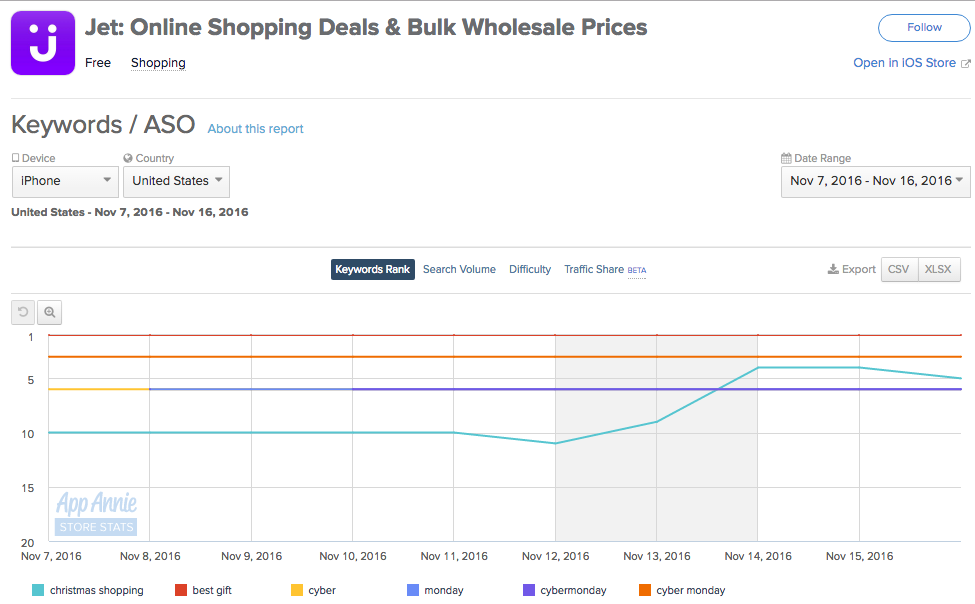 Jet ranks #5 or better for words associated with holiday shopping.
Couponing app Ebates changed its description to showcase the exclusive deals that customers can capitalize on for the holiday season.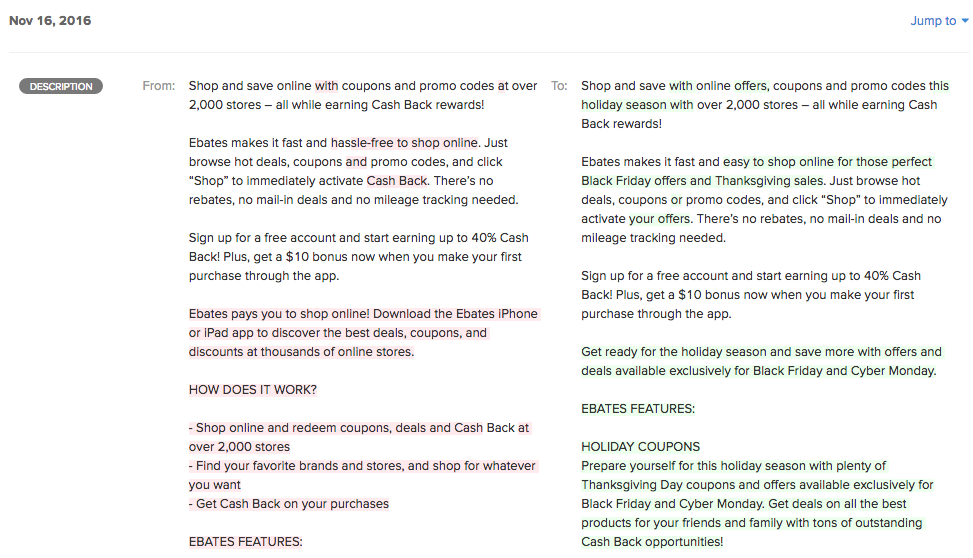 Ebates' updated description (right) focuses on the app's offerings ideal for holiday shopping.
However, retailers should be realistic when going after highly competitive keywords associated with the holidays. The phrase "Black Friday" is heavily used this season, and often results in apps that are created specifically for the shopping holiday, as opposed to general retailers offering holiday promotions. Fine-tune your ASO strategy and focus on the keywords that are currently performing well for your app, instead of getting lost in phrases that aren't returning quality users.
4. Highlight New or Relevant Features
Retailers are adding innovative features to enhance the overall shopping experience. When laying out your product roadmap, make sure these features are ready before the holidays. Amazon was ready for Black Friday before most retailers, and began its two-month long campaign in early November. With the customer experience in mind, Amazon also released a few new features in tandem, like a price comparison tool that identifies items from user-uploaded photos and a barcode reader that scans a delivery to let consumers know what's inside a delivery before opening.
Victoria's Secret created a more seamless shopping experience by launching a digital wallet on November 7. Consumers can manage gift and e-gift cards in the digital wallet and save all in-store and online coupons in one place.
5. Check in on the Competition
Once you've refined your holiday ASO strategy, be sure to check it against what the competition is doing. For example, toys can be an especially competitive market for retailers. Currently, Target has been ranking in the top 10 for those looking for the keyword "Toys R Us" since the beginning of November. Target should consider how to leverage this keyword and improve ranks in hopes of acquiring some consumers who are looking for a competitor.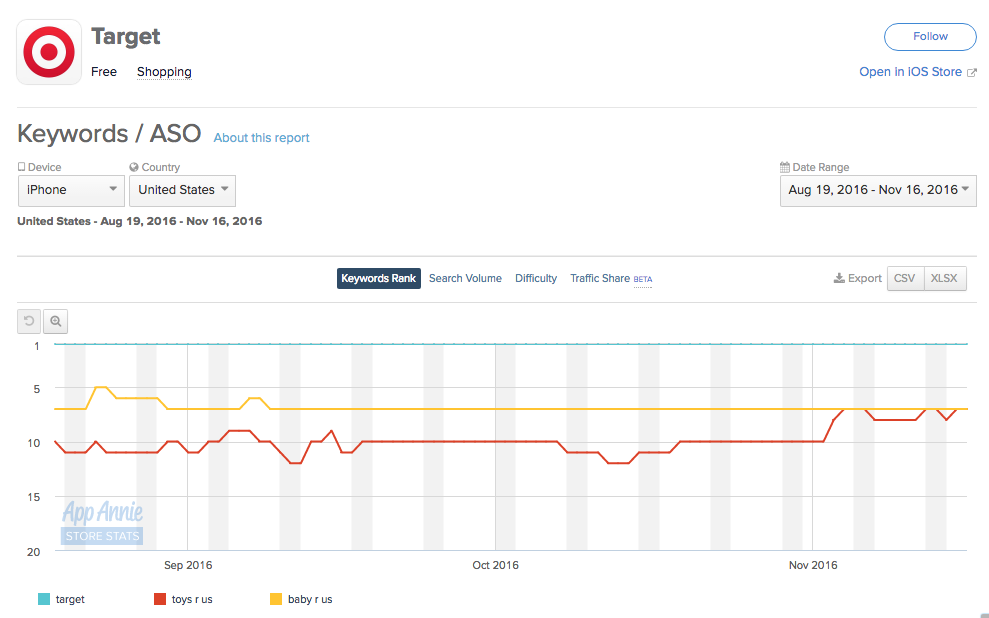 Target has been ranking in the top 10 for keywords associated with a competitor.
App publishers can also explore how their ASO strategies have changed with the Keyword Explorer (ASO)'s newest feature: Traffic Share. Retailers can learn from the past to see what was performing well, and more accurately pinpoint where they can improve certain keywords. Coupon app Black Friday 2016 Slickdeals App saw an upward trend in traffic share percentage for keywords associated with "Black Friday" over the past 90 days.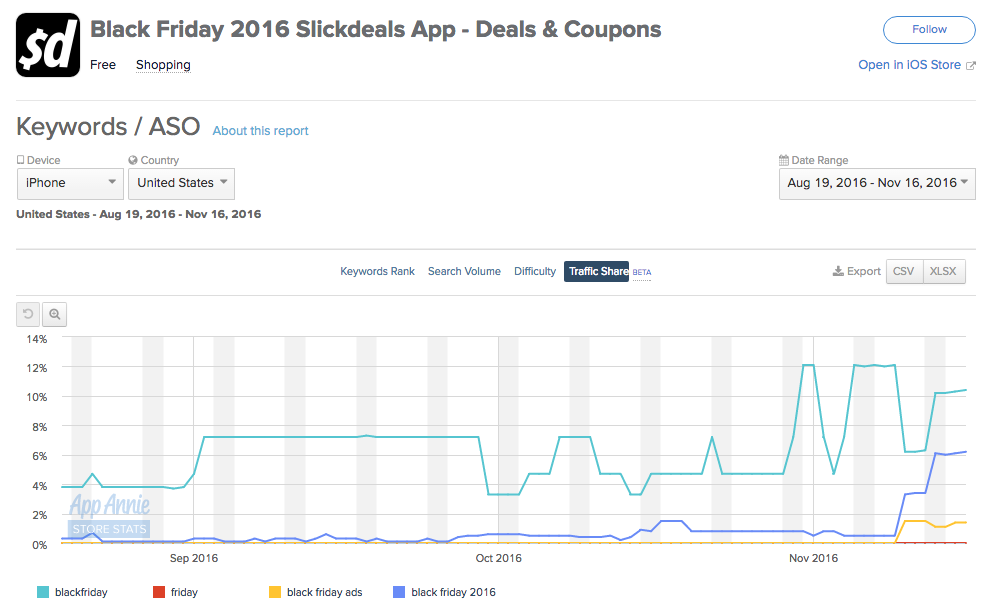 ASO is a cost-effective way for retailers to elevate their mobile strategies for the holiday season. Retail app publishers are faced with the most competition this time of year, and incorporating thoughtful ASO into mobile tactics can help boost their presence and ultimately earn more engaged users.
Tap Into Holiday Best Practices for Your Retail Strategy
Join us on Wednesday, January 11 at 10:00 a.m. PT to get key insights into the growth of retail apps and best practices to capitalize on holiday spending. Register for our webinar, Unwrapped: Holiday App Insights to Drive Retail Strategy.