The 15th UEFA European Football Championship kicked off June 10. As fans from all over Europe are gathering and cheering for their favorite teams, they're also relying on mobile to stay on top of the games. In fact, the football competition commonly known as Euro 2016 was a trending keyword on the iOS App Store at the start of the competition.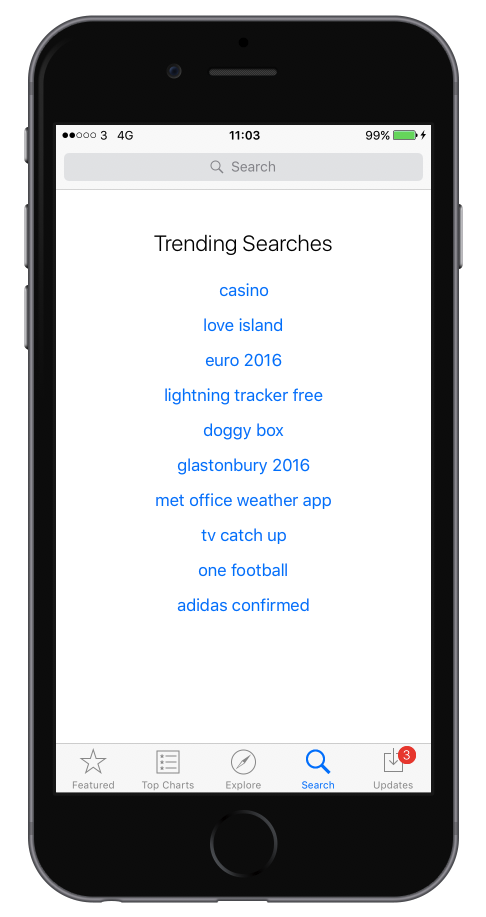 Keywords for Euro 2016 were trending on the iOS App Store at the start of the event.
How can app publishers ride the wave of this massively popular event to promote their app?
The UEFA is Betting on Mobile to Promote the Tournament
The organizer of Euro 2016, the UEFA (Union of European Football Associations), is taking mobile very seriously: The company launched seven apps on iOS just for the month of May. This shows how important mobile is for a large-scale event organizer.

Euro 2016 organizer, UEFA, has launched seven apps in May 2016.
The UEFA's main app, the UEFA EURO 2016 Official App, has quickly found success. The app reached top positions in the downloads charts of many European countries such as the United Kingdom, France, Germany and Portugal, but also overseas in countries like Australia and Canada.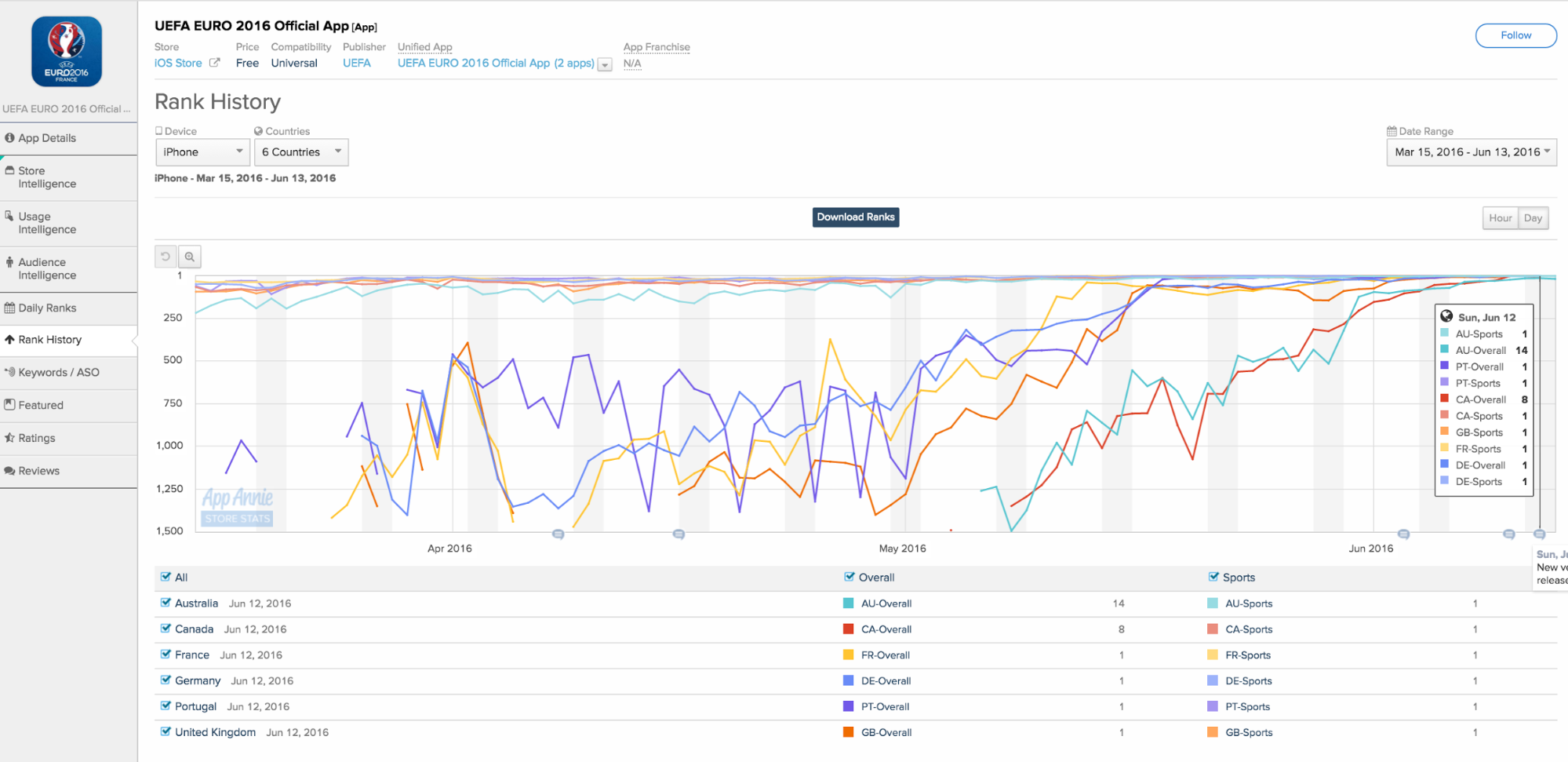 The UEFA EURO 2016 Official App, has reached the top ranks by downloads in many countries on the iOS App Store.
And UEFA's intent to leverage mobile for Euro 2016 doesn't stop there. Among other new apps, the UEFA launched a predictor app where users can win prizes by betting on the winning team, a photobooth app featuring the Euro 2016 mascot, a hospitality app for event visitors, and a fantasy game where users can assemble their dream team. The game, UEFA EURO 2016 Fantasy, has already become one of the most downloaded apps in the UK on iOS.
In the UK, Betting Apps Rename Themselves for Euro 2016
Gambling is popular in the UK, so it's no wonder that betting apps are also doing well in the country. As part of their app store optimization (ASO) strategies, some betting apps have decided to take advantage of the Euro 2016 — a hot event for gambling — to acquire new users and increase their discoverability. Betting app Sky Bet changed its name on iOS on April 28 from Sky Bet – Betting on football, horse racing, tennis and sports to Sky Bet – In-Play Sports Betting & latest odds on Football, Euro 2016, Tennis and Horse Racing results. Similarly, competitor Paddy Power changed its name on May 3 from Paddy Power Sports Betting – Bet on Champions League Odds, Live Horse Racing & Football Results to Paddy Power Sports Betting – Bet on Champions League & Euro 2016 Odds, Live Horse Racing & Football Results on iOS.
The fact that both these apps included Euro 2016 in their names helped them appear in the keyword searches for the event. Updating the name of your app to be more in line with user behavior and searches is a good strategy to enhance the visibility of your app across app stores.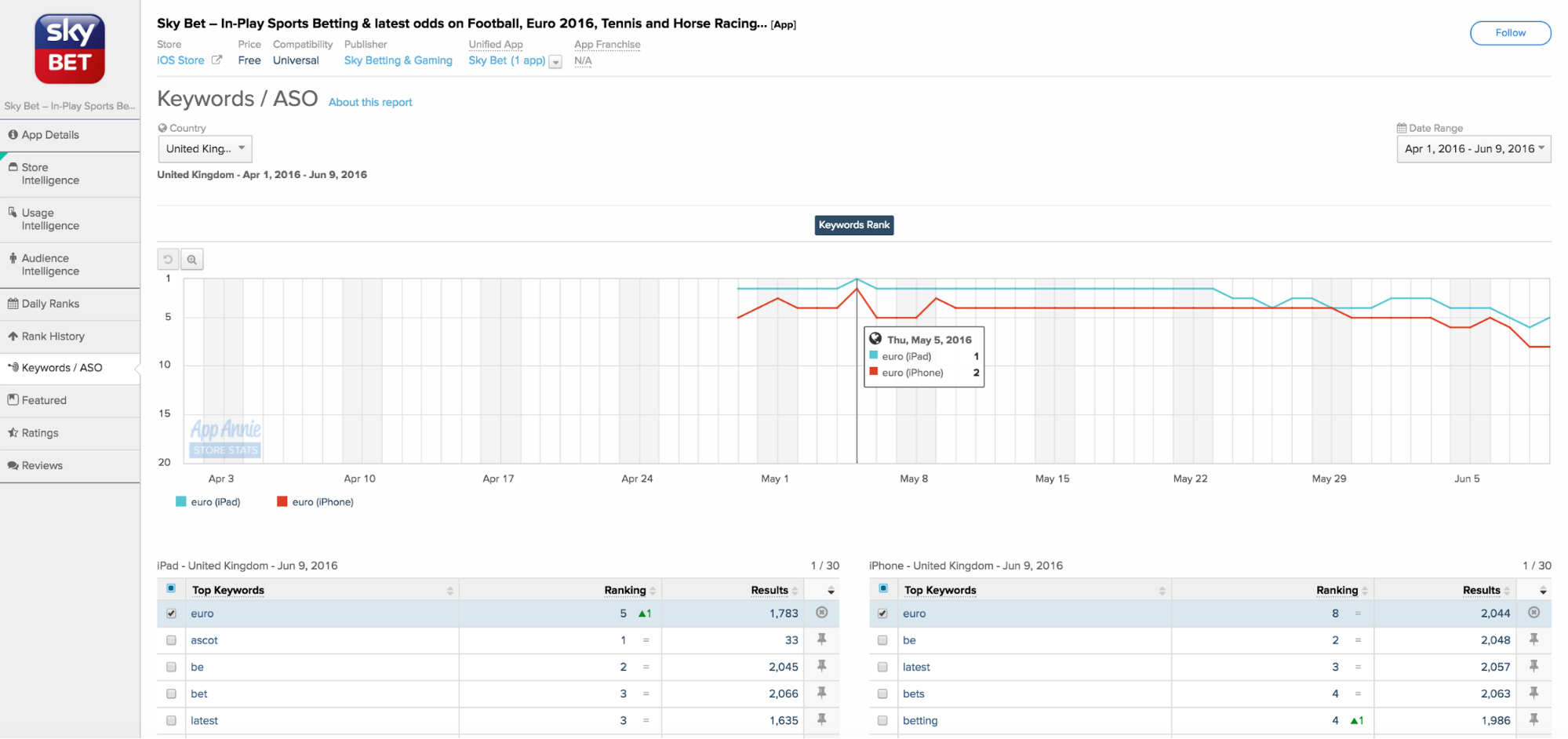 By renaming itself, Sky Bet managed to appear in the search results for "euro" on iOS.
In Germany, Local Apps are Gaining Traction
Germany, a fervent football nation which won the FIFA World Cup in 2014, has also developed a panel of locally made apps to support Euro 2016. For instance, Kicktipp, a tipping and prediction app for all kinds of sports launched in 2012, experienced a dramatic jump in downloads before the start of the event, becoming the most downloaded app in Germany on June 7.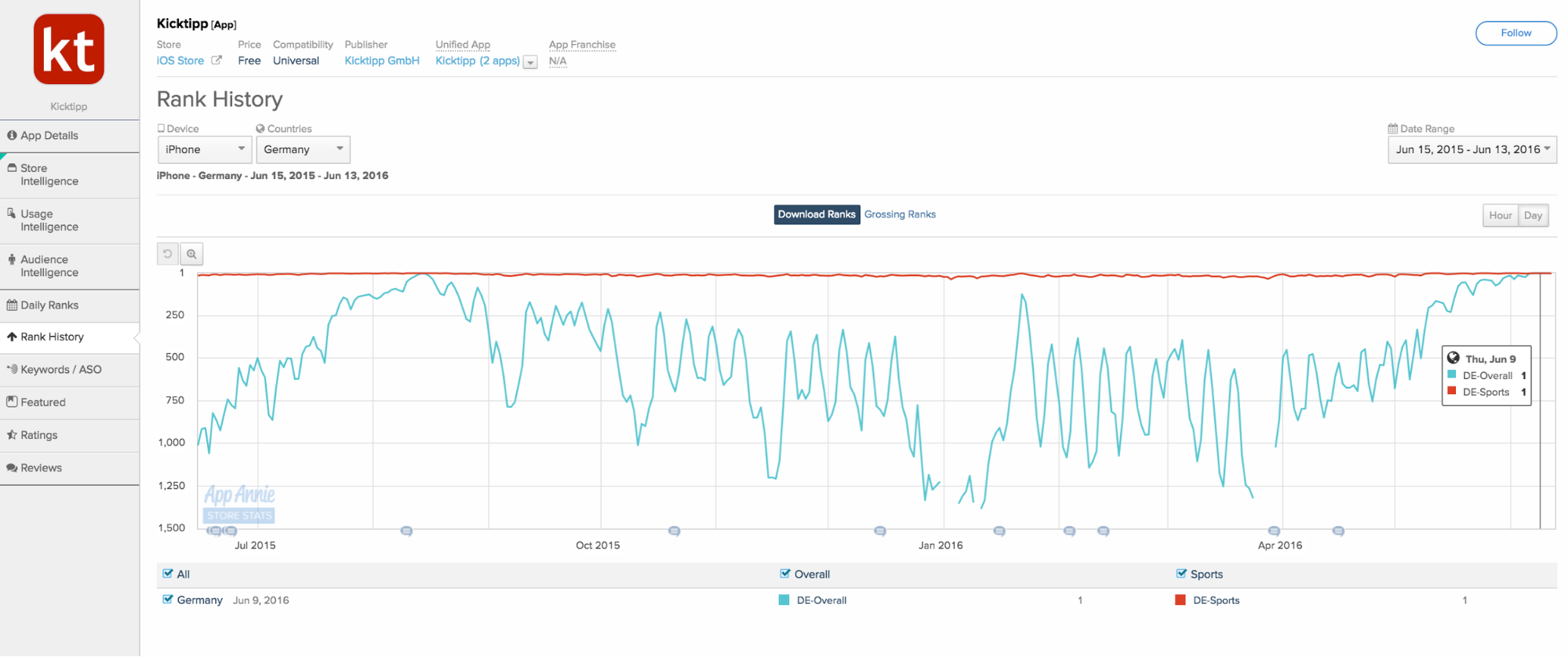 A few days before the start of Euro 2016, Kicktipp became the most downloaded app in Germany.
But Kicktipp isn't the only football-related German app to get propelled up the download ranks in Germany thanks to Euro 2016. On June 12, when Germany played its first match against Ukraine, GoalAlert was the third most downloaded app on iOS in Germany, while Onefootball was number four and EM 2016 app was number eight. All of these apps developed in Germany were able to leverage a popular event to climb the top charts and reach ranking positions they've hardly ever reached in the past.
In France, Sport News App L'Equipe Overhauls App to Provide the Perfect Euro 2016 Experience
In order to benefit from the Euro 2016 momentum, popular sports app L'Equipe overhauled its iOS app a few weeks before the start of the competition, even going as far as to rename the app to L'Euro. The app launched its 7.0 version on May 31, and the update now gathers all the content and services of the media company. Just like many news apps in Europe, the app now includes direct access to the digital version of the daily issue, in addition to live updates and content from the video channel L'Equipe 21. The update also offers a new user interface for the iPad and optimized performance and exclusive content for Euro 2016.
How to Capitalize on Large-Scale Events using Mobile
As mobile is now the first screen, it has also become a strategic asset to promote large-scale events. In the case of Euro 2016, UEFA's effort to provide an integrated mobile experience for the tournament is highly revealing. Mobile users will definitely look for apps to extend the experience of their favorite events and app publishers have to meet their expectations.
But opportunities are not just for the organizers, and an event like Euro 2016 is a great opportunity for almost any app to get traction. Take mobile game Blocky Soccer, an endless arcade runner released at the end of April which is riding on the back on the football theme and benefitting. All in all, leveraging the popularity of an event can be a boon for app publishers.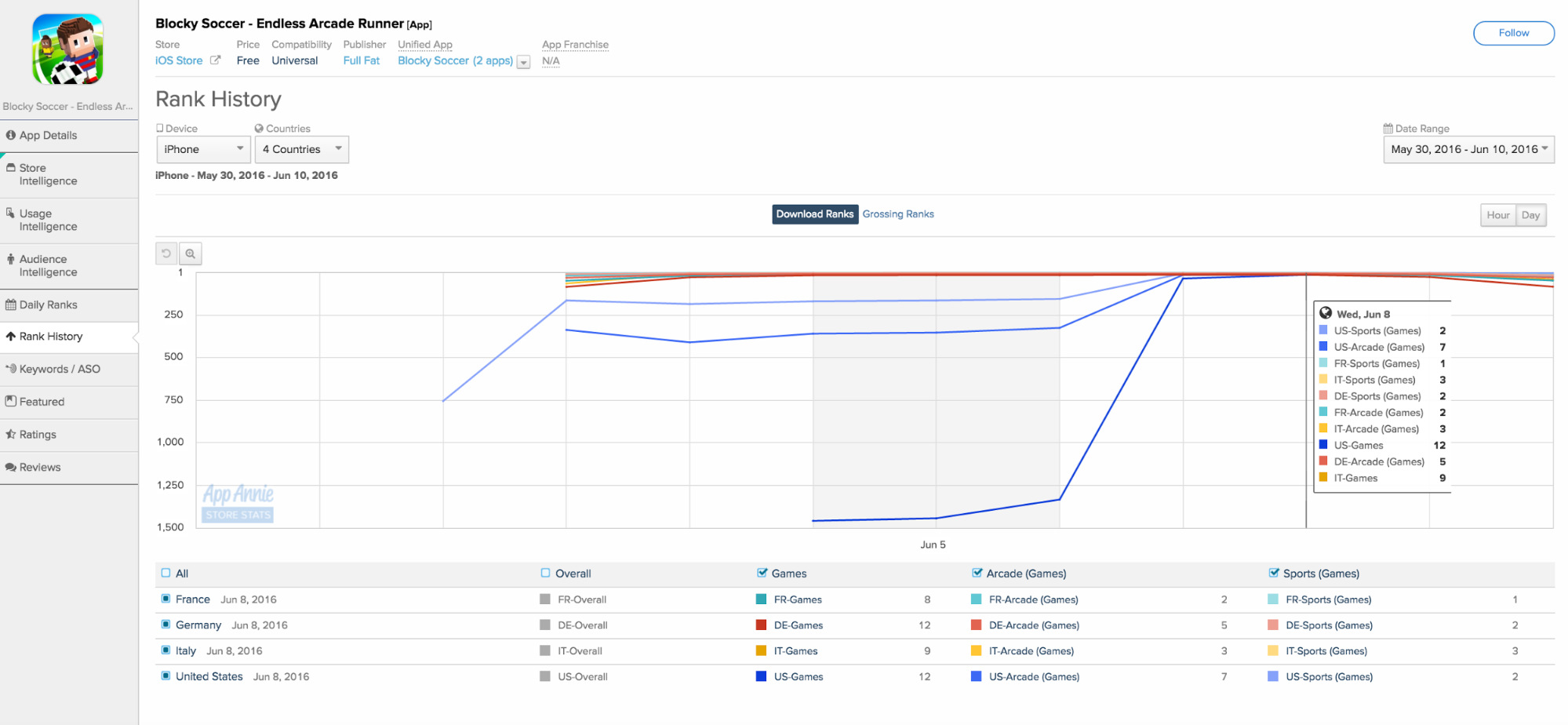 Blocky Soccer, an endless arcade runner with a football theme, gained popularity the week before the start of Euro 2016.
Build a Better App Business
Subscribe to see more app industry reports, conference updates and guides. Have something to add? Share your questions and comments on Twitter.
Want to take your app business to the next level? Create a free account to dive deeper into Store Stats or request an Intelligence demo.